Depending on the quality of drone that you are considering purchasing, it could come with a 3 axis or 2 axis gimbal. Modern consumer drones which are primarily used for photography typically have a three axis drone which enables them to take video and still photographs in windy conditions – whether drone is getting bashed around. The gimbal counteracts any movement of the drone so that you can get good still and smooth images. Some of the less expensive drones on the market have a two axis gimbal and the first person view racing drones also use a two axis gimbal since it saves on weight and means they can fly faster.
A 2 axis gimbal is able to counteract movement as the drone moves forward and rolls from side to side. A 3 axis gimbal is able to counteract movement as the drone moves forward and backward, rolls from side to side, and also turn to the left or right whilst stationary.
From the ground, a drone looks like it moves incredibly smoothly through the air. And, for the most part, it does.
However, the drone is constantly making decisions about its stability and is very quickly making judgements about which propellers to rotate faster in order to create stability through motion and to stay still.
This means that sometimes it can over or under estimate how much power it needs to send to the propellers. This can create vibrations and bumps during flight.
In short, a two axis gimbal is able to stabilise against pitch, and roll while a three axis gimbal is able to stabilise against pitch, roll, and yaw.
Each of these movements is very important for being able to manoeuvre the drone in 3D space and keeping the camera stable throughout all of the movements requires a three axis gimbal. A three axis gimbal is commonly found on camera drones in the mid to high price range and is becoming commonplace among drones that are used for photography and videography.
What is the difference between 2-axis and 3 axis gimbal?
The difference between a two axis and three axis gimbal comes down to the directions in which the camera can be stabilised.
As a drone flies through the air it is able to pivot along all three axes. That is, it can move its nose up and down to move backwards and forwards. It's can move the propellers on the left or right side of his body up and down to pound to the left and to the right. And, it can also use the clockwise or counterclockwise motion of its propellers to pivot left or right whilst staying in the same place.
When I first was trying to understand how a drone moves throughout a 3D space it took me a while to understand exactly what the propellers were doing. Here is a simple diagram for all of the drone movements where the propellers which spin faster during each of the movements is highlighted with a red plus. This should give you an idea of exactly what is happening when the drone is moving in different directions.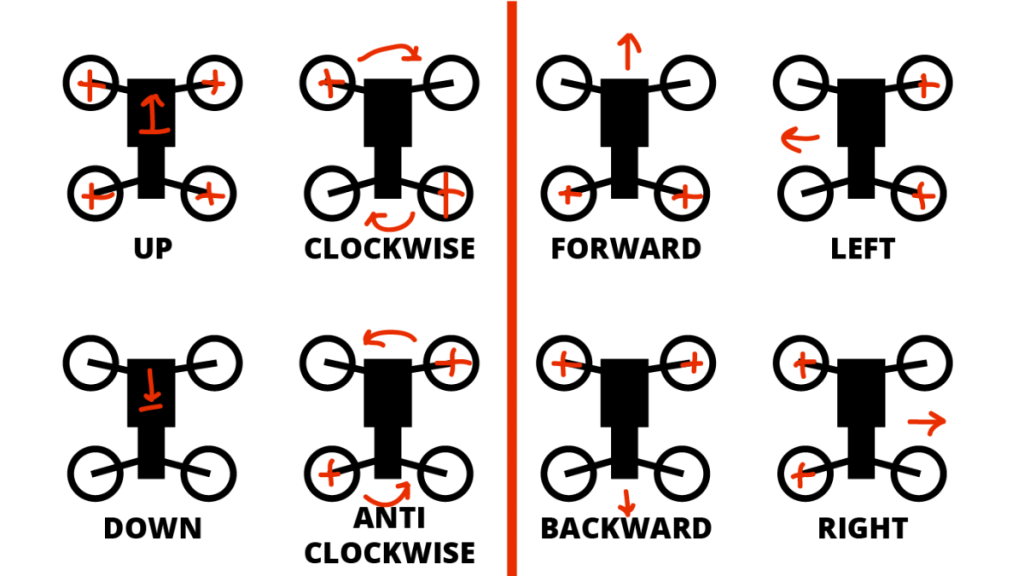 If you want to know in more detail about how a drone changes direction check out my other article – how does a drone change direction [solved] – click here to be taken to article.
In order to see exactly the difference between a two axis and three axis gimbal it's better to watch a video. Below, is a YouTube video which shows you the difference between a three axis gimbal and a two axis gimbal. They are shown side-by-side which really allows you to see the difference an extra axis can make.
One thing I want you to notice on the two axis gimbal is that the bumps and problems stabilising the drone come from side to side movements. That is because for a two axis gimbal the movement it is not able to stabilise is the action which is similar from turning your head from left to right.
This means that the camera experiences significant shuddering as if it is shaking its head from side to side.
The three axis gimbal does not suffer from this issue because it has the ability to counteract any movements that come from the side to side "head shaking" that would cause the camera to become unstable.
The result of the video is that the three-axis gimbal results in a much smoother recording and the two-axis gimbal. This means that the three axis gimbal will be much better for photographers and videographers who after cinematic footage which is smooth and judder free.
2 axis gimbal
A two axis gimbal has the ability to stabilise movements of the drone which equate to moving forward and backwards as well as moving from side to side by dipping either the left or right side propellers.
I like to think about the movement as a boat on waves. If the boat is heading in one direction the waves because the nose of the boat to fall and rise and also wobble from side to side.
The one thing that a two axis gimbal does not do is counteract the movement that comes from the drone pivoting its nose from left to right – a movement similar to shaking your head. Or, in boat analogy above, changing the direction of the boat.
Getting the best footage from a 2 axis gimbal
There are plenty of drones on the market with only a two axis gimbal. This isn't necessarily an issue as people's budgets do not allow for the purchase of more advanced drones. This doesn't mean that you can still get some incredible footage and selfies from your drone.
To fly a two axis gimbal drone smoothly you just have to be a little bit more picky about when you are going to fly your drone in the environment. You have to choose days that are not as windy which means that the drone gimbal doesn't have to work as hard.
Best 2 axis drone
The best two axis drone on the market at the moment is the DJI spark.
The DJI Spark is no longer being produced but you can find second-hand and aftermarket drones currently on the market. It is a mini drone that features all of the DJI's signature technologies which allows you to get into the drone flying world incredibly cheaply.
The DJI Spark has a takeoff weight of 300 g and has up to 16 minutes of flight time. It has a two axis mechanical gimbal which will stabilise against pitch and roll bumps and allows you to pitch the camera down at a degree of -85°.
The camera is able to record up to 30 frames per second at 1080p quality. It has a top speed of 31 mph in sport mode and can fly up to 1.2 miles away from the remote control which is also included with the drone.
This drone is perfect for dipping your toes into the drone photography and videography world without breaking the bank.
As drone technology improves and people are willing to spend more money on drones it is rare to find a consumer level midrange Joan that doesn't have a three axis gimbal.
Let's take a look at what a three axis gimbal is and how it works.
3 axis gimbal
A three axis gimbal is found in pretty much every camera drone that is being used for photography and videography by serious hobbyists and professionals.
A three axis gimbal stabilizes the camera against bumps and smooth movement on all three-axis: pitch, roll and yaw.
I like to think of this the movements that a boat will go through as it is changing direction in the water. The waves will cause the boat to tip up and down as well as roll from side to side. However, as the drone is using its rudder to change direction it also goes through an extra movement which a three axis gimbal can stabilise.
Three axis gimbals are found in a range of drones and provide the best footage by far.
Drones with 3 axis gimbal
Here is a non-exhaustive list of all of the common types of drones which contain a three axis gimbal.
| | |
| --- | --- |
| DJI | Mavic Mini Mavic Mini 2 Mavic Air Mavic Air 2 Mavic Pro Mavic Zoom Phantom 4 Inspire |
| Yuneec | Typhoon |
| Parrot | Anafi |
| Autel | EVO series |
| Skydio | Skydio 2 |
Every new drone over the price of about US$500 well include a three axis gimbal. This is because it is the minimum quality expected from drone manufacturers if they are being purchased to record video and take photos.
Best three axis drones
The best three axis drone on the market at the moment is the DJI Mavic air 2.
DJI Mavic Air 2
I love my Mavic Air and was happy when DJI desided to upgrade the drone. It seems like they have done it in all of the right ways!. The Mavic Air 2 takes power and portability to the next level, offering advanced features in a compact package. It has a range of intelligent shooting functions and excellent image quality put aerial masterpieces within reach.
The camera includes:
1/2-inch CMOS sensor: it has smooth 4K/60fps video. The D-Cinelike flat color profile retains more information for post-processing. The HEVC (H.265) video codec records more image information, uses less storage, and preserves the dynamic range and detail of your footage, ensuring next-level content.
8K Hyperlapse: this will allow you to simply warp time and space for especially stunning footage.
this is an inexpensive and ultra portable drone that I think you'd be silly not to consider if you want to be a little more budget consious.
Weight – 570 g
Dimensions

Folded: 180×97×74 mm (Length×Width×Height)
Unfolded: 183×253×77 mm (Length×Width×Height)

34 minutes max flight time
Max wind-speed resistance – 8.5-10.5 m/s
8 GB internal storage
Max speed – 19 m/s
This is a great little drone and it will satisfy most hobby photographers easily!
Up Your Game: The Mavic Air 2 camera drone takes power and portability to the next level. It combines a powerful camera with intelligent shooting modes for stunning results.
Next-Level Content: Capture impressive 48MP photos with a 1/2-inch CMOS sensor while the 3-axis gimbal provides 4K/60fps video.
Improved Flight: An impressive flight time of up to 34 minutes allows you to pull off epic, fast-paced shots.
Intelligent Tracking: Mavic Air 2 features intuitive shooting functions that make aerial photography easier than ever.
Video capture resolution: 4K HD
Pros
+ Very portable
+ Cheaper option than Pro
+ Great intelligent flight modes
Which gimbal is best?
Of course, there is no best gimbal for a drone it just depends on a number of factors and the use case for your drone. For example, if you want to enter the drone market but you only have a low-budget is better off to get a drone with a two axis gimbal. However, if you are a photographer and videographer you should be looking for a three axis gimbal because it will give you the best chances of getting amazing and smooth shots. Alternatively, if you are into racing the extra weight which accompanies a three axis gimbal may not be worth it.
Low budget consumers
There are many good quality budget drones on the market at the moment. There are camera drones with advanced software features such as GPS, auto altitude hold and return to home for as little as US$500 and less.
Because each of these features are important for keeping the drone in the air the cost is kept down by putting in a two axis gimbal.
This means that you will be able to purchase a drone for less money with all of the advanced features that the much more expensive drones have but it will not be able to capture as smooth footage as the latest drones on the market.
There is no "perfect drone" and when I was in the market for my first drone I had to weigh up all of the important features and my budget to make the right decision for how I wanted to use my drone.
Photographers
If you are a photographer or videographer there is no doubt that you will require a three axis gimbal to keep your drone camera steady in even the most windy conditions.
If your budget doesn't stretch to the best drone on the market I recommend looking for a secondhand drone which can be picked up for the fraction of the price of a new drone. If you want to know more about how to purchase a secondhand drone check out my other article – how to buy a secondhand drone with a free 50 part checklist – click here to be taken to article.
FPV racing
If you are purchasing a drone to race you may not want to use any form of gimbal or stabilisation for your first person view camera.
When you are racing a drone weight is a very important component and metric that you need to consider in order to keep your drone flying fast. Beating the competition may come down to fractions of a gram.
Using a two axis gimbal on a racing drone may be a better option for many drone pilots since they will be able to get a relatively smooth shot but without the extra weight which can severely limit their top speed as well as their battery life.
How Does a Drone Gimbal work?
A gimbal is a device that keeps an object steady in a certain position despite the movement of the device that is attached to – in this case it is a drone. This means that as the drone is constantly changing position and is being bumped and knocked by the wind the object attached to the drone will stay steady.
The main function of the gimbal is to cancel at any unwanted motion in all three axis of movement.
They found a common use with photographers and videographers because they are able to cancel out the small movements that the human body makes which it cannot control. This is ultimately to achieve a smooth and steady shot.
Electronic gimbals use gyroscopes and motors to control the camera's position. Each motor which counteracts the movement is controlled by a complex system of electronics and feedback mechanisms. If it is a three axis gimbal there will be motors on each access to cancel out the movement along all three of the axes.
This is incredibly important for drone shots as the drone is experiencing unwonted movement from the wind in every direction.
As the drone technology gets better the gimbals are able to detect the smallest of movements and accidental buffeting from the wind. The motor has to respond incredibly quickly to the movement and therefore a brushless stepper or servo motor is used which allows the drone gyroscope to respond incredibly quickly to any unwonted movement.
Summary
In this article, we have gone through the differences between a two axis and three axis gimbal and how that relates to drone flying.
Ultimately, you do not have to purchase a drone with three axis gimbal if you are only using your drone for still photographs or you do not have the budget for a three axis gimbal drone. You do not need three axis gimbal for any racing drone as it increases the weight of the drone and it therefore causes a reduction in the top speed of the drone and limits battery life.
A three axis gimbal is a nonnegotiable for those who want to take their photography and videography seriously. Fortunately, the top drones on the market all have three axis drones and as the technology gets cheaper we will see them in many more drones in the lower price bracket.