Anticollision lights are perfect for people who want to fly during civil twilight hours or at night. The DJI Air 2S has a fantastic camera with very good quality photographs that can be taken in low light. This capability means more drone pilots with the DJI Air 2S need anti-collision lights if they fly in lowlight situations.
The best anti-collision lights for the DJI Air 2S include Firehouse Arc V and Lume Cube Drone Strobe. However, according to the FAA, any light visible for at least 3 miles and has a flash rate sufficient to avoid a collision is suitable for use at night and civil twilight.
An anti-collision light can be attached to the drone's body via a strong adhesive to provide increased visibility during twilight and nighttime flights.
The best anti-collision lights for the DJI Air 2S
The Firehouse Arc V is the best anti-collision lights currently available on the market for the DJI Air 2S. It has an insane brightness and will last many flights before needing recharging.
Firehouse Arc V – best brightness
This anti-collision light comes with a charging cable, a 3m VHB mounting tape, and a self-securing closure that protects from water.
One of the reasons I think this is one of the best in the market is that it has a 1000 lm output, allowing you to see your drone from a huge distance. The battery provides six hours of continuous operation in Strobe mode and has five powerful LED lights.
I love that this can provide a huge amount of protection for your drone for the small price of US$34.
Does the DJI air 2s have anti-collision lights?
The DJI Air 2S does not come with anti-collision lights suitable to satisfy the FAA regulations. The drone has two front LEDs and two rear aircraft status indicators that change colour to indicate the status of the drone.
When the drone is initially powered on but the motors are not running, the front LEDs of the DJI Air 2S below a solid green to help you identify the orientation of the aircraft. The back status indicators will be different colours according to the drone's actions.
Below are the types of colours the drone can use to tell you its current state.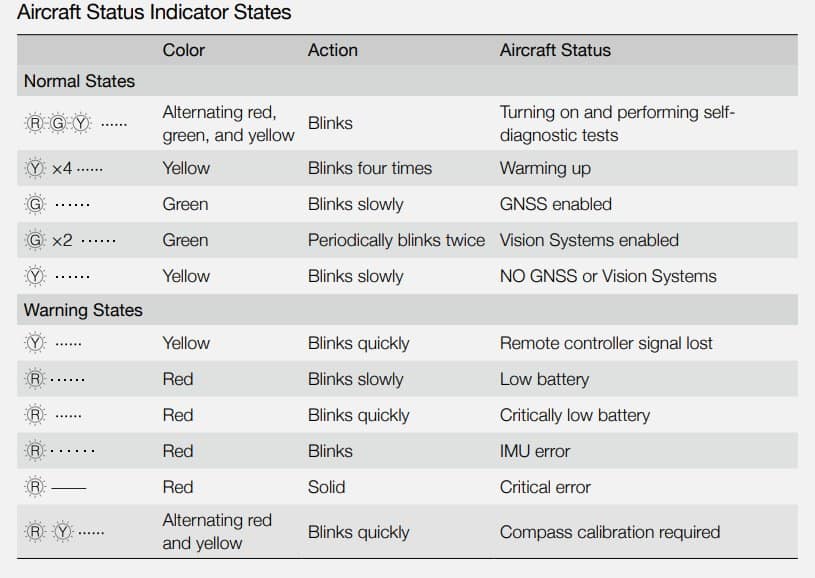 So that you understand what is required of you when operating your drone at night and when you are required and not required to have anti-collision lights, here is a quick summary of the new FFA regulations.
As of writing in June 2022, the law states that you may not operate a small unmanned aircraft system unless:
the remote pilot of the aircraft has completed a knowledge test or training following section 107.65.
All the small unmanned aircraft have been fitted with anti-collision lights that are visible for at least three statute miles and have a flash rate sufficient to avoid a collision.
You may want to reduce the intensity of the anti-collision lighting because you may deem it safer for the drone under the current operating conditions. Under the FFA guidelines, this is perfectly suitable.
The same rules apply if you want to fly in civil twilight hours, which is considered 30 minutes before sunrise and 30 minutes after sunset in all US states apart from Alaska.
Other anti-collision lights for the DJI Air 2S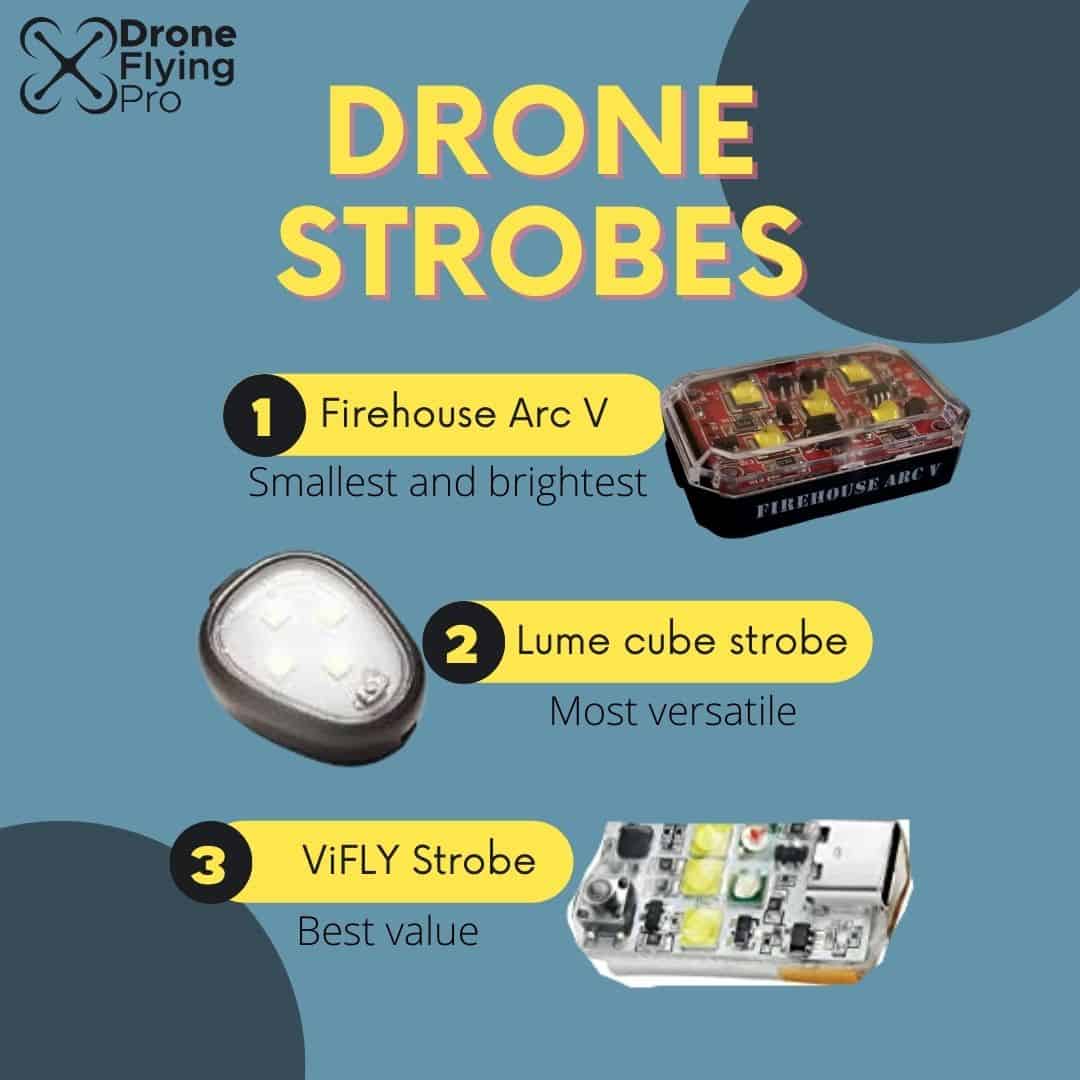 Comparison table
| | | | |
| --- | --- | --- | --- |
| | Firehouse Arc V | Lume cube strobe | ViFLY Strobe |
| Weight (g) | 4 | 10 | 5.9 |
| Visibility range (mile all) | 4+ | 3+ | 3+ |
| Battery life (hr) | 6 | 6 | 4 |
| Price ($) | 34.00 | 29.99 | 14.99 |
From the above table that the Firehouse Arc V has the lowest weight and the longest battery life which makes it one of the best in the market at the moment.
However, should you want a very affordable light the VIFLY is only a little bit lighter and has a very good battery life.
Lume Cube Drone Strobe – Best versatile light
The Lume Cube Strobe Light is a fantastic option for the DJI Air 2S.
This flight is incredibly compact at only one .5 inches and meets federal regulations by providing 360° visibility and a 3+ mile visibility.
The Strobe can flash 60 times per second and has a greater than six-hour runtime in strobe mode.
You can also swap out the colour of the drone with red and green caps making it super versatile and can turn your Strobe into a navigational light.
It has three different modes: fast mode, slow mode, and continuous lighting, which will match the FFA requirements for both anti-collision and navigational lights.
It's a fantastic option for your drone at a reasonable price of US$29.99.
VIFLY Drone Strobe Light – best cheap drone
Another very good light for your DJI Air 2S anti-collision light is the VIFLY.
This Strobe is incredibly bright and meets the requirements for night flights.
It weighs less than 6 g and is very small. It can provide a runtime of up to 4 hours with strobe mode and is fixed to the drone using a strong adhesive.
The light can easily turn into a navigational light, changing from white to a green or red LED. Each colour has three modes: slow flash, flash, and constant light.
This drone strobe light is inexpensive but as powerful as the others in this article. It just has a little bit shorter battery life.
You can pick up this strobe light for as little as US$14.99
Using anti-collision lights
Understanding exactly when you need to use anti-collision lights and when you do not is very important for keeping your DJI air 2S safe when flying at night.
When do you need drone anti-collision lights?
According to the FAA, you must use drone anti-collision lights when flying in civil twilight hours (30 minutes after sunset or before sunrise) or at night.
Other countries' regulations are similar; many still ban night flying unless you have taken extra training and passed more exams.
What colour should drone anti-collision lights be?
The anti-collision lights should be white and visible for at least three statute miles.
Other colour lights could be confused for navigational lights such as those found on aircraft to help determine their orientation in the air.
Should the anti-collision lights flash?
According to the current FAA regulation, the anti-collision lights should flash at a rate sufficient to avoid a collision.
As long as the flashing can attract a person's attention from at least three statute miles away and is consistent and regular enough for them to see as they are gazing out into the night sky, it will meet the requirements for anti-collision lighting.
Summary
This article has been over everything you need to know about fitting your DJI air 2S with anti-collision lighting.
The rules and regulations are regularly changing, and it is your responsibility as a drone pilot to keep up to date with the latest regulations.
If you want to utilise the full potential of the DJI Air 2S and its lowlight camera capabilities, you will need to purchase a strobe light to stay within the current FAA regulations.