When drones were first introduced to the consumer market, they were for hobby flyers. Today drones are everywhere, and they are being used for more and more commercial and industrial reasons. As well as photography, you can use a drone to perform many tasks that once required a helicopter. To keep up with the number of drones being flown and the safety concerns it represents, the FAA in the United States is about to introduce a new form of drone regulation – Remote identification.
The DJI Air 2S does not currently have to comply with the remote ID legislation because it applies to drones flown after September 2023. However, DJI may be able to update the Air 2S software to comply with the remote ID ruling after this date.
DJI does not know which drones will be updated via the software update at this stage because the FAA hasn't finalised and approved technical standards for remote ID. Once the rules have been finalised, DJI will evaluate the hardware of each model and how it can meet the standard set by the FAA.
All drones weighing more than 250 g will have to broadcast a signal that can be received by a common handheld receiver such as a smartphone or tablet device. This ruling most likely means that drones will send a Bluetooth or Wi-Fi signal that a smartphone can receive.
The final version of the remote ID rule does not require drones to connect to a mobile network or pay a monthly subscription fee. The data is not likely to be stored in a government database, meaning there is a minimal change from the current flying regulations and situation.
What you have to do now
There is nothing you need to do to ensure your DJI Air 2S remote ID is active or compliant right now. Drones currently owned will not have to submit remote ID signals until September 2023.
If you buy a new drone, DJI has designed the new drones to meet and comply with the rules.
For the moment, keep flying your drone as you always have and make sure you comply with the laws and regulations in the jurisdiction that you are flying in.
There is still a huge uncertainty around what exactly drone pilots need to do, but this is everything we know currently about remote ID and drone technology.
What you need to know about remote ID
Remote ID is the ability of a drone in flight to transmit its location and identification information that other pilots and people can receive.
Remote ID will be used by FAA, law enforcement, and other federal agencies to find the pilot and location of the remote control when a drone is flying in an unsafe manner or has broken a Geo fenced area.
The sorts of information that will be transmitted include: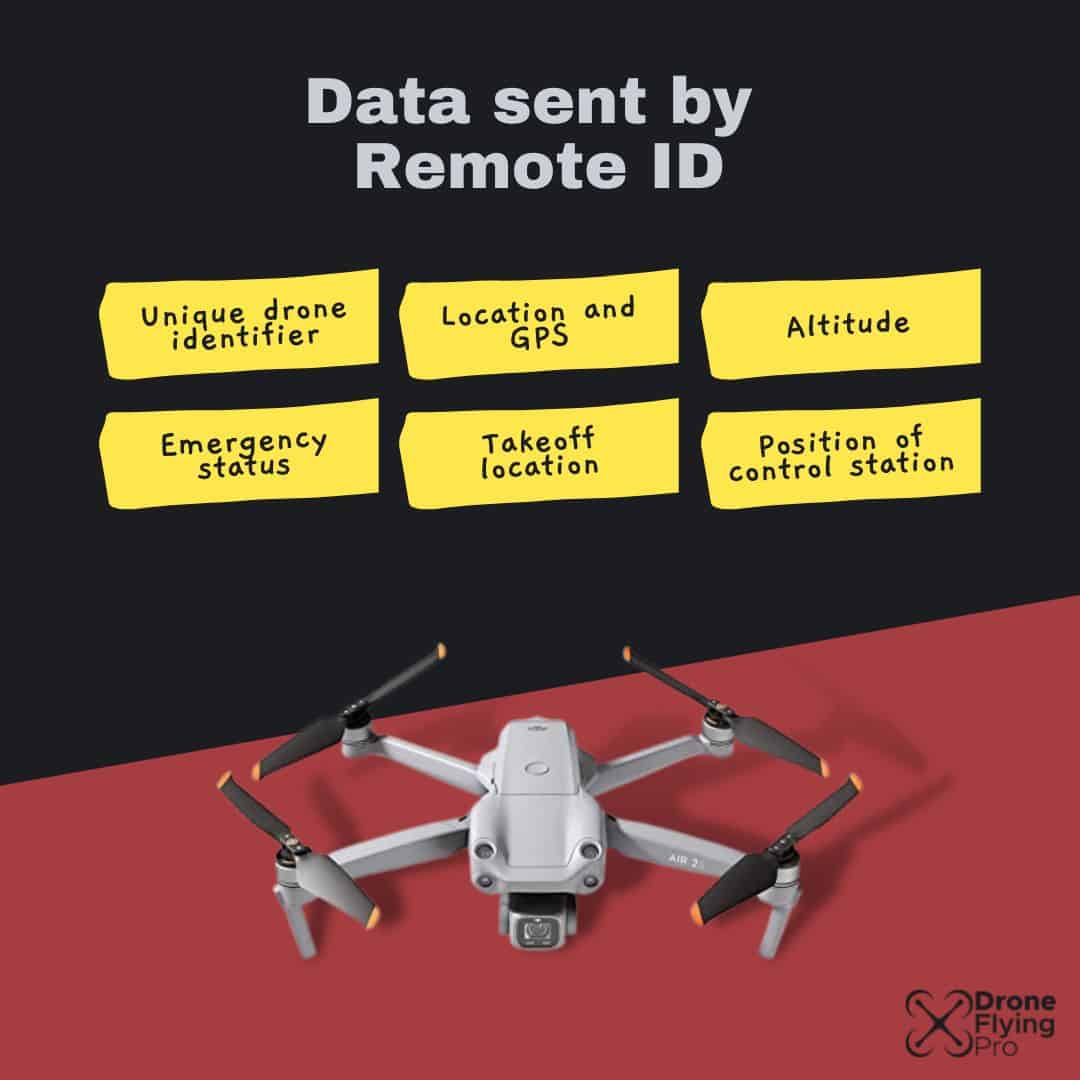 unique identifier for the drone (identity of the drone)
location and GPS coordinates
altitude
control station
time mark
emergency status indication
takeoff location
Using this information, authorised individuals from public safety organisations can request from the FAA the identity of the owner of the drone to follow up on any further fines or prosecution avenues.
The deadline for operational compliance by all drone pilots is September 16, 2023.
How you can meet the identification requirements of the remote ID
You can meet the identification requirement in three ways: operating a standard remote ID drone, operating a drone with a remote ID broadcast module, or operating in a location that does not require broadcasting of remote ID elements.
Standard Drone Remote identification
In this instance, the manufacturer builds the remote ID capacity directly into the drone. From 2023 drone manufacturers will have to consider how they will broadcast the ID of the drone. Most drone manufacturers are already designing their next range of drones with this new legislation.
The sorts of information that the drone can broadcast via radiofrequency such as Wi-Fi and Bluetooth include the drone ID, location and altitude, drone velocity, time mark, emergency status, and the control station location and elevation.
Remote ID broadcast module
In this scenario, a drone can be fitted with a remote ID broadcast module that is attached to the drone after purchase.
This form of ID broadcast is limited to visual line of site operations. The sorts of information broadcast include drone ID, location and altitude, drone velocity, takeoff location and elevation, and time mark.
Recognised identification area (FRIA)
The last way to fly your drone within the new rules set by the FFA is in a recognised identification area. In this area, you can operate your drone without broadcasting any information.
You must always fly your drone in a direct line of visual sight, and anyone can fly there, but the areas can be requested only by community-based organisations and educational institutions.
I imagine these areas will be promoted online by such groups in the future.
Effective dates
The final rule on remote identification became effective on April 21 2021.
Manufacturers and drone pilots still have until September 16, 2022, to comply with the requirements of the final rule and until September 16, 2023, to comply with the remote ID ruling utilising one of the three options above when flying their drone.
All the drone pilots are required to register their drone.
It doesn't matter if you are flying your drone for fun, business, or commercial reasons. The ruling states that you must operate your drone in accordance with the final rule on remote ID. You have until September 16, 2023, to upgrade your aircraft or await the software update from DJI or your drone manufacturer.
Session ID
Operators of drones are free to choose between broadcasting their drone's serial number or a session ID.
The session ID is a uniquely identifiable ID that allows law enforcement or the FAA to correlate the flight with a unique drone serial number. This information will not be publicly available, which will offer privacy and security to drone pilots.
Standard remote ID drones may not offer the session ID option.
Summary
In this article, we have covered everything you need to know about the DJI air 2S and its capability to comply with the remote ID ruling by the FAA.
The deadline for all drones to transmit remote ID signals during flight is September 2023. Some exceptions include drones that are way less than 0.55 lbs (250 grams) or are flown in special areas designated by the FAA.
The FAA has given us until September 2023 to allow drone manufacturers to design new drones with the remote ID broadcast capability and provide options for older models of drones such as the DJI air 2S.
We will be awaiting DJI's information and software updates to ensure we stay compliant during our flights.