Not all drones are created equal, and some are better at capturing stabilised footage than others. The gimbal is the magic component that makes some drones better suited to capturing stabilised footage over others. I have been using my DJI drone for many years, and the three-axis gimbal has allowed me to capture broadcast-quality images and video.
The best cheap drones with three-axis gimbals include the DJI Mavic mini, EVO lite and EVO nano. If you want a two-axis gimbal drone, the best drones currently on the market include the DJI spark and Ruko F11GIM.
Depending on its quality, a three-axis or two-axis gimbal may be included in the drone you are considering purchasing.
Modern consumer drones primarily used for photography usually include a three-axis drone, which allows them to take video and still photos in windy situations – regardless of whether the drone is being tossed around.
To understand the different types of gimbals that can come with drones, check out my quick guide below.
Different types of gimbals are available
There are many different types of gimbals available on the market.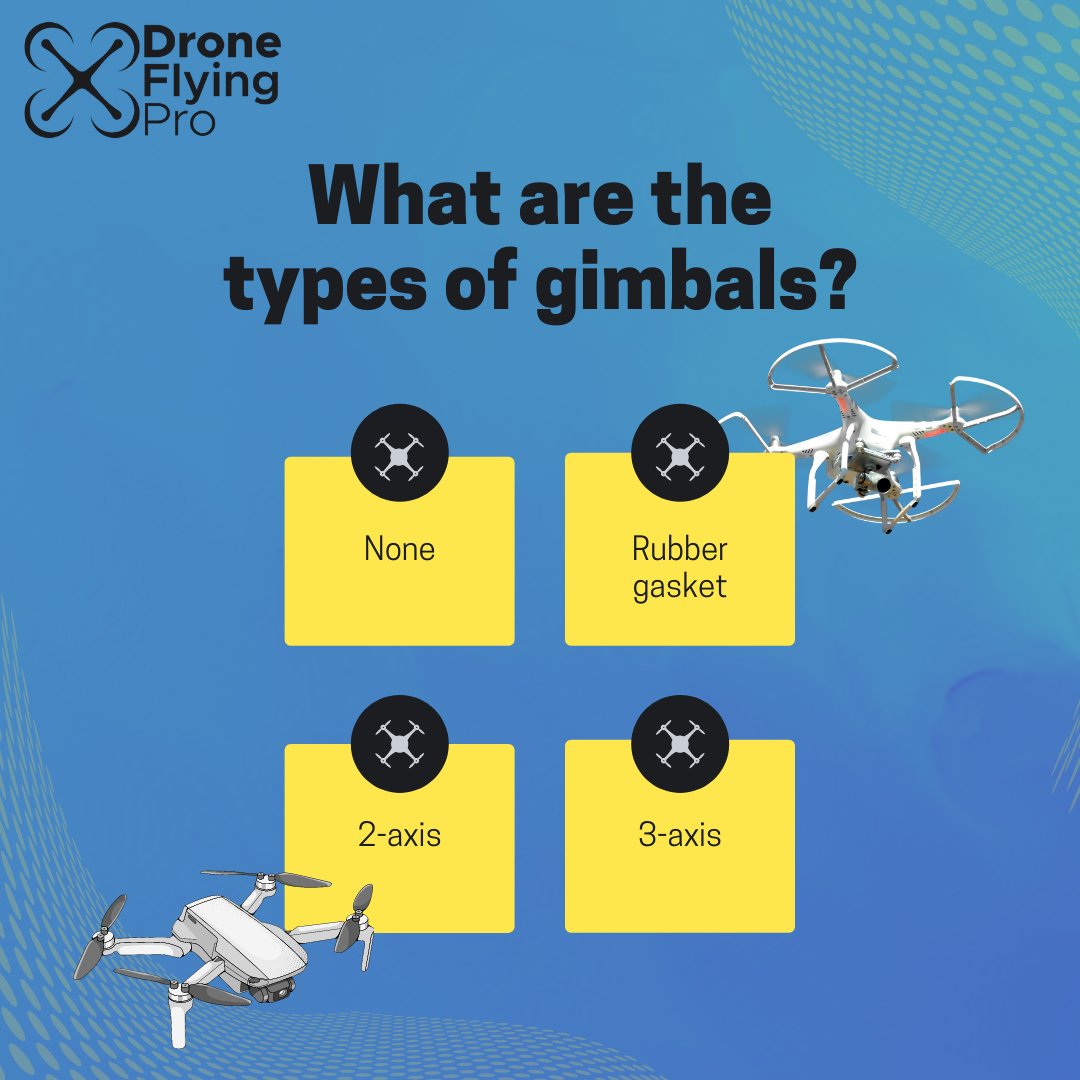 Some drones come with cameras fixed directly onto the drone's body. This drone does not have any gimbal.
Some drones have rubber gaskets that connect the camera to the drone's frame, which only minimises small vibrations coming from the spinning of the rotors.
Drones start to get useful once you investigate drones with two-axis or three-axis gimbals. The difference between the two different types of drone gimbals is discussed in more detail in my other article – click here to find out the difference between two-axis and three-axis gimbals on a drone.
However, here is a quick summary of the features of these different types of gimbals.
| Type of gimbal | Stabilisation comments |
| --- | --- |
| No Gimbal | The camera is fitted directly to the body of the drone |
| Rubber gasket "gimbal." | Small rubber gaskets separate the drone from the camera, limiting the amount of vibration experienced from the rotation of the propellers. |
| Two-axis Gimbal | A two-axis gimbal can stabilise drone movements such as forwards and backwards movement and side-to-side movement by dipping either the left or right side propellers. |
| Three-axis Gimbal | A three-axis gimbal is found in almost every camera drone used for photography and videography by serious hobbyists and professionals. A three-axis gimbal stabilises the camera against bumps and smooth movement on the pitch, roll, and yaw axis. |
Warning – some three-axis gimbals are two-axis gimbals with software stabilisation.
When looking for a drone to purchase, you have to be careful about how manufacturers describe their gimbals.
Some cheeky manufacturers describe a two-axis gimbal as a three-axis gimbal because they include the software stabilisation features as a form of "digital gimbal."
Watch out for this important nuanced description of their gimbal to ensure that you get the full stabilisation on all three axes of movement. Ignoring this warning could result in much shakier footage than you need from your drone.
The difference between a three-axis and two-axis gimbal
A drone can pivot along all three axes as it flies through the air. A two-axis gimbal can compensate for movements in the roll and pitch direction of movement only. A three-axis gimbal can smooth out all motion – including the yaw motion of the drone.
That means it can travel backwards and forwards by moving its nose up and down. It can move left and right by spinning the propellers on the left and right sides up and down. It may also swivel left or right while staying in the same spot using its propellers' clockwise or counterclockwise motion.
Here is a short gif of the stability achieved by a three-axis and two-axis gimbal.
You will notice that the two-axis gimbal is not very good at stabilising side-to-side movements. The two-axis gimbal cannot stabilise this action, which is similar to turning your head from left to right (shaking your head).
The three-axis gimbal is immune to this problem because it can compensate for any movements caused by side-to-side "head shaking" that would cause the camera to become unstable.
According to the video, the three-axis gimbal produces a far smoother recording than the two-axis gimbal. The extra axis of stabilisation means that the three-axis gimbal will be far better for photographers and videographers looking for smooth, judder-free cinematic footage.
Now let's take a look at the best two-axis gimbal drones that your money can buy.
Best drones with two-axis gimbal
Here are the best two-axis gimbal drones currently on the market
DJI Spark
Although the DJI Spark is no longer in production, you may still find used and aftermarket drones on the market. It's a small drone with all of DJI's hallmark technologies, allowing you to enter the drone flying world for a very low price.
The DJI Spark has a takeoff weight of 300 g and a flight time of 16 minutes. It contains a two-axis mechanical gimbal that stabilises the camera against pitch and roll shocks and allows you to pitch it down to -85 degrees.
The camera can record at a rate of up to 30 frames per second in 1080p resolution. It can fly up to 1.2 miles away from the remote control, which is also included with the drone and has a top speed of 31 mph in sport mode.
This drone is ideal for those who want to dip their toes into the field of drone photography and filming without breaking the budget.
Ruko F11GIM2
This drone is a two-axis gimbal drone with a full cake camera. It lets you capture clear and stable video and picture quality and has five times digital zoom functions. You have stabilisation technology to enable fuzz-free photos and videos alongside the two-axis gimbal.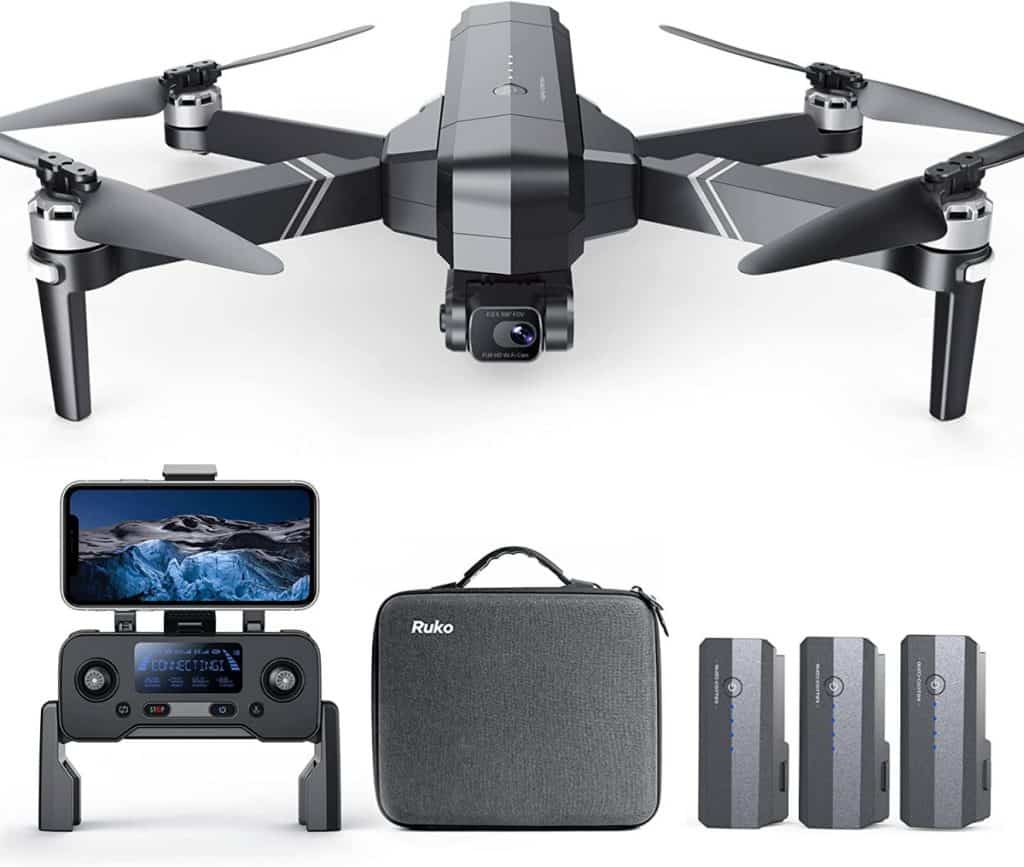 The drone comes with three intelligent batteries, each providing a 20 minute flight time. The transmission range of contact between the remote control and the drone is 39,000 feet.
It has GPS auto return to home function and other GPS positioning software to enable a smooth flight for drone pilots. It has a level VII wind resistance and can provide a stable flight in medium level winds.
Cheerwing U38S
This two-axis gimbal drone comes with a full cake camera and stabilisation software to minimise the shaking effects of the propellers on the camera.
It has GPS positioning and altitude hold, perfect for indoor and outdoor use.
Like all of the other drones on this list, it has followed me mode, waypoint flight options and point of interest flight. You can capture your adventures very easily using these advanced software features.
It comes with two intelligent flight batteries, each with 26 minutes of flight time and a bonus carrying bag that is form-fitted to the drone and the accessories so that you have your drone flying items in one simple and easy to carry package.
LARVENDER KF102
This two-axis gimbal drone comes with a full cake camera and has a range of smart features, including one key takeoff and waypoint flight control.
With a level VII wind resistance, this drone is perfect for adults and beginners and comes with two batteries that can provide up to 50 minutes of flight time.
Even though this is one of the least expensive drones on the list, it can shoot in 4K and comes with a range of software features such as GPS, follow me mode, tap fly, and a range of other easy-to-use features.
How to get the best footage from a two-axis gimbal
There are several drones available that only have a two-axis gimbal.
A two-axis isn't a problem because most people's budgets don't allow them to buy more advanced drones. It doesn't rule out the possibility of getting some amazing footage and selfies with your drone.
To fly a two-axis gimbal drone smoothly, you need to be more selective about where you fly your drone in the surroundings.
It would help if you chose days with less wind, so the drone gimbal does not have to work as hard.
Also, you should minimise the number of yaw movements while flying your drone. The ideal way to capture footage from a two-axis gimbal is to avoid the yaw movements altogether.
Combining the pitch and roll movements of your drone will still open up a wide range of movements for expressing yourself creatively and cinematographically.
Best cheap drone with a three-axis gimbal
If you are serious about owning a drone with a gimbal, you should consider buying a three-axis gimbal.
Here are the three most inexpensive but performant three-axis gimbal drones currently available on the market, and I think you would be silly to look past these small but incredibly powerful drones.
Mavic Mini 2
The DJI small two is lightweight, weighing less than 249 grammes, making it suitable for travel and avoiding some of the red tape required in some countries. Drones weighing less than 250 grammes can be flown without a licence in some places.
The DJI mini 2 comes with various flight features and software despite its small size. It boasts intelligent flight features like a smart return to home, automated takeoff, precise hovering, and all of the famous DJI flight modes.
This drone falls in between a hobby and a midrange drone, in my opinion, making it ideal for someone looking to purchase their first real drone.
EVO NANO
The nano + sports a 0.8-inch CMOS sensor that can take 50-megapixel photographs. The nano has a 48-megapixel camera with a 12-inch CMOS sensor. The three-axis gimbal on both variants of this drone ensures ultra-smooth shots and movies.
It has a 28 minute flight time.
This drone has the same characteristics as the Evo Lite and will allow you to travel comfortably while still recording some fantastic footage.
EVO lite
The Evo series drones are a real competitor to the DJI series.
The Evo lite has a 1 inch CMOS image sensor and various advanced moonlight algorithms, allowing you to record stunning footage even in the darkest of conditions. It has a 6K resolution and can record 30 frames per second.
With perfect autofocus that locks in within milliseconds, you can track fast-moving subjects. It contains automatic flight modes, including rocket, fade away, and orbit, which lets you quickly get amazing footage.
The drone also features ultra-wide-angle object avoidance, ensuring that your drone remains as safe as possible while in flight.
The drone has a flight time of up to 40 minutes.
Buyers guide for a drone with gimbal
When you are in the market for a drone with a gimbal, you need to consider some things before purchasing. These considerations include the sort of gimbal you want to use and the sorts of protections available for the gimbal.
Some gimbals require calibration, and it needs to be as easy as pushing some software buttons to make your flight as smooth and seamless as possible.
What sort of gimbal
We have discussed the gimbal required for smooth and professional quality footage. Three-axis gimbal is a no-brain for professional or high-level hobby and enthusiast photographers.
However, the gimbal will remove most shakes and wobbles whilst the drone is flying backwards and to the side.
Protections for gimbal
Each gimbal will come with a protector to ensure that the gimbal's sensitive electronics and small motors are not damaged during transport.
If the drone does not come with gimbal protection, you should ensure that it comes with a moulded and dedicated padded case for transport and storage. I have found that having a gimbal protector on my Medicare has kept it from being knocked and bumped in transport.
After many international trips and journeys into the Australian outback, it is still going strong.
Ease of calibration
one of the most important things is to ensure that the software can calibrate the gimbal quickly and easily.
Here are the steps you have to go through on a DJI drone to calibrate the gimbal should you encounter a problem.
In the DJI GO4 app, you go to the top right-hand corner and click on the three dots. This action will open the general settings.
Then, you can click on the gimbal icon, which will take you to the gimbal settings
After that, you can click on "auto-calibrate gimbal", which will alert you to check that the aircraft is level and that nothing obstructs the gimbal's range of motion. Pushing okay will start the calibration.
You will receive a message once the gimbal calibration has been successful and this should have removed any drone gimbal overload warnings which you have encountered.
Frequently asked questions
Here are some frequently asked questions about gimbals.
What is causing my gimbal overload
Gimbals are very sensitive and can easily become overloaded if a foreign body blocks the gimbal's movement.
Here are some issues that I have encountered while flying my drone:
a small stick has blocked the movement of the gimbal during the pre-flight checks
I have accidentally left the gimbal cover on
high wind conditions have forced the gimbal to overload
Fixing a gimbal overload issue is very simple and can be achieved by removing the obstruction and recalibrating the gimbal if required by the drone flying software.
How does a gimbal work?
A gimbal is a device that holds an object in place despite the movement of the equipment to which it is attached — in this case, a drone.
The object linked to the drone will remain stable as the drone changes position and is banged and knocked by the wind.
Camera and drone gimbals are both powered by electricity. They employ a combination of sensors and motors to hold the camera in place as the drone travels around.
Gyroscopes and motors are used in electronic gimbals to regulate the camera's position. A complicated system of electronics and feedback systems controls each motor that counteracts the movement.
There will be motors on each access to cancel out movement along all three axes if it is a three-axis gimbal.
A gimbal is critical for drone shots because the drone is subjected to unintentional movement from the wind in all directions.
The final word
This article has been through all of the chief drones with gimbals currently available on the market.
Before you jump into your purchase, make sure you understand the difference between the different types of gimbals and their benefits and minuses.
Importantly, you will spend much more on a three-axis gimbal. Still, the quality of the footage you capture will be much better and enable you to sell your footage to professional editors looking for the perfect drone footage.
You can get away by using a two-axis gimbal by minimising the drone's yaw motion while flying.