Australia is a magical place to be flying your drone. I have lived in Australia for the past 15 years, and buying a drone, enabled me to show off the landscape of the deserts and the beaches to all of my friends back home. Australia can be slightly different from other places where you have flown a drone before. They care very much about national parks and are very protective of sensitive habitats.
The best drone apps for Australian pilots include OpenSky, Airpass, BOM, UAV Forecast, DJI GO4 and Litchi. Whether you want to plan your flight, control your drone and create waypoints choosing an app that works well in the Australian system will keep you and your drone safe.
This article will go through all of the best drone apps for Australian pilots to plan and execute their drone flights.
They are curated from my experience flying my drone in Australia and have been tried and tested.
Best flight planning apps
There are many drone safety apps on the App Store. You must fly using a CASA-verified drone safety app. This is because they have location-based information with easy to use maps that help show you where you can and cannot fly your drone.
Because Australian legislation is different from other parts of the world, having one specifically linked with the Australian aviation legislation is very important.
Despite using these apps, you need to ensure that you also obey any drone safety rules in your local area or state/territory before you fly.
All of these apps are backed by the Australian government. Even though the Australian government has approved these third-party safety apps, you should only use them for guidance and not for air navigation.
Aerologix – Find drone piloting jobs
This application is currently only available in Australia. It is a drone marketplace where high-value customers looking for drone data and images/videos can find licensed and qualified drone pilots.
It is free to sign up on the platform, and all you require is an aviation reference number, a camera drone, and a bank account.
This drone app is a fantastic way to make money if you have your drone lying around and want a hassle-free way of finding customers.
All you have to do is fly your drone for a customer and then upload the drone data onto the cloud and receive payment for a job well done.
The Aerologix app helps you determine if the weather is good enough to fly your drone to aerospace regulations and has simplified and otherwise complex processes – from customer attraction and content delivery.
Airpass
Airpass is a web-based application that allows you to see areas where you can fly and cannot fly your drone. Click here to go to the app.
When you click on an area, it tells you whether or not it is safe to fly. The information provided includes:
controlled airport information
fire hazards and incidents
uncontrolled aerodrome information
danger areas
high-voltage power lines
daylight information
marine parks
heliports with instrument approach
And any other CASA advised no-fly areas.
It is an easy to use interface, and its graphical display allows you to zoom immediately in on an area where you want to fly your drone.
AirMap
Airmap is a leading provider of aeronautical data and services to unmanned aircraft and drones.
You can use this app to maintain situational awareness, request additional authorisation, get traffic alerts, and more.
AirMap offers a load of features, including:
Can I fly here? Get real-time feedback on airspace rules and conditions about your flight specifications.
Toggle between multiple map styles
Discover airspace rules and advisories by searching for a location or panning and zooming AirMap's responsive vector maps
Create and manage your pilot profile and UAV aircraft
Plan a flight path to a specific duration, altitude, and airspace requirements
Connect to any supported DJI drone to fly and toggle camera settings directly from the AirMap app
Request digital authorisation for commercial operations in LAANC-enabled U.S. controlled airspaces
Send digital flight notice to participating U.S. airports
Get real-time traffic alerts for nearby manned aircraft
View publicly-shared flights happening around the world
AVCRM
AVCRM offers the world's first customisable complete aviation compliance and risk management software solution. You can find them here.
The app can be used by aerodrome or RPA operators to manage all aspects of their daily operations. You can manage your entire RPA operation and maintain full Casa compliance easily. It can be viewed on a tablet, smartphone and desktop.
With an easy setup and secure data policy, this app is fantastic for keeping you compliant.
The RPA manager has integrated pilot and RPAS logbooks to enable easy job planning, safety and risk assessment, and approvals.
It has airspace maps, pilot logbooks, battery management (where you can track battery usage, cycles, and health), a booking scheduler, and plenty of advanced reporting and safety management features.
OpenSky
OpenSky is a drone app that I have been using a lot. It is free and has some of the best feature sets for a free flight planning app.
It is the fastest way to find out where you can fly your drone with just a few quick clicks.
Features of OpenSky include
Guide for drone flying – Find out where and when you can and cannot fly based on published aviation regulations set by the FAA (U.S) and CASA (Australia).
Compliance maps from Aviation Authorities – OpenSky makes it easy to visualise airspace rules tailored to your operation and aircraft; for both recreational & commercial drone operators.
Identify Risks – OpenSky will help identify possible flight hazards in your area like Temporary Flight Restrictions (TFRs).
Airspace authorisations – Drone operators can automatically request authorisation to fly in controlled airspace, including the busy airspace near major cities.
Track your missions – OpenSky will track and manage your past and upcoming flights and notify you of changes to any planned flights.
You can plan your mission by simply typing in a specific address or pinpointing your geolocation.
You only see the airspace rules apply to your specific drone operation so that you can have confidence in your flight plan. OpenSky is an approved provider of near-real-time access to controlled airspace in Australia. Drone operators can request authorisation to fly in major cities simply and easily.
Before flying, the first thing I do is always check if I can fly using OpenSky.
Ok2Fly
This app seems to have some of the most detailed information available. It is only available on a web application that you can find here.
In the red areas, you can see exactly what the legislation says by looking at the borders and reading the information. Not all drone apps provide detailed information.
The downside of having so much information is that it can be overwhelming to decide whether or not you can fly your drone in a given area.
Using this app in combination with another will give you a powerful opportunity to explore your potential drone for location.
Each of the apps we have talked about above has CASA verified features such as an airspace awareness map – where they display information advising where you can and cannot fly your drone according to the location of airports and other sensitive areas.
They also have access to airspace authorisation which is a trial that provides chief remote pilots near real-time flight authorisations for locations within 5.5 km of selected trial sites.
Sticking with apps that the local aerospace legislator has specifically approved means that you will always stay on the right side of the law.
Best weather apps
Checking the weather before a drone flight is very important, and weather apps can range from free to very expensive. These are great for deciding whether or not you need to cancel your drone flight and give you real-time data on your potential takeoff location.
Some of the best weather apps for drone pilots include:
Windy.com – this wind app makes it very intuitive to determine whether or not it is safe to fly your drone. The overlay of colours and particles makes it perfect for understanding the wind direction and intensity.
Radarscope – this wind app is available on the Google Play and Apple store. The attractive and easy to read pictures means that it is very quick to determine whether or not you need to cancel your flight.
MyRadar Weather Radar – this weather app has over 50 million downloads. It has proven itself to be one of the most powerful and accurate radars and weather prediction apps on the market. You can visualise temperatures, get weather alerts, look at rain forecasts, and have many aviation features that drone pilots may be interested in.
Checking the weather before you head out should become routine and a habit.
BOM
The bureau of meteorology is Australia's primary source of all-weather information. It is the executive agency of the Australian government responsible for providing weather services to Australia and the surrounding areas.
One of the great features I like is the radar, where you can find whether observations in your area.
It has:
weather overview
radar
hourly forecast
save locations
daily forecast
and widgets for locations on your phone home screen.
Waypoint apps
Controlling your drone can go well beyond simply flying your drone. Drone waypoint software allows you to plan your drone flight and sit back and relax while the drone executes the flight mission autonomously.
If you would like to know more about the best drone waypoint software, check out my other article – click here – where I tell you all the best options as determined by professional drone pilots.
Litchi
There are over 4000 successful daily flights using this software, and it is available on the Google play store and the iTunes App Store.
The app is compatible with the DJI Spark, Mavic, Phantom, and Inspire series.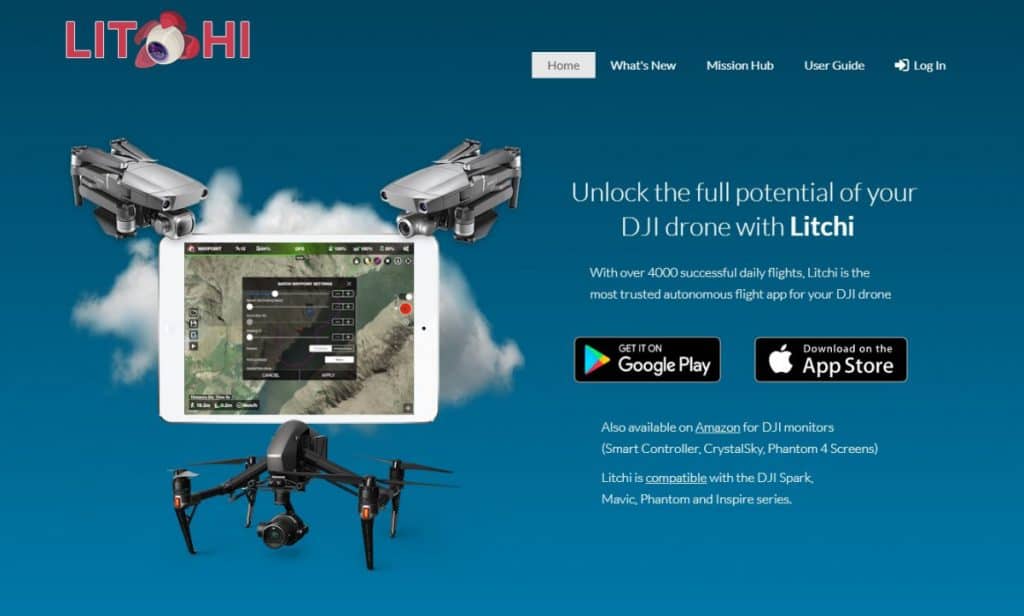 The user interface is very intuitive and offers a powerful waypoint mission planner. It is also available on all platforms and operating systems so that you can seamlessly sink your missions across many devices.
Here are all of the features that I particularly like about this software that makes it perfect for beginners and advanced users alike.
Focus mode – the software takes control of the gimbal and the drones yaw axis to concentrate on the horizontal movements, easily creating amazing shots for beginners.
Track mode allows your DJI drone to understand what it sees and keeps your selection perfectly framed while flying the drone. Orbit and follow are also incredible tracking options too.
Intuitive mission hub – the mission hub allows you to plan waypoints from a desktop or laptop. It is incredibly intuitive and allows you to discover other people's missions.
Visual mission planning with Google Earth – you can't use Google Earth Pro two plan a mission in three dimensions.
Litchi for flight controllers – you can also use this software on a smart controller, crystal sky, and Phantom 4 screens.
Overall, this software is a fantastic option for a relatively small price for planning your flights and getting your drone to execute various tasks during its flight.
$22.99 (iOS) $24.99 (Android)
Dronelink
Dronelink is compatible with the DJI Mavic series, Phantom series, inspire series, M200 series Matrice series DJI Spark and experimentally support the Parrot Anafi.
With drone link, you can plan mapping missions, organise your cinematography flights and produce professional photos and videos; it can create 360° videos and produce hyper lapses, which are complex time lapses whilst moving the camera.
Dronelink can automate everything, not just the flight path
components – Dronelink uses components to move your drone, gimbal, cameras and allows you to create organisation and layers of complexity.
Flight logging integrations – you can integrate this app with multiple flight logging services
many preprogrammed behaviours – an extensive menu of preprogrammed behaviours for your drone makes planning your flight mission a breeze.
Drone link is an excellent option for drone pilots who want extra drone control during the flight mission. It allows you complete control of many drone flying and capturing capabilities.
Summary
In this article, I have shared all of the best drone apps that can be used in Australia. The apps for planning your drone flight have been approved by CASA, which means you will always stay on the right side of the law when using them.