When you are looking to buy a drone it can be really confusing to have a look at the range of drones that are on the market that are manufactured by a range of different companies. During the drone boom in the 2010s there were many companies that were shadier than others producing drones. The thing to come out of this is that some drone brands are better than others as they continually develop and research their drone technology with the consumer at the front of their mind. In this article we are going to go over some of the best drone brands in the world and talk about their history and what makes them stand out in quite a competitive market
The best drone brands in the world included DJI, Parrot, Yuneec, Snaptain, Freefly, Holy Stone, Syma and Hubsan. Each of these drone companies have a unique selling point. It may be that they specialise in beginner drones or it may be that they are focusing on the upper end of the market and professional level camera drones. You have to select a company that best matches the use case for your drone.
You may or may not have heard of some of these drone companies in the list but I can assure you that the drones in this list are some of the best manufacturers currently in the drone market. This is because they have great products, great customer service, and have shown the test of time with their innovative products and unique service offerings. For more information about buying a drone check out my drone buying guide – click here.
Let's take a look at one you have definitely heard of even if you are new to the drone world – DJI.
DJI
The DJI company was founded in 2006 by its founder Frank Wang. Wang built the first prototypes of DJI projects in his dorm room and funded the company early on in its life by selling the flight control components to universities and Chinese electronic companies. He use that to move to the company to a better location and with the help of a family friend was able to grow the business quickly. The first drone that DJI released was the DJI Phantom in 2013 stop the idea was that it was an entry-level drone which was far more user-friendly than other drones on the market at the time.
There is no doubt that DJI is a leading company when it comes to understanding what their customers want and providing it in a cost effective and user-friendly package. The DJI company has enterprise, agricultural, and video production level drones which makes them incredibly versatile as a drone company. The technology they invent for one area can easily spill over to advances in the next which makes them a powerhouse of research and development and innovative products.
Nowadays, DJI does not offer many budget drones. It really has specialised in the consumer level and semiprofessional drone models which they bring a new model each year. At the time of writing the DJI Mavic mini 2 has just been released. The DJI Mavic series is a popular consumer level drone and they also have professional level quality drones from the phantom series upwards. Pretty much every single drone influencer you have seen on Instagram or other social media sites have been using a DJI drone to capture inspiring footage.
The DJI Mavic air was one of the first drones that I bought and still use today. Every single drone product review on this site has a DJI drone in it. That is how incredible this company is at creating products perfect for the beginner through to the professional drone cameraman.
Low range DJI drone
DJI Mavic mini
The DJI Mavic mini is a super lightweight, portable drone that can be flown outside without registration in a load of different countries. It is incredibly compact and light which means that this drone can stay in the air for up to 30 minutes – which is longer than most drones which are much more expensive. Just because you are paying less it does not mean that you are skimping out on other really important drone features.
One of the most cost-effective drones in the DJI series is the DJI Mavic mini. The Mavic mini has these features:
ultralight drone – it is only 249 g so perfect for flying in the United States without registration.
30 minutes flight time
4 km high definition video transmission
GPS hover control
three axis gimbal
2.7 K camera
Pros
+ 30 min Max. Flight Time
+ Under 250 g
+ Smart features of much more expensive drones
Cons
~ No 4K – understandable at this price point
~ Effected by strong winds
~ No avoidance sensors
For such a small drone DJI have really perfected the amount of technology that they can squeeze into this small package.
DJI Flagship consumer drone
The DJI Flagship consumer drone is the phantom 4 pro V2.0. It has an amazing array of features and is designed specifically for the professional creator. It shoots 4K video at 60 frames per second and has a massive 1 inch sensor. It has five directions of obstacle sensing which means that your investment will be safe while you are flying and a maximum flight time of 30 minutes. This is a pretty incredible drone from a very well-respected drone company.
Parrot
Parrot is a French wireless product manufacturer based in Paris, France. It was founded in 1999 and in its early days produced a load of Bluetooth and voice recognition hardware and software. It wasn't in till January 2010 when the Parrot AR.Drone was shown at CES in Las Vegas. There the drone was piloted over Wi-Fi using a smart phone and open API game development platform, ARdrone.org. In 2014 parrot introduced the mini drones "Rolling Spider" and "Jumping Sumo" at the same convention. In 2015 the company created subsidiaries: parish drones and parrot automotive ware in November they introduced the bebop 2 drone.
These days the company focuses on parrot Anafi (which has thermal and FP for the versions of the drone. And is a competitor to the entry level consumer drones that DJI make. The drones have an incredible amount of features for a good price range and include many of the advanced automated flight systems that you would expect from a much more expensive drone.
The parrot drones have been used in search and rescue missions, law enforcement, building inspections, and military applications. There are many options based around the Anafi drone that nearly every type of user can find a pack that works well for them.
Here is a quick rundown of the parrot Anafi drone:
Parrot Anafi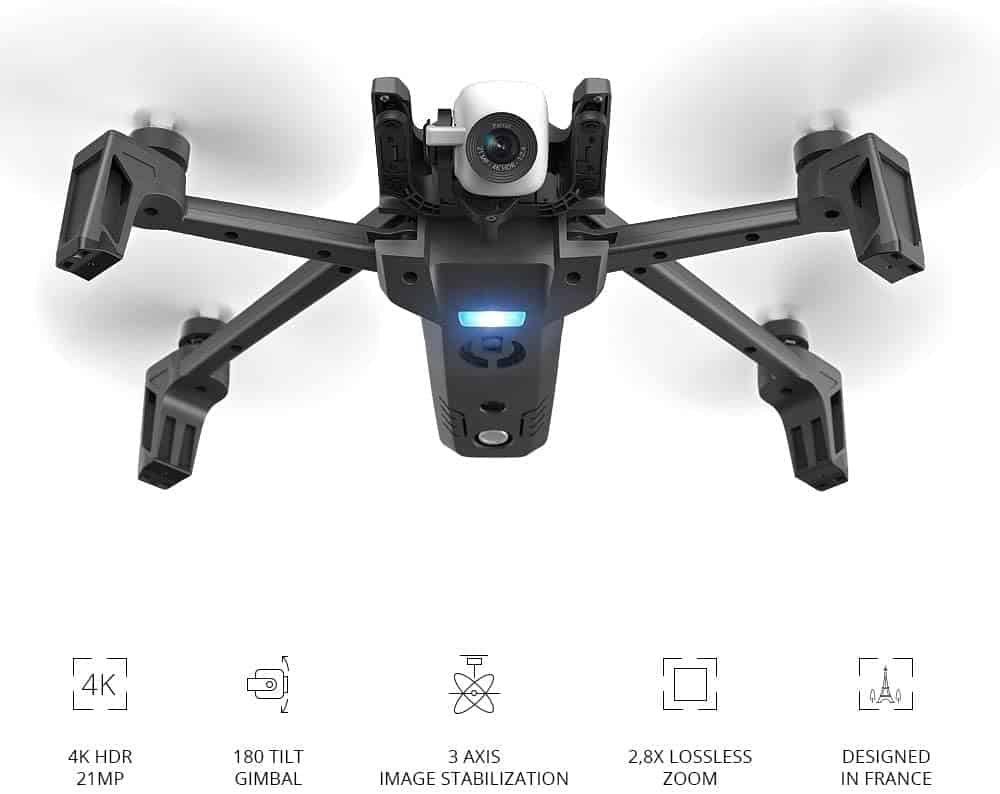 This drone comes with a 2.8x zoom – more than the DGI. Which means that you can capture images from even further away. Capturing wildlife drone footage without hassling them has never been easier!
If you are on a tight budget you'd be silly to not look at this drone seriously!
This drone with a camera equipped with f/2.4 wide angle ASPH lens, HDR, and up to 2.8 times digital zoom captures spectacular 4K videos, Full HD or 2.7K videos (2704×1520), and 21 MP photos without loss of quality. Additionally, you have a timer, a Burst mode that captures 10 photos per second, and wizards to take over professional settings
The ANAFI Parrot Drone can have up to 25 minutes of filmed flight time thanks to an intelligent Li-Po battery that optimizes its life and charges 60% faster using the Power Delivery USB Type C charger; Operating Temperature range: -10°C to 40°C
With its ultra-compact and lightweight carbon frame (320 g), this quadcopter drone unfolds in less than 3 seconds, reaches a speed of 55 km/h in sport mode and withstands bullets up to 50 km/h
Equipped with a Parrot Skycontroller 3 folding remote control, the ANAFI Parrot Drone can be located at any time thanks to the activation of your smartphone's vibrator when attention or immediate action is needed, as well as the Geofence, SmartRth, and Find My Drone functions
Software updates can make changes to existing features, further enhance ANAFI's reliability and performance, or offer new experiences. It is therefore important to have an updated FreeFlight 6 application and to accept the proposed software updates. Max charging power 24W
This drone is a fantastic alternative to the DJI ecosystem but it is not any less powerful. This is perfect for anyone who wants to explore as it has got a 2.8 times Zoom which is something that you need to spend a lot of money on to get in other drones. The low noise design means that you can explore above wildlife and people (if your jurisdiction allows) without causing distress or annoyance. If you're looking for one of the best drones for exploring – this could be it.
Pros
+ 2.8x Zoom
+ Inexpensive
+ Low noise design
Cons
~ Shorter battery life than the DJI drones
~ Shorter range than DJI
Holy Stone
The holy Stone manufacturing company was founded in 2014 and since then have introduced a range of drones that cover professional level features. The holy Stone drones come in a range of options from the 2K drone which has been designed to, presumably, take some of the market of the DJI Mavic mini. This drone is 2K camera drone with many advanced features such as auto return headless mode and a 20 minute flight time.
The HS120D FPV drone comes with 1080p HD live videos and GPS return to home. It has 16 minutes of flight time and a range of following me, selfie functions.
The holy Stone drone price range goes from US$25 up to US$399.
It is clear that this drone would be suitable for beginners that don't want to spend as much money as is required to buy a DJI or parrots drone but still want some of the advanced features that can make flying a drone much more fun and enjoyable. Here is a review from the holy Stone HS720E which will go through all of the aspects of the drone.
this drone company is perfect if you want a budget drone with a good amount of features. Holy Stone is also renowned for excellent customer service and so you can buy from this company with confidence.
Hubsan
Hubsan is another company that is based in China. These drones are really great for hobbyists who want to go for a less expensive drones than those manufactured by DJI but want beginner friendly and intermediate level models at a budget price. The hubsan X4 is one of their best selling models which you can purchase for as little as US$29 and other drones in that range can go up to US$180 for the pro version.
The unique selling point of this company is that they want to provide premium quality air drones to customers who are looking for cheap alternatives. This means that the customer base are newer to drone and want to try out the act of flying a drone for a price that won't hurt if they decide to never fly a drone again.
The drones and entry-level quad is have automated flip sequences which means that they are easy to make exciting for younger people who can easily get bored with regular flying. Spare parts are easily available on their website and the controllers are easy to operate for new drone pilots.
If you are new to drone flying you should definitely look at purchasing a Hubsan drone as it will help you determine whether or not this hobby is for you. Then you can upgrade to a drone like the DJI Mavic mini or air.
Syma
Syma is a drone company that are positioning themselves as the best drone company for beginners. They have been manufacturing high quality drones and quad cop's for over 10 years and has focused on making the drone experience awesome for children. This is all about making the drone fun and easy to fly. Who wouldn't love that?
The Syma X 12 can be had for as little as US$20 while other pocket drones with cameras and altitude hold start from about US$25. On the other end of the spectrum the Syma X 500 retails for approximately US$190. This drone has the same level of flight time and features that you would expect from a much more expensive drone. It has up to 56 minutes of flying time and is 250 g so you can fly it in the US without a license or registration. It also has advanced features such as altitude hold mode, headless mode (where the movement of the joysticks were always move the drone relative to how you are looking at it) and it also has one key takeoff and landing functions that makes it very easy to operate. Follow me object trace and custom path are software features that are perfect for drone users. Here is an excellent review from YouTube.
There is no doubt that Syma is a company that has a wide range of drones and drone features. So if you are in the market for a beginner drone this could be one of the best options for you.
Snaptain
Snaptain is a drone company that is focused on the lower end of the market. Although they do have some more advanced offerings at a higher price. They have a range of beginner/kids drones and have also developed high definition camera FPV drones. The kids drones like the Snaptain SP 300 are entry-level drones that are perfect for students and children to wet their appetites with the drone flying world. At the other end of the spectrum are drones like the Snaptain SP 500 which is much closer aligned with what we expect from a drone. It features high definition pictures and videos with a huge hundred and 10° wide angle camera. It also has GPS auto return for safer flying and gesture control.
This company is slowly making inroads into the drone market and have delivered many different types of drones which gives a perfect range for people looking for advanced drones on a budget price.
Lower price Snaptain drone
The Snaptain SP 300 is a hand operated mini quad or drone. It retails for about US$40 and has a range of useful features. It has three remotes which include a standard mini remote, a G sensor watch remote, and a water drop shaped remote. This makes it perfect for nearly every level of flyer.
It has infrared motion sensors to detect obstacles and will also move in the opposite direction if the infrared sensors detect anything nearby that means you can move the drone around with just your hands. It also has a headless mode and three speed levels so that it can suit very small children up to teenagers with no issue.
Flagship consumer snaptain drone
The Snaptain SP at 650 is a full high definition camera beginner drone that retails for US$150. It can record HD footage at 25 frames per second with 120° field of view. It has a unique voice and gesture control system so you can speak to control the flying direction or post to the camera to trigger video and photo shooting. It can also perform stunts like 360° flips and high-speed rotations. You can also draw the course of the flight on your phone and the drone will follow that flight pattern. It has a relatively low flying time of 12 minutes but it has two supplied batteries which allow you to fly for 24 minutes.
Autel Robotics
Autel Robotics was founded in 2014 with the vision of being able to develop unmanned aerial technologies for recreational and commercial applications. In 2015 they released a drone court that X star and have now moved on to the EVO 2 series. This drone company is not going for the lower end of the market but are focusing on taking some market share away from DJI. Their entry-level model Evo starts at a price of US$1495.
The EVO 2 series comes in three options with varying camera options. The Evo 2 has an 8K footage option with 33 million pixels. That is nearly 4 times as many pixels compared to a 4K camera. The high resolution enables the ability to zoom or crop and image or video without a loss of quality. It has a 360° obstacle avoidance system unlike many of the other drones manufactured by other companies. This makes it incredibly safe to fly and the Evo can track targets with a dynamic track mode.
This company will be a company that you should keep an eye on. They are producing portable small and powerful drones that I think the consumer market is perfectly ready for. It'll just be a matter of time before these drones become more popular as they seem to be aligned perfectly with what consumers are demanding from drones at the moment.
Yuneec
This company was founded in Hong Kong in 1999. They started out as a manufacturer of remote-controlled aircraft for modelmaking enthusiasts but have now extended their range to include drones.
In 2014 the company produced the first drone called the Typhoon Q 500 quadcopter. It had a three axis gimbal and a 1080p camera that could record at 60 frames per second. For the time this was a pretty incredible drone and showed that this company was one of the forerunners in drone technology at the time. This company is focusing on hexacopters as they are more stable in strong wind conditions and provide more lift for heavier cameras and equipment.
In 2016 the company produced the Typhoon H which was the first semi-professional hexacopter in a ready to fly version. It was equipped with Intel real sense technology which allowed the drone to detect obstacles and automatically dodge them which is something that was ahead of its time in 2016.
In 2016 they also released a drone called the breeze which was a 4K selfie drone that was looking to take some of the market share from DJI and its small drone customers. The breeze is not a foldable drone but is still very small and easy to carry.
This company is forward thinking and has co-engineered its drones with other companies such as Leica. Not only is the hardware incredible but there are also intelligent flight modes such as journey mode, orbit, follow me mode, and curved cable cam.
Flagship Yuneec drone
The flagship consumer drone is the Typhoon H plus. It retails for about US$2099 and has a range of awesome functions:
it has a 360° gimbal rotation
it captures high definition footage at 60 frames per second
it is ready to fly out of the box
it has a 1 inch sensor
it includes Intel's real sense technology
and it is able to fly on only five of its motors.
The remote control unit has a 7 inch touchscreen display which makes it very easy to use. The live image can also be transferred to an external monitor via an HDMI port and the image can be transmitted up to 1.6 km away. The drone can also be flown by a second pilot in team mode which means that you are able to operate as the photographer or pilot individually.
If you're looking for a serious photography drone then you should consider this company as they seem to be focusing on the high end section of the drone cinematography and photography market. I was very impressed when looking around their website at the features that they are building into their drones and can't wait to get my hands on one.
Freefly
Much like company above freefly systems is known for its high and drones built for cinematography and the awesome gimbals. Free flight corporation company that was founded in 2011. It specialises in camera movement systems used in cinematography and drones. The company gained a lot of notoriety within the video production industry after the launch of a camera stabiliser which was much smaller than the one used in the industry at the time. The camera stabiliser eliminated the need for camera operators to wear a harness with heavy weights to counterbalance the cameras.
The company has three models of drones and two models were launched in 2011. In 2015 free fly also launched a ready to fly hex copter called the Alta.
Flagship Drone – Alta
The Alta is a six rotor ready to fly helicopter designed to carry a payload of up to 6.8 kg. This drone can carry a gimbal and professional camera. The outer is the first drone which allows mounting of the camera and gimbal on the top or bottom of the drone.
This drone transforms from the world's most capable drone to the most portable with its foldable arms. It has folding propellers and a quick release system to make it quick to unfold and get into the sky. It folds to 50% of its operating size which makes it one of the most practical drones in its class.
If you are serious about cinematography and flying a drone you should 100% checkout this company.
Conclusion
So, there are all of the drone companies that I think you can trust and take seriously. Depending on what you want your drone to do and how often you will be flying your drone including your flight experience to date there is an option for everyone.
Keep an eye on the drone market in the coming years. As drone companies start to understand their customers more and more we can expect to see more innovation and advanced features in even the smallest and least expensive drones.