One of the best reasons for buying a drone is that it gives you the ability to explore an area like never before. Soaring high above the ground allows you to get a birds eye view of your immediate area and far off into the distance. One of the great things about drone is that if you spot something in the distance you can quickly zoom over to it to explore it in more detail. One of the issues is that the flight time and Max speed will limit how far you can get before you need to return and land safely. Another important consideration is the remote control controllable range. Here, we will be going through the best drones for exploring and comparing the stats and figures on what I think of the most important metrics for a drone that is used primarily for exploring. I will also include what I think is the best drone for exploring.
One of the best drones for exploring is the DJI Mavic Air 2. This drone has a medium weight of 570 g – which makes it perfect for carrying on a load of adventures, a flight time of 34 minutes and a relatively Low cost of US$799. That makes it one of the most versatile and user-friendly drones for exploring.
Now, let's take a detailed look at all of the options of the most popular drones for exploring and comparing them in terms of cost per kilometer – a metric that I think is important for exploring.
In a hurry? This is the best drone for exploring
If you are in a little bit of a hurry look no further than the DJI Mavic Air 2. This drone packs and enormous battery life into a streamlined and portable drone that is perfect for exploring almost any situation.
DJI Mavic Air 2
The Mavic Air 2 takes power and portability to the next level, offering advanced features in a compact package. It has a range of intelligent shooting functions and excellent image quality put aerial masterpieces within reach.
This is a great little drone and it will satisfy people who want to explore!
Pros
+ Very portable
+ Cheaper option than Pro
+ Great intelligent flight modes
Beyond the DJI Mavic air 2 there are also a range of other awesome drones that are perfect for exploring. For example, if you want something that is small portable and easy to carry look no further than the Mavic mini. Want to get outside of the DJI ecosystem? The Anafi parrot is one of the best drones for exploring it has a massive battery life of 32 minutes a top speed of 14.7 m/s and is relatively inexpensive at $667.
In the table below I have also included six more options and tabulated the most important aspects for a drone suitable for exploration.
Table for comparison of drones
I have crafted this table so that you can get an idea of all of the important aspects of a drone suitable for exploring and compare them side-by-side. I have decided that these are the most important aspects:
weight – if you want a drone for exploring it's incredibly important that the weight is low so that it isn't a massive pain to carry in a backpack.
Flight time – if you want to explore there is no doubt that flight time is one of the most important factors. The more time you are in the air the higher and further you can go (within the controllable range) and explore further afield.
Top speed – I have included the top speed of these drones because sometimes you just want to zoom over to an area for further exploration. The faster you can get there allows you to explore the area in more detail and spend less time travelling to a certain location.
Calculated Max range – I have taken the top speed and the flight time to calculate the maximum kilometre range of this drone. It is likely that the real Max range is significantly lower due to acceleration battery drain and environmental factors.
Cost – there's no getting away from the fact that cost is an important factor when considering a drone for exploration. A good exploring drone will be relatively inexpensive so that you are willing to put it through a little bit more challenging conditions without fear of losing many thousands of dollars worth of technology.
Dollars per kilometre – this is a metric that I think is important since the calculated Max range in kilometres should be correlated with how much each kilometre costs you for exploring. This is a single figure that I think is one of the most important if you are considering buying a drone for exploration.
Here are the top eight drones that I think you should consider if you are looking for the best drone for exploring.
You can see from the above table that the three most efficient drones in terms of cost per kilometre are the Mavic air 2, the Mavic mini and the Anafi parrot. This means that these drones are the most cost effective for the calculated Max range (which is calculated from the top speed and flight time). Therefore these three are the best drones for exploration.
These are the drones that I would happily take out into the wilderness as they have a relatively low weight – with the Mavic mini being only 250 g – and the Mavic air 2 being 570 g. Being suchlike drones I would happily chuck these into my suitcase or carry on luggage if I was to go for an adventure.
Each of these drones has a flight time of greater than 30 minutes which I think is really important when you consider that exploration is exactly that – and unknown flights where you need as much time as possible in air to discover and find out what is around you and have a good search of your flight zone.
The top speeds range from 13 m/s to 19 m/s which is more than fast enough to get you to where you want to explore quickly.
Also, all of these drones are under US$1000. This is really important. When I have spent more than $1000 and a drone there is a psychological issue where I do not want to send the drone out into uncharted territory. If I spend over $1000 on a drone I want to make sure that it will return safely. When you're exploring there something you cannot be 100% sure of.
Let's take a look at these top three drones in more detail so that we can understand the differences beyond the factors presented in this table.
Review of top 3 drones for exploring
DJI Mavic Air 2
The Mavic Air 2 takes power and portability to the next level, offering advanced features in a compact package. It has a range of intelligent shooting functions and excellent image quality put aerial masterpieces within reach.
The camera includes:
1/2-inch CMOS sensor: it has smooth 4K/60fps video. The D-Cinelike flat color profile retains more information for post-processing. The HEVC (H.265) video codec records more image information, uses less storage, and preserves the dynamic range and detail of your footage, ensuring next-level content.
8K Hyperlapse: this will allow you to simply warp time and space for especially stunning footage.
this is an inexpensive and ultra portable drone that I think you'd be silly not to consider if you want to be a little more budget consious.
Weight – 570 g
Dimensions

Folded: 180×97×74 mm (Length×Width×Height)
Unfolded: 183×253×77 mm (Length×Width×Height)

34 minutes max flight time
Max wind-speed resistance – 8.5-10.5 m/s
8 GB internal storage
Max speed – 19 m/s
This is a great little drone and it will satisfy people who want to explore!
Pros
+ Very portable
+ Cheaper option than Pro
+ Great intelligent flight modes
Cons
~ 4K 60FPS only available in manual modes
~ No side obstacle avoidance
DJI Mavic mini
The DJI Mavic mini is a super lightweight, portable drone that can be flown outside without registration in a load of different countries. It is incredibly compact and light which means that this drone can stay in the air for up to 30 minutes – which is longer than most drones which are much more expensive. Just because you are paying less it does not mean that you are skimping out on other really important drone features.
It can support 12-megapixel aerial photos and can shoot high definition (2.7 K) videos. In such a small device you even have a three-axis motorized gimbal so you can be assured of a steady and blur-free recording or photography session. It even comes with a remote controller so you can keep track of your drone and control it with ease. Having a controller cannot be understated it really improves the piloting experience.
Pros
+ 30 min Max. Flight Time
+ Under 250 g
+ Smart features of much more expensive drones
Cons
~ No 4K – understandable at this price point
~ Effected by strong winds
~ No avoidance sensors
Parrot Anafi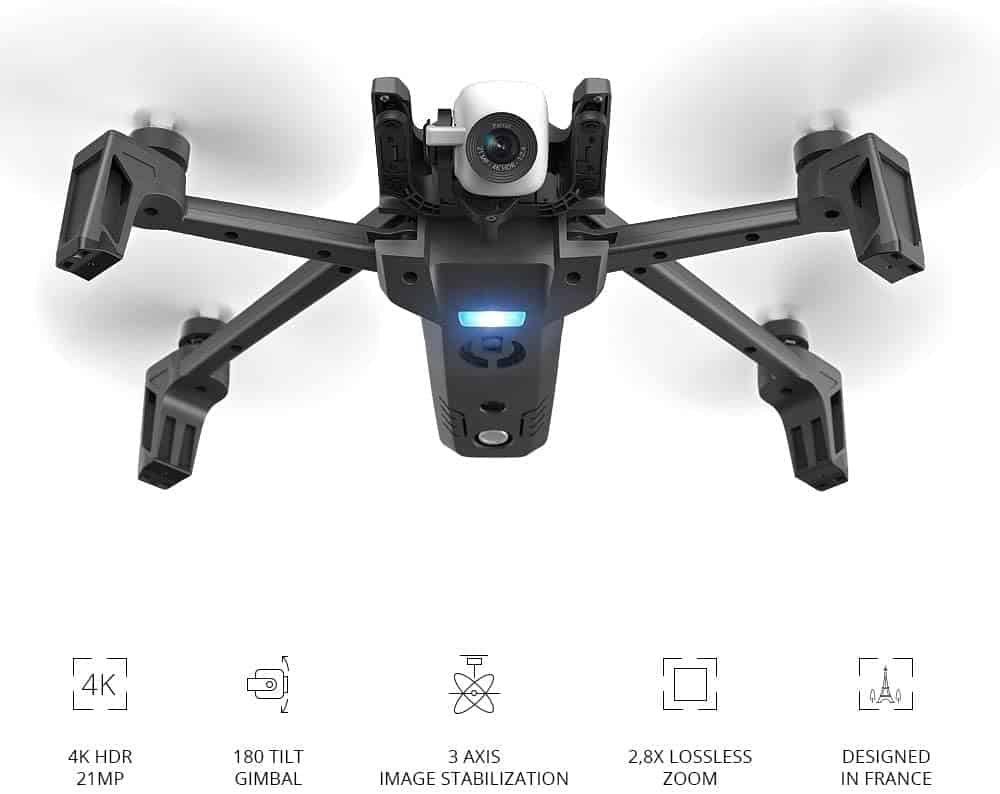 This drone comes with a 2.8x zoom – more than the DGI. Which means that you can capture images from even further away. Capturing wildlife drone footage without hassling them has never been easier!
If you are on a tight budget you'd be silly to not look at this drone seriously!
This drone with a camera equipped with f/2.4 wide angle ASPH lens, HDR, and up to 2.8 times digital zoom captures spectacular 4K videos, Full HD or 2.7K videos (2704×1520), and 21 MP photos without loss of quality. Additionally, you have a timer, a Burst mode that captures 10 photos per second, and wizards to take over professional settings
The ANAFI Parrot Drone can have up to 25 minutes of filmed flight time thanks to an intelligent Li-Po battery that optimizes its life and charges 60% faster using the Power Delivery USB Type C charger; Operating Temperature range: -10°C to 40°C
With its ultra-compact and lightweight carbon frame (320 g), this quadcopter drone unfolds in less than 3 seconds, reaches a speed of 55 km/h in sport mode and withstands bullets up to 50 km/h
Equipped with a Parrot Skycontroller 3 folding remote control, the ANAFI Parrot Drone can be located at any time thanks to the activation of your smartphone's vibrator when attention or immediate action is needed, as well as the Geofence, SmartRth, and Find My Drone functions
Software updates can make changes to existing features, further enhance ANAFI's reliability and performance, or offer new experiences. It is therefore important to have an updated FreeFlight 6 application and to accept the proposed software updates. Max charging power 24W
This drone is a fantastic alternative to the DJI ecosystem but it is not any less powerful. This is perfect for anyone who wants to explore as it has got a 2.8 times Zoom which is something that you need to spend a lot of money on to get in other drones. The low noise design means that you can explore above wildlife and people (if your jurisdiction allows) without causing distress or annoyance. If you're looking for one of the best drones for exploring – this could be it.
Pros
+ 2.8x Zoom
+ Inexpensive
+ Low noise design
Cons
~ Shorter battery life than the DJI drones
~ Shorter range than DJI
Buyers guide for a drone for exploring
if you are looking for a drone for exploring there are a few features that warm make or break your decision. All of the drones listed in the above table have great cameras and first person view controllers which means that you will be at the forefront of the action and exploration as you are flying your drone. However, these drones differ in terms of their portability, range, cost, zoom on the camera, and top speed. Let's have a look at why these are the most of important features for a drone if you are primarily using it for exploring.
Portability
If you are an explorer the one thing that you are doing is travelling to new and uncharted areas. If you are travelling you need a drone that is incredibly portable and packs down to a very small size. Most of the drones now available or have arms that are able to be folded into the body which completely reduces the overall volume that the drone takes up during transport.
You should seriously consider the folded weight and size of the drone you are purchasing. The Mavic mini is one of the smallest but most powerful drones currently available on the market. It doesn't have sensors for obstacle avoidance but what it lacks in sensors it makes up for in ease of carrying and transporting. Getting a slightly bigger drone means that you are getting more advanced hardware features and better construction quality.
So choose a drone that matches where you will be mainly carrying it – if it's in a small backpack go smaller – if you are mainly travelling with a suitcase you can afford to buy a slightly bigger drone as it won't impact on portability too much in your case.
Range
Buying a drone for exploration means that you want to travel as far as possible. This doesn't necessarily mean away from you but it could mean in terms of zigzagging around your flight zone to find out exactly what is around you. This means that you want the largest range possible. The range is essentially a function of how fast you can travel and the battery flight time. The mid-range consumer drones have a fantastic range and the only thing that really limits how far away you can fly is the controller strength. That means, you should focus on getting a drone with a controller as there is a much larger range over a drone that only uses a smart phone with Wi-Fi connection.
Put simply the bigger the range the more chances you will have to explore.
Cost
Let's not pretend that cost isn't a really important factor. The more you spend on a drone the less likely you are going to want to put it in potentially precarious situations. I know for myself that if I have spent over $1000 on a drone I am much less likely to want to send it out over water, in built-up areas, or near any obstacles. Personally, I like to choose drones under $1000 so that I do not feel like it is a incredibly expensive piece of equipment that I need to treat with the utmost care. The reason I bought a drone was to send out and explore different areas – and making sure that I'm not too concerned about the price means that I can do that.
Your budget will ultimately dictate how much you want to spend on a drone – but try to get away with the cheapest drone possible that does exactly what you wanted to do. Don't get swept up by the latest marketing techniques employees by the drone companies but rather focus on the feature sets and create an Excel table so that you can view them objectively.
Zoom on camera
The zoom on the camera will mean that you are able to get a closer look at faraway objects without having to get closer. If your camera does not have the zoom the only real way that you can find out what is in the distance is by going towards it. Having a zoom means that you don't have to travel as far to achieve the same level of exploration. As a drone is hovering it is using less energy and so you may find that you have a much greater flight time than you would otherwise have had.
Quite often, having a zoom on a camera comes at a cost. For example, the Mavic to pro and zoom come at a cost of about $1599. However you can find a much cheaper drone with a zoom in the Anafi parrot. This drone has a fantastic zoom and it won't break the bank.
In short, you can replace needing to travel to an area with a camera with a good zoom. And you don't have to spend a fortune getting a drone that has got a reasonable zoom.
Speed
The last aspect I think is really important is the top speed. The top speed means that you can travel to interesting parts of your environment relatively quickly so you spend less time moving. Going at aim top speed all of the time comes at a cost of increased wind resistance and so your battery will not last as long as if you were hovering. However, I know that sometimes I get relatively impatient and always pushing the pitch forward as hard as it will go so that I travel as fast as possible. If you find that you are going to slow or too fast a lot of these commercial drones have the ability to enter beginner, intermediate, or sports mode. This changes the top speed and how reactive the drone is to the remote controller joystick movements.
Frequently asked questions
Here are some frequently asked questions about drones that can be used for exploring. Quite often they focus around distance, operating distance, and longest flight time. We'll tackle each one of those questions now.
What is the best drone for distance?
The best drones for distance actually not ones with quad copter rotors. Instead they have fixed wings and our solar powered. One of the best drones for distance for a continuously flying aircraft is 26 days without taking a single break for refuelling. The drone only weighs 165 pounds which is the amount of a single person and is powered by an 80 foot wingspan covered in solar panels.
What drone has the longest flight time?
One of the longest flight drone times ever recorded is four hours and 40 minutes. Given that the average drone can only hover for own half an hour this is pretty impressive. This record is claimed by Spanish drone manufacturer Quaternium. The drone uses a hybrid fuel source which includes an electric engine and a combustion engine. The combustion engine keeps the battery charge throughout the flight
the company's mission is to:
Quaternium mission is to design the most advanced multirotor UAVs in the market. We combine experience and high tech to develop a disruptive product that aims to revolutionize the multicopter field. With this ultimate innovation, flight duration is increased 6 times compared to existing alternatives.
That's pretty impressive and it's is something that they seem to have been able to achieve. One of the current models of drones involves a two-stroke combustion engine that requires a 95 octane +4% oil mix. It also contains a lithium polymer battery. It can carry up to 10 kg and at a full load can stay in the air for approximately two hours. The cruise speed is 50 km/h with a maximum speed of 80 km/h. That's a pretty impressive drone that has a load of potential applications where lithium polymer batteries alone will not cut it.
Conclusion
So if you want to grab yourself a drone that is great for exploring you should focus on the weight – so that you can carry anywhere – the cost and maximum range. The drones in this list are some of the best drones for exploring and you should consider them seriously if exploring your local area is one of the main reasons you are purchasing a drone.
Get out there and enjoy your exploration!