Are you looking for the best drone for home use? Do you want to explore the world of drones within the safety of your home use and as a hobby drone flyer? The great news is that you don't have to do break the bank to get an amazing drone. Thanks to the integration of advanced technology into even the most beginner level drones, even the new drone pilot can quickly get in the air and enjoy every second of their drone flight. The drones I'm going to show you in this article are going to give you the feeling of flying a drone and my favourite drone – the DJI Mavic Mini 2 – is also completely suitable for your adventures and taking with you on journeys. The good news is that this drone does not cost very much but it has such an amazing array of features that you'd be silly to look past it.
In a hurry – here is the best drone home use:
DJI Mavic Mini 2
The DJI Mavic mini two is an incredible new drone. This drone has everything you would want for a drone for home use. It has a weight of less than 249 g which means in United States of America you don't have to register this drone. It is ultralight and super foldable so that you can pack it away in a drawer with no fuss and it won't take up much room if you don't use it for a while. It has a 31 minute maximum flight time which is an incredible amount of time to fly around your home or garden. A lot of people want to buy a drone because they want to capture memories and awesome video footage or photographs. This tiny little package packs an ultra-clear 4K video capability with all of the intelligent modes and quick shots that people love about the DJI ecosystem.
The thing about home use is that once you are done flying about your fax you may want to take it out into the garden or on expeditions. The great thing about this drone is that it will perform outside in the real world incredibly well as it has a level 5 wind resistance – which means that it can handle winds between 8 to 10 m/s (36 km/h or 22 miles/h). If you want to know more about the best drones you can buy for high winds check out my other article – best drones for high winds | five awesome insider pics – click here to be taken to article.
Thanks to the new technology, which is responsible for communicating from the remote control to the drone, you can get up to a 10 km video transmission which means that you will be able to comfortably fly around your house without any loss of video transmission or control of the drone.
Also, this drone features a four times zoom which means that you can keep your distance while capturing shots of your family or friends. There are not many other drones in this price range which have this range of features and incredible affordability. As long as you have one of the compatible, DJI approved, smart devices you will be able to quickly and easily get this drone in the air within minutes of opening the package.
This drone also completely optimises your user experience using intelligent features such as smart return to home, auto takeoff, precise hovering, and the operation is so easy that even the youngest members in your family have fun letting this drone.
There are a massive number of accessories which include a charging base, 360° Propeller guards, DIY creative kits, a two-way charging hub, snap adapters for the camera, and a DJI mini bag. One thing I really like is that the charging base also acts as a little storage container and display case for your drone. This means that you can charge it up in your home whilst showing off your newest toy. It looks sleek and slender and will fit into a variety of different homes without an issue.
Why I think this is the best drone for home use
The DJI Mavic mini 2 is by far one of the best drones which packs a massive array of features in a small affordable package. Here are some of the best reasons why I think the DJI Mavic mini should make it on your top three drone list if you are considering buying a drone for home use.
Size
Quite simply, drones and accessories can sometimes take up a whole lot of space. When you first buy drone you will be driven to fly everywhere and anywhere you can. This means that you will have to travel with it as well as store it in a sensible location when you are not using it.
There is nothing more annoying than double guessing taking your drone on your adventure with you. The answer, obviously, is that you should always take your drone go – but it's really the size that dictates how to likely you are to take your drone with you.
The size also dictates what sort of rules and regulations you need to abide by in your country and local area. Drone rules are constantly changing but there seems to be an agreement that under 250 g is an appropriate size for a drone for hobbyists. This drone comes in under that weight limit which means that you will probably get away with having to do the different licensing and registration is in your country of origin. That makes this perfect for home use.
Cost vs features
When this drone first came I was absolutely stunned at all of the amazing features that DJI have been able to pack into one of the smallest drones ever. If you compare and contrast this drone with the top end range of the DJI series you will be absolutely amazed at how similar they have managed to make the features of this inexpensive drone to the top of the range, flagship, drones that they produce.
You'll be hard pressed to find a drone at this price with as many features as the DJI Mavic mini 2.
Support for issues
The one thing I absolutely love DJI is that they have a very extensive support network and a simple Internet search with the problems always result in fruitful information that can solve your problems. There are dedicated forums which are run by DJI and other forums which are run by enthusiasts of their products where you can find everything you need to know about flying a DJI drone.
This means that if you come across a problem your frustration will be short lived and get back into the air as soon as possible. If, for whatever reason, you are unable to resolve your issue with the forum alone DJI have a very understanding crew of support workers that will help you resolve your issues.
Drones to consider
If the information above doesn't quite lead you down the path of wanting to purchase the DJI Mavic mini 2, here are some other options which I think are perfect for home use. Some of them are better for indoor use and do not contain a camera et cetera but all of them are worthy drones if you want to fly in your home.
SNAPTAIN SP350 Mini Drone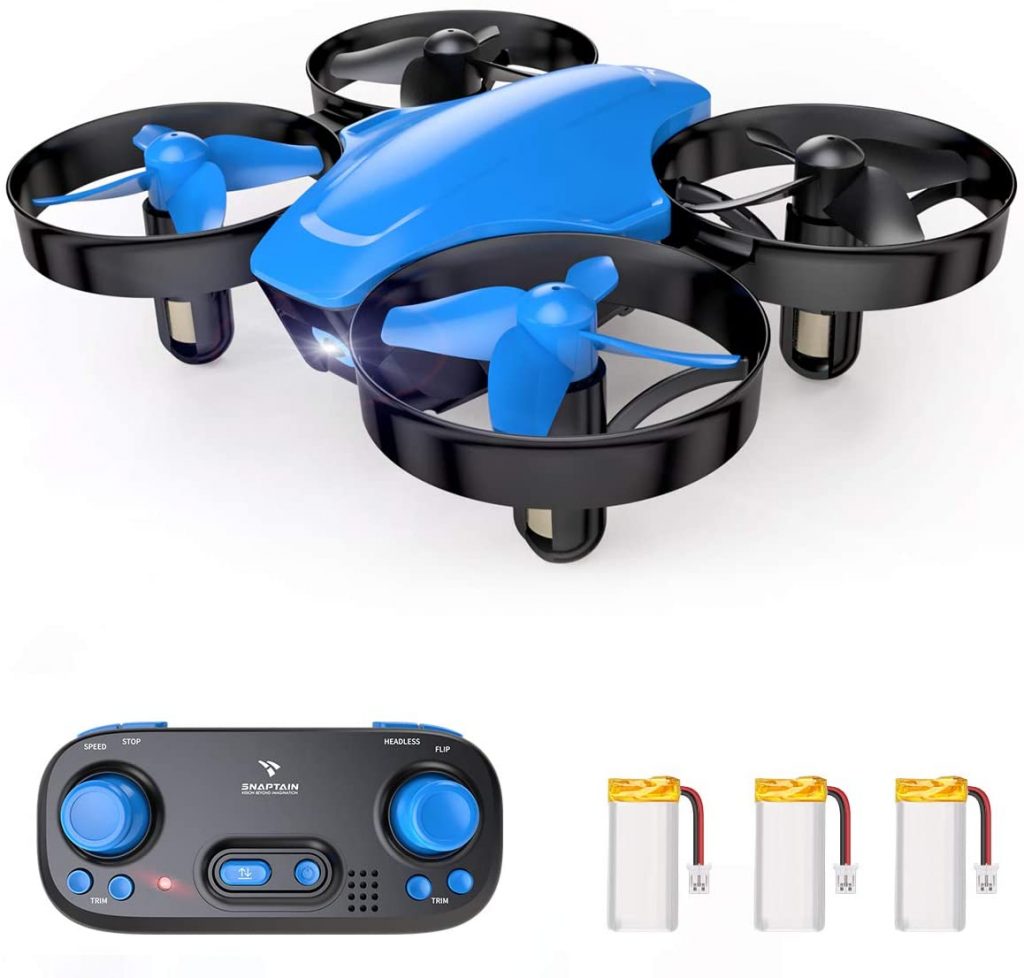 This drone is perfect it is normally priced under US$50 and is the perfect introduction for children to the dragonfly world. It has permanent Propeller guards and comes with a full featured remote-control and three batteries so that you can be charging and flying simultaneously.
Their own reason I like this drone is that it has a "throw to fly" function where you don't need a remote-controlled takeoff. All you have to do is put this mini drone into your hand and toss into the air to start flying. This drone also has a headless mode which means that irrespective of the direction the drone is flying in it will always move in the direction the joysticks are moving.
If you want to just fly around your home without any issue in this drone is the perfect drone for you. It is also very durable so you can bump into things without worrying about the drone becoming damaged.
OOri – Best smart racing drone
The OOri drone is the world's first smart racing drone and it is an incredible racing drone that makes it fun for everyone to fly! The awesome design combined with a screen in the middle of the remote control will no doubt make this drone a hit! IT has been deemed the words fasted mini drone with speeds of up to 50 mph per hour and has won multiple CES drone awards.
Here are the features of Oori:
Ready to fly out of the box
Three flight modes. Making it perfect for beginners, intermediate and racers.
Top speed of 50 mph
Rapid battery changes
Assignable LED's
This drone is the perfect drone if you want something fun for racing around the house or through different obstacle courses.
Ryze Tech Tello – best for teenagers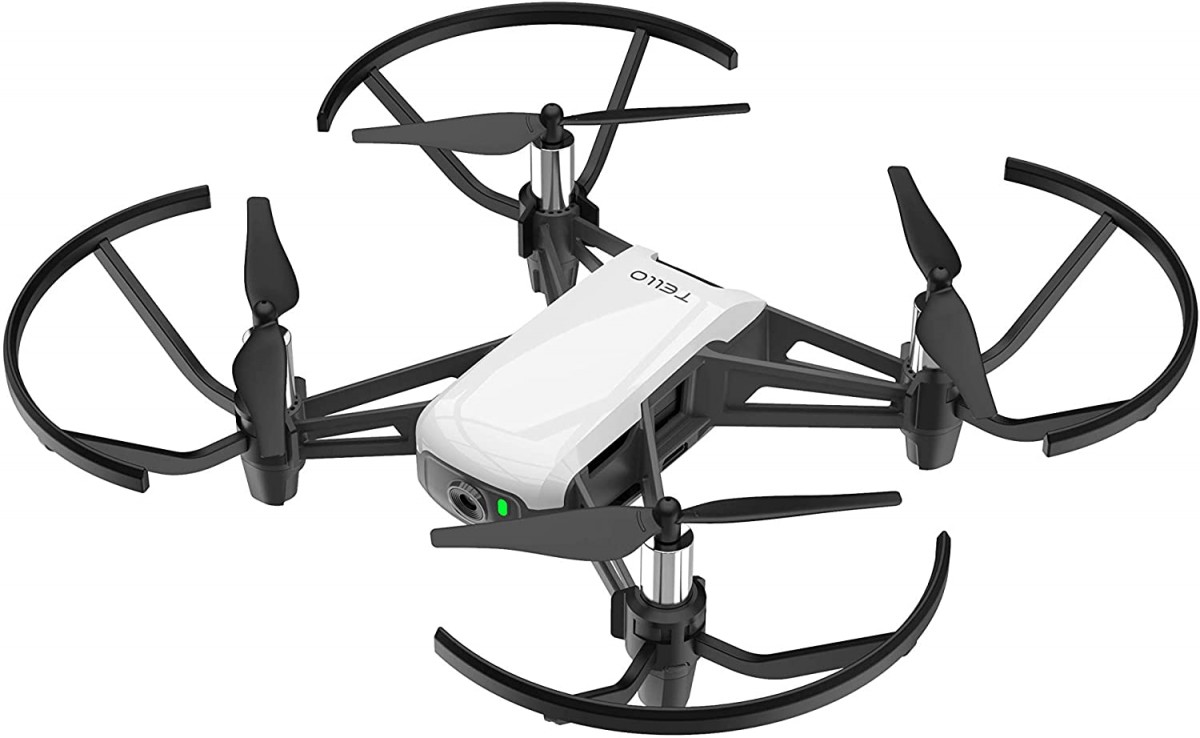 This drone may be small and lightweight but it has a tonne of features powered by a very reputable drone manufacturer, DJI. DJI are the leaders when it comes to drones and they have perfected this entry-level drone. It may be a little too advanced for the youngest in your family – but we'll talk about better drones for the youngest age group in a moment. For now, here are the features that this drone comes with:
Tello App – The Tello app makes it really easy to fly. It makes even the most complicated maneuvers just a simple touch of a button.
Lightweight – this very small drone fits in the palm for your hand and weighs only 80g.
You can perform stunts – start flying by tossing the drone up into the air with the Throw&go technology. You can also perform stunts and tricks (like flips) using the app
Safe to fly indoors – Thanks for rotor guards and its vision positioning system the Tello drone is fun and safe to fly indoors
13 minute flight time – a huge flight time for a drone of this size powered by the best drone batteries on the market – DJI batteries!
Programmable – You can learn the basics of programming by using Scratch – an MIT developed coding system especially suited for students. Fly your own flight patterns
This drone is perfectly situated between the DJI Mavic mini 2 and the less expensive drones on this list.
HASAKEE Q8 FPV Drone
This drone may be small but there are loads of fun features that will keep your child occupied for hours of entertainment. The study outer ring means that you don't have to worry about it hitting the walls as the propellers are guarded and protected. There is also a lock height feature that allows you to keep the drone at a steady height – allowing your kids to navigate through the house without crashing into the ceiling or floor!
Here are some of the best features of this drone:
this drone has a high definition camera and live video – an incredible addition to a relatively inexpensive drone you'll be able to snap and upload your video and photos to social media from your smart phone.
User-friendly – this drone is able to take off land in return with one easy button push. There are three levels of speed to choose from so it doesn't matter what skill level you are.
It has gesture control – using the okay sign for taking photos and the peace sign for taking video you can easily control the drone with your hands and voice you can simply say takeoff, land, left, right, forward, backwards and the drone will do what you say.
Holy Stone HS170 – best for small kids
This drone is a great toy for children. It looks just like a UFO with flashing lights. The sensors on all four sides keep the drone from bumping into things and also allow the drone to respond to your hands as they are placed near and underneath the drone.
Even though it is for smaller children, you still need to be present as they play with the drone. There are reported instances of long hair getting pulled into the drone. However, this is still a great addition to the toy box and will get the tiny people in your life excited when it takes off! Here's the full feature list:
kid friendly – this flying toy is so very friendly to fly. All you have to do is turn on the power button and throw the aircraft up gently and it flies and hovers immediately.
Rugged – this drone is made for wear and tear. It has a fully encased Propeller system and all of the hardware is protected by the outer shell.
Because this drone is more of a toy than a drone that you would fly about your house it has a very low flight time of about 5 to 6 minutes. However, if the main user of this drone is a child it will be very well received and super easy for the youngest people in your family to fly.
Drone for home use buying guide
If, you are still not convinced that the drones in the above list are for you, here are all of the important features that I think you should consider when buying a drone specifically for use at home. This means that if you think carefully about each of the things below you are much less likely to end up buying a drone that you do not like and having buyers remorse… That is the last thing that we want you to end up with.
Who is the drone for?
The first question to ask yourself is who is the drone primarily for. If you are thinking about buying a drone for a child, you should check out my other article that looks at all of the best drones for children – click here to be taken to article.
Most drones are able to be flown confidently by 10-year-olds and up. The thing is, manufacturers are making it easier and easier to fly the drones because of the greater appeal from the general public. They need to cater for a range of capabilities and ages.
Ease of flying
If you are new to drone flying I would recommend getting a drone which has a beginner mode. Beginner mode makes it much harder to crash by reducing the top speed of the drone and also the sensitivity of the joysticks whilst manoeuvring.
Once you are comfortable with the drone and how to fly it you can turn off the beginner mode. This becomes a natural progression as your experience of flying the drone increases. Most people find that they are happy turning off beginner mode after only one or two flights.
Where is it going to be flown?
Another question I think you should ask yourself is: where is the drone going to be flown? If you are thinking about only using your drone in your house then you should consider buying a drone which has Propeller guards, or other safety features which means that if it encounters the walls or other objects in your house at it doesn't damage them.
The thing I love about the DJI Mavic mini 2 is that it has 360° Propeller guards which means that it will protect your drone's propellers from coming into contact with anything whether or not they are coming from above, the side, or below.
Now, even though that you think you will be primarily using your drone in your house it could be that in the future you want more capability from your drone. This means that you should consider buying a drone which could also handle the wind and other environmental conditions found in your garden. At the very least I think that you will end up flying it arrange your garden, but you may also want to take it on adventures and with you during your travels.
Size and weight
If you are flying your drone in your house, you should consider buying a drone which will comfortably fit through door frames and in the corridors. The bigger the drone is the more chance that you will hit the walls or the ceiling because of the smaller room for error.
Also, the smaller size means that your drone is a smaller weight. A smaller drone will be less likely to damage itself and its surroundings. There is nothing more painful than seeing your drone crash land stop however, some of the lighter drones are designed to bounce back from even the highest of crashes by weighing significantly less.
Battery life
You should also consider the battery life as well as the physical size of the drone. There are two important aspects that you should consider about the battery the first one is the time it takes to charge up the drone as well as the total flight time you are likely to get.
Time to charge
There is nothing more frustrating than waiting for your drone to charge. There are two ways to overcome this problem the first one is to buy a drone with a smart charging device which will charge your drone quicker and faster. The second option is to simply buy more drone batteries. By having a number of batteries on the go at any one time you are able to quickly swap batteries and continue flying. The batteries are the most expensive component of any drone and especially if they are a smart battery. So sometimes buying a number of batteries just isn't feasible.
In this case you should consider getting a drone which you are able to charge up quickly and has a advanced charging systems such as the DJI Mavic series drones. These sort drones often come with a charging hub which will distribute the power so that it charges up the drone with the most energy first so that you can be flying as soon as possible.
Flight time
The flight time of drones has increased significantly over the past few years. It is not uncommon to see drones now with over 25 minutes flight time which, only a few years ago, would have seemed amazing!
Storage
If you are getting a drone for home use you should consider how easy it is to store. Some of the larger drones (especially the photography drones) can start to take up a fair amount of space.
If you want a drone that is easy to get out and quickly fly around your house you can choose to buy a drone that is relatively small. This means you can keep it in a cupboard that you regularly use without it taking up the entire cupboard space.
Also, I would recommend that you get a dedicated storage case or container for the drone so that it can sit together with the remote control and other accessories that you have. The accessories are easy to break and lose if they are not continuously kept with the drone.
Propeller guards
Propeller guards are incredibly important if you want to fly in your home or garden. They also mean that if you are learning to fly a drone you are less likely to damage your new purchase. If you want to find out more about the best drones with propeller guards check out my buyers guide – click here to be taken to article.
The benefits of using a propeller guard are:
confidence – when I fit propeller guards on my drone I am confident that the drone will not fall out of the sky and that the propellers will continue to spin if I bump into something on the side, front or back. That protects my investment in the drone.
Training – if I want to practice flying in confined spaces such as in my living room I always use propeller guards. This is because in enclosed spaces the drone performs very differently. If the drone gets too close to the ceiling or walls of an enclosed space the airflow can become turbulent and the drone can be very hard to control.
Protects the drone – drones can be very expensive and there is no doubt that taking out into the wild for the first few flights can be very scary. Adding a layer of protection between the environment and your drone will mean that the investment you have made will not be wasted through silly accidents.
It protects people around you – even though drones are relatively safe spinning propellers can cause a fair bit of soft body part damage. I once caught my finger in the spinning blades of my drone and took the skin off causing a fair fit of bleeding. That will teach me for trying to catch my drone out of the air.
Advanced flying modes
If you are new to drone you should also consider buying a drone that has advanced flight automation and usability software. I think that the most important for home use are:
Headless mode – headless mode will mean that the drone will move in the direction of the joysticks irrespective of the direction the drone is pointed. Normally, the drone controls will be reversed when the drone is pointing toward you. This can be challenging for new drone pilots.
Auto hover – this auto hover is a fantastic addition as it means that if you take your hands off the controller the drone will maintain its altitude and position. Sometimes, drones without this can easily drift with the wind or with other air disturbances and bump into things in the surroundings.
Auto capture – if you want a drone with a camera you can select a drone with auto capturing so that it can take photos and videos automatically. These are great ways to easily capture some really awesome cinematic footage and expert level photography.
The more you pay for a drone the more likely it will have some of these advanced flying modes. However, if you just want a drone that you can fly about without having to worry about crashing it you should go for the other end of the spectrum and buy a drone that is inexpensive but rugged and made of durable plastic. This means it will easily take it crash and banks right back!
The bottom line
The best drone I think exists at the moment for in-home use is the DJI Mavic mini 2 stop this power packed drone is incredible. However, if your budget doesn't quite stretch to that amount you can easily afford one of the other drones on list.
The important thing is you consider all the reasons why you want to purchase this drone and you use it regularly. Each person's use case will be different and I hope that this guy has been useful for you to work out what is the most important feature set for you!