I love vlogging. I recorded and edited a daily vlog for over a year from 2020 to 2021. I learned a lot about vlogging during that time. I started with a single camera and ended up with a drone. There is no doubt that having a drone makes vlogging so much nicer and more engaging.
The best drones for vlogging include the DJI Mini SE (under $500), the DJI mini 3 Pro (under $1000) and the DJI Mavic 3 (if you are looking for a professional level for your vlogging).
I started my vlogging journey to promote my start-up business. It brought in over $20,000 of revenue to the company; all it took was me to push the record button daily. I posted primarily on LinkedIn and YouTube.
My first drone was the Mavic Air which I bought for AU$800. Since then, an amazing array of drones have been released, which are even better suited to vlogging and Solo content creators.
This article will go through the best drones handpicked by someone who produced daily video Vlogs for over 13 months.
Best drone for vlogging under $500
The great thing about vlogging is that it does not need to be expensive. You can find some incredibly capable and feature-packed drones for under $500.
Even though this is an older DJI drone, it still packs down to an incredibly small form factor and can help you record your adventures for your vlogging.
DJI Mini SE
The DJI mini SE is an ultralight drone under 249 g. It has a maximum flight time of 30 minutes and a three-axis camera that can record in high definition and up to 2.7 K.
It is such a tiny drone and is perfect for flying outdoors where there are no obstacles. It has a very impressive flight time of up to 30 minutes with a fully charged battery and offers a range of complex quick shots that DJI drone pilots have come to love.
For this drone, you are spending money on the awesome camera and software.
The lack of a sensing system means you must pay extra attention to your surroundings and flight with extra care. However, a drone of this size and capability is well worth the compromise.
If you want an incredibly powerful drone with all the modern bells and whistles, check out the next one in our list.
Best drone for vlogging under $1000
If you can afford it, this would be my top pick for the best vlogging drone.
It has packed everything that the drone community once in a drone into a tiny 249 g drone with capabilities often reserved for much more expensive and larger drones.
Not only does this drone have an incredible 4K high-resolution video capability, but it also offers optical sensing for keeping your drone safe.
One of the most amazing things about this drone is that the DJI Mini 3 Pro camera can also spin to capture vertical video. Perfect for a vlogger producing mobile-first content on platforms like tic-toc.
DJI Mini 3 Pro
The DJI mini 3 Pro is a fantastic option for those seeking a lightweight drone that can do almost anything.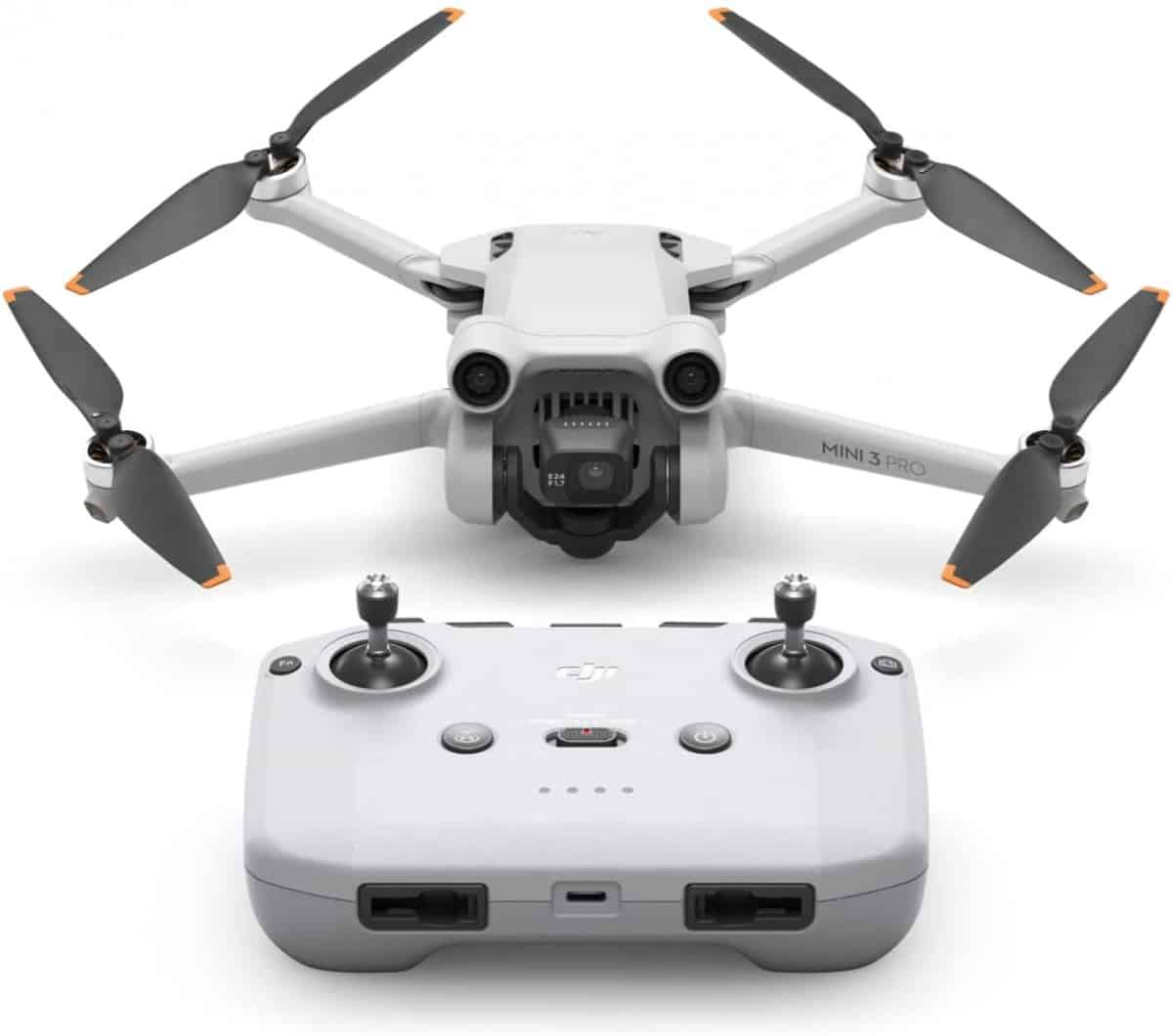 It has a 4K high definition video capability with true vertical shooting, all of the bells and whistles of focus track, and advanced flight software.
I love that it has three-direction obstacle sensing whilst also being so incredibly small.
If you are looking for a drone that can produce professional-level photos and videos at a very small form factor, look no further than this drone!
I don't think I need to promote this anymore… It's just an amazing drone.
Best professional drone for vlogging under
If you're looking for a professional drone, look no further than the DJI Mavic 3.
You may be wondering – why do I need a professional-level drone? Well, with this drone, you can capture some incredible footage, and it has zoom features which make vlogging so much easier.
DJI Mavic 3
The DJI Mavic 3 is DJI's latest flagship drone, and it packs a powerhouse of a camera. In fact, it has two of them.
It folds down to a small form factor and carries a zoom lens capable of up to 28x zoom in explore mode.
It has enhanced safety features such as omnidirectional obstacle sensing which helps you avoid collisions so you can focus on getting the best shot possible as a solo creator.
It has multiple wide-angle vision sensors to plan its flight and return to home function.
It comes with all of the automatic capture features that DJI owners love, such as high-speed quick transfer, active track 5.0, master shots, panorama, hyperlapse, and quick shots.
Truly one of the best drones on the market at a premium price point.
What other content creators are using
I first got into vlogging because I fancied myself as a bit of a Casey Neistat.
Of course, it is not as easy as simply buying a drone to match the quality and storytelling of some of your favourite content creators. However, some content creators use incredible drones, and I talked about it in my other article – click here to read what drone your favourite content creator uses.
I also did a video summary that you can watch here:
Generally, YouTube creators use DJI drones. That is because they are generally well respected and offer robust and dependable drones perfect for carrying with you through your daily adventures.
Buyer's guide – best drone for vlogging
All you tubers and vloggers should aspects for their use.
Whether you are an adventurer who needs a tiny drone to carry with you at all times or a much more famous vlogger, here are the important aspects you need to consider if you are in the market for buying a drone for vlogging.
Cost
Clearly, price is a big factor for a lot of drone purchases.
I noticed that YouTubers with much more subscribers purchased the more expensive and latest drones on the market. However, the most expensive drone isn't necessarily the best drone for the way that you are going to use it.
Always buy drones within your budget, and you can pick up some awesome drones at a relatively inexpensive price.
Also check out my guide for buying a second hand drone if you want to buy a feature packed drone at a budget price.
Size/Portability
Purchasing an incredibly portable drone is important for vlogging.
I used to carry my drone with me every day. I ensured it was charged overnight and had enough battery to give me at least two flights.
I loved that my drone came in its own carry case that protected it while it was in my bag. Choosing a drone under 250 g will make the portability and carrying of it much easier.
Choosing a drone under 250 g will also mean that you get around some of the red tape associated with heavier drones. You may not even need to register your drone if it is below a certain weight.
Flight times
Make sure your drone has the longest flight time you can afford.
Drones are getting better and better at long flight times, but I always purchase an extra battery to carry alongside my drone in my bag.
I found that I would fly my drone from 10 to 15 minutes to capture the shots required for my vlog.
With two batteries, that will give you plenty of opportunities to capture the perfect establishing shot or b-roll footage.
How to use your drone for vlogging
There are many ways to use your drone for vlogging. My favourites are b-roll footage, follow me modes and creating great establishing shots for my short videos.
B-roll footage
The general public are spoiled with the quality of footage they can access online.
Having a simple talking head vlog can be very boring for the majority of people. A drone can be used to capture footage of your surroundings and location so that you can edit around your voice to provide visual variety during the video.
Follow me modes
Many vloggers are solo content creators.
Ensure that you purchase a drone with follow me modes if you are the one responsible for all of your filming. I used the follow me mode on my drone quite often when riding my bike and walking around to help me capture videos of myself.
It can be scary to have your drone automatically following you, but rest assured, the follow modes are getting safer and safer with the increased use of sensing and obstacle avoidance.
Wrapping up
This article has covered everything you need to know about the best drone for vlogging.
Make sure that you make a list of what the most important aspects of a drone would be for your particular use case and select from my options.
If you are unsure, my first recommendation would be the DJI Mavic 3 pro. This drone has everything you would ever need wrapped up into an incredibly small form factor.
Remember to push record as often as possible because a lot of content ends up on the cutting room floor. The more flight time you get for your vlog the more opportunity you have to find the perfect shot for your content.