Although buying a drone is now intimately related with taking aerial footage and photos, it doesn't have to be. There are plenty of reasons why you may want to buy a drone and not have a camera that comes with it. For some people that could be that they want an increased flight time, they want to practice aerobatics, or they simply have got their own camera and want a drone to carry it. For whatever reason that you want a drone with no camera we are going to go over the best drone no camera options for your consideration.
In a hurry? This is the best drone with no camera
If you're in a hurry this is by far one of the best drones that you can buy that does not come with a camera. It has a load of really awesome software features and you can even bring your own go pro to the party if you want to add a camera in the future.
Solo's video game-style controller will feel familiar the second you pick it up, even if you've never flown a drone. Pushbutton commands put both camera and copter at your fingertips. Take off, land or instantly pause your flight midair with a single touch. Click to start and stop recording or snap a photo, even adjust camera angle while you fly
In case you missed it in the picture…that's a high-quality HDMI port directly from the controller so you can connect Solo to practically any screen you can think of. Refer user manual below
Full-featured app for iOS and Android puts total craft control at your fingertips.
However, this may be a little bit more expensive than you were hoping for so in the next part of the article we are going to go over the inexpensive options for the best drones with no camera.
All drones in this article
Here are all of the drones that are mentioned in this article with a link to Amazon if you want to check out more details about each drone.
Drone reviews
In this section we are going to go over each of the best drones with no camera so that you can make the best choice for your use case. There are plenty of options of drones with no camera and it is likely to only get better in the future as educational drones and drone racing becomes more and more affordable and the electronic components get cheaper and cheaper.
Robolink CoDrone Pro – Programmable and Educational Drone Kit (https://amzn.to/3lWjvr4)
Fun and educational drone
Perfect for beginners learning programming
Arduino Compatible controller
Use your Apple or Android smart phone to fly, battle, voice control CoDrone
Easily removable/replaceable motors
---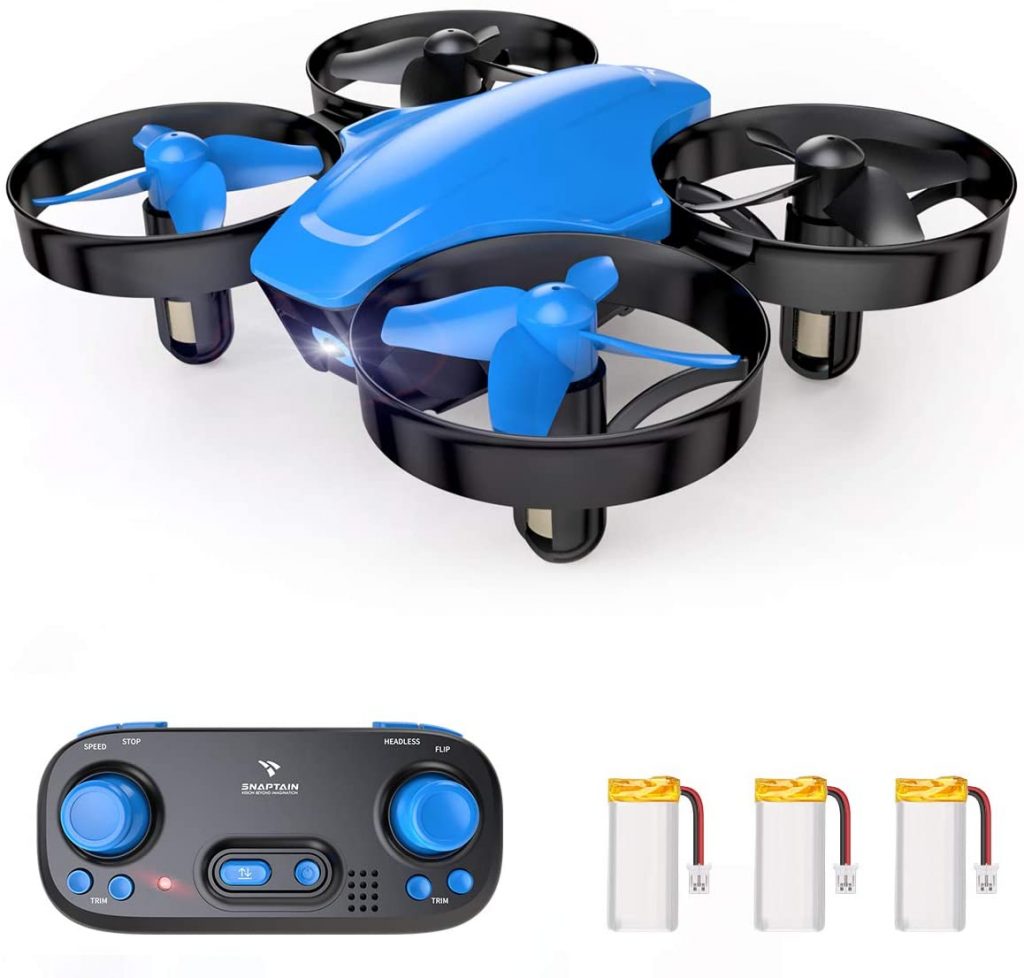 [Throw flying function] no remote control required to take off. Just put this mini drone in hand, then gently toss it into air to get a quick start. Super easy to learn.
[Excellent air show] With circle fly function, this little drone will hover in a circle at high speed, bringing kids new exciting experience. Besides, speeds can be adjusted at will (low/medium/high), and great fun can be found in a cool 3D flips and rotation.
[Easy operation] altitude hold enables drone to hover automatically, providing a more stable flight. Just through a simple tap, kids can easily finish One key take off/landing, one key return, headless mode and emergency stop of this drone. Easy for kids and beginners.
[Triple flight time] with 3 powerful batteries, The flight time of the drone can be prolonged up to 21 mins. Have more fun anytime and anywhere for its portable mini size. Bright LED will give more indications about directions, without fear of losing control.
[Durable quality assured] multiple protections can greatly avoid some problems like excessive motor consumption, loss or out of control, extending service life of the drone. 4 guard rings protect the propellers from Collision, long-lasting and safe flight.
---
Long Flight Time — With a battery capacity of up to 1800mAh, using a high-capacity battery, it provides an extra long flight time of about 25-30 minutes, ensuring that you can enjoy your flight time with pleasure.
Easy to Fly Even to Beginners — Built-in 6-axis gyroscope for accurate hovering in th sky. You can fly it without worrying about the direction and controlling it more freely. With height-maintained, headless mode and one-touch take off/landing, these features are easy to operate, used for children and beginners.
360-Degree Flip & Rolls — Our drone can perform the 3D Flips, and you can also adjust the speed to meet your operation proficiency. Modular design structure is applied, more simple for assembly and easy to maintenance. Fun and suitable for kids, beginners and hobby users.
Safe for Kids — Special plastic for the aircraft frame, which makes the helicopter more anti-collision, and able to fly smoothly and stably indoor and outdoor. Protective Propeller guards to ensure a safe flight and avoid scratching the walls and furniture.
Gift and Toys for Age 14 and Up —— With Altitude Hold, One Key Start/Land, Draw Path, 3D Flips. Play with your friends and families especially in outdoor activities. Creative electronic gifts for Halloween Christmas birthday festivals, suitable for Age 14 and Up boys and girls.
---
Ultra Safe – Ideal Gift for Kids or Beginners No idea about choosing new toys for your lovely child? Want to buy a drone but worry that it's too big to play indoors? How about check this ATTOP new release A11 toy drone. Since safety is the most important thing when playing, the careful propeller protection design our mini drone has not only can defend the propeller from the collision but also free you from worrying about cutting your babe's hands or scratching your expensive furniture.
Easy Control – Get Started Quickly Have you ever lost interest in playing cause don't know how to operate? A11 drone can save you trouble! One Key auto pairing & take-off/landing functions allow you to start up quickly without holding the user manual and scratching your head. (Many drones need manual matching) After taking off, once pressing the altitude hold button, you can lock the micro drone on height and move it horizontally. You can unlock more functions after proficiency.
Advanced Function- Have More Fun Even it looks very small, but the function A11 drone for kids has is very practical and complete. 1.Toss to fly. After frequency matching and calibration finished, the A11 kids drone can be horizontally tossed in the air to launch. The small drone will automatically unlock the blades and fly in the air. 2.Two speed modes meet different needs. 3.Perform cool 3D 360 degree flips make flying much more interesting. 4. Headless Mode and so on.. More fun to explore!
Triple Endurance – Up to 21 Minutes Flight Time with 3 Batteries – Come with 3 batteries in the package, the total flight time for A11 kids drone is prolonged up to 21 Minutes. Because the fuselage is very small, the playtime with a single battery in the industry is only 5-6 minutes. So in order to meet the needs of longer playtime, we equipped the A11 mini drone for kids with three batteries for you! (The remote uses 3A batteries, and the drone batteries are rechargeable.)
No Worry To Lose- LED & Low Battery Alarm Since the toy drone is super small, many children easily lose the micro drone when playing. With this in mind, we've done two nice features. One is low battery alarm. That means when the remote control handle emits a beep alarm sound indicating the battery is too low to fly, you should turn the kids drone back home. Another one is LED design. During flying, the lights at both ends of the drone will be on to facilitate the identification of the position.
---
LIGHT UP THE SKY Bright LEDs on the Q9s drone emit vibrant neon GREEN & BLUE light throughout its entire frame, providing you with a powerful illuminating effect and a vivid flight experience. It also has three different display modes for lighting. We believe that it will surprise you all!
SECURE & DURABLE The structured style and FOUR sturdy propeller guards ensures a secure flight which protects your kids to avoids body injury from spinning propellers. High quality ABS material to withstand countless crashes or drop. Very durable and reliable drone for Kids and Beginners
User Friendly 1:You can simply take-off / land / return the drone with one button. 2:Three speeds for you to choose, No matter beginners or skilled players. 3:You have no worry about identifying directions Under headless mode. 4:The altitude hold feature allows your drone to hover automatically in the air. (Even if you do not do anything with the controller) All these features make the drone extremely beginner-friendly.
Double flight Time Comes with 2PCS batteries. Player will have more time for fun.
Multiple Operating Tricks Featuring with 360 degree Flips and Auto-Rotation Functions to enrich your flying experience. Good toy for kids
Bring your own camera
Solo's video game-style controller will feel familiar the second you pick it up, even if you've never flown a drone. Pushbutton commands put both camera and copter at your fingertips. Take off, land or instantly pause your flight midair with a single touch. Click to start and stop recording or snap a photo, even adjust camera angle while you fly
In case you missed it in the picture…that's a high-quality HDMI port directly from the controller so you can connect Solo to practically any screen you can think of. Refer user manual below
Full-featured app for iOS and Android puts total craft control at your fingertips.
DJI drone without camera
Fun flying by itself or even better with a GoPro to record the action
The latest Phantom 2 comes with the new remote controller, new propulsion system and new compass
The Zen muse H4-3D gimbal is included in this bundle and requires installation and calibration using the downloadable DJI gimbal software
A GoPro camera is not included; please purchase a GoPro Hero4 Black Edition to utilize the camera stabilization features of the gimbal.
---
Buyers guide – drone no camera
Here are the most important things that you should consider if you want a drone with no camera. Quite often drones with no cameras also do not include other advanced hardware such as sensors and collision avoidance software. Because of the fact that you don't have a forward facing camera there are a few extra precautions that you need to take to make sure your flights remain enjoyable and that they don't end up with a broken drone from a crash.
Propeller guards
One of the first things that I would consider if I was buying a drone with no camera is to make sure that the drone comes with propeller guards. Typically, if someone is looking for a drone with no camera they will be flying the drone inside more often. When you are flying your drone inside you have to make sure that the propellers don't come into contact with things like walls, doors, plants, ornaments, shelves, and much more. Because of the way that air flows in a enclosed space it is a little bit harder to control your drone.
Buying propeller guards will mean that your drone will be able to bounce off any items that it bumps into at the same level and you can even buy propeller guards with protection on the top and bottom of the blades.
Propeller guards are incredibly useful when you are learning to fly a drone or if you are performing complicated manoeuvres in tight spaces. There are many drones that come with propeller guards and there are also many options to buy propeller guards if your drone does not come with them. They could be the thing that saves your drone from falling out of the sky and damaging itself beyond repair.
For a full run down on the best drones with propeller guards check out my other article – Best drone with propeller cards [plus propeller guard guide] – click here.
Bright colours
Having a drone that you can see easily from a distance is an important aspect of buying a drone without a camera. The thing is, without a first person view of what the drone is seeing it can be very difficult to know where the drone is in space and its proximity to other objects in the environment.
Buying a drone that has bright colours makes it easier to spot from a distance and also having colours that are different on each side means that you are able to identify which way the drone is pointing. This is particularly important if your drone does not have a headless mode (where the drone always moves in the direction of the joysticks irrespective of the direction it is pointing).
Some drones in the above list have lights and they are great if you are flying inside or in slightly overcast or a dusk or dawn situation. You have to be careful with lights as they are an extra drain on the battery and can significantly reduce the amount of flighting time. Opting for a drone that is brightly coloured rather than a drone that has lights may be the best option if you want a longer flight time.
Battery life
Because you are looking for the best drone without a camera the enjoyment that you are going to get from your drone will be from acrobatic movements and flying around obstacles or down defined path's. If you are using a drone which has a camera you spend a lot of the time getting the perfect shot which doesn't require much movement other than the occasional pan, tilt, or repositioning. Without a camera, your drone will be doing much more movement throughout the flying session.
That is why you need to make sure that the drone has a good battery life. Having a good battery life means that you can spend more time in the air affecting your drone fines skills rather than waiting for the battery to charge.
A good battery life, in today's drones, is around the 20 to 30 minutes mark. That is a long enough flight time to make sure that you actually enjoy the flight.
If you find that the flight time of your chosen drone is relatively short you should consider buying extra batteries. A lot of drones come with extra batteries as part of the initial purchase. Getting extra batteries is a very easy and cost-effective way of getting about one hour of flight time from a relatively inexpensive drone. Just make sure that each and every battery is charged before you head out!
Charging time
You should check the charging time of the batteries as well as the charger that the drone comes with. You want to make sure that the charger is good enough to charge the batteries in a relatively short amount of time.
As a drone enthusiast there is nothing more frustrating than spending a load of time waiting for drone batteries to charge.
Indoor or outdoor use
A lot of drones without cameras are primarily used for indoor use. An indoor drone is typically much less expensive and lacks the advanced stabilisation software (such as Geo positioning and altitude hold) as well as sensors which are used to keep the drone in stable flight.
If you want your drone to fly outside you need to make sure that your drone is capable of stabilising itself against the wind or that your skills are capable of flying in challenging conditions. If you want to know how to get better at flying a drone check out my other article – how to practice flying a drone [get better faster!] – Click here.
Selecting the drone that is right for you and where you want to fly will require that you spend some time listing out the intended flight areas of your drone so that you can select a drone that is capable of flying in those areas without any issue.
Remote control
The remote control is the only way that a pilot is able to interact with a drone during the flight. The remote control is an important tool which you will need to be completely comfortable using and enjoy using. A lot of pilots overlook the importance of the remote control and had no it dictates how now much fun you have flying your drone.
Choose a drone that has a good sturdy remote control or an app that is easy-to-use on your specific brand of smart phone or smart device. It will take some time to get used to all of the different buttons and joysticks but taking it slowly will be how you get more confident quicker.
Spare parts
Flying a drone without a camera will mean that you are lacking the first person view which can be used to fly the drone safer. You will have to rely on your direct line of sight for positioning and orientation of the drone. Because you will only have direct line of sight to fly the drone it is likely that the drone will come into contact more often with things in the environment.
This doesn't mean that your drone will crash but it could mean that you may check or damage some propellers. You need to make sure that there are many spare parts available freely online for the type of drone that you are considering buying. The sorts of parts that will need to be replaced regularly are:
propellers – propellers are an important part of flying a drone and is only part of the drone that will need to be changed regularly. Even if you haven't had a significant crash I recommend that you run your fingers over the entire length of the hours which will give you a good indication as to whether or not you need to replace them. Any small crack check or debt should result in the propeller being replaced.
Propeller guards – if you have had a serious crash the propeller guards may be broken or bent out of shape. Replacing the propeller guards will mean that the propellers are not likely to come into contact with any damage part of the other guard.
This buyers guide will help you make a decision on the best drone without a camera so that your decision does not result in buyers remorse.
Best drone for beginners
Sometimes, when you think you want a certain product that could be another one that better matches your use requirements – you just haven't considered it yet. If you're looking for a drone without a camera it could be that there is a drone out there that has a camera but also all of the advanced flying features that you want, and importantly, at a price that is completely reasonable and matches that of a drone without a camera.
You should consider purchasing this drone if you don't want a drone with a camera. It comes with DJI's software and world-renowned stability.
Ryze Tech Tello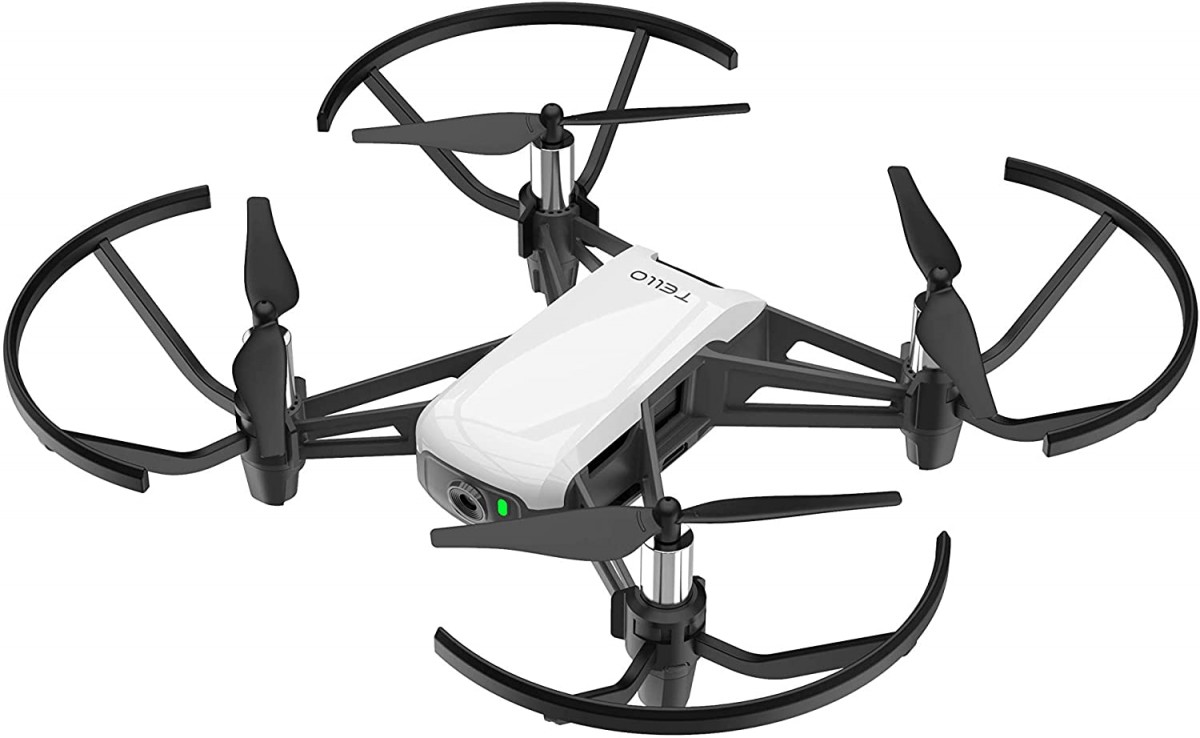 This drone may be small and lightweight but it has a tonne of features powerd by a very reputable drone manufacturer, DJI. DJI are the leaders when it comes to drones and they have perfected this entry level drone. It may be a little too advanced for the youngest in your family – but we'll talk about better drones for the youngest age group in a moment. For now, here are the features that this drone comes with:
Tello App – The Tello app makes it really easy to fly. It makes even the most complicated maneuvers just a simple touch of a button.
Lightweight – this very small drone fits in the palm for your hand and weighs only 80g.
You can perform stunts – start flying by tossing the drone up into the air with the Throw&go technology. You can also perform stunts and tricks (like flips) using the app
Safe to fly indoors – Thanks for rotor guards and it's vision positioning system the Tello drone is fun and safe to fly indoors
13 minute flight time – a huge flight time for a drone of this size powered by the best drone batteries on the market – DJI batteries!
Programmable – You can learn the basics of programming by using Scratch – an MIT developed coding system especially suited for students. Fly your own flight patterns
This thing is by far the best drone for kids!
Pros
+ Lightweight
+ Really inexpensive
+ super easy to fly
Cons
~ Needs another battery for continuous fun
Conclusion
There we have all of the options for the best drone would now camera that it currently available. Remember that if you are buying a drone with no camera that you will be relying on line of sight to keep children safe while flying stop this will include avoiding obstacles as well as keeping the drone safe and securely in a clear flying path without advance software features.
You shouldn't discredit getting a drone with a camera as the first person view of flying is spectacular and can help drone pilots become better, faster.
Happy drone flying my beautiful friend!