Consumers are becoming more and more concerned about where their products are being made, designed, and whether companies are headquartered. In recent years, there has been more and more press about the issues that come from relying on a single country to produce the majority of consumer electronics.
There are issues such as the workers not being guaranteed a livable wage or safe working conditions.
The COVID 19 pandemic has shown that economies are very dependent on China. Many companies choose low manufacturing prices to remain competitive and so send jobs and skills overseas.
And, arguably the most frustrating for a consumer, the shipping times can be many weeks or months if you are buying direct from a China based company.
If you are looking for the best drone not made in China you can choose from a range of manufacturers including parrot, Autel, Draganfly, Skydio, Freefly and more…
There are plenty of options for consumers that do not want to buy drones made in China they just come at a little bit more of a price because of the labour laws in non-Chinese countries.
In this article, we're going to look at the best drones that are not made in China and consider some of the options for drones that mean you don't have to sacrifice function or features.
If you are in a hurry here is the best drone not currently manufactured or designed in China.
Table of drone companies and drones
Parrot – France/USA
Parrot is a French wireless product manufacturer based in Paris, France. It was founded in 1999 and in its early days produced a load of Bluetooth and voice recognition hardware and software. It wasn't until January 2010 when the Parrot AR.Drone was shown at CES in Las Vegas. There, the drone was piloted over Wi-Fi using a smartphone and open API game development platform, ARdrone.org. In 2014 parrot introduced the mini drones "Rolling Spider" and "Jumping Sumo" at the same convention. In 2015 the company created subsidiaries: parrot drones and parrot automotive were, in November, they introduced the bebop 2 drone.
These days the company focuses on parrot Anafi (which has thermal and FP for the versions of the drone) and is a competitor to the entry-level consumer drones that DJI make. The drones have an incredible amount of features for a good price range and include many of the advanced automated flight systems that you would expect from a much more expensive drone.
Parrot drones have been used in search and rescue missions, law enforcement, building inspections, and military applications. There are many options based around the Anafi drone nearly every type of user can find a pack that works well for them.
Here is a quick rundown of the parrot Anafi drone:
Parrot Anafi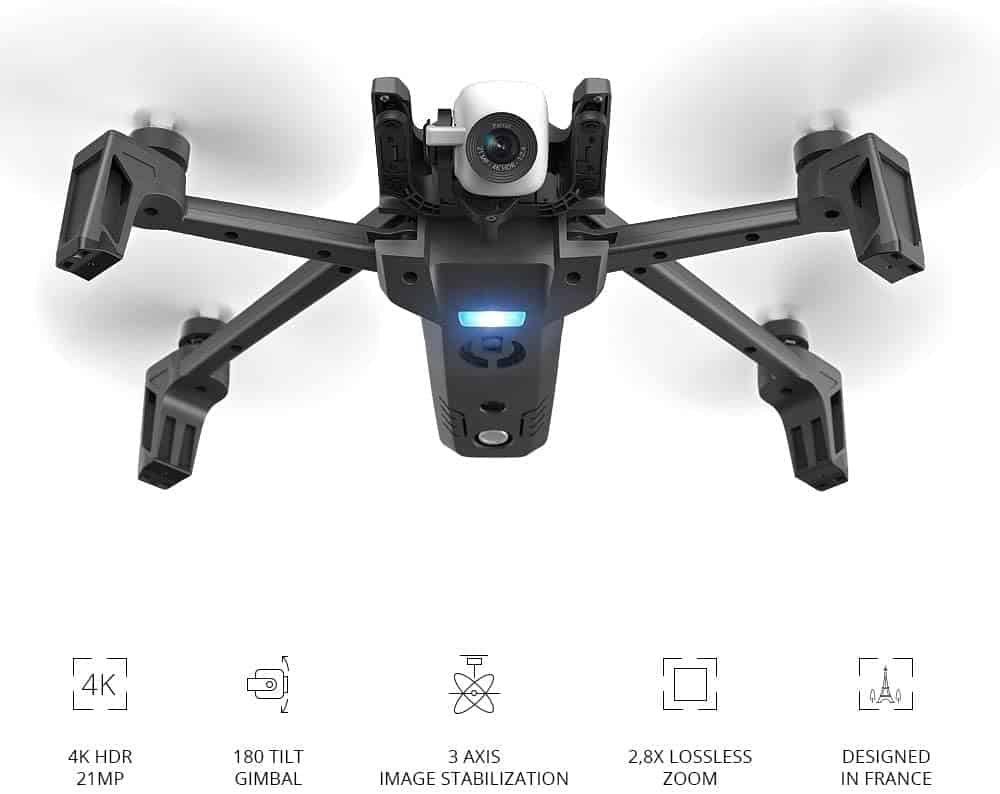 This drone comes with a 2.8x zoom – more than the DJI. Which means that you can capture images from even further away. Capturing wildlife drone footage without hassling them has never been easier!
If you are on a tight budget you'd be silly to not look at this drone seriously!
This drone with a camera equipped with f/2.4 wide angle ASPH lens, HDR, and up to 2.8 times digital zoom captures spectacular 4K videos, Full HD or 2.7K videos (2704×1520), and 21 MP photos without loss of quality. Additionally, you have a timer, a Burst mode that captures 10 photos per second, and wizards to take over professional settings
The ANAFI Parrot Drone can have up to 25 minutes of filmed flight time thanks to an intelligent Li-Po battery that optimizes its life and charges 60% faster using the Power Delivery USB Type C charger; Operating Temperature range: -10°C to 40°C
With its ultra-compact and lightweight carbon frame (320 g), this quadcopter drone unfolds in less than 3 seconds, reaches a speed of 55 km/h in sport mode and withstands bullets up to 50 km/h
Equipped with a Parrot Skycontroller 3 folding remote control, the ANAFI Parrot Drone can be located at any time thanks to the activation of your smartphone's vibrator when attention or immediate action is needed, as well as the Geofence, SmartRth, and Find My Drone functions
Software updates can make changes to existing features, further enhance ANAFI's reliability and performance, or offer new experiences. It is therefore important to have an updated FreeFlight 6 application and to accept the proposed software updates. Max charging power 24W
This drone is a fantastic alternative to the DJI ecosystem but it is not any less powerful. This is perfect for anyone who wants to explore as it has got a 2.8 times Zoom which is something that you need to spend a lot of money on to get in other drones. The low noise design means that you can explore above wildlife and people (if your jurisdiction allows) without causing distress or annoyance. If you're looking for one of the best drones for exploring – this could be it.
Pros
+ 2.8x Zoom
+ Inexpensive
+ Low noise design
Cons
~ Shorter battery life than the DJI drones
~ Shorter range than DJI
Autel – USA
Autel Robotics was founded in 2014 with the vision of being able to develop unmanned aerial technologies for recreational and commercial applications. In 2015 they released a drone court that X star and have now moved on to the EVO 2 series. This drone company is not going for the lower end of the market but is focusing on taking some market share away from DJI. Their entry-level model Evo starts at a price of US$1495.
Evo series

4K VIDEO AT 60FPS: Autel EVO foldable drone camera records video at 4K resolution up to 60 frames per second and a recording speed up to 100mbps in an H.264 or H.265 codec. EVO compact folding drone's powerful camera is the choice pick for award winning cinematographers and photographers. It records faster, smoother, longer, than any other drone in 4K HD at 60FPS.
LONG FLIGHT TIMES & RANGE: Autel EVO 4K drone boasts flight times up to 30 minutes with a range of 4.3 miles (7KM) and top speed of 45 MPH. With 3 batteries included, you can explore freely with EVO HD drone. It offers failsafe features reminds you of low battery and it's time to return to home(RTH). With GPS and GLONASS dual Positioning systems and integrated advanced computer vision systems provide forward, rear and bottom obstacle avoidance for more accurate landings and safe stable flights.
BORN TO EXPLORE: Autel EVO outdoor drone does not have flight restrictions. So please, fly legally. With built-in OLED monitor in the remote controller, you can view live 720 HD camera footage without worrying about dead phone battery. Download the free Autel Explorer app and connect to the remote controller and gain access to more advanced settings and autonomous flight features like Dynamic Track, Viewpoint, Orbit, VR first person view, Log Color Profile and Waypoint mission planning.
RISK-FREE PURCHASE & 24/7 SERVICES: Autel EVO drone with camera live video is backed by 30 Days REPLACEMENT or FULL REFUND, 12 Months free from defects after-sales services.
The EVO 2 series comes in three options with varying camera options. The Evo 2 has an 8K footage option with 33 million pixels. That is nearly 4 times as many pixels compared to a 4K camera. The high resolution enables the ability to zoom or crop and image or video without a loss of quality. It has a 360° obstacle avoidance system unlike many of the other drones manufactured by other companies. This makes it incredibly safe to fly and the Evo can track targets with a dynamic track mode.
Pros
+ 4k Footage
+ Long flight times
+ Return to home
Cons
~ Bright orange may put some off
Skydio – USA
Skydio is a company that designs, assembles, and supports its customers completely from the United States of America. All of the software is developed in-house and they also source all of the processes from US companies. That means that they have a very high level of supply chain security which has been recognised by government customers.
The founders of this company met in grad school at MIT in 2009 where they helped pioneer autonomous drone technology. Skydio was founded in 2014 and in 2018 they launched a drone called the R1 which was widely regarded as a breakthrough in autonomous drones for consumers and enterprise customers.
The Skydio 2 +
This drone has been designed to fly as autonomously as possible. At a reasonable starting price of US$999 this drone can be reserved for US$100. The drone can be flown in three ways:
the Skydio Beacon
from an app
or with a controller
It has incredible advanced flying artificial intelligence and has a 360° obstacle avoidance. The navigation uses a six 4K cameras and can see everything in every direction with an incredible amount of clarity. This is what lays the foundation for the incredible automated flying features.
This drone is perfect for action sports through trees and other obstacles as it has improved artificial intelligence and obstacle avoidance which makes it able to track and follow you even in the trickiest of surroundings. This makes it perfect for concentrating on what you are doing instead of flying the drone. The company is tagline seems to be:
it does the flying, you do the doing.
The drone boasts 4K footage at 60 frames per second and 12 megapixel images. It has a fantastic camera based around Sony's IMX577 sensor. This is a drone that has got me excited as it seems to be able to do a lot of things and the company have focused on the most important aspects of why people buy a drone – which is to capture awesome activities easily. This company will be one to watch and the drones looked to be fantastically easy to fly for beginners.
Pros
+ Low noise propellers
+ Made for sports
+ 360 degree obstacle avoidance
Cons
~ 20 min flight time
Freefly – USA
Much like company above freefly systems is known for its high and drones built for cinematography and the awesome gimbals. Free flight corporation company that was founded in 2011. It specialises in camera movement systems used in cinematography and drones. The company gained a lot of notoriety within the video production industry after the launch of a camera stabiliser which was much smaller than the one used in the industry at the time. The camera stabiliser eliminated the need for camera operators to wear a harness with heavy weights to counterbalance the cameras.
The company has three models of drones and two models were launched in 2011. In 2015 freefly also launched a ready to fly hexcopter called the Alta.
The Freefly Alta
The Alta is a six-rotor ready-to-fly helicopter designed to carry a payload of up to 6.8 kg. This drone can carry a gimbal and a professional camera. The outer is the first drone which allows mounting of the camera and gimbal on the top or bottom of the drone.
This drone transforms from the world's most capable drone to the most portable with its foldable arms. It has folding propellers and a quick release system to make it quick to unfold and get into the sky. It folds to 50% of its operating size which makes it one of the most practical drones in its class.
If you are serious about cinematography and flying a drone you should 100% checkout this company.
Pros
+ Large load capacity
+ professional system
+ portable for its size
Draganfly – Canada
Draganfly is a leader in the professional drone industry and they are focusing on supporting clients with enterprise drone solutions. They have 20+ year history of drone innovation and have been in the drone game since 1998. They have led the way with a series of groundbreaking firsts:
1999 – the world's first commercialised quadrotor drone
2001 – first multirotor drone with an integrated camera system
2013 – the world's first SUAS to save a person's life.
2016 – they became the first company to have multiple UAV systems deemed transport Canada compliant.
This company has a range of different drones including the Draganflyer Commander, Draganflyer X4-P and the M600 Pro. The Draganflyer Commander is a jewel battery Quantock to it with a 35 minute flight time.
Draganflyer Commander
The Draganflyer Commander is a high endurance, electric multirotor drone which is built on a carbon fibre folding airframe with interchangeable payloads. It has a dual battery power system which enables 35 minutes flight time which makes it ideal for capturing high resolution imagery from various sensors during the long and low flights.
This company offers this drone in a number of preassembled packages which have been designed to support the activities of industries like agriculture, insurance, energy, and public safety. They can also build custom fleets of drones for enterprise organisations with highly specific data needs. All of the drones, components, sensors, and software are made in North America which means that for customers that are very interested in the security of the data they are protected by North American data laws.
Pros
+ Carbon fibre frame
+ interchangeable payloads
+ 35 minutes flight time
Cons
~ Only enterprise level drones
Impossible Aerospace – USA
Impossible Aerospace builds high-performance electric aircraft. Their main focus is building aircraft that save lives. It was founded in 2016 by a former Tesla engineer and in 2018 released its first drone which is unique for its long endurance and the fact that is made completely in the United States of America.
US-1
This drone has been designed with the first responder in mind. It is a rugged, long duration performance aircraft. One of the most striking features of this drone is that it doesn't have any bulky external battery packs but rather incorporates the battery cells into the airframe structure. This aircraft will fly for over 60 minutes carrying at its multisensor camera system. The drone is designed, engineered and assembled in California. This means that for those that are worried about data security that the engineering team can support specific program requirements whilst keeping all of the data in the US.
The features of this drone are:
70+ Minute flight times with standard payload
External Dimensions 26" x 26"
Weight 18.5 lbs. Shipping Case 30" x 30" x 18"
Max Air Speed: 45mph
Max wind resistance: 25 mph, Wind Gusts: Up to 30mph
Fold-able Shock Absorbing Landing Gear
Battery Type: Lithium Ion
Real time 4GLTE health monitoring
Full 1 Year tip-to-tip warranty
Engineered and assembled in USA
this drone also comes with a controller and grain station with a unique and attractive carbon fibre design. It is been specifically designed to be comfortable and give you precise control over the joysticks and other buttons. The drone also comes with a return to home feature and all of the camera features can be controlled via this remote control.
Pros
+ Massive flight time
+ battery cells in body
Aguadrone – USA
if you want a drone for fishing, you shouldn't look past the Aguadrone! Backward drone is the world's first drone with a fishfinder included. It has a number of pots that sit underneath the drone and one of these is a fishfinder.
If you want to explore more options for the best fishing drone check out my other article where I go through all of the best products and information is you can make the best choice for your fishing drone – click here.
Aguadrone
The Aguadrone has a 100% waterproof design and it can land and take off from fresh and salt water. The drone has a unique quick change accessory feature where you have got three separate pods (find pod, fish pod, film pod) that enable your drone to do three different features. The find pod is a sonar fishfinder that sends out solar images to your handheld device via the Wi-Fi connection. The fish pod is capable of carrying bait or a lure to the fish and drop it on the water. In the film pod is a waterproof camera that can capture images from both the air and land on the water and film underneath.
Pros
+ Only drone with fish finder
+ interchangeable "pods"
Why you may not want a drone made in China
A survey conducted in the United States showed that 40% of adults (of 1000 people asked) said that they would not purchase products made in China. When we think of Chinese made products we often think of low-cost items.
In the same survey 78% of respondents agreed that they would be willing to pay more for products if the companies that made the goods move the manufacturing plant out of China.
But what is it that people really are worried about when it comes to using Chinese electronic goods, which includes drones.
Security issues
In 2020 cyber security researchers revealed that there was a vulnerability in an app that controls the was most popular consumer drones. In two reports the researchers said that there was an app on Google's android operating system that powers drones made by DJI which collect a large amount of personal information. That information could be used by the Beijing government to exploit potential weaknesses. There are hundreds of thousands of customers across the world which use the DJI GO4 app to control their drones and cameras.
The issue is that every Chinese company technology is required by Chinese law to provide information they obtain, or that is stored on the networks, to Chinese authorities if they are requested to do so. This means that any international customers should be concerned about their images, location, and other data stored on Chinese apps and its potential to be turned over to China's government officials.
Human rights issues
Quite often, in the West, we forget that the cost of low electronics is the humans behind the manufacturing process. China has grown to be one of the world's largest economies based on exploitation of its labourers. With nearly 500 million citizens who are currently living on less than two dollars a day.
There are a load of issues including:
Independent labour unions are legal in China. The government only endorses one union and all other Unions for under the control of that allowed union.
Workers are technically guaranteed the right to 40 hour work week with overtime pay, a minimum wage and social security benefits. The enforcement of this is down to the local governments. The local governments are often underfunded and understaffed and so they ignore violations of workers rights in China.
The Chinese government cracks down on activists with prison sentence for protesting low wages in public.
Conclusion
Choosing a drone that is not made in China is a consumer choice that is becoming more and more popular. There are some really excellent drones that are not made in China but they may come at a little bit more of a cost and you may have to get used to a whole new interface (if you are used to the DJI GO4 app).
There are plenty of options and I am sure that there will be much more in the future as well!