When you have a drone, you may want to plan a flight mission and send the drone on its way to execute the flight mission autonomously. Using drone waypoint software lets you sit back and relax while your drone does all of the hard work. I have found that using flight planning software enables me to get smoother footage and successfully execute each part of my drone mission.
The best drone waypoint software includes Lichi, Autopilot, Dronelink, DJI pilot for android users only, drone Harmony, and PIX4D. Surveyors, photographers, and hobby users can unlock the full potential of their drones by getting familiar with flight planning software.
The drone waypoint software will likely be compatible with DJI drones, and as newer models get released, they will be updated to include control of newer DJI drones. Some waypoint software is only compatible with DJI, whilst others allow you to operate parrot and other brands of drone.
This article will go over all of the best drone waypoint software and apps available for planning your flight mission and executing different manoeuvres and actions along the way.
Our Choice – Litchi
Litchi is a very popular choice among DJI drone pilots.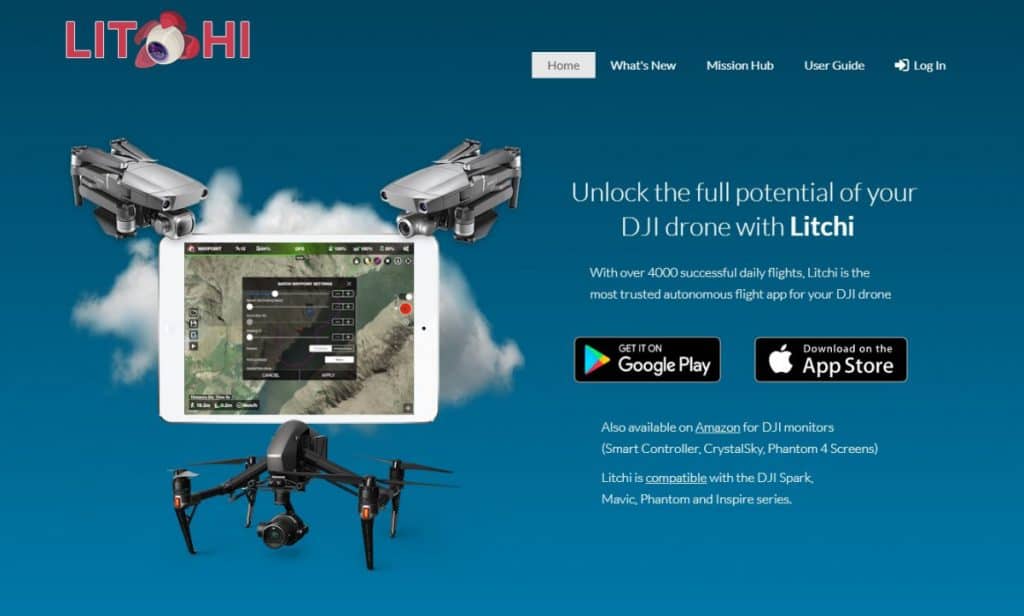 There are over 4000 successful daily flights using this software, and it is available on the Google play store and the iTunes App Store.
The app is compatible with the DJI Spark, Mavic, Phantom, and Inspire series.
The user interface is very intuitive and offers a powerful waypoint mission planner. It is also available on all platforms and operating systems so that you can seamlessly sink your missions across many devices.
Features that I like:
Here are all of the features that I particularly like about this software that makes it perfect for beginners and advanced users alike.
Focus mode – the software takes control of the gimbal and the drones yaw axis to concentrate on the horizontal movements, creating amazing shots easily for a beginner.
Track mode – track mode allows your DJI drone to understand what it sees and keeps your selection perfectly framed while flying the drone. Orbit and follow are also incredible tracking options too.
Intuitive mission hub – the mission hub allows you to plan waypoints from a desktop or laptop. It is incredibly intuitive and allows you to discover other people's missions.
Visual mission planning with Google Earth – you can't use Google Earth Pro two plan a mission in three dimensions.
Litchi for flight controllers – you can also use this software on a smart controller, crystal sky, and Phantom 4 screens.
Overall, this software is a fantastic option for a relatively small price for planning your flights and getting your drone to execute various tasks during its flight.
$22.99 (iOS) $24.99 (Android)
Autopilot
Autopilot is another popular alternative to the DJI GO 4 app that wants an extra control level for their waypoint mission planning.
The online forums are not as warm around the discussion of this software as there tends to be a steeper learning curve when using autopilot.
It can be a bit overwhelming as a beginner, but if you take the time to properly understand the user interface and the extra features it can offer, it can be a powerful tool for your drone waypoint planning.
Because of the number of features shown on the screen, you should use an iPad rather than an iPhone. The extra space allows you to navigate the screen much more efficiently. Autopilot does not provide a desktop program for mission planning, so getting an iPad will certainly make things much easier.
Features that I like:
Here are all of the features that I like, and they may convince you to push through the steep learning curve of this software to fully understand and unlock its full potential for your waypoint planning.
Flight school – making safety a priority and allowing you to increase your situational awareness stop
barometer – barometer mode will allow your drone to recognise when you are going up the hill and adjust the height to stay in the shot.
Airspace feature – allows you to locate other drones from the app to make sure you are safe.
Motion tracking – autopilot can use image recognition in GPS denied situations and follow you.
Preflight planning – you can set the controls before flying to save battery power and save a flight plan that you can use on multiple flight missions.
Integration – you can use autopilot with services you already know, such as a map and drone logbook.
Even though this software is slightly less utilised in the drone flying world, it can still autonomously capture some incredibly smooth footage.
Dronelink
Dronelink offers an innovative flight app that automates drone missions.
Dronelink is compatible with the DJI Mavic series, Phantom series, inspire series, M200 series Matrice series DJI Spark and experimentally support the Parrot Anafi.
With drone link, you can plan mapping missions, organise your cinematography flights and produce professional photos and videos; it can create 360° videos and produce hyper lapses, which are complex time lapses whilst moving the camera.
Things I like
Dronelink can automate everything, not just the flight path
components – Dronelink uses components to move your drone, gimbal, cameras and allows you to create organisation and layers of complexity.
Flight logging integrations – you can integrate this app with multiple flight logging services
many preprogrammed behaviours – an extensive menu of preprogrammed behaviours for your drone makes planning your flight mission a breeze.
Drone link is an excellent option for drone pilots who want extra drone control during the flight mission. It allows you complete control of many drone flying and capturing capabilities.
DJI GO4 app
You are almost certainly using the app supplied with the DJI drone you purchased to fly your drone. The great thing about using this app is that it is free, and it may be the only thing you need for your type of flight mission.
You can find waypoints in the app when circling a point of interest. The waypoint control is limited to intelligent flight modes. It is perfect for a beginner pilot who wants to play with waypoint control and does not need the extra and more sophisticated capabilities of the previously discussed apps.
The app is familiar to every DJI pilot and easy to use. You can see the waypoint options in the YouTube video below.
Things to look for in a drone waypoint app
When purchasing a third party drone waypoint app, there are several important considerations to make, including cost, available triggers, ease-of-use and its stability, compatibility with your drone and any other features which are important for you to complete your flight mission.
Cost
The DJI Go4 app is free to use and start your waypoint planning exploration. However, there are plenty of other options which cost money and, luckily, most of them seem to be a one-off payment rather than a subscription model.
Here are some of the prices of the waypoint software mentioned in this article that allow you to decide which is the best option for you.
| | |
| --- | --- |
| Litchi | $22.99 (iOS) $24.99 (Android) |
| Autopilot | $29.99 |
| DJI GO4 | FREE |
| Dronelink | From $24.99 to $99.99 for elite |
You need to consider all of the different features and options for each app and ensure that you are only paying for features that you are going to use or that are very important to your typical flight mission objectives.
The apps are inexpensive enough that you can try a couple of them before you settle on your favourite app for waypoint control.
Triggers
Take a moment to look through each of the triggers you can use with your drone. As drones are added to the software, they are accompanied by a variety of different camera and gimbal options and flight control options.
Make sure that you are purchasing software that can tell your drone to do the most important things to your use case.
Ease of use
Some waypoint software is easier to use than others.
Litchi seems to be the most user-friendly of the waypoint software mentioned in this article, and many people on different forums recommend the software due to its intuitive control.
As you get comfortable with this type of software, you will inevitably need more and more from your drone waypoint software. This means that you can upgrade to more complicated and feature-packed software, which will inevitably require a steeper learning curve.
The three apps that come with your drone will be all you need to control your drone remotely for hobby and entry-level waypoint explorers.
Compatibility
Make sure that your drone is compatible with the software you are considering purchasing. The majority of the software available is compatible with a range of DJI drones and series.
Drones are added regularly to the apps and software as the manufacturers release the appropriate endpoints.
It is unlikely that you will be able to use third-party software on drones that have been released in the previous six months.
However, as soon as the capability is released to the developers, it will be added. The slow release of the controls is one of the downsides of purchasing a new drone model.
Mission preview
Of all the different drone waypoint apps, I would recommend that you utilise a full mission preview software. Most of the paid third-party apps offer a mission preview that will allow you to fly your drone safely and autonomously.
It is relatively scary watching your drone flyer off autonomously into the distance, and having gone over the mission a few times in a preview gives you the peace of mind that it will return safely.
Top Tip: Set a waypoint very close to home
One of the best tips that I have seen for drone waypoint software and apps is to not rely on a return to home at the end of the flight mission. Sometimes the return to home option on drones can be thwarted by obstacles.
Most people recommend setting a waypoint close to your landing spot and ensuring that the drone can easily get from the waypoint to the landing spot.
Ensuring that your drone can return safely with minimum issues will mean that you can fly the drone another day.
Who benefits most from waypoints?
If you are unsure if you need waypoints to control your drone, I recommend that you look at the incredible advantages that an autonomously flying drone can provide to photography and reproducibility.
Here are a couple of use cases for waypoints that may help you give some of these apps and software options a go.
Surveyors
The most obvious use of waypoints is drones to survey certain areas. The great thing about using waypoints is that you can preprogram a path and be assured that the drone will follow the same path when you survey the same area later on.
You can also tell the drone to get close to façades and hover around infrastructure so that you can get a 360° view of critical components in your workplace or on your property.
Farmers
Farmers can use waypoints for autonomously spraying their crops.
Setting up the waypoints will mean that the farmer can get on with other tasks around the farm whilst the drone is spraying and fertilising key crops at vital moments.
The great thing about using a drone for farming is that you are very targeted with the spray, and it reduces overspray into other fields with other crops.
Photographers
Waypoints can be used for photographers and hobby cinematographers to provide smooth footage.
Learning to use a drone remote to produce smooth footage is a skill. Pre-setting the waypoints with acceleration and smooth movements can make capturing amazing footage for amateur photographers much easier.
Summary
This article has gone through everything you need to know about the best drone waypoint software and considerations for choosing the best one for you.
Whether you are looking for professional use or just interested in using waypoints to capture amazing footage, the software mentioned in this article offers a powerful and flexible option for nearly every use case.
Also, using these apps can increase your enjoyment from your drone flying adventures.