A lot of the commercial drones on the market require that you provide a smart device to view the first person view camera stream from the drone. Having a first person view on the controller is very important for a range of reasons such as safety, navigation, framing photographs and videos, and receiving information about the drone such as height, distance, battery level et cetera.
The best drones with screens on the controller include the DJI smart controller which you can use with a variety of DJI manufactured drones, some Hubsan drones, the SwellPro Splash drone 3+, Autel Evo 2 and the Yuneec Typhoon H Pro. These drones come with a variety of sizes of screens.
However, there are some people that do not want to put their smart device on the drone while they are flying. Some people buy a dedicated tablet or smart phone whilst others simply fly the drone without the first person view. In this article, we will go through everything you need to know about buying the best drone with the screen on the controller and provide you with the latest options on the market.
The question is why do drone controllers have screens and why are we expected to provide a smart device to view the first person video livestream?
Do drone controllers have a screen?
Not all drone controllers come with a built in screen. This is primarily to keep the cost of the drone down as adding an extra LCD color display can quickly increase the price of the drone.
Many people already have a smart device that they are carrying around with them from day to day and therefore the manufacturers assume that you are able to use that device as it is on hand whenever you are flying the drone.
Typically a smart device will clip into the remote via a USB connection and will be held in place at the top or bottom of the drone with a mechanical clipping action.
There are many reasons why you may want to purchase a drone with a screen pre-built into the controller. For example, you may not want to use your smart phone as it will be performing other tasks such as recording flight or taking calls.
Sometimes embedding the screen into the display is for waterproofing reasons – like the fishing drone the splash drone 3+ – all it is for minimizing the amount of equipment that you need to carry with your drone.
Here are the best drones with screen on the remote.
Which drones have their own screens?
In the gallery, below, these drones have the ability to have their own screens.
It is becoming more and more common for drone manufacturers to include the screen in the drone remote control and it is likely will see the number of remotes which include a bright LCD colour display increase over the next few years.
Here is a rundown of each of the options in the above gallery with information about the screen sizes and features of each of the drones.
DJI smart controller
The DJI smart controller is introduced in 2019 into the DJI ecosystem. It is designed to maximise your piloting experience with any of the drones which include DJI's proprietary transmission system
OcuSync 2.0.
It has a 5.5 inch built-in display at the bottom of the remote control which provides a bright and clear image even in full direct sun. It has a full high definition display at 1080p and at 1000 cd/m2 the display is approximately twice as bright as a conventional smart device.
This controller is compatible with DJI Air 2S, Mavic Air 2, Mavic 2 Zoom, Mavic 2 Pro, Mavic 2 Enterprise Series, Mavic 2 Enterprise Advanced, and Phantom 4 Pro V2.0.
The controller has a 5000 mAh battery which means that it can work continuously for up to 2.5 hours which is approximately five full battery cycles of your drone.
The screen sits below the joystick controllers and other switches which means that the palms of your hand rest next to the screen. This makes for a very nice stable remote control and the wrists are not strained by holding up a screen which is pushing the remote control forward.
It is efficient and portable as the remote control sticks can be removed at any time which means that it is able to slip neatly into a carrying case or backpack.
You do not need to worry about the smart controller even in extreme weather conditions because it is able to withstand temperatures ranging from -20° see up to 40° C. Sometimes if you are using your smart device you may not feel comfortable taking out in such extreme conditions.
The DJI smart controller runs on an android system and has been optimised to work with the DJI GO4 app as well as other android apps that you would typically use with your smart phone including social media for sharing your photos and videos quickly.
This is a relatively expensive addition to your DJI smart drone priced approximately US$750.
Hubsan
There are a range of Hubsan manufactured drones which have a screen built into the remote control.
This manufacturer makes drones which are very affordable and it is amazing that you can get a remote control with a screen at some of the prices these drones are selling for. Here are some of the best Hubsan drones with screens built into the remote controller.
This drone has a 4.3 inch LCD screen on the controller that is capable of real-time transmission. It has a range of up to 400 m.
Even though this drone is only US$180 it is able to record in 1080p. It has headless mode, GPS, follow me, altitude position hold, automatic return home, and a maximum flight time of 20 minutes – that is something that we have come to expect of much more expensive drones in the DJI ecosystem.
The remote control is also equipped with an inner GPS module, a screen resolution of 320×240 and a dual power system either a lithium polymer battery or a AA battery.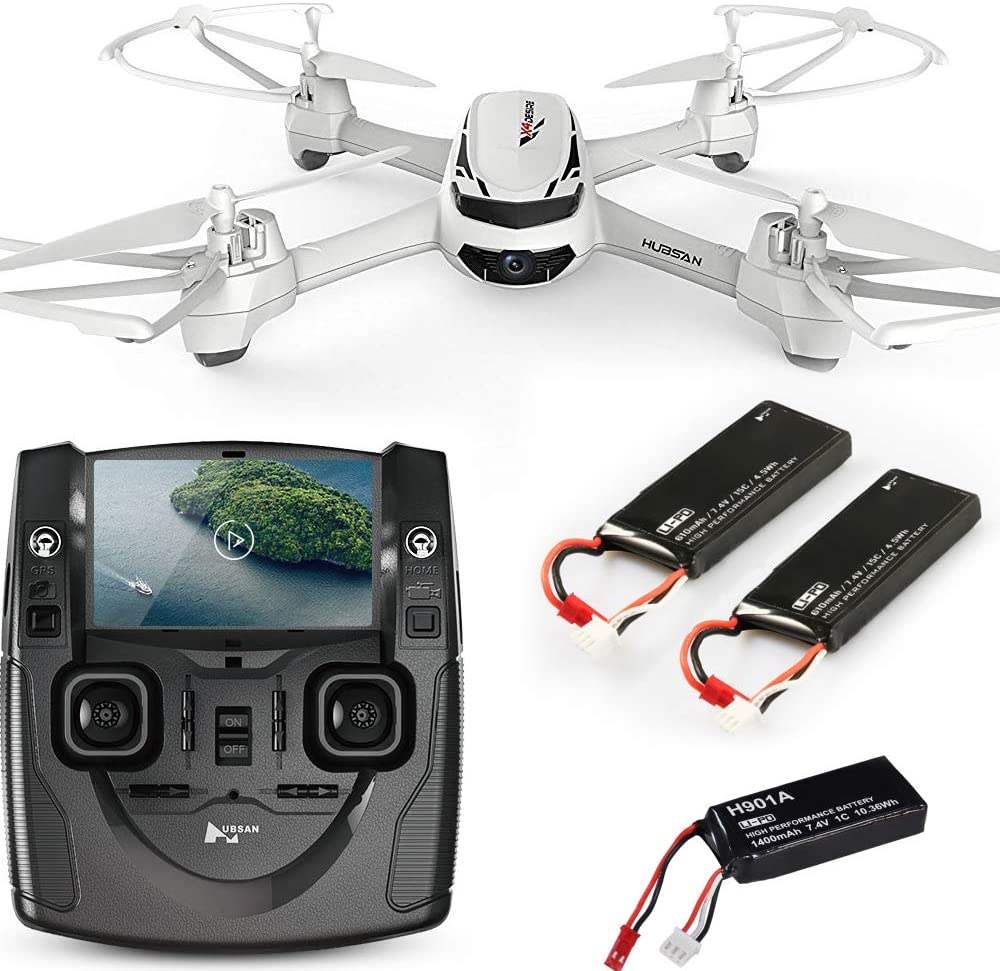 This drone is the precursor drone to the air, above. It comes with a remote control which has a 4.3 inch LCD colour screen at the top of the remote control. It has a 5.8 GHz live stream transmission and a built-in GPS module so if your drone loses contact with the remote control it will return to the GPS location that the remote control was last in.
It also boasts the GPS altar should hold and drone locking position as well as headless mode and a one key return to home button on the remote control.
This drone comes with a remote controller with a 3.26 inch display. This is an organic LED screen so it will be very bright in outdoor full sun situations. It operates for approximately three hours on a 5000 mAh lithium polymer battery.
The remote control is incredibly ergonomic and compact. This means that it is easy to throw into your bag and carry on baggage. It has a clear 720p high-definition live video feed which means that you are able to see almost exactly what the drone is recording in real time.
Another thing I absolutely love about this drone is that it has 360° obstacle avoidance. It is equipped with 19 groups of sensors which includes 12 visual senses, the main front facing camera, ultrasound, and other sensors which enable the building of a three-dimensional map which it uses to plan its path. This, backed up with the incredibly fast processing power means that your drone will be able to follow you in real time through a range of quite complicated environments.
This drone comes with a 5.5 inch screen on the remote control.
Besides the remote control you have some incredible aerial performance metrics. It can record in 4K up to 60 frames per second and has a massive 1 inch sensor to capture high definition photos and videos. It has a mechanical shutter which allows the drone to capture shots at high speed and it also has a 30 minute maximum flight time.
It comes with a ultra bright 5.5 inch screen which allows you to see what is going on even in bright direct sunlight. The DJI app is built directly into the screen – which runs on a version of android – which means that your mobile device is simply not required.
It has a large operating temperature of between 0°C and 40°C and a massive 6000 mAh lithium polymer battery. It is a full high definition 1080p screen with a 1000 cd/m ² display which makes it about twice as bright as a regular smart phone. The android system has a 4 GB RAM and a 16 GB ROM.
The remote control is actually quite large suit may not be suitable for people with small hands or people that find their wrists get heavy and weak whilst flying a drone. You can buy a lanyard to go around your neck if you find that this remote is too heavy for you.
SwellPro Splash Drone 3+
This drone has an all in one remote control. It has a bright and clear live if you with 800×480 pixels on a 5 inch monitor.
The great thing about this drone is it has a variety of other payloads which means you can use it for fishing, waterproof photography, rescue, and much more. If you are regularly at the beach and you want a versatile drone that will give you the ability to go drone fishing as well as capturing your boating, surfing, or other water-based trips.
The great thing about this drone is that you can actually land on the water with it. Having a completely waterproof drone means that you will be able to get much closer to the action without worrying about damaging your new gadget.
This also comes with a dedicated remote control which means that you do not have to risk your smart phone as the first person view display unit. It has all of the buttons and toggles that allow you to control the drone completely and has a 5 inch bright display which shows you the live video as you are recording your surf.
Its features include:
extended flight time up to 23 minutes
full body IP67 waterproof body
GPS module and lost drone location beacon
up to 4K video and 16 MB photos (with additional camera purchase)
65 km/h top speed
floating design
all in one remote controller
flexible app control
follow me mode, circle flying, tap to fly, returns home.
The fact that it has a number of automatic flight modes such as follow me, circle, and return to home means that you are not limited by your ability to fly this drone if you want to capture a solo surfing trip.
The remote control also floats on water so if you were to accidentally drop it over the side of the boat or into the water during your trip it will be very easy to recover. The manufacturers have thought about everything that the consumer would want in a waterproof fishing drone.
Why a screen on the remote?
There are a ton of reasons why you may want a screen on the remote control. Not only does it mean that you don't have to use your smart phone it can also allow for a much brighter imaged and you can frame your shot perfectly.
No smartphone required
Your smart phone is a cornerstone of your organisational and daily life and you may not want to risk losing or damaging it as you are piloting your drone.
Can you use drone without phone?
You can absolutely use a drone without a smart phone. There are a number of drones that not only contain a screen in the remote control there are also drones with artificial intelligence hand controls and drones which use other smart devices.
Less equipment
Piloting a drone means carrying around a lot of drone parts and accessories to your takeoff point. By minimising the amount of equipment you need for your drone flying mission you'll be making it slightly easier on yourself and it means that it is one less thing that you need to charge up and check before you go.
Frame your shot perfectly
If you are using your smart phone to connect to the first person view live stream you may not be seeing the appropriate aspect ratio for your drone.
Using a dedicated screen in the remote means that you are able to frame the shot perfectly as the remote control has the same aspect ratio as the shots that you are taking.
It may not be in the same quality but you will definitely be able to frame your shot much better partly because the image will be much brighter.
Brighter image
Screens that are in remote controls are typically two times brighter than an average smart phone screen. This means that you will be able to see more of your image in bright and direct sunlight which will help you frame the shot and also use the first person view to navigate with greater ease.
More balanced remote
If you are using your smart device in the remote control it may result in a much heavier remote control that is slowly off-balance. If you are flying like this for a long period of time you can make your wrists and arms sore.
If the screen is mounted above the joysticks it is likely that the remote will tick forward meaning that you will need to actively pull back on the remote control as you are flying. If the screen is mounted below the joysticks it may do the opposite.
By using a drone remote that has the screen embedded it is likely that the manufacturer will have balanced the remote control so there is less strenuous to hold and you will be able to access the buttons much easier.
No app issues
Although smart phones are becoming more and more efficient at using a wide range of apps sometimes it is very difficult to get a particular smart phone running a particular version of an operating system to communicate effectively with the DJI (or other manufacturer) app.
By using a drone remote with a screen operating android you are likely to experience less issues with app compatibility which can become difficult due to the frequent updates of firmware and software that some smart device manufacturers are putting out.
Summary
In this article, we have gone through the best drone with screen on controller.
There are plenty of options for you to consider in a variety of price brackets. There are many benefits to having a remote control embedded into the remote and if you're willing to pay a little bit more money for this convenience you can stop using your smart phone and use a dedicated screen which is brighter, more efficient, and easier to hold.