I cannot think of a better time to consider buying a drone than just before going on a big trip. A drone is a perfect way to capture all of the important aspects of your trip in an awe-inspiring and unique way. Having a drone allows you to explore the world in a new way all while documenting your journey. You can share the footage with friends or just keep it for yourself – not everything needs to end up on social media – right? Here's we will go through the best drones for travel and give you all of the tips you need to choose the right one for you!
When you travel with a drone you have to make a specific set of choices based on your own use case of the drone and the features that you find the most important it could be based on the price, size, and durability of the drone. For my money, the best travel drones include DJI Mavic Mini, Mavic Air and Air 2, Parrot Anafi, Ryze Tello, and (if you want to take a great drone with you) the Mavic 2 Pro.
Let's take a look at the best drones for travel:
In a hurry – best travel drone 2020
If you are in a hurry then here is my number one best drone for travel! In this list there is a really close race between the Dji Mavic Mini and the DJI Mavic Air. But the one that comes out just on top is the Mini for these reasons!
DJI Mavic mini
Pros
+ 30 min Max. Flight Time
+ Under 250 g
+ Smart features of much more expensive drones
Cons
~ No 4K – understandable at this price point
~ Effected by strong winds
~ No avoidance sensors
Table of best drones for travel 2020
Review of best drones for travel
The drones that I have selected for this list are the best drones in the market that have all of the right features that make them conducive to traveling. They are light, inexpensive (mostly), and capture amazing footage of your trip! Here's a little bit more about the Mavic mini and what you should seriously consider adding it to your packing list!
DJI Mavic mini
The DJI Mavic mini is one of the best drones out there for traveling. It has all of the powerful features that you'll find in it's bigger brothers and sisters – like auto take off and landing, return to home and GPS stabilization and all of the HD camera recording you need to capture impressive photos and videos of your flights and locations. The size means that you'll be able to fly this drone in nearly every country that you visit as it is under the 250 g limit for registration. Although, check the country that you are visiting to make sure what the rules are!
The features of this ultra-portable drone are:
Ultralight drone. Under 249 g means that you can fly in some countries without having to register the drone.
30 minute maximum flight time
4 km radio signal distance
GPS hover
3-axis gimbal
The DJI app offers one of the best user experiences – and has smart shooting options to tou can create cinematic shots with just a few taps of your smartphone's screen.
Pros
+ 30 min Max. Flight Time
+ Under 250 g
+ Smart features of much more expensive drones
Cons
~ No 4K – understandable at this price point
~ Effected by strong winds
~ No avoidance sensors
Continuing with the DJI range, here is the DJI Mavic Air 2 – if you have a little bit more space in your luggage this will capture your trip with a professional level of photography!
DJI Mavic Air 2
I love my Mavic Air (the Air 2's predecessor) and was happy when DJI decided to upgrade the drone. It seems like they have done it in all of the right ways!. The Mavic Air 2 takes power and portability to the next level, offering advanced features in a compact package. It has a range of intelligent shooting functions and excellent image quality put aerial masterpieces within reach.
The camera includes:
1/2-inch CMOS sensor: it has smooth 4K/60fps video. The D-Cinelike flat color profile retains more information for post-processing. The HEVC (H.265) video codec records more image information, uses less storage, and preserves the dynamic range and detail of your footage, ensuring next-level content.
8K Hyperlapse: this will allow you to simply warp time and space for especially stunning footage.
This is an inexpensive and ultra portable drone that I think you'd be silly not to consider if you need the extra features that a larger and more expensive drone comes with!
Weight – 570 g
Dimensions

Folded: 180×97×74 mm (Length×Width×Height)
Unfolded: 183×253×77 mm (Length×Width×Height)

34 minutes max flight time
Max wind-speed resistance – 8.5-10.5 m/s
8 GB internal storage
Max speed – 19 m/s
This is a great drone and it will do nearly everything that you throw at it – all while sitting comfortably at the bottom of your luggage!
Pros
+ Very portable
+ Cheaper option than Pro
+ Great intelligent flight modes
Even though I believe that DJI are one of the best drone manufacturers on the planet, there are some up and coming drone companies that are starting to make noise in the community. One of those companies is Parrot. They have entered the market with a range of affordable drones that have ALL of the features of the top of the range drones! This one is one that I would happily take with me on my next journey!
Parrot ANAFI Work Drone
The Parrot Anafi is an underrated drone that is capable of many awesome things and gives the DJI drones a run for their money. This small and inexpensive drone package would be perfect for any trip and travel plans you have. It even has a zoom option so you can get close to all of the great sights you want to capture – without getting physically close!
Here are the features that this drone comes with:
Pro drone with 4K camera: Its 4K HDR/ 21 MP Camera captures high-resolution aerial images with a unique 180° orientation, enabling you to inspect, monitor and film difficult-to-access areas. Its zoom allows to keep a safe distance during inspection work without loss of quality. The hybrid 3-axis image stabilization delivers Ultra-Stable video and photos.
Always ready to take off: the 4K anafi UAV is the efficient solution for all your needs. With a combined flight time of 4×25 min, a mobile USB c-type charge (to charge your batteries between 2 flights) and a multi-port USB charger (to charge your batteries simultaneously), your drone is always ready to fly in no time. Its perfect stability in winds of up to 50km/H and its silent flight are two additional advantages for successful videos.
Easy operation: easy to carry in its compact shoulder bag, The drone can be operated intuitively even in difficult areas with the freeflight 6 mobile application. Automatic flight Modes such as Flightplan (not included, in-App purchase) will allow you to perform reconnaissance missions. Take advantage of smart RTH (return home) and geofence (punctual restriction of the drone At altitude and distance) functions for secure flights.
As you can see – a worthy addition to this list and a drone that I'd be happy to travel with!
Pros
+ Very portable
+ 3 times zoom
+ 4K camera
Cons
~ Issues in lower light
~ No collision avoidance
The Ryze Tello is a drone that spans the DJI and Ryze world – it is made with DJI parts but by a different manufacturer. This drone is perfect if you want something that is really inexpensive but capable of grabbing a selfie to share with friends back home!
Ryze Tello – best for beginners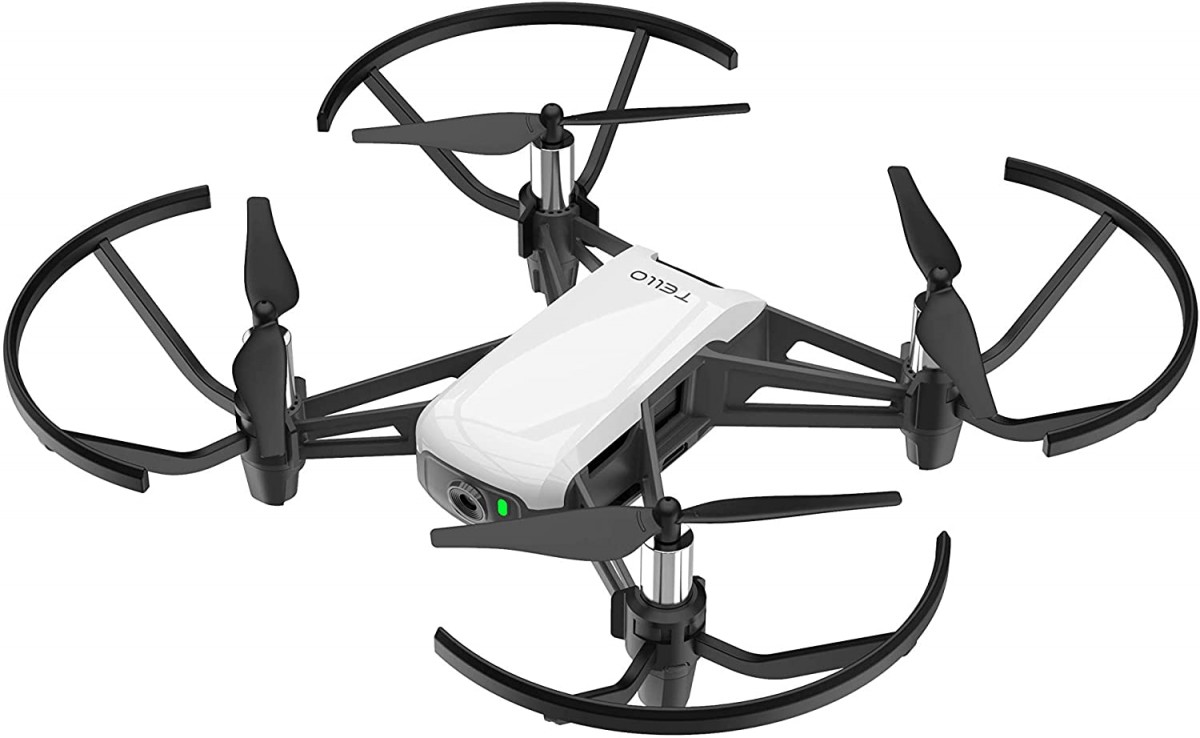 This drone may be small and lightweight but it has a tonne of features powered by a very reputable drone manufacturer, DJI. DJI are the leaders when it comes to drones and they have perfected this entry-level drone. Here are the features that this drone comes with:
Tello App – The Tello app makes it really easy to fly. It makes even the most complicated maneuvers just a simple touch of a button.
Lightweight – this very small drone fits in the palm for your hand and weighs only 80g.
You can perform stunts – start flying by tossing the drone up into the air with the Throw&go technology. You can also perform stunts and tricks (like flips) using the app
Safe to fly indoors – Thanks for rotor guards and it's vision positioning system the Tello drone is fun and safe to fly indoors
13 minute flight time – a huge flight time for a drone of this size powered by the best drone batteries on the market – DJI batteries!
Programmable – You can learn the basics of programming by using Scratch – an MIT developed coding system especially suited for students. Fly your own flight patterns
This thing is by far the best drone for travelers that are new to drone flying and want to test the waters of capturing their adventures.
Pros
+ Lightweight
+ Really inexpensive
+ super easy to fly
Cons
~ Needs another battery for continuous fun
~ May not be robust enough for heavy travel
This drone has been replaced by the Mavic Air 2 – but I love it. It's really a powerhouse of a drone and it was the first drone I ever purchased. It was just above the "toy" drones but below the Pro models. It was (is) the perfect balance of form and function. I'd see if you can pick up one of these – I love it!
DJI Mavic Air
The DJI Mavic Air finds itself at the interface of useful and portable. If you get this drone you may never need anything else! The Mavic Air packs down to a tiny, backpack-friendly size which means that you will be able to take this anywhere. I actually used to carry it in my day bag for a LinkedIn vlog that I produced for 16 months without a problem. The carry case it comes with keeps everything safe and secure!
I love the fact that this drone can also be operated three ways. With the controller, with hand gestures, and with the smart phone app. This means that I can quickly whip it out of my bag and not miss out on shots due to setting up!
This drones features include:
Remote Controller
Intelligent Flight Battery
Transmission range-When connected to the remote controller-2.4GHz
When connected to a mobile device-Max height-50 m. Max distance-80 m. Transmission Power (EIRP)- 2.400 – 2.4835 GHz
Charger. Power Cable. 3 x Pairs of Props
A really great drone that you should consider adding to your packing list! You won't regret this purchase!
Pros
+ 31-min Max. Flight Time
+ Hasselblad Camera
+ 10 km 1080p
Video Transmission
Cons
~ Users report a flight time of 21 minutes
~ Larger than other drones in the range so not as portable
The last drone on this list of for the serious travel vlogger. Although it folds down into a manageable and compact size it's not the smallest. But what it lacks in portability it more than makes up for in terms of flight stability and camera quality! Serious about documenting your journey – check this out:
DJI Mavic 2 Pro
This drone is the perfect camera and addition to your kit. If you are thinking about buying a drone camera and want lots and lots of room to expand your creative freedom – this really should be the drone you buy! The drone takes amazing pictures straight out of the box and you'll learn how to use each one of the advanced camera options as you get more and more comfortable flying and operating the drone.
There is also a Zoom option to this drone that adds the functionality of a zoom feature! Check it out if you think you'll need to get closer to your subjects and want to keep some physical distance!
This thing is by far the best drone for photography and travel if you are serious about documenting your journey professionally!
Pros
+ 31-min Max. Flight Time
+ Hasselblad Camera
+ 10 km 1080p
Video Transmission
Cons
~ Larger than other drones in the range so not as portable
There we have it! There are the 5 best drones for travel! However, if you want to do a little more research for yoruself, I think these are the most important features that you need to pay attension to wheile choosing your drone.
If you want more guidance on buying a drone – check out my FULL article with all of the secret tips here.
Buyers guide for travel drones
If you need to compare and contrast your drone options these are the top features and properties that you should use to make a decision on what if the best drone for travel – and importantly, the sort of traveling that you are doing! Let's start with the most important aspect – the size!
Size
The size of the drone you end up buying will be the difference between "a pleasure to pack" and a massive pain in the ass! If you are packing light you need a drone that is also light and will fit in the small amount of space in a lighter rucksack. On the other hand, if you are traveling with a big suitcase I'm in no doubt that you'll be able to take every single drone on this list and you may also have room for a DJI Phantom type of drone – which is bigger and comes with a load of features!
You should factor in the size of the drone in your luggage and also your day pack – which is where the drone will be the most useful! Not only do you have to factor in the size of the drone but also the size of:
The controller
Batteries
Cables
Charging hubs
Extra propellers
Any other accessory that you have…
These may only seem like a small series of additions but they all add up! Deciding on how much space you are willing to dedicate to your drone will help you decide what drone to buy. The Trello and Mini being at one end of the spectrum and the Mavic 2 Pro is one of the biggest!
Price
Drones can get pretty expensive and you'll need to factor this into the cost of your trip. I recommend that at a minimum you factor in the cost of a spare battery so you can extend the amount of time you have in the air – just so you are assured of a great shot. It also takes the time pressure off and makes for a nicer piloting experience!
Clearly it's not worth getting yourself into financial hardship for the sake of a drone – I've written about that in a load of detail in my other blog – are drones worth it, here. But because you will be traveling – you are more likely to be the victim of petty theft. Meaning your drone could get stolen. So when you factor in the price of your drone purchase you should also consider the cost of replacing that drone into your budget or travel insurance.
Don't spend too much on a drone unless you need professional photography standards. It'll be bumped and bashed as you travel so pay little enough so that you won't worry about the odd scratch while traveling! That brings us on to our next point – construction quality!
Construction quality
A rule of thumb, like most consumer goods, is the cheaper the drone the cheaper the construction quality. When you are choosing a lesser priced drone or a drone from a less well-known manufacturer, you'll get cheaper materials. It's okay for the drone to be made of plastic – plastic is lightweight and durable for the most part – it's when cheap plastic is used that is more brittle and therefore more likely to crack and snap.
Pay close attention to the comments around build quality and materials. A good mixture of plastic and metal means that it'll be a little more durable.
I've never had any issue with the DJI range of drones and although it can be a little cliche to recommend them, the reason they make up the majority of the recommendations above is that I trust them! Ultimately you need to buy a drone that you trust will perform when you need it to!
Accessories
When you are traveling you may need some of the common drone accessories such as:
Sun hoods
Lanyards
Travel adapters
Take off pads
etc…
Have a look to work out what accessories you will need your drone to have and if they are available specifically for the drone you want to buy. Start a little spreadsheet of the accessories that you need and how much they cost and that they are actually available for the drone you are considering purchasing.
Repair centers
Having a drone and traveling for extended periods of time will mean that your drone could end up needing a service. Check for the most reputable service centers in the country that you will be doing the majority of your traveling. Are they near the places that you will travel? Do they offer a mail in service or a replace drone hiring service? Look on the official manufacturer websites for authorized and partnered repair centres for the drones you are considering buying.
It may seem like a little detail – but having a list of these drone repair centers tucked into your drone case may help you when you need it the most!
Charging cables
Drones come with a multitude of charging (and other) cables. although travel adapters are a travel staple – you may want to get a charging adapter that is specific to the country that you are going to travel in. That way you can be sure that the charging of any smart batteries won't damage the battery!
Travel case
Probably the most important thing to consider when choosing a drone for travel is the travel case. These really come in a couple of different styles:
A case that is snugly fit around the drone only.
A case that holds the drone and accessories – like the controller etc.
A third-party case with expandable foam dividers
I, personally, like to travel with a case that fits firmly around the drone and then store the controller in my bag, and then the charging cables, etc go with my other electronics for traveling. But for your case, you may want all of the drone stuff together – and that is completely your choice!
Take into account all of the above things and you'll not go wrong when deciding on the perfect drone to capture your travels!
Conclusion
When you travel with a drone you have to make a specific set of choices based on your own use case of the drone and the features that you find the most important. Here are the ones from the list that I think you should seriously consider based on the price, size, and durability:
Capturing your once in a lifetime trip is so important for keeping the memories of the trip for a lifetime. Take the time to