The great news about drones these days is that you can pick up some absolute killer drones for less than $500. These drones are classed, by some, as mid-range drones. Although they may be small and inexpensive they are certainly not mid-range when it comes to the features that they come with. Manufacturers are able to balance the needs of the user with the cost of parts so that you get a drone that does what you need it to do at a fraction of the price of the latest, high-end, drones.
Here we'll look at the best drones under $500 and give an overview of the ones that are best for beginners, photographers, racing and kids! All at a bargain price!
The best drones for under $500 include the Mavic Mini, Holystone HS720 and Ryze Tello. A drone at this price point will have nearly all of the features that a top-end drone will have. Such as advanced flight features and a mid-range camera. Still, there's no doubt that nearly every user will be able to find the right drone for their purpose for under $500. You just have to be crystal clear about what you need the drone to do!
In a hurry – Here's my pick
If you are in a hurry to find the best drones for under $500, I really don't think that you can get past the DJI Mavic Mini. If you are new to the drone world the Mavic mini is the perfect place to start for these reasons:
It's so small and light that you can take it anywhere with you! – Having to double guess taking your drone with you can make you not fly a drone at all. Making it a quick grab and go item will improve the odds that you'll actually get around to flying it regularly!
It's really inexpensive – you don't need to spend thousands on a drone to get the drone experience. This has a great app and flying experience that you can get everything you want from a drone experience without breaking the bank.
30 minutes of flight time – this is as long as you'd get from much more expensive drones. This is long enough to have a play around and grab the shots you want to get!
GPS auto home landing – I love that these DJI drones auto land. They all have a "return to home" function that gives the drone pilot such incredible peace of mind. Phone dies? No problem, the drone will return to its take-off spot safely!
Introduction to DJI drones – pretty much every drone that I recommend is a DJI drone. This is because they listen to their audience and make drones that are a pleasure to fly. I very rarely like to spruik one company but until a better drone company arrives on the market DJI has my vote – nearly every time.
DJI Mavic mini
The DJI Mavic mini is one of the best drones out there for under $500. If you are looking for a drone that will allow you to get your feet wet in the great drone flying world – this is it. It has all of the powerful features that you'll find in it's bigger brothers and sisters – like auto take off and landing, return to home and GPS stabilization and all of the HD camera recording you need to capture impressive photos and videos of your flights and locations.
The features of this ultra-portable drone are:
Ultralight drone. Under 249 g means that you can fly in some countries without having to register the drone.
30 minute maximum flight time
4 km radio signal distance
GPS hover
3-axis gimbal
The DJI app offers one of the best user experiences – and has smart shooting options to tou can create cinematic shots with just a few taps of your smartphone's screen.
Pros
+ 30 min Max. Flight Time
+ Under 250 g
+ Smart features of much more expensive drones
Cons
~ No 4K – understandable at this price point
~ Effected by strong winds
Best drones under $500 – a table
Drones reviews
Here's a rundown on the best drones for kids, photographers, racing and others from the list above. All of these drones are under $500 but pack a tonne of different features for your flying and piloting pleasure!
Holy Stone HS720
This drone is one of the most feature-packed drones for the price. It has everything you'd want from an expensive drone and more. The flight time is excellent considering the price of the drone and users online have reported excellent flying and handling from this drone.
There is some issue with the app that you could download to fly the drone. Some users report that you have to agree to terms and conditions in mandarin. That is a massive issue for privacy if you do not speak the language. However, it is not necessary to use the app to fly the drone.
This foldable and small package could be the perfect drone for your next adventure!
The features of this drone are:
4K UHD Camera with Image Stabilization:
GPS Assisted Intelligent Flight: Never lose the drone. It returns automatically whenever the battery is low, a signal is lost or you press one key return.
The intelligent battery works for 26 Mins for each charge; the long-life Brushless Motors have lower power consumption and give you a quieter flight.
The foldable design and well-fitted carrying case make it easy to take the drone outdoors.
Simple Operation: Equipped Multi Sensors guarantee to hover with great stability and high-quality pics taken under different flying environments.
Pros
+ Follow me modes
+ GPS return to home
+ 4K camera
Cons
~ Can see propellers in video
~ Be careful in windy conditions
Potensic Dreamer 4K Drone
If you are looking for a great drone in the sub $500 range the Potensic Dreamer 4K Drone is one of the best you can get. It's takes it's looks from the DJI phantom series and has a really intuitive and nifty remote controller that hugs your phone while flying. There are some advanced features that will make even the most advanced users happy.
The downside of this drone is that the gimbal for the camera is not as stabilized as the higher priced drone – resulting in some bumpy footage in winds. The gimbal is hanging off 4 cushions that dampen but do not counteract the movement of the drone.
The features of this drone are:
31 MINS MAX FLIGHT TIME: 2pcs advanced 3000mAh 4S intelligent battery provide up to 62 minutes flight time with 2 hours fast charge (31mins per battery).
4K UHD CAMERA: Upgrade to 4k camera with 90° adjustable UHD lens for better photosensitivity and color fidelity.
MULTIFUNCTION 4K DRONE: With multi-function like follow me, circle flight, waypoint flight, precise altitude flight, auto return, one key take-off/landing, headless mode, emergency stop, FPV, APP control and more it is an easy flying experience.
EASY SET-UP, QUICK RELEASE: Easy fit propellers for getting in the air faster.
A very affordable option for those of you wanting to bet some of the best drone features for under $500!
Pros
+ 31 minute flight time
+ Advanced automatic flying options
+ 4K camera
Cons
~ Easily effected by the wind
Force1 F100GP GoPro-Compatible Drone
If you have a Go-Pro collecting dust or want to use it in a different way – this drone is perfect for you! The Force 1 drone is Go Pro compatible which means that you can get all of the awesome features of your favorite Go Pro up in the air!
The features of this drone are:
GO PRO COMPATIBLE DRONE FOR ADULTS: This RC drone comes with a GoPro action camera mount compatible with GoPro Heroes 3 and 4; capture HD photos and video footage with the included 1080p drone action camera
BRUSHLESS DRONE MOTORS: Features powerful brushless motors, manual control, and races in 2 speeds; long-range drone has a flight distance of 500 meters and includes 3 shells (white, blue, and black)
HD CAMERA DRONE: This video and photography drone can be set to record from above during its flight; high landing gear protects your quadcopter drone camera when landing.
A very cool option if you want to get more from your Go Pro or other action cam!
Pros
+ Only GoPro compatible drone on the list
+ Good quality construction
Cons
~ No automatic flight features
~ No trigger for video on and off
SNAPTAIN SP350 Mini Drone – best for kids
The SNAPTAIN SP350 Mini Drone is the perfect drone for under $500 for kids! It is actually normally priced at under $50! The reason that this made the list is that you'd struggle to find a better drone for smaller children. If you want a full rundown on the best drones for kids – check out my other in-depth article here. There is no doubt that this is a toy drone and you should not buy this drone unless you are wanting a fun drone for the kids or to fly around the living room!
The features of this drone are:
[Throw flying function] no remote control required to take off. Just put this mini drone in hand, then gently toss it into air to get a quick start. Super easy to learn.
[Excellent air show] With circle fly function, this little drone will hover in a circle at high speed, bringing kids new exciting experience. Besides, speeds can be adjusted at will (low/medium/high), and great fun can be found in a cool 3D flips and rotation.
[Easy operation] altitude hold enables drone to hover automatically, providing a more stable flight. Just through a simple tap, kids can easily finish One key take off/landing, one key return, headless mode and emergency stop of this drone. Easy for kids and beginners.
[Triple flight time] with 3 powerful batteries, The flight time of the drone can be prolonged up to 21 mins. Have more fun anytime and anywhere for its portable mini size. Bright LED will give more indications about directions, without fear of losing control.
[Durable quality assured] multiple protections can greatly avoid some problems like excessive motor consumption, loss or out of control, extending service life of the drone. 4 guard rings protect the propellers from Collision, long-lasting and safe flight.
Get this drone if you just want a little bit of fun flying around your house!
Pros
+ Very durable
+ Easy to fly – headless mode
+ Throw to start
Cons
~ No automatic flight features
~ A toy drone – not for serious flyers
OOri – Best smart racing drone
The OOri drone is the worlds fist smart racing drone and it is an incredible racing drone that makes it fun for everyone to fly! The awesome design combined with a screen in the middle of the remote control will no doubt make this drone a hit! IT has been deemed the words fasted mini drone with speeds of up to 50 mph per hour and has won multiple CES drone awards.
Here are the features of Oori:
Ready to fly out of the box
Three flight modes. Making it perfect for beginners, intermediate and racers.
Top speed of 50 mph
Rapid battery changes
Assignable LED's
This drone is the perfect drone if you want something fun for racing around the house or through different obstacle courses.
Pros
+ Best smart racing drone
+ Screen in controller
+ Really sexy design
Cons
~ 5 minutes hovering time
Hubsan Zino Pro
This drone is pushing the upper limits of the price range but for the price, you get a lot of features! You get pretty much all of the features of a DJI drone and all of the advanced flying features like return to home on a button push, low battery etc. and automatic flying modes like follow me, image tracking. A solid offering from Zino!
Here are the features of the Hubsan Zino Pro
Equipped with 4K Ultra HD camera mounted on a 3-axis gimbal camera stabilizer that offers smooth and stable footage.
Up to 4KM 5G Wi-Fi video transmission; With brushless motor; Max flight time (no wind): 23 minutes. GPS Auto Return to Home: One-button RTH / Low Batery RTH / Failsafe RTH
Two batteries and carrying bag included. Lightweight and compact foldable design allows taking it anywhere with you, a must-have for your travel.
Detachable Filter: it allows you more leeway in selecting an aperture and shutter speed by preventing overexposure and gives you more creative control over your shots. NOTE: the ND filter is NOT included.
Functions: 4K UHD camera /3-axis gimbal /GPS /follow me /headless mode /auto return to home /image tracking /waypoint /line fly mode /detachable filter /Vision auxiliary landing /orbiting mode.
This drone is perfect for you if you need a drone that doesn everything at a top of the range drone can do – at a bugdet sensitive price.
Pros
+ Incredible camera
+ removable filter for NDFs
+ Really simple to fly
Cons
~ Some image noise at 4K
~ Some issues with stability
Ryze Tech Tello – best for teenagers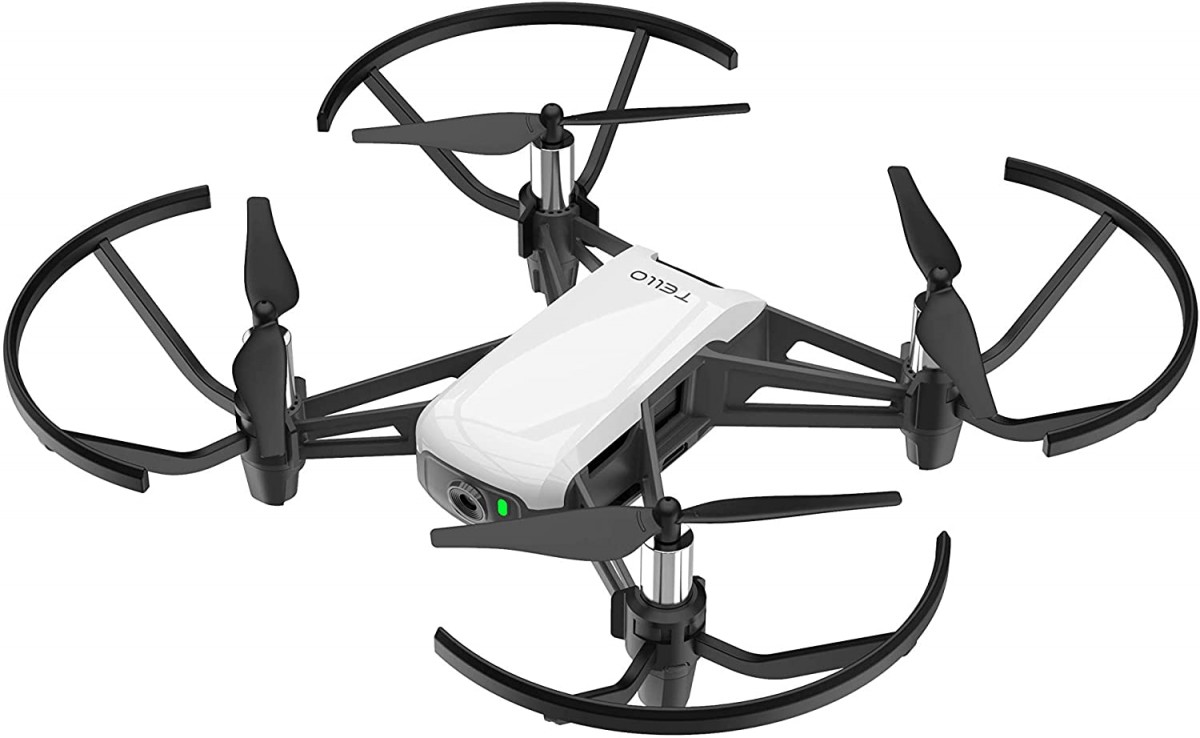 This drone may be small and lightweight but it has a tonne of features powerd by a very reputable drone manufacturer, DJI. DJI are the leaders when it comes to drones and they have perfected this entry level drone. It may be a little too advanced for the youngest in your family – but we'll talk about better drones for the youngest age group in a moment. For now, here are the features that this drone comes with:
Tello App – The Tello app makes it really easy to fly. It makes even the most complicated maneuvers just a simple touch of a button.
Lightweight – this very small drone fits in the palm for your hand and weighs only 80g.
You can perform stunts – start flying by tossing the drone up into the air with the Throw&go technology. You can also perform stunts and tricks (like flips) using the app
Safe to fly indoors – Thanks for rotor guards and it's vision positioning system the Tello drone is fun and safe to fly indoors
13 minute flight time – a huge flight time for a drone of this size powered by the best drone batteries on the market – DJI batteries!
Programmable – You can learn the basics of programming by using Scratch – an MIT developed coding system especially suited for students. Fly your own flight patterns
This thing is by far the best drone for kids!
Pros
+ Lightweight
+ Really inexpensive
+ super easy to fly
Cons
~ Needs another battery for continuous fun
Syma X5C
This drone is very cheap for the amount of fun you could have with it! At this price point, you will not get the advanced features such as headless mode of GPS hover – so it probably isn't for the absolute beginners. Because you'll probably end up with a number of bumps the kit comes with a load of extras like propellers and guards and users of the drone say that they have crashed this drone multiple times and it just keeps flying! So a massive plus for a cheap drone!
It is an upgraded version of X5C equipped with HD Camera. Please know that the "X" of X5C on the plane is red.
Built-in 6 axis gyroscope for precise hovering in the sky.
Various control options for those piloting the X5C. Up, Down, Left, Right, Forward, Backward, Leftward flight, Rightward flight.
Using spread spectrum technology for further remote distance, best anti-interference ability, least power consumption. you could fly more helicopters at the same time, its reaction speed is 100 times faster than other radio control.
A key 360° roll, continuous roll for perfect action, and wonderful performance.
Best for beginners who want to learn how to fly manually.
Pros
+ Really inexpensive
+ Durable for crashes
Cons
~ Not a good camera
~ Unstable in strong winds
Holy Stone HS270
This drone is from a sturdy manufacturer and offers a lot for a small price. It packs down into a fun small package which means you can take this drone almost anywhere with you. It has a few advanced features like return to home that can give you extra confidence to fly in windy conditions. Here are the best features of this drone:
2.7K Camera & 5GHz Image Transmission — HD camera catches incredible clarity in the photos (3840*2160); 5GHz transmission ensures beautiful scenes are sent back to the phone, frequent and clear; 90°adjustable angle enables broader views.
GPS Auto Return & Follow Me — Equipped with GPS positioning, the drone can automatically follow the pilots. When it is losing signal or power, or you press one key return, it will and fly back to the take-off point automatically.
Easy to Use Custom Flight — The drone can do auto-hovering. Design a flight path by tapping several points or make it fly in a circle with the camera always against the same point by setting a point on the App screen, which helps you dedicated yourself to more creative and amazing photography. It can fly to where you are unable to reach.
Bigger & Wind-resistant — Lasts 18 Mins. Both drone arms and propellers are foldable. Made of solid material There can always be surprises on the journey with HS270.
Unlock More Play Ways with Endless Fun — FPV transmission range up to 1300 Ft, control range up to 1968 Ft. The intelligent battery with LED lights displaying remaining power can work for 18 minutes.
This drone could be the perfect fist drone for you or someone in your family!
Pros
+ Solid construction
+ Advanced flying features
+ Stable in windy condition
Cons
~ Not a great camera
So there are the top 10 drones that I think you can get for under $500. That is, those are the best NEW drones that you can get for under $500. You can actually get some absolutely stunning deals for under $500 from people who have bought drones and now no longer use them.
I'm a huge fan and proponent of buying secondhand drones. In fact, my first ever drone purchase was a second-hand drone – the Mavic DJI Air. It had only 4 hours of flying time and was 40 percent cheaper than if I'd had bought it new. Let's take a quick look at the most important things that you need to check before buying a secondhand drone – it's not as scary as you think!
Secondhand drones under $500
If you want a full, in-depth, guide on how to buy second-hand drones, check out my other article here. It has everything you need to buy with confidence – including a free checklist!
Buying a drone is on the upper end of the expensive purchase list for many people. There are so many different types of drones that you need to make sure that you are buying the right drone for the purpose that you are buying it. Check out my really detailed post on how to buy a drone which will talk you through the options available to you. In short, you need to ask yourself these simple questions:
What features do you need from your drone? Camera quality, flight time etc.
How much money do you want to spend? Be strict with your money and choose a drone you can afford.
What features are you willing to be flexible on? Being a second-hand drone there will have to be a little give and take.
How much are spare parts? You'll probably end up need things like spare batteries and propellers. How much are they?
The reason that you should spend some time on this step is to make the decision as objective as possible. Marketers say "people buy on emotion and justify it with logic", we want to make sure that you are as clinical as possible before making this purchase!
Then when you are ready to buy – here are the simple steps you need to perform to make sure that the drone is in a good condition and a drone worthy of purchase.
Before the inspection – If you are unsure of any aspect of the drone's history this is the time to ask questions to find it out! Make sure that the online pictures are clear and you can see the physical condition of the drone. Ask about the time since purchase and the flight time of the drone. Ask how the drone had been used and if it has been in any major incidents.
During the inspection – During the inspection you will have the opportunity to see if the condition of the drone matches its background story. You can back out at this stage if you feel uneasy about the purchase! Check the battery, body, and propellers for their condition. Check the camera lens and the gimbal for any signs of wear. Lastly, check the controller's buttons and joysticks for fluid movement.
During the test flight – If time and location allow, ask to see the drone in flight. Look at all of the different components and if the drone sounds and looks good in the air! Check for any notification or warnings while flying.
The above steps are a really stripped down version of my really in depth post with free checklist – you can find it here. Now at this price point there are a number of different things that you should be aware of when it comes to the quality and features of a drone. Let's take a look at the expectations you should have of a drone in this price bracket.
Best drones under $500 – buyers guide
In this price range, you don't need me to tell you that you will not be getting the top-end features of the most expensive drones. To find out why drones are so expensive – click here – where I will give you the rundown in my other article. It's actually quite amazing what you can pick up for this price – but with each awesome feature, manufacturers need to take away something!
What should I look for when buying a drone for less than $500.
The drones in the list above all have their stand out points so it's often really heard to compare drones. But overall, here's what is commonly found in this range of drones.
Camera
If the drone has a camera it is typically not able to do any 4K shooting – and if it does there will be other limitations to the camera or gimbal set up. A lot of the drones in this price range do come with a camera but they will probably not be good enough for a professional photographer.
To be honest, as long as the camera is able to do 720 p quality imaging and recording – that is considered HD quality. Drones like the Mavic Mini are able to comfortably give you good HD quality images.
Gimbal
Having a good gimbal really makes a huge difference when it comes to video quality. In this price range the drones will sometimes not have a gimbal because a good one is very expensive. A good quality gimbal will take out the bumps and movements that happen when a drone is flying so the footage looks more cinematic.
That said, some of the drones listed above have quite advanced gimbals and are mimicking the best features of "Photography drones" for a market that wants affordable aerial photography.
Battery life
This is the one area that you cannot hide! Battery technology is expensive and as soon as you start looking at cheaper priced drones you will inevitably end up with shorter flight times! Drone batteries are typically Lithium Polymer batteries and vary in size to fit in the drone.
At this price point, not many drones have a rapid charge or smart charge technology so you'll have to wait a little longer in between flights for the battery to charge!
Construction quality
Drones are primarily made up of plastic shells – even the more expensive ones. The quality of the plastic and how well it all clips together is what is likely to be sacrificed at a lower price point. Because some of the drones in this category do not have sensors for obstacle avoidance, they are much more likely to run into things and therefore you need a strong construction quality to survive the bumps and crash landings that drones typically have to endure – especially when you are learning to fly.
Age of person operating the drone
One of the most important aspects of picking the right drone is asking who the primary pilot will be. The younger the audience the more durable and easy to fly the drone needs to be. As the primary pilot gets older – you'll need a drone that has a few more advanced features to keep them interested in the drone. And, if it is primarily for videography – an adult user – then you need to make sure that it has all of the features required to do it's job properly.