Flying a drone is inherently risky. Every time I fly my drone, I am scared that I will crash into a tree or become victim to an overly protective bird. Luckily, I have avoided every catastrophic accident and have not had to have my drone repaired. However, should you need to repair your drone, there are various options for you.
The manufacturer can repair drones under warranty, or you can purchase an extra care package. DIY drone repairs can be performed on arms, bodies, and easily replaceable parts. If you are confident, you can even exchange electronic components.
You cannot repair some things, such as extreme water damage and electronic failures at the circuit board level.
This article will go through everything you need to know about repairing drones and the options you have if the worst should happen during your next flight.
Manufacturer repairs
the first and easiest way to repair your drone is to have your drone repaired by the manufacturer. Getting your drone repaired by the manufacturer means that you will not only be able to have confidence that all of the parts are genuine, but they may even replace the drone under warranty.
DJI has one of the most robust refresh packages currently available.
DJI Care refresh
DJI care refresh is an after-sales service plan that provides up to 3 replacement drones in two years. This package includes accidental damage and up to 2 new drones for flyaway situations.
This option is perfect for those people who want a piece of mind while flying their drone.
DJI care refresh covers a range of different components of your aircraft.
If damage or a flyaway occurs to your drone during normal use or you have an accident, the process is very simple for claiming the service.
Firstly, You must register a case with DJI, produce a flyaway report or send back the damaged product, pay the replacement fee, and then receive the replacement in the post.
Here is a rundown of what the DJI care refresh package covers for each type of drone:
| Drone | What is replaced |
| --- | --- |
| DJI AIR 2S DJI FPV DJI Mini 2 Mavic series Spark | aircraft × 1, gimbal × 1, camera × 1, propellers (pair) × 2, and battery × 1 |
| Phantom series | aircraft × 1, gimbal × 1, camera × 1 and propellers (pair) × 2 |
| Inspire 2 | aircraft × 1 and propellers (pair) × 2 |
If you want to know more about the DJI care refresh package check out my other article by following the link – click here.
DIY drone repairs
Another option for your damaged drone is DIY repairs.
The great thing about any small electronic product is that anything is replaceable if you have enough confidence. I am amazed at the level of repairs that have been achieved on YouTube.
Below is a list of the sorts of repairs you can do on your drone.
Examples of YouTube repairs
Not everyone should carry out these levels of repairs. Still, with a little knowledge of the drone's internal workings, it is possible to exchange the gimbal, arm, and other components of the drone, including the motors.
These repairs are often electronic and should not be undertaken by someone unfamiliar with electronics.
However, there are plenty of plastic-type bodywork and broken parts that you can fix without any electronic knowledge, such as a drone arm or glueing the frame back together.
Fixing a drone arm
Fixing a drone arm is relatively simple by using epoxy, plastic glue and plastic welding.
Be careful because the process of fixing your drones may void any warranty or refresh plans that you have purchased.
Glue
Glue is a useful tool if the damage is superficial and you want to stop certain parts of the drone from vibrating or the damaged part is not a structural component.
Glue is only as effective as the chemical bond that it can make with the surface of the plastic therefore, you need to select the correct glue and also ensure that the surface is as clean as possible before applying the glue.
One of my favourite plastic bonding systems is made by Loctite.
Loctite superglue plastic bonding system is a two-part bonding system which sets in seconds and develops a lot of strength over a few hours.
It can bond to many other materials and is resistant to water, chemicals, and freezing temperatures.
If you want to know more about fixing a drone with plastic and all of the other glue options you have, check out my other article – click here.
Body Damage
On top of the frame, encasing the components is the body. The material used for the body also has to be impact resistant as it is the last shield protecting the internal components from any accident or incident that may happen.
Depending on the type of drone, the body may be made of high-impact polystyrene (HIPS) or Acrylonitrile butadiene styrene (ABS).
The body damage can be repaired utilising a glue that is suitable for plastic, such as Loctite, bondic liquid plastic, and Plastaid.
Water damage
Water damage is one of the hardest things to repair, and it is best if you act quickly.
Depending on the type of water you landed in, you may have two flush your drone with clean (distilled) water. Saltwater is very corrosive and will rust metal way quicker than freshwater. If you want to repair your water damage drone, you may need to replace some of the shorted electronic components.
These are the steps you must go through if you want to fix a drone that fell in water.
Act quickly – disconnect all power as quickly as possible
flush with distilled water if you have landed in salt water
leave the drone to dry for at least five days – leave it in a dry location for as long as possible. You can blow out all of the water using a hairdryer on the lowest heat setting to remove some of the persistent moisture.
Carefully turn back on the power.
Get a trusted repair to assess the damage.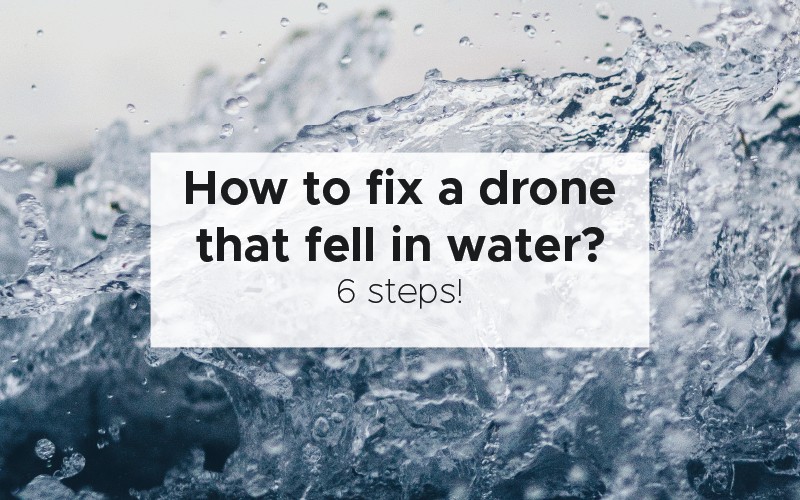 Batteries
Batteries are very complicated components of a drone and you can expect the average battery to be able to be charged up to 500 times.
Do not attempt to fix a drone battery as you could cause an explosion by touching the wrong parts of the battery.
Because the battery is a very hard-working component of drones, they tend to be a shorter-lived component.
Symptoms of needing a new drone battery may be:
Shortened flight times – if your flight times are getting shorter and shorter with the same batteries, it could be that your battery needs replacing.
Excessive heat while discharging or charging – if you find that your battery is becoming uncomfortably warm during charging or discharging, you should replace it out of a matter of safety.
Corroded or damaged metallic connections – if your battery has significant corrosion or discolouration on the metal components, then you should replace the battery as soon as possible.
Excessive time charging – if your battery has issues with charging, you should consider buying a new battery over a few hours.
It is always better to purchase a new battery than attempt to repair a faulty battery no matter how easy you think the repair will be.
An alternative piece of mind: Drone insurance
if you want to be assured that your drone can be repaired if you damage it during a flight, drone insurance may be the best piece of mind that you can purchase.
There are many companies which offer drone insurance and their policies and their coverage change depending on the level at which you want to protect your drone as well as the length of time that you want your coverage.
Two popular options in the drone flying world, based in the US, are:
StateFarm – the State farm drone insurance has become a go to option for drone enthusiasts because of its low cost options. The State farm insurance policy offers drone insurance under the personal articles policy. This covers many personal items which drones and cameras for under. This is only for someone that uses their drone recreationally and is not meant for commercial drone pilot coverage.
Skywatch – Skywatch is a drone insurance company which enables you to protect your drone for as little as one hour for up to one year. They protect against third-party body injury and property damage, and you can modify your coverage as and when you need it.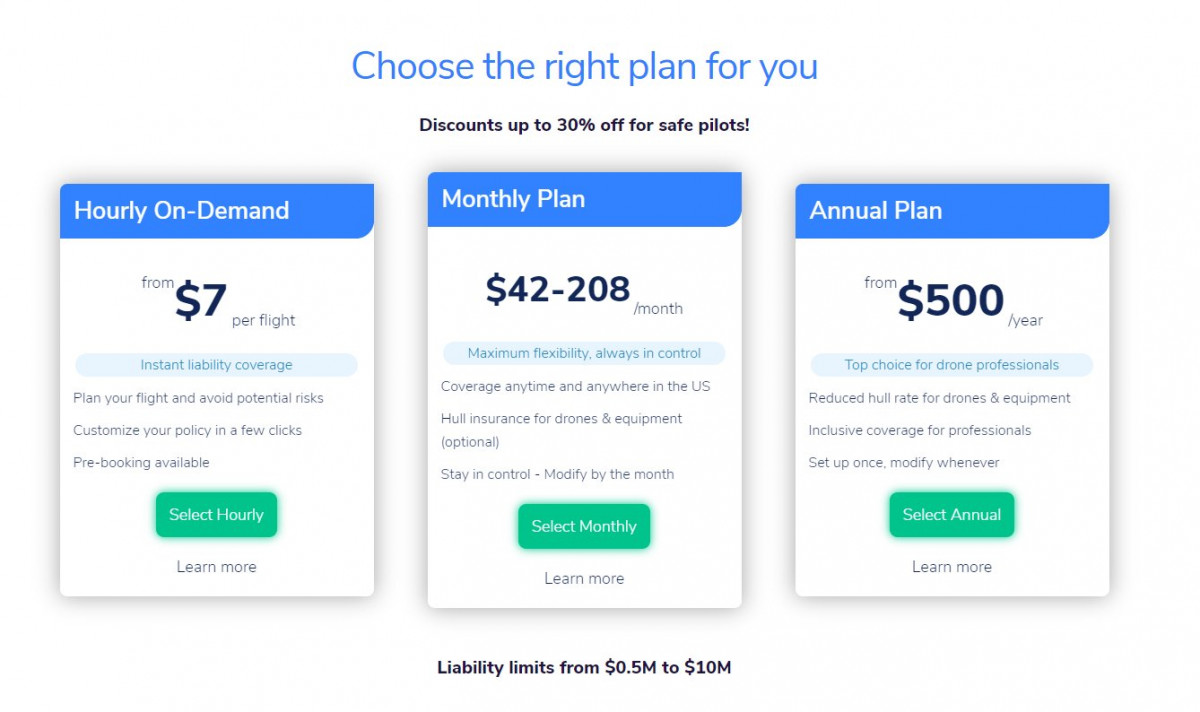 Summary
This article has been through everything you need to know about whether or not drones can be repaired and what you are able to do yourself versus what you should replace rather than repair.
Luckily, some of the more superficial incidents can be repaired using glue and simple soldering. However, should you have to get into the electronic components and start replacing ribbon cables you may need a professional to help guide you. Or purchase one of the manufacturer's care packages for complete peace of mind during your flights.