There are many places where you can fly a drone without any fear of being hassled by the police. However, there are also places where you cannot fly and these are called no-fly zones. These are areas that have been established by the local authority as an area where you are not permitted to fly. It is illegal to fly over these areas and commonly include government buildings, crowded areas, and places where people congregate such as sports stadiums.
There are no direct laws stipulating whether or not you can fly near a school. If you are in doubt, you should consider a school a "sensitive zone", like a government building, and refrain from flying there. People also have high sensitivity to drones around children so it's best not to fly there.
In this article, we are going to go through all of the top considerations for flying your drone near a school, a school oval, and property owned by a school. Like with all drone flights, you must stay within the laws and regulations set out by your local air authority which can exclude school zones for a variety of reasons.
Let's take a look at some of the issues, beyond legal, about flying near a school.
Issues flying near a school
Flying near a school may actually be a bad idea not because of the fact that it is a school but rather the sorts of activities that typically happen around a school during school hours and drop-off and pickup times. Importantly, people also have a high suspicion of those that are trying to seemingly capture pictures of children… Let's take a look at those now.
Distance to people
Schools are areas of high activity due to the nature of bringing together children from neighboring neighborhoods into a central location. The sort of people that are going to be around a school includes students, teachers, staff, and parents.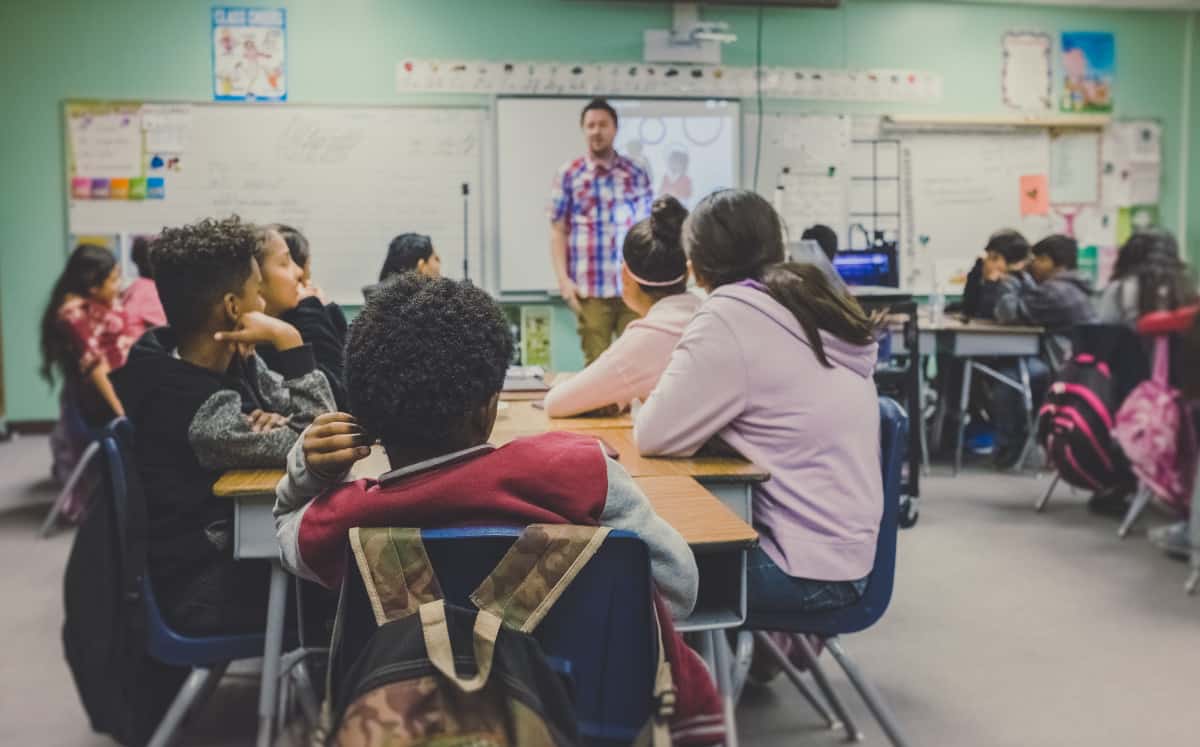 The time of the day will determine whether or not a certain school is busy. For example, the end of the day will see a load of students leaving the school and they will completely fill the roads and parks around the school. In this instance, you will not be able to fly without being close to or directly overhead students and parents. This means that it is the proximity to people which will stop you from flying your drone near a school.
Due to the nature of bringing people together, it is advisable not to fly your drone during school hours and, if you must, you could utilize their oval or public sports field to fly your drone outside of school times. For example, on the weekends or in the evenings when there are no students or parents or teachers around.
Distance to roads and cars
schools also have a fair amount of infrastructure which is built around ease of transport and access for students. It is likely that a school will have roadways and drop-off points on multiple areas of the school, bike paths, and public transport lanes nearby.
Simply the number of potential hazards flying over cars, buses, and fast-moving cyclists, should put you off flying near a school as you will not be able to keep a safe distance between your drone and the people moving underneath.
In some places, like Australia, you are able to get a license which allows you to get up to 15 m away from individuals but this still creates a fair amount of no-fly zones if there are many students or people in the area.
Typically, I like to fly in areas that are completely free of roads and public transport infrastructure. This just makes my flight much easier and allows me greater freedom and less anxiety while flying my drone.
Sensitivities around children
It is important to note that many people are very sensitive to someone taking photographs and videos that could potentially have children and minors in them.
As a society we are very protective of our most vulnerable members of the community which includes students of schools.
You do not want to be seen as the creep that is flying there drone near a school even if you have no bad intentions.
For the sake of common courtesy I would simply avoid flying near a school during school hours due to this high sensitivity shown towards photographing minors whether you mean to or not.
I have flown my drone over school ovals that are accessible to the public on the weekends. In fact, I feel like these are fantastic areas for beginner drone pilots to practice their skills since they are typically very open spaces with no overhanging or overhead obstacles.
You just need to make sure that you are not regularly flying over schools during school time to avoid looking like a pervert.
Are schools "sensitive areas"?
Most governments have created sensitive zones and sensitive areas for drone flying which creates a no-fly zone around areas that the government wants to protect.
Geo fencing uses GPS and navigational satellite signals to automatically prevent drones from flying over airports, nuclear power plants, prisons, high profile events, and other secure areas as deemed by the government. At the moment schools are not strictly designated sensitive areas.
If you have a DJI drone there are a number of zones in the DJI fly safe system including:
restricted zones – In these Zones, which appear red the DJI GO app, users will be prompted with a warning and flight is prevented. If you believe you have the authorization to operate in a Restricted Zone, please contact [email protected] or Online Unlocking.
altitude zones – Altitude zones will appear in gray on the map. Users receive warnings in DJI GO, or DJI GO 4 and flight altitude is limited.
authorisation zones – In these Zones, which appear blue in the DJI GO map, users will be prompted with a warning and flight is limited by default. Authorization Zones may be unlocked by authorized users using a DJI verified account.
warning zones – In these Zones, which may not necessarily appear on the DJI GO map, users will be prompted with a warning message. Example Warning Zone: Class E airspace
enhanced warning zones – In these Zones, you will be prompted by GEO at the time of flight to unlock the zone using the same steps as in an Authorization Zone, but you do not require a verified account or an internet connection at the time of your flight.
Regulatory restricted zones – Due to local regulations and policies, flights are prohibited within the scope of some special areas such a prisons.
Recommended flight zone – This area is shown in green on the map. It is recommended that you choose these areas for flight arrangements.
If you come up to a Geofenced no-fly zone the drone will simply not move any further and hover until it runs out of battery and lands.
If you want to know more about Geo fencing and drones that allow you to fly wherever you want without Geo fencing you can check out my other article – click here – where I go through this in detail.
What about school ovals?
School ovals and other sports fields can be considered, in some places, as public spaces. The exact laws and regulations around schools depends very much on your local area. For example, in Australia, I am able to fly my drone on a number of school sports fields and ovals as long as they are not fenced off and they are open to the public.
Recently, the National Federation of State high School associations put out an article that highlights the use of drones in high school sports.
They conclude that schools should exercise a high degree of care in the operation of drones to avoid breaking any of the laws or causing injuries to players, coaches, spectators or other third parties that might result from a drone crashing into a crowd. The operators should be provided by the schools with flight training offered by drone schools and should also be required to practice to ensure proficiency in using drone technologies.
These seem like very sensible regulations and fail safes for schools.
The local laws and regulations in your country will differ and you need to understand what they are. Here are some links to local laws and regulations in the United States of America, Canada, Australia, and the UK:
Drone flying restriction in USA
Drone flying restriction in Canada
Drone flying restriction in Australia
Drone flying restriction in UK
There wouldn't be anything more frustrating than going through all the effort of travelling to a school oval and then not being able to fly it where and how you want to.
Apps can help you
If you're not sure where you can and cannot fly your drone, I recommend that you download an app which will show you exactly where you can and cannot fly. In the United States of America, they have the before you fly app known as B4UFLY APP – because text language really appeals to the kids… I joke…
B4UFLY App
if you are a recreational user of drones you can now use the FAA drone app which was developed with the company Aloft (previously known as Kitty Hawk).
This app provides situational awareness to recreational (hobby) flyers and to other drone enthusiasts and pilots. It is available both on the App Store for Apple and on the Google play store for android phones.
Interestingly, it also includes a desktop version which allows you to do some pre-flight planning and research.
The key features of the app, as stated by the FAA, include:
Key features include:
A clear "status" indicator that informs the operator whether it is safe to fly or not. (For example, it shows flying in the Special Flight Rules Area around Washington, D.C. is prohibited.)
Informative, interactive maps with filtering options.
Information about controlled airspace, special use airspace, critical infrastructure, airports, national parks, military training routes and temporary flight restrictions.
The ability to check whether it is safe to fly in different locations by searching for a location or moving the location pin.
Links to other FAA drone resources and regulatory information
If you are not in the United States of America there are other options which are just as powerful. My favourite app to use is open sky.
Open sky
Open sky works in the United States, Australia, and other places in the world. It is a very simple and clean way of viewing drone rules and regulations that you can fly with confidence wherever you are.
It is a free app that supports flight planning for many types of drone users and by typing in a specific address you will be able to understand what the laws and regulations are in that place.
Open sky is an approved provider of real-time access to controlled airspace information from the FAA as well as CASA in Australia.
Drone operators can request an authorisation to flying controlled airspace including the airspace near major cities. It automatically checks airspace rules and regulations and advise you when the airspace is clear for flight.
Of course, it may be that you are a teacher who wants to use a drone at your school. Here are some of the considerations you need to make if you fall into this category.
Can teachers use drones at school?
Using a drone is an incredible educational opportunity for many subjects taught in high school and primary school. Teachers are always on the lookout for incorporating new technology into their classrooms and using drones in a variety of subjects is a fun and exciting way of engaging students whilst also producing valuable data and information to be used in the classroom.
If you are a teacher, there are a few things that you need to understand before using a drone in your school or in your classroom.
How to fly a drone for teachers
It's not as simple as simply buying a drone and using it in your lessons. You need to make sure that you abide by all of the appropriate laws and regulations, just like above, and that you take into consideration the safety of the students and the school's property.
Here are the top considerations for a teacher who wants to fly a drone for educational purposes.
Stay away from students
Firstly, drone propellers move very quickly – up to 5000 times per minute – this means that if they come into contact with skin they can cause injury. A drone blade cannot cut off a finger but it can cause soft tissue damage and other injuries to soft parts of the body such as the eyes.
If you purchase a drone and you want to use it in the classroom you should stay at least 30 m away from students at all times.
Get permission from parents
It is common practice in schools to get permission from parents to involve their students in certain activities. I recommend that you ask the parents of your students whether or not they feel comfortable with their child being involved in a lesson that will involve drone technology.
Follow all of your local laws
just because you are flying the drone on school property doesn't mean that you cannot be up to date with your knowledge of the local laws and regulations. At all times, when you are in control of the drone, you should make sure that you are abiding by best practice and legal flight limitations.
Many subjects can use a drone
Education is a fantastic place for drone technology. Getting a drone in the air combines so many skills and techniques in a fun activity that students love
Science
One of the front runners of drone technology for education is the Robolink CoDrone lite. This business's mission was to encourage students to learn about science, technology, engineering, and math in an engaging way.
While there is a natural fit from drone technology in the science and technology educational space. There are also many other creative ways that you can use drones in education:
Writing exercises
One of the reasons that people are attracted to drones is the unique perspective that it can give you on the world. I loved my first time sending the drone up to it's maximum altitude and just looking around.
This same experience can be used with a classroom of students to get creativity flowing. Combining a trip into nature with some drone footage and a story writing task is a brilliant combination of diciplines and healthy activites.
You can also take the drone and photograph some familiar places in some unfamiliar ways and play a guessing game as to where the pictures where taken.
Math
Let's face it math can be a pretty boring subject to teach. But chuck in some real world experience on top and it can become the most captivating and interesting lessons you'll ever have!
In this video a teacher uses the drones movements to illustrate a distance time graph and how it is created.
This method of learning information is not only fun for the students but it can also be the key to helping them remember the important concepts from the lesson!
Physical education
Drones can be a great way to get students active too!
Sport is starting to contain so many more analytics tools and data-driven training that recording and analysing drone footage could be the perfect way to improve any sport.
An example of a really fun and interesting start up is AthletesAI. They use video content captured from any camera to analyse tennis, cricket and table tennis players.
Another fun drone activity is to use a drone to race or find students in a game of hide-and-seek. There are plenty of ways that drone footage can be used in sport and education that you are only really limited by your imagination – once you have a drone of course!
Summary
In this article, we have looked at all of the ins and outs of whether or not you can fly a drone over a school.
Ultimately, it comes down to using your common sense and flying within the local laws and regulations. The added twist to this decision is the high sensitivity that our society has around filming children. If you feel uncomfortable with flying your drone in any sense you should wait until the weekend or the evenings to fly your drone above the school.
There are no specific rules or legislation around flying your drone above a school but, just to be safe, you should consider it a sensitive area like any government building.