Many drones now offer internal storage as part of their product offering. The internal storage of a drone enables the pilot to record high definition footage directly to the memory of the internal components. It is perfect if you have forgotten your memory card or need to troubleshoot any video writing issues.
The DJI Air 2S has 8 GB of internal storage, of which 7.2 GB is available for video recording and storage of photographs. The internal storage is perfect for recording high definition video and photos without the need for an external memory card.
The amount of photos and videos that the internal storage of the DJI Air 2S can hold depends on the quality of the photos and videos you are recording. If you are recording in 4K, it will hold much less than if you are recording in HD.
How much storage does Mavic Air 2 have?
The Mavic Air 2 has 8 GB of internal storage, of which 7.2 GB is available for video and photo use.
Both the Air 2 and the Air 2S have the same amount of internal storage.
How many videos can the internal storage hold?
The amount of footage that you can record on the internal storage of the DJI Air 2S depends on the quality of the footage that you are recording.
Drone footage capture can be a data-intensive procedure.
Data storage has never been more expensive, with 4K films and breathtaking extended time-lapse photographs – not to mention the hundreds of photos you could wind up taking — I'm going to tell you everything you need to know about drone video file size what you should be mindful of.
In the YouTube video below, I talk about the storage capacity of microSD cards and drone video file size.
You can easily expand the amount of data you can capture with the drone by purchasing a fast microSD card.
You won't need more than 64 GB of memory if you're a hobby drone pilot — that's approximately 2.5 batteries worth of flying time for most commercial drones.
If you're a professional drone company, you'll need a lot more memory on your memory card to ensure that you have adequate room for several flights.
Results from my experiment (Mavic Air)
I ran an experiment to collect different qualities of footage on the internal storage of my DJI Mavic Air.
I ran at least three recordings at various video duration to ensure that the data did not contain any artefacts related to video length.
Here are the average amount of data each recording created at different video qualities.
| Video quality | Data created | Amount of footage |
| --- | --- | --- |
| 4K/30fps MP4 | 0.761 GB/minute | 9:30 seconds of footage |
| 1080P/60fps MP4 | 0.523 GB/minute | 13:50 minutes of footage |
| 1080P/30fps MP4 | 0.265 GB/minute | 27:00 minutes of footage |
Based on my experiment, you can see 27 minutes of footage and a recording of 1080P at 30 frames per second.
Here are the amount of minutes you can record based on the quality. It is shown for the internal memory as well as different memory card sizes.
| | | | |
| --- | --- | --- | --- |
| Memory card size | Minutes at 4K/30fps* | Minutes at 1080/60fps | Minutes at 1080/30fps |
| 128 | 168 | 245 | 483 |
| 64 | 84 | 122 | 242 |
| 16 | 21 | 31 | 60 |
| 8 – internal memory | 10 | 15 | 30 |
One thing to note is that as the quality of the camera and photos increases, the space available for recording will hold less and less.
Because the DJI air 2S can record up to a five-point 4K resolution at 30 frames per second, you may be getting less than five minutes of footage stored at that resolution.
To increase the amount of content you can fit onto the internal storage of this drone, you can:
Reduce the video resolution – reducing the video resolution will significantly reduce the file size needed to be stored.
Stop and start recording – stopping and starting recording will allow you to maximise the amount of space you have available by eliminating all of the things you do not want to record.
Always remove footage after a flight – making sure that your internal storage is clean and empty for each flight you undertake will maximise the amount of storage available to you for each flight mission.
Pros of internal storage
Internal storage is a relatively new addition to drones and it comes with a variety of pros and cons that we will talk about below.
Can record you right away
One of the things I love about internal storage is that it can allow you to get the full experience of flying your drone right away. Sometimes, I can be relatively impatient, and my drone's first flights did not utilise an external SD card.
This meant that I would have missed out on being able to share my flight with my friends and family – the internal memory system allowed me to save my first ever flight.
With the beginner in mind, the internal storage on a drone can allow you to get the full drone flying experience and ensures that you do not miss out on capturing your most exciting flight (your first-ever one).
Extra space
Sometimes an external memory card can fill up quicker than we expect. Whether we have not emptied the memory card or it is much smaller capacity than we need having extra space to record your drone flight allows for an extra piece of mind.
Failsafe
Memory cards can be a little bit temperamental with different electronic devices. Having an internal memory means that you do not have to worry about compatibility or technical issues when using your drone with a memory card.
Every internal memory system of a drone can record in the maximum resolution at the highest write speed.
It is the perfect failsafe to make sure that your drone flight goes without a hitch and you are able to record everything smoothly.
Cons of internal storage
Although there are some excellent advantages to having a drone with internal storage, there are a couple of cons associated with it.
Need to plug in to access data
One of the biggest drawbacks that I found when utilising the internal storage of my drone is that I need to plug the drone into the computer to access the data.
Accessing the data port is relatively easy, but I much prefer being able to remove the card and replace the external SD with extra memory.
Sometimes I do not charge up my drone batteries enough to access the data, so I cannot access the data right away. Most drones need to be turned on before you can access the internal storage – a pain if none of your batteries is charged.
Can be made smaller with updates
The amount available to you can be made smaller with updates and other data stored on the card.
Even though the internal storage should only be used as a backup and a failsafe, many people rely on it as the primary data capture source. However, the amount of data available on the internal storage can be reduced if you carry many flight logs and other bits of data that the drone's software decides to keep.
Regular formatting and clearing of this data can help improve the amount of data that is available to you for storage.
Best MicroSD Cards for a Drone
if you want to expand the amount of data that you can store with your drone you should consider getting a microSD card. I highly recommend purchasing a good quality microSD card as it can affect the quality of footage you can store.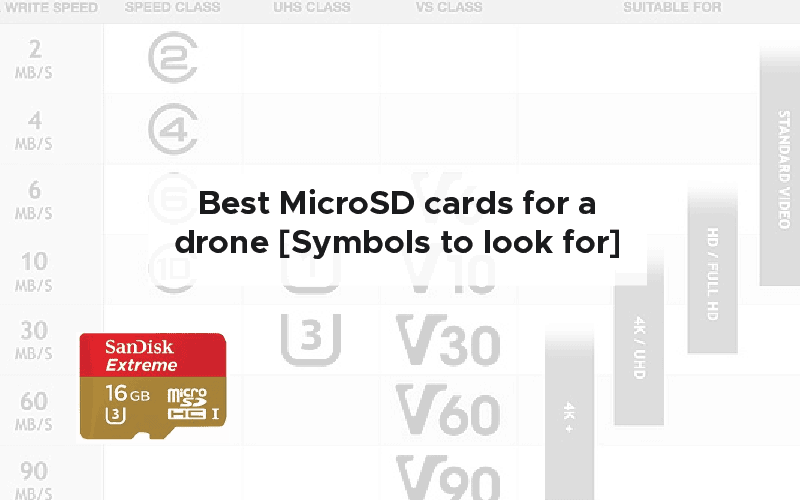 You should purchase a microSD card with a write speed of at least 12.5 Mb per second.
Look for the symbols "U3" or "V30," which indicate that the minimum continuous write speed is 30MB/s, which is plenty for most drones.
The DJI Mavic Air 2S can hold up to 256 GB of external memory, and DJI recommends that you purchase one of these memory cards.
SanDisk Extreme PRO 64GB V30 A2 microSDXC
SanDisk High Endurance 64GB V30 microSDXC
SanDisk Extreme 64GB V30 A2 microSDXC
SanDisk Extreme 128GB V30 A2 microSDXC
SanDisk Extreme 256GB V30 A2 microSDXC
Lexar 667x 64GB V30 A2 microSDXC
Lexar High-Endurance 64GB V30 microSDXC
Samsung EVO 64GB microSDXC
Samsung EVO Plus 64GB microSDXC
Samsung EVO Plus 256GB microSDXC
Kingston 128GB V30 microSDXC
Netac 256GB A1 microSDXC
Summary
This article has been through everything you need to know about the internal storage available on the DJI air 2S. It is about 7.2 GB of free internal storage that can record 4K footage of approximately 10 minutes in length.
I highly recommend that you also purchase an external memory card to allow you to record much more footage and photographs and make it easier to download the data onto a computer or laptop.
Happy drone flying!