Sometimes, the DJI fly app can behave strangely on certain devices. One of the biggest issues new drone pilots face is ensuring that their smart device is compatible with the DJI fly app and connects seamlessly to the remote control.
Once all of the separate components are working together, the App can sometimes get stuck on academy mode. It is a problem where the button to progress is not viewable on your screen.
If you cannot get your DJI Fly App off academy mode, you can reset the font size and change the screen resolution of your smart device so that you can see the "next" button to leave academy mode.
Changing your font size and changing your phone's screen resolution will solve most of the issues with the DJI fly stuck on academy mode.
If you find that your phone is still not allowing you to progress past this part, there are a few more options. In this article, I will cover all the easy fixes that have worked for the drone community.
Reset the font size
Sometimes the easiest fix is the best, and resetting the font size or changing the font size to the smallest setting will allow the "next" button to be visible so that you can leave academy mode.
 These are the steps to solving this font size issue:
Exit the DJI Fly app. Set "Font Size" and "Screen Zoom" to default settings in the mobile device's System Settings. Or change the font to its minimum. (Using Samsung mobile phones as an example: Settings – Display – Font and Screen Zoom).
Then return to the App for operation. There should be a "Next" option in the blank area.
If there is no "Next" option after zooming out of the interface, please click the blank area repeatedly (Under "How do I fly safely").
If your phone or smart device font size has been changed for accessibility reasons, you may want to upgrade to a larger screen so that you can still have the large font and easily access all of the different functions and buttons.
Most people can see the appropriate button after reducing the font size. However, some users have found that they also need to change the resolution of their phone screen.
Change the screen resolution of your phone
Should the font size setting not reveal the "next" button for getting out of academy mode, you can change the screen resolution of the smart device.
Some people have found that updating their screen resolution to "HD+ (1480 ×720)" has solved the issue of being able to get out of academy mode.
Play with different screen resolution settings of your phone or smart device until you can reveal the appropriate button for getting out all the academy mode.
Try a third party app
The issue can be so frustrating that some drone pilots opt for using third-party app for flying their drone.
The most popular of the bunch is Litchi.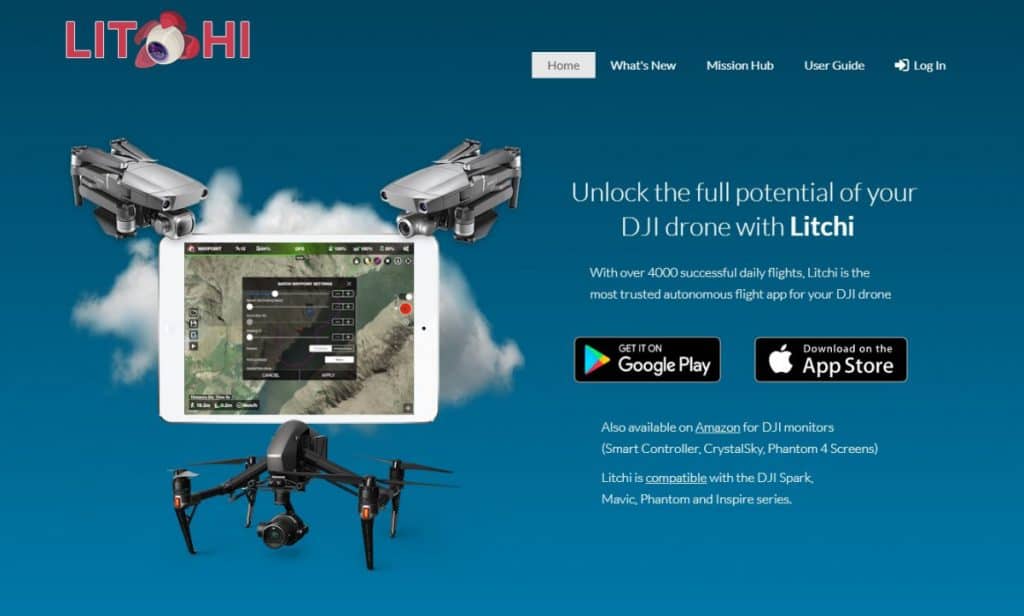 There are over 4000 successful daily flights using this software, and it is available on the Google play store and the iTunes App Store.
The App is compatible with the DJI Spark, Mavic, Phantom, and Inspire series.
The user interface is very intuitive and offers a powerful waypoint mission planner. It is also available on all platforms and operating systems so that you can seamlessly sink your missions across many devices.
Here are all the features I particularly like about this software that make it perfect for beginners and advanced users.
Focus mode – the software takes control of the gimbal and the drone's yaw axis to concentrate on the horizontal movements, creating amazing shots easily for a beginner.
Track mode – track mode allows your DJI drone to understand what it sees and keeps your selection perfectly framed while flying the drone. Orbit and follow are also incredible tracking options too.
Intuitive mission hub – the mission hub allows you to plan waypoints from a desktop or laptop. It is intuitive and will enable you to discover other people's missions.
Visual mission planning with Google Earth – you can't use Google Earth Pro two plan a mission in three dimensions.
Litchi for flight controllers – you can also use this software on a smart controller, crystal sky, and Phantom 4 screens.
Overall, this software is a fantastic option for a relatively small price for planning your flights and getting your drone to execute various tasks during its flight.
The current price of this app is $22.99 (iOS) $24.99 (Android).
Try updating the App to the newest version
Installing the latest app version is another way of ensuring that your drone is kept safe and you can avoid any errors.
DJI are quite quick at producing new versions of their fly app once the community notes large-scale issues.
Importantly, you should head to the product page for your drone and click on the download tab. This page will show you the latest stable version specifically for your drone model.
Sometimes the generic DJI fly App page can be incorrect for your drone model. The correct version will be listed under the downloads tab for your drone.
Use an older version of the Go Fly App
Sometimes, when DJI release a new version of the App, it no longer works on your phone.
I have had a couple of instances where I have had to revert to an older version of the App to allow me to continue flying.
There are several ways to get older versions, and you can find them in Google Drive below.
Link: https://drive.google.com/drive/folders/1No6Y6900jugASpW_LB7UDL6GevH4WVg5
This list is curated by a YouTuber and is my go-to resource if I need to downgrade my App to an older version.
Use a device with a bigger screen
It would help if you also considered purchasing a device with a bigger screen so that none of the buttons are obscured from your view.
Here are some of the recommended devices that can be used with the DJI fly app.
What phones are compatible with DJI Fly?
iOS (Requires iOS 11.0 or above)
Android (Requires Android 6.0 or above)
Compatible with iPhone 13 Pro Max,
iPhone 13 Pro,
iPhone 13,
iPhone 13 mini,
iPhone 12 Pro Max,
iPhone 12 Pro,
iPhone 12,
iPhone 12 mini,
iPhone 11 Pro Max,
iPhone 11 Pro,
iPhone 11,
iPhone XS Max,
iPhone XS,
iPhone XR,
iPhone X,
iPhone 8 Plus, iPhone 8 
For older versions: Click to download
Compatible with Samsung Galaxy S21,
Samsung Galaxy S20,
Samsung Galaxy S10+,
Samsung Galaxy S10,
Samsung Galaxy Note20,
Samsung Galaxy Note10+,
Samsung Galaxy Note9,
HUAWEI Mate40 Pro,
HUAWEI Mate30 Pro,
HUAWEI P40 Pro,
HUAWEI P30 Pro,
HUAWEI P30,
Honor 50 Pro,
Mi 11,
Mi 10,
Mi MIX 4,
Redmi Note 10,
OPPO Find X3,
OPPO Reno 4,
vivo NEX 3,
OnePlus 9 Pro,
OnePlus 9,
Pixel 6,
Pixel 4,
Pixel 3 XL
Wrapping up
This article has covered everything you need to know about the steps available to you if you would DJI fly App is stuck on academy mode.
It's as easy as changing your device's screen resolution and font size to reveal the appropriate button to progress to the next stage of the app introduction sequence.
Alternatively, you can choose to get a device with a much larger screen size, or you can select a third-party flight app such as Litchi.