Many DJI drone users were disappointed when upgrading their smartphone to Android 12. Some users found that they were able to start the app and sync with the accounts on their phones, but after pressing the fly button, the app would crash.
The official response from DJI states that if you are having issues with the DJI GO 4 app and android 12, you should download the latest app version listed on the DJI official website and sideload on to your device.
The DJI GO 4 app is updated regularly to ensure that it is stable, safe, and has the latest features released by the DJI developers. However, the app sometimes doesn't play well when you upgrade your android device.
This issue is particularly damaging to professional drone pilots as they are left with a drone they cannot fly to earn money. It is also equally annoying to hobby flyers who get sidetracked by annoying software updates while trying to fly their drone after work or on the weekend.
Unfortunately, the android ecosystem updates cannot be controlled by the DJI developers and they will often have to be reactionary towards any changes. The developers can sometimes take a little bit of time to develop a fix for android updates. However, here are some things you can try immediately if you find that upgrading to Android 12 has not worked for you.
DJI official support
DJI officially released a fix for their app on their Twitter account:
After updating to Android version 12, your phone may experience issues with the continued use of an older version of a DJI app, including app crashing. To avoid this, be sure to download the latest DJI app version listed on the DJI official website.
Here is the image that they released which has all of the DJI app QR codes.
Follow all of the steps on their infographic to fix the android 12 issue with the DJI GO 4 app.
How to fix the issue with Android 12 – other options
There are a couple of different options for resolving the android 12 issue, including rolling back your firmware and using a third-party application to pilot your drone.
It can be scary to recommend using third-party applications but there are so many on the market at the moment and I will share my favourite with you.
Roll back the updated firmware
If you're using an Android device, you may want to learn how to roll back the firmware. Sometimes an over-the-air update will break your device, introduce bugs, or change features you don't want.
If this happens, you can roll back an update to a previous version. You shouldn't, however, downgrade to a previous Android version unless you're absolutely sure you can't live without the new features or functionality.
You'll also need to restore your device's content and apps from the backup. You'll also need to back up your device's system files.
Android devices receive software upgrades frequently. Some of these updates come with bug fixes and other improvements. Other updates may break features or slow down the device. Sometimes, you may want to go back to a previous version to get everything back to the way it was. Depending on the manufacturer and model, there are different ways to do this.
There is a great article over at androidcentral.com that will help you roll back your firmware to get your DJI fly app working again.
Unfortunately, not all smart devices will be able to be downgraded. It all depends on the company that manufactured your phone.
If you are still having issues with your DJI go 4 app on your android device check out my other article – click here – where I go through everything you need to know about the DJI go for app and your device.
Try another third-party application
If the DJI go 4 is not working with your phone, and you need to pilot your drone as quickly as possible, you could use another app such as Litchi.
Many people want to fly their drone using a different app than the one supplied by DJI.
The most popular of the bunch is Litchi.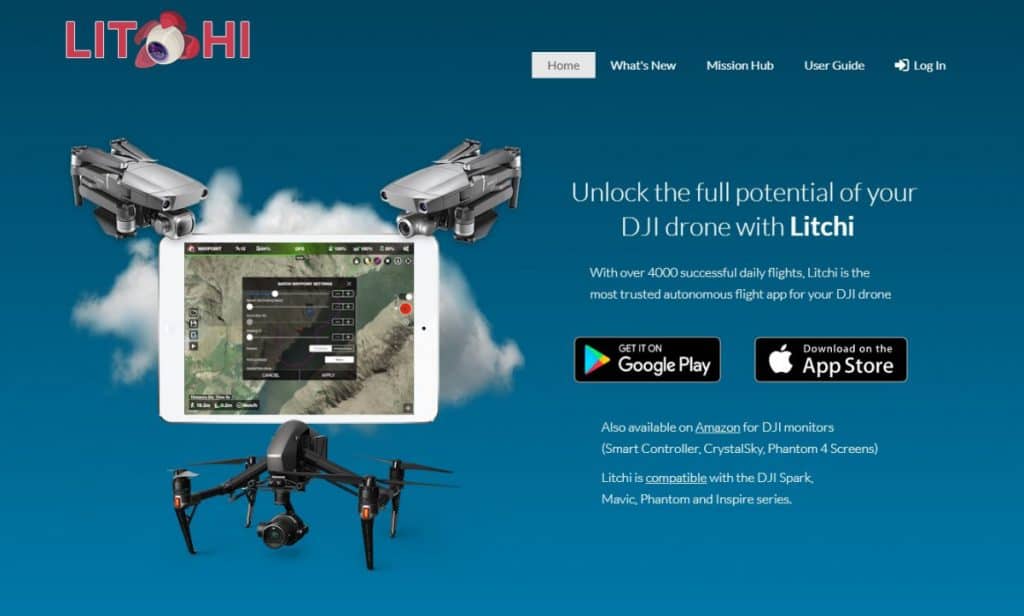 Over 4000 successful daily flights are using this software, which is available on the Google play store and the iTunes App Store.
The app is compatible with the DJI Spark, Mavic, Phantom, and Inspire series.
The user interface is very intuitive and offers a powerful waypoint mission planner. It is also available on all platforms and operating systems so that you can seamlessly sink your missions across many devices.
Here are all the features I particularly like about this software that make it perfect for beginners and advanced users.
Focus mode – the software takes control of the gimbal and the drone's yaw axis to concentrate on the horizontal movements, creating amazing shots easily for a beginner.
Track mode – track mode allows your DJI drone to understand what it sees and keeps your selection perfectly framed while flying the drone. Orbit and follow are also incredible tracking options too.
Intuitive mission hub – the mission hub allows you to plan waypoints from a desktop or laptop. It is intuitive and will enable you to discover other people's missions.
Visual mission planning with Google Earth – you can't use Google Earth Pro two plan a mission in three dimensions.
Litchi for flight controllers – you can also use this software on a smart controller, crystal sky, and Phantom 4 screens.
Overall, this software is a fantastic option for a relatively small price for planning your flights and getting your drone to execute various tasks during its flight.
The current price of the Litchi app is $22.99 (iOS) $24.99 (Android).
Phones that are compatible with DJI GO 4
To ensure that you can always fly and have a seamless piloting experience with your drone, you should consider purchasing or upgrading to a compatible phone officially supported by DJI developers.
Here is the official list of all Apple and Android devices that DJI officially recommends.
iOS (Requires iOS 11.0 or above)
Android (Requires Android 6.0 or above)
Compatible with iPhone 13 Pro Max,
iPhone 13 Pro,
iPhone 13,
iPhone 13 mini,
iPhone 12 Pro Max,
iPhone 12 Pro,
iPhone 12,
iPhone 12 mini,
iPhone 11 Pro Max,
iPhone 11 Pro,
iPhone 11,
iPhone XS Max,
iPhone XS,
iPhone XR,
iPhone X,
iPhone 8 Plus, iPhone 8
For older versions: Click to download
Compatible with Samsung Galaxy S21,
Samsung Galaxy S20,
Samsung Galaxy S10+,
Samsung Galaxy S10,
Samsung Galaxy Note20,
Samsung Galaxy Note10+,
Samsung Galaxy Note9,
HUAWEI Mate40 Pro,
HUAWEI Mate30 Pro,
HUAWEI P40 Pro,
HUAWEI P30 Pro,
HUAWEI P30,
Honor 50 Pro,
Mi 11,
Mi 10,
Mi MIX 4,
Redmi Note 10,
OPPO Find X3,
OPPO Reno 4,
vivo NEX 3,
OnePlus 9 Pro,
OnePlus 9,
Pixel 6,
Pixel 4,
Pixel 3 XL
Making sure you have an official smartphone will ensure that it works well when plugged into the remote control and will run the software flawlessly.
Wrapping up
If you are having issues with your DJI go 4 app and android 12 you should follow the official DJI recommendation and fix as released on their social media streams.
However, for some pilots this simple reloading of the application does not work. In this case, you can use third-party applications or try to roll back your android device to a firmware version that will
work with the older versions of the app.