With the release of the DJI Mavic 3, many drone hobbyists were hopeful that they would be able to use their DJI goggles for a first-person view experience.
DJI have many different types of goggles on the market. Their product line includes older goggle versions, such as the racing addition and the original DJI goggles. These have collected dust in the back of drone pilots' wardrobes and drawers for several years, but now may be a great time to dust them off.
The DJI Mavic 3 is not compatible with the latest DJI FPV goggles. However, you can use older versions of DJI goggles (such as the racing addition) with an HDMI cable to get a first-person video stream into the goggles with the RC Pro remote control.
Some other products on the market are significantly cheaper than any officially released DJI goggles, which may be better suited to your budget and use case.
Here are some of the versions of goggles and their compatibility with the latest DJI flagship drone, the DJI Mavic 3.
The important thing to know about these goggles is that the compatibility comes from connecting the HDMI port from the DJI RC Pro remote control or to your smart device.
Using an HDMI port to connect your first-person video feed to a headset has several potential issues, including:
Poor image quality – depending on the output of the HDMI port, you may not be getting full high-definition resolution streaming. It won't be the same as a direct connection to the goggles.
Lag – flying a drone in first-person view means you need to have as small a lag as possible. A responsive drone means that you can fly with greater precision and safety.
These two issues mean that using an HDMI port to connect your drone's video feed to goggles isn't always the best option and can feel very hacky.
Also, it is important to note that these older goggles have been discontinued by DJI. You'll no longer be able to get firmware upgrades or support for the headsets.
On the other hand, they will be available relatively inexpensively on different secondhand marketplaces such as Gumtree, Craigslist, and Facebook marketplace.
If you have a DJI Mavic 3 and want to fly them with goggles, one of the cheapest options is to purchase another type of heads-up display, which we will discuss below.
Options for using your Mavic 3 with goggles:
There are a number of third-party options for flying your DJI Mavic three with goggles. You can get the same experience as an FPV drone pilot using these inexpensive options.
MagiMask
One of the best options for you at the moment is MagiMask: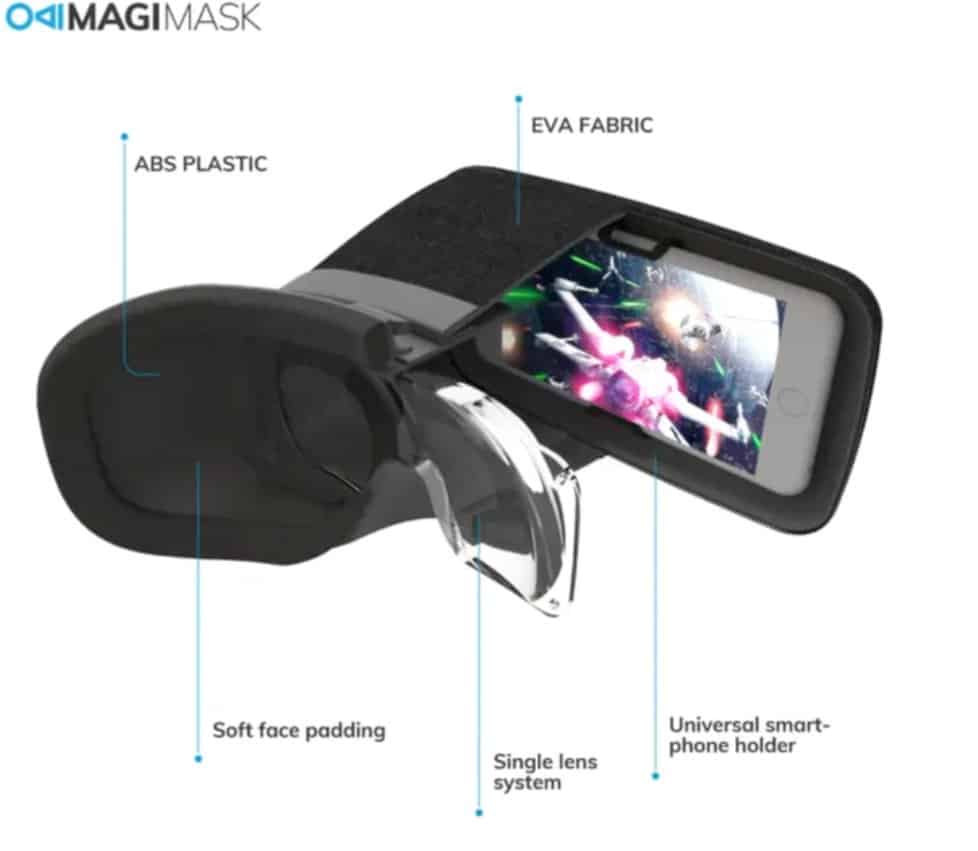 The mask works by placing your smartphone in the lid and placing the headset on your face. The mask is compatible with most phones that are not wider than 78.1 mm and longer than 170 mm.
Some phones have a button on the side that will interfere with the mounting so double check your phone model. For example, the Sony Xperia and some HTC model of phones will not work.
MagiMask is available for approximately US$169 and has been proven to work with the DJI Mavic 3.
It has:
four times higher resolution than a split screen virtual reality headset
high compatibility with nearly all smart phones
patented optical lens with breathable fabric
it fits over glasses
it can also be used with full-screen videos such as 360° movies and augmented reality applications.
There is no doubt in my mind that if you want an FPV goggle view for your Mavic 3 today, the MagiMask is your best bet.
You'll receive the mask, one linen carry bag, and one cloth to clean the lens or your phone screen.
Not only will it be able to be used with your DJI Mavic 3 it will also work with other drones in the DJI range.
It is relatively inexpensive compared to other headsets and will provide you with the first person flying experience for your Mavic 3.
Perfect!
Best drone to buy to use with the DJI Goggles
The other option for flying with goggles is to purchase a drone compatible with any of the current DJI goggles.
The best drones to use are the DJI FPV and the original DJI Air.
DJI FPV
The DJI FPV is DJI's first entry point into the drone racing market.
This is not an inexpensive option.
Purchasing the DJI FPV, goggles, remote controller, and all of the other accessories to be able to fly this drone means that you will be setting aside a lot of money.
However, this drone offers an incredible flying experience for those wanting to experience first person view flying.
The drone is able to be used by beginners through to advanced flies thanks to all of its different flying modes.
It can keep you safe using its sophisticated array of sensors. It can also be switched into full manual mode for a thrilling (and dangerous) flying experience.
DJI Air – inexpensive option
The original DJI goggles (that you cannot purchase for new anymore) are compatible with a range of inexpensive drones.
They are compatible with the Mavic Air, Spark, Phantom 4, Phantom 4 Pro, Phantom 4 Advanced, and Inspire 2.
Although this drone is not supported officially anymore by DJI it is still a powerhouse of a drone compact into a very small form factor. The DJI air works seamlessly with the original DJI goggles, which may be an affordable entry point for someone looking to fly their first FPV adventure.
The benefits of using googles
There are many reasons that adding a first person view to your drone flying experience is a good thing. Let's take a look at a few of them!
Better flying experience
I don't doubt that flying a drone and getting a Birdseye view of the world is inspiring.
Sometimes viewing the flight on a screen isn't good enough, and you long for being up in the air with the drone.
Many people love the immersive experience of seeing the flight as if they are flying through the sky like superman or superwoman.
Works in bright light situations
I fly my drone a lot in very bright conditions.
There is a lot of glare on the screen (I use my phone) which means that sometimes I cannot really see what I am filming and I have to hope that I have "got the shot".
Sometimes I miss out on it, and it isn't until I am back at my computer that I realize that I missed out!
You can purchase hoods for drone screens (click here to see a few of them on amazon) to protect from the glare. But having a full enclosed screen means that you can fly in any brightness. Like a private cinema for your drone flight.
Reduces eye strain
The screen on the remote control used by most pilots is pretty small.
I often get my face nice and close to my drone controller as I fly so I can see all of the little details on the screen.
When you wear goggles – it is like you are in a cinema and viewing your flight on an IMAX screen.
This will stop your eyes from straining and allow you to take in the sights without risking damaging your eyes.
Allows for better control of the flight and video
As mentioned just above, I don't really know if I've really got the shot that I want.
It's a combination of the screen size, the glare, the screen brightness and confusion on the screen with all of the flight stats.
A set of goggles allows the pilot and videographer to frame and have a much better idea of exactly what is being recorded so that there are no nasty surprises when you get back to the computer and realise that all the footage is just a little bit off…
That's the perfect reason to consider buying a pair of goggles for your drone flying experience!
Wrapping up
This article has covered everything you need to know about using the DJI Mavic 3 with goggles we have explored options utilising older DJI goggles or purchasing display third-party accessories.
Many people were very excited by the prospect of flying the Mavic 3 with goggles, but DJI are still yet to make this drone compatible with its latest goggles.
I think the best option for any Mavic 3 pilots is to purchase the MagiMask for their drone. The DJI Mavic 3 is such an amazing drone that flying it in first-person view is such a great experience.