There are many issues with the DJI GO4 app that may convince drone pilots that it no longer works on android devices. However, this is simply untrue.
Yes, the GO4 app is compatible with Android devices. However, you'll need to make sure your device meets the app's system requirements. The app has been removed from the play store because of compatibility issues and therefore you must download it directly from DJI.
Because the DJI go 4 app is not on the play store, some people are nervous about downloading it and sideloading into their device.
Also, sometimes on android 12 the DJI app does not function properly and the app regularly crashes. When this happens the DJI development team often releases a quick fix update to overcome any issues from the large number of disgruntled customers.
Let's take a look at each of these issues in more detail below.
GO4 app is not on the play store
You may have noticed that the DJI GO4 and the DJI FLY app have been removed from the play store. But don't let this stop you from flying!
Neither Google nor DJI have specified the precise reasons why DJI chose to remove their apps from Google Play store. We can only assume that it is due to a difference in opinion between Google and DJI developers.
The closest we have to an official response from either side has come from the DJI Support Twitter account, and a reply posted to a service announcement on the DJI forum.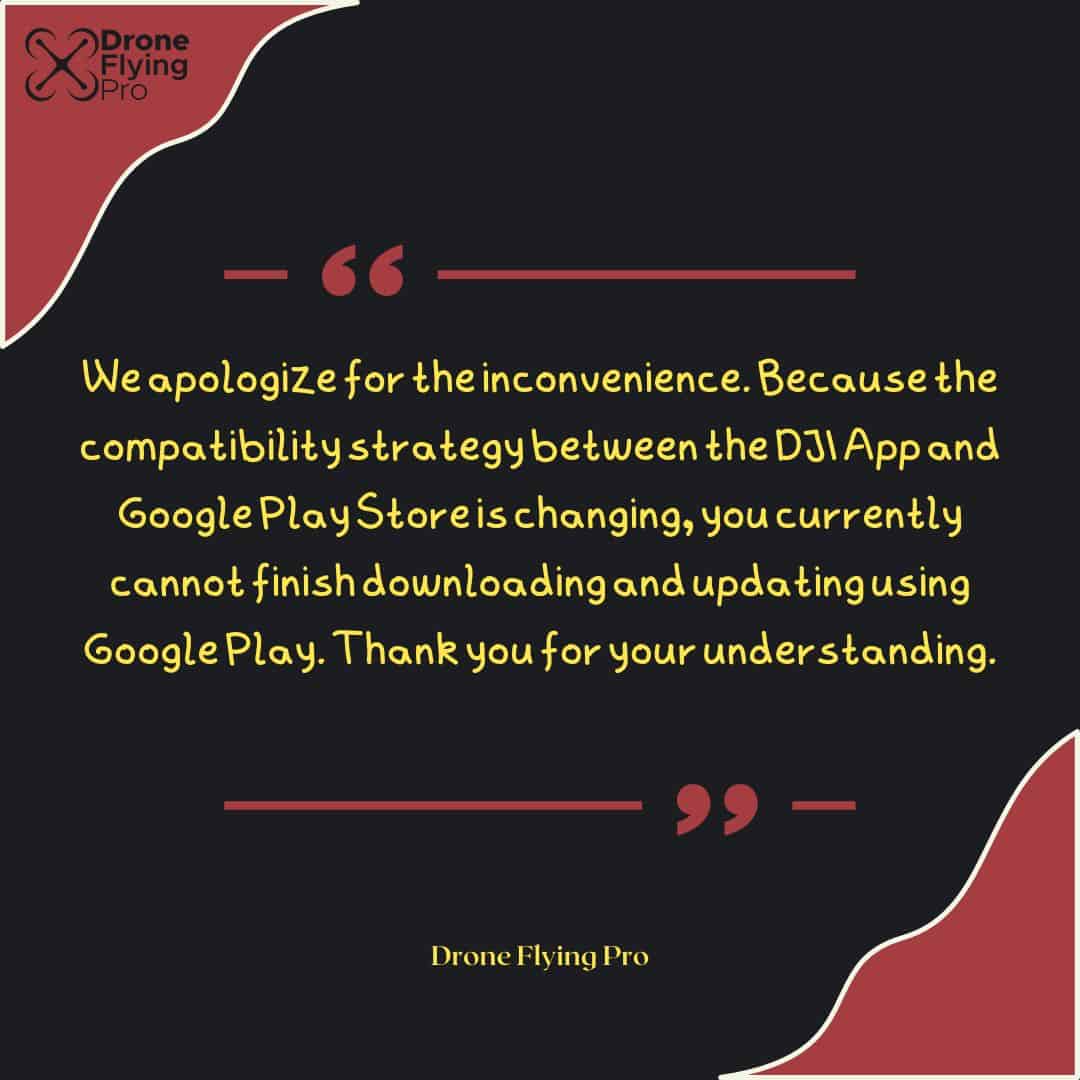 We apologize for the inconvenience. Because the compatibility strategy between the DJI App and Google Play Store is changing, you currently cannot finish downloading and updating using Google Play. Thank you for your understanding.
If you want to read more about this issue check out my other article – click here for the full rundown.
You'll be pleased to know that it is still incredibly safe to use the the app on your mobile phone you just have to download the latest version directly from the website in the .apk file format and install it on your device. You'll be able to fly your DJI drone in no time at all!
There are many apps for android that are not on the official play store but can be found and used after accepting some security warnings. 
Issues with android 12 and the GO4 app
There have been issues with android 12 and the app that can stop your drone flight.
It is important that after every android update you check your phone for compatibility as sometimes it can cause the DJI apps to crash. Android 12 was one of these examples.
To fix this issue you can also:
roll back the firmware
use a third-party app
and look for a quick fix on the DJI Twitter account
If you want to know more about this problem go check out my other article – click here for the full rundown.
What devices are compatible with DJI GO 4?
DJI's app is the DJI GO 4 app, which is compatible with various types of devices.
This includes most Android phones and tablets, such as those from Samsung, Huawei and other manufacturers.
It is also possible to use the app on an iPad or other tablet device – if you have a spare one lying around.
To ensure compatibility with the DJI GO 4 app, it is important to check your device's specifications against those needed by the app. Generally speaking, if your device has enough RAM and storage space to run the app, then it should be compatible with DJI GO 4.
However, bear in mind that some older devices may not be able to support all features of this advanced app.
Here is the official list of all Apple and Android devices that DJI officially recommends.
iOS (Requires iOS 11.0 or above)
Android (Requires Android 6.0 or above)
Compatible with iPhone 13 Pro Max,
iPhone 13 Pro,
iPhone 13,
iPhone 13 mini,
iPhone 12 Pro Max,
iPhone 12 Pro,
iPhone 12,
iPhone 12 mini,
iPhone 11 Pro Max,
iPhone 11 Pro,
iPhone 11,
iPhone XS Max,
iPhone XS,
iPhone XR,
iPhone X,
iPhone 8 Plus, iPhone 8
For older versions: Click to download
Compatible with Samsung Galaxy S21,
Samsung Galaxy S20,
Samsung Galaxy S10+,
Samsung Galaxy S10,
Samsung Galaxy Note20,
Samsung Galaxy Note10+,
Samsung Galaxy Note9,
HUAWEI Mate40 Pro,
HUAWEI Mate30 Pro,
HUAWEI P40 Pro,
HUAWEI P30 Pro,
HUAWEI P30,
Honor 50 Pro,
Mi 11,
Mi 10,
Mi MIX 4,
Redmi Note 10,
OPPO Find X3,
OPPO Reno 4,
vivo NEX 3,
OnePlus 9 Pro,
OnePlus 9,
Pixel 6,
Pixel 4,
Pixel 3 XL
Making sure you have an officially supported smartphone will ensure that it works well when plugged into the remote control and will run the software flawlessly.
Wrapping up
This article is been through everything you need to know about whether or not the DJI GO4 app is compatible with android devices.
The good news is that even though it has been removed from the play store, you can still sideload onto your device and is completely safe as long as you download it from the official DJI website.