Coming to the decision that you are going to buy a drone is exciting. You may be buying a drone because of an interest in photography. Maybe you are buying a drone because you are looking to expand your offerings to clients. Others of you will be buying a drone because it just seems like a fun activity to do. If you are lucky you'll be able to fly your drone from right outside your house!
Buying a drone will require you to workout exactly what you want from a drone and then list the features that you need the drone to have. Drones are a tool that allow you to do things like: aerial photography, race, spray crops and lift things. Each drone buyer has different needs so you need to consider things like, flight time, size, price and easy of flying before you make that decision.
To get you started at the right place click the links below to head to the right spot so you can get the information your need:
When I was choosing a drone I quickly became overwhelmed by the options available to me. The brands, the features the option to buy one second hand (which I eventually did), everything seemed too overwhelming to actually make a decision and pull the trigger on a purchase.
Here I have created the Ultimate Drone Buying Guide to answer all of your questions and help guide your purchase. I want you to feel at ease with your decision and make sure there is no buyer's remorse – drones can get a little pricey! So let's make sure that you aren't left upset!
Choose the right drone for you
You'll need to ask yourself before you get started – why you actually want a drone. I want you to list three reasons why you want a drone and what effect you want it to have. For example my drone purchasing requirements looked like this:
To make my LinkedIn vlog better – add a professional dynamic to my vlog that will make my content stand out on LinkedIn and get people talking about me and my businesses.
To carry with me all day to capture b-roll of my daily activities – must be small enough to fit in my everyday backpack.
Get cool areal shots of place that I visit (vlog or otherwise) – having a drone will help me take cool photos and videos of the places that I visit with my partner and my friends.
You have to be completely honest with your self about this even if the answer is "because I think drones are cool". The answer to this simple question will help you make decision along the way. If a drone feature doesn't get you closer to these three things – maybe you need to consider a different drone.
Other examples answer include: To improve my offerings to clients and bring in more money, To fly around my living room and impress my friends – whatever it is. Just be honest!
What is your skill level?
You'll also need to ask yourself what your current skill level is. It's easy to think that you can fly any drone in the market – and, to be honest, that is true for a wide range of consumer-level drones and manufacturers. For example, the DJI series has so many advanced stabilization and automatic flying modes that most people can fly them. BUT the issues comes from knowing how to fly the drone in the enviroment that you are in – that comes with experience.
If you are brand new to the drone world you'll need to get as many flying hours under your belt as possible. Fly in windy conditions, fly at dusk and dawn, fly over water, fly between trees, and use all of the features of your drone. All of this will give you confidence and experience in a wide range of flying conditions.
You'll also have a load of near misses with trees and other issues that you'll need to overcome – like disconnections and weird drone activity that you 'll have to diagnose. All of this will allow you to then appreciate the bigger drones and fly them with greater confidence.
Don't go it to this purchase cocky and you'll be well ahead of the curve!
Let's take a look at the different types of broad drone categories and what features set them apart from the rest.
Toy drones
Toy drones are inexpensive drones that you can fly around your front room or garden on a nice day. But they remain a toy and not something that you can get any quality footage or flying time on. That doesn't mean that these drones and quadcopters are not fun to fly, however – far from it! No matter the size of the drone there's nothing quite like seeing something whizzing through the air under your control! Toy drones are perfect for:
Children – It doesn't matter what age the child – they have always been amazed at my drone. Imagine what would happen if they had one of their own to fly around the living room! There's one called "Force1 Scoot Hand Operated Drones for Kids" which is suitable for nearly every age range because the propellers are inside a casing and it is controlled with their hands.
Students for learning – Students of any age can benefit from using drones in their learning. There are just so many awesome skills that can be learned in a fun way using toy drones.
People who just want to fly inside their house – if you want to sly around your house and bump into things a toy drone will be lightweight enough to not hurt anyone or anything and be cheap enough that you'll feel comfortable doing that.
Here are the things you need to take into consideration when you are buying a toy drone:
Size
Drones in this category are much smaller than the rest. This is because they are the cheapest and often made to be flown indoors. Their size allows them to be flown in a normal-sized living room and, when they are inevitably crashed into something, the will not cause any harm to any of the features of a typical living room.
You can launch them from your hand or coffee table without any issues.
Battery flight time
The battery of this category of the drone is the least powerful and smallest capacity of all of the drone types listed. The flight times for these drones go anywhere from 5 – 15 minutes. The batteries are often concealed within the body housing of the drone and are not able to be removed or replaced. You often have to plug the drone straight into the power source. This means no flying while charging. Which, for a drone with such short battery life, can be very frustrating.
Controller
The drones in this category either have no remote controller (they are controlled via an app or with the hands) or they have a very simple plastic controller. The controllers have two sticks to control the drone in the air and, if the drone has a camera, the controller will have a space to attach and hold a smartphone.
Ease and safety of flying
All of the drones in the toy section have been specifically made to be easy to fly. They often come with drone features like Altitude hold but lack the advanced drone features like autonomous hovering and positioning (AHP).
Propeller guards are a common feature of toy drones as they expect beginner and children pilots to make a load of mistakes and crash regularly. The max range of these drones are up to about 150m – which is plenty for zooming around the back yard.
Camera
The cameras in these toy drones are often 720p or 1080p. Both these resolutions are considered HD. The cameras at this price range will give you quality similar to a webcam.
Best toy drones to buy
Here are the best toy drones that you can buy. The list starts with the simplest and most fun toy that you can buy for younger children and then shows the upper end of toy drones at the moment.
KETEP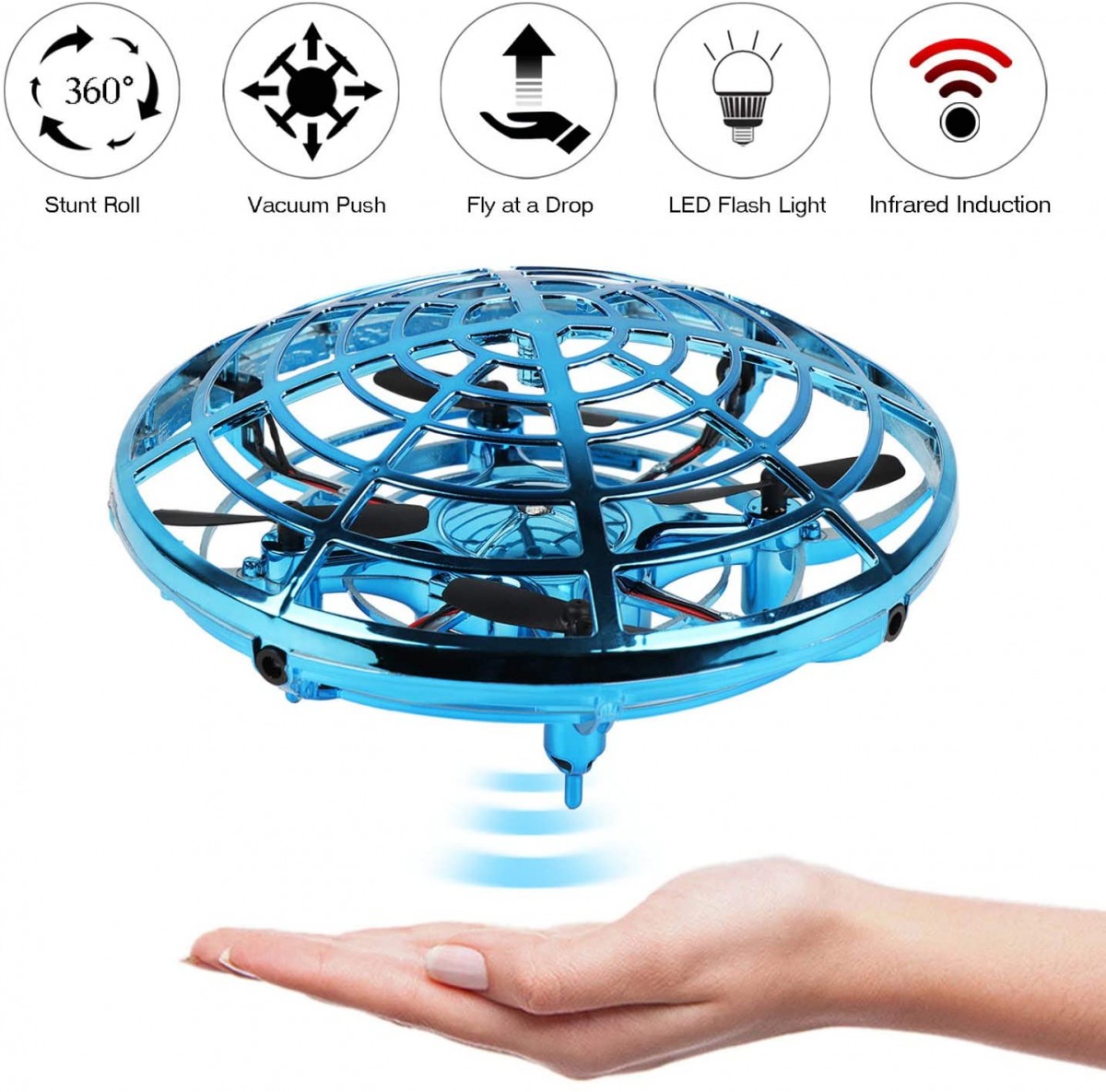 This little drone packs a punch when it comes to usability. Press the power button for two seconds, the top LED light will then start flickering to indicate the aircraft is ready to fly. Launching is really easy: hold the front of the aircraft lightly, stretch your arms up and release the machine to start flying automatically or you can hold the aircraft horizontally, and gently throw it out to start flying.
The propellers are completely encased and really safe for children of every age.
HASAKEE Q8 FPV Drone
This drone is one of the most well reviewed on Amazon. That doesn't come as a surprise when you look at the flying features that come with it:
You can take off/land/return the drone easily with one button.
Three speeds level for you to choose, No matter beginners or skilled players.
You don't need to pay attention in the drone's direction Under headless mode.
Altitude Hold is also included for automatically hovering the drone in the air. (Even with your hands off the joystick)
The fact that it comes with an HD camera and app so you can see what the drone sees in real time make it one of the most advanced toy drones out there. In fact it's not far off what is offered up at the next level of drones buying – Beginner drones.
Beginner drones
Beginner drones are first, at the cheaper end of the drone market. And that's a good thing. That means that you'll be able to afford to explore the drone world without having to break the band. Secondly, they are also small and portable enough to take around with you without massive logistical issues. You want a drone that you can simply throw in your bag and fly anywhere. These drones are a step up from your drones as they tend to have some extra advanced features, can be flown outside, and have controllers or apps for control.
Here are the features of a great beginner drone that you should pay particular attention to:
Low price
Drone flying is an expensive habit – and wanting the newest drone can blow out that cost. Your drone choice must be the right balance between what you'd be willing to spend on your hobby and the number of times that you will use your drone. You need to choose a drone that won't hurt your bank account and allow you to upgrade if you need to. There's a very active market for second-hand drones. Look after yours and you'll be able to sell and upgrade with no issue! Don't put yourself in any financial stress for a drone.
Portability
Beginner drones should be super portable so that you can get the number of flight hours under your belt and test your flying skills in a range of locations and conditions. I love the fact that I can take my drone anywhere and not notice it in my backpack…really! With more flight time and features comes a bigger and heavier drone. Make sure that the drone you buy matches HOW you want to use it and make sure you can get it to the take-off spot with the minimal amount of fuss possible!
Camera features
In a beginner drone, you probably need to start playing with photos and videos. Really, it's that is the most fun besides flying the thing! You can start collecting some awesome images that make all of your friends jealous! Just be careful that you don't start thinking too much about the quality of the camera in this range and start creeping up to the more expensive camera ranges without reason. The camera will be more than adequate (HD) for most users.
Camera drones are becoming more and more complex with added features. Do you want to zoom, 4K built-in auto-focus and exposure? All of these answers will ultimately determine what drone you will buy. The propellers and rotors take the camera up in the air but it is the camera that will be the most valuable part of the drone. Take the time to pick a CAMERA that has the right balance of features for the photos and videos your want to capture!
Why I'd choose the Mavic mini as my first drone
If you are new to the drone world the Mavic mini is the perfect place to start for these reasons:
It's so small and light that you can take it anywhere with you! – Having to double guess taking your drone with you can make you not fly a drone at all. Making it a quick grab and go item will improve the odds that you'll actually get around to flying it regularly!
It's really inexpensive – you don't need to spend thousands on a drone to get the drone experience. This has a great app and flying experience that you can get everything you want from a drone experience without breaking the bank.
30 minutes of flight time – this is as long as you'd get from much more expensive drones. This is long enough to have a play around and grab the shots you want to get!
GPS auto home landing – I love that these DJI drones auto land. They all have a "return to home" function that gives the drone pilot such incredible peace of mind. Phone dies? No problem, the drone will return to its take-off spot safely!
Introduction to DJI drones – pretty much every drone that I recommend is a DJI drone. This is because they listen to their audience and make drones that are a pleasure to fly. I very rarely like to spruik one company but until a better drone company arrives on the market DJI has my vote – nearly every time.
Next in our list is more professional standard camera drones. This is the next price range up and will come with more features that most people need!
Pro-sumer Drones (Professional end of consumer-level drones)
When people think about drones with is where their mind comes to. These drones are bigger, have loads of more autonomous features, and pack a load of advanced photography processes into a small and relatively mobile bit of kit. This is the level at which I bought my first drone and I love it.
This is where the price also starts to get quite serious. You can easily find drones over $1000 and they are not likely to be getting any cheaper as time goes on.
Why I started with the DJI Mavic Air
When I first started to look for a drone – I was really tempted to get the Mavic Pro. But I'm pleased I did not! I was using my drone to capture B-roll footage for my daily LinkedIn vlog. So It needed to fit in my bag and not be too heavy. That's exactly what I got and MORE!
The person I bought it off said I may not need another drone – and he is absolutely right…here's why:
It is small enough to carry EVERYWHERE with me – capturing b-roll footage is the best addition to a blog. This drone folded down to a tiny and lightweight package. I wasn't willing to sacrifice any more space on my bag for its function.
It is inexpensive – I just couldn't justify spending a heap of money on the best drone. This was the least expensive non-toy drone around!
Batteries are easy to come by – extra flight time was important to me. I was tempted to get the "fly more" package but on reflection, I only wanted the extra battery for extra flight time – so I just bought that.
Good flight time – This drone has a good but not great flight time. At first, I was always a little annoyed that I had to return to home after about 16 minutes. However, after the excitement wore off I found I was always landing with plenty of battery to spare!
NOT a toy product – the mini or spark were toys that DJI has produced for fun and easy photography. Tha Air is the first with the advanced features like those seen in the higher end drones like the Pro and Zoom.
I really haven't regretted my decision in the slightest. But like most things, there's a time and place to upgrade and this is why I would…
Why I would upgrade to another drone in the DJI range
I've considered upgrading my DJI Mavic Air drone a couple of times – mainly for reasons that didn't even matter:
Extra flight time – Sometimes I would like a little more flight time. But I rarely use the two batteries I got for the Mavic Air.
Stability in strong winds – the Mavic Air has some very very slight issues in stronger winds. But the portability factors make this pay off fine.
To get (slightly) better photos – the camera on the higher-end drones is better but for my purposes, I've never had a problem with the quality that my Mavic Air gives me!
Noise of blades – the Mavic Air makes a very high pitch when compared to the Pro. It can be a little annoying and attract Bees more often. It's a little annoying but all drones make noise!
The DJI range currently includes other more expensive drones with plenty of more features. Each new drone has a massive array of features and you'll need to check them to see if they match up with the reasons you are buying a drone. It is easy to get carried away and buy a more expensive drone – but you may not have to! Examples of other great drones in the DJI series are:
Features to look for in this range
If you are first getting into drones at this range here are the features you should pay close attention to. It's important to say that in this instance expensive is not always better for you!
Price
Photography is an expensive habit – and drone work can blow out that cost. Your drone choice must be the right balance between what you'd be willing to spend on your hobby and the number of times that you will use your drone. Drone photography is only worth as much as you are willing to get out and fly it! Otherwise, you could have a very expensive camera sitting in a drawer!
If you are a professional photographer looking to add extra offering to your customers you'll need to make sure that the drone you are buying has all of the features that you need and will able to satisfy what your clients want from your drone photography. Typically, its best to do with a drone that can do high frame rates at 4K – so you can be sure that you are going to deliver.
Portability
At this level of drone quality – they can start to get pretty heavy!
I love the fact that I can take my drone anywhere and not notice it in my backpack…really! With more flight time and features comes a bigger and heavier drone. I know that I need very little excuse to not do something – and I'd hate "it being heavy" to stop me from taking a drone on walks in my backpack.
Camera features
Camera drones are becoming more and more complex with added features.
Do you want to zoom, 4K built-in autofocus and exposure? All of these answers will ultimately determine what drone you will buy. Take the time to pick a CAMERA that has the right balance of features for the photos and videos your want to capture! Here is a list of camera features for the different camera options in the DJI range:
Product
Camera specifications
Price (USD)
DJI Mavic Mini
12 MP,
2.7 K: 2720×1530 25/30 p
FHD: 1920×1080 25/30/50/60 p
$590
DJI Mavic Air 2
12 MP and 48 MP,
4K Ultra HD: 3840×2160 24/25/30/48/50/60 fps
2.7K: 2688×1512 24/25/30/48/50/60 fps
FHD: 1920×1080 24/25/30/48/50/60/120/240 fps
4K Ultra HD HDR: 3840×2160 24/25/30 fps
2.7K HDR: 2688×1512 24/25/30 fps
FHD HDR: 1920×1080 24/25/30 fps
$799
DJI Phantom 4
20MP,
C4K:4096×2160 24/25/30/48/50/60p @100Mbps
4K:3840×2160 24/25/30/48/50/60p @100Mbps
2.7K:2720×1530 24/25/30p @80Mbps
2.7K:2720×1530 48/50/60p @100Mbps
FHD:1920×1080 24/25/30p @60Mbps
FHD:1920×1080 48/50/60 @80Mbps
FHD:1920×1080 120p @100Mbps
HD:1280×720 24/25/30p @30Mbps
HD:1280×720 48/50/60p @45Mbps
HD:1280×720 120p @80Mbps
$999
There's no doubt that this level of drone quality is appealing for most drone buyers. Take your time to choose the right drone for you to avoid overspending.
Professional drones
At this level of drones, you almost certainly know what you are looking for. This level of drone quality comes with a hefty price tag but the features to match. Professionals who are looking for a drone know exactly that the drone should be able to do and it can be broken down into these broad categories
Professional camera drones
Professional drone cameras are used in the filming of movies and high definition surveying. The drones that are used at this level include, in no particular order):
Freefly Alta 8
DJI Inspire 2
DJI Phantom 4 RTK
DJI Mavic 2 Pro
These drones tend to have much longer flight times (up to 35 minutes) which will vary with the payload and flying conditions. They also have insane cameras and are able to carry a large range of heavy cameras – check out the article on drones that can lift heavy objects here.
If you are new to film making and not using your drone for a professional filming project then the maximum quality at the consumer range can be found in the DJI Mavic Pro. It can do almost anything you need as before you must jump up to this level of drone.
Agricultural drones
Agriculture is a fantastic place for drone technology. There are big open fields that need monitoring and evaluation. Here are a few examples of how farmers use drones in their daily activities:
Soil and plantation analysis
Drones can be used to create 3D maps for soil analysis. This information is really useful for planning seed planting. In a recent study, a Finnish research group created a drone and augmented reality system to acquire and view data for soil mapping. The drones were able to operate in cloudy conditions unlike satalye data. Also drones are a pretty easy and fun way to map any large surface!
Crop Spraying
Commercial drone manufacturers have identified the crop spraying market as one ready to be shaken up with drone technology!
The benefit of drone spraying is that the drone can adjust to the hills and ditches of a farms or paddocks geography. This results in precise delivery of the products being sprayed onto the farm and has launched the idea of "Precision Agriculture". This new field (pardon the pun) is discussed in this science study – Review on Application of Drone Systems in Precision Agriculture.
Planting tress and plants
Drones in agriculture can also plant trees and plants! The drone quite often doesn't even need to lad or touch the ground – they can send seed missiles from the air! These seed missiles contain all of the nutrients that the seed needs to start growing and be sustained during the early part of its life.
As with the other applications, the benefit of this technology is that drones can plant trees in places that are hard to reach. Or impossible areas like really steep hills. The drones can be programmed to plant in patterns. The technology is being used to combat climate change on an industrial level!
Plant health assessment
Drones can carry a large array of different sensors. Having a different array of sensors on a drone can help identify a load of health information about a plant. For example, The combination of camera and infrared data could tell you a lot about a plant's health and detect sick crops or underperforming areas of an orchard.
A quick response from the farmer could save entire years worth of crop production from ruin. This recent study showed that drones were able to accurately predict crop yield by monitoring irrigation treatments.
There are plenty of other examples of how drones are used in agriculture, such as livestock monitoring and stockpile monitoring – there are many awesome ways that drones can disrupt farming!
Specialised function drones
If you can think of something that you want drones to do, and you are willing to pay for it, then there will be someone willing to make it for you. There are drones that can collect whale snot and also a whole range of other drones that can lift things, spray things, and survay things.
There are always an awesome array of drones at the cutting edge of drone technology. That's what makes this one of the most exciting areas of rapidly advancing technology out there!
Racing drones FPV
Racing drones are a whole different category of drone type. They are built for speed! They are small quadcopters with amazing maneuverability. Drone racing is called FPV or First Person View because of the real-time images that are beamed back to goggles so that the drone pilots can see in real-time where they are flying. You may have even seen the awesome high definition images that are captured while flying through neon-lit courses.
There are a number of different drones available to purchase that are ready to fly – one of the most popular at the moment seems to be the TITAN DC5 w/ DJI Air Unit BNF. For those looking to take a step up in the drone racing world consider buying the ARRIS Xspeed 250B.
Things to consider when buying a racing drone
Top speed – If you are going to race this drone you need to pay a lot of attention to the top speed of the drone. Other than your piloting skills this will be the number one thing that will allow you to outrun your opponent.
Maneuverability – This can be broken down into:

Control response time – how quick the controller and drone are able to communicate
Stability – this is determined by the software aspects of the drone
Lift power – what propellers and motors are you

Battery time – FPV races last for little more than 5 minutes at a time so as long as your battery is able to be replaced and charged quickly that is all that matters!
Do you want to build it yourself?
Racing drones come in a number of premade states. There are Ready to fly (RTF) and Almost ready to fly (ARF). Almost ready to fly drones require a bit of assembly and potentially soldering skills. To get a racing drone in the air you need a whole range of capability on a drone this includes but is not limited to:
A drone frame
Drone motors and propellers
Lithium Polymer (LiPo) Batteries
Antenna
Front-facing camera
Flight controllers
Tools and other accessories
Check out droneracingparts.com for a full rundown and parts list. One of the most frustrating parts of this area of drone flying is that you are always trying to push your drone to its absolute limits. As a beginner, this means crashing – a lot! You'll spend more money on parts and fixing the drone in the early days. Be prepared to continually tinker with your drone too when you are done fixing it.
If you want to build it yourself – you will have to learn a whole new range of skills. Be patient and enjoy the process of building a wicked-fast drone!
Things to consider before buying a drone
Here are all of the important questions that you need to ask yourself and have a think about before you buy a drone. I've given some insight under each question as to what you need to think about for each decision and some stand out drone examples!
What flight features?
What flight features are important to you and match with what you want the drone to be able to do?
Do you want a great camera? Do you need it to be small and portable?
Are you flying it outside?
Do you want a live video feed?
How many megapixels do you need the camera to record in?
What media format can your computer work with?
Do you want a controller?
Do you need smart navigation software?
Do you need automatic capture modes?
These questions will help you work out what drone features are most important to you.
Flight time
Battery life is the thing that will allow you to stay in the air for longer. I've never found that I couldn't get what I wanted to be done with 20 minutes worth of flight time. The weight of the drone is one of the most important factors in determining the lifetime of a battery. Here are some of the best lifetimes of drones available on the market right now:
Each of the times above is what the manufacturer states is the flight time but will vary according to flying conditions.
Camera type
What sort of camera do you need or want in a drone? If we are honest with ourselves, most of us only really need HD video for most use cases. 4K is nice to have – especially if you are selling the footage. Ask yourself where you are placing the footage and choose a drone that has the camera that will get the job done!
Replacement options
If you are to crash the drone how replaceable are the parts. Drone flying doesn't come without its risk of crashing so how easy and pricey is it to find the parts?
Cost
Stick to your budget!
When looking to purchase a drone it can be easy to get swept up in the excitement of a new purchase. Particularly if you have been saving up for a new gadget for a while! The fact of the matter is that drones are not for everyone. There's a huge range of drones which means that there's a type of drone to suit nearly everyone's budget and requirement but sometimes people do not make the right choice – leading to their drone becoming a waste of money.
Check out my other post – are drones a waste on money
Accessories
What accessories do you want the drone to have? There are plenty to choose from and some are third party. Does the drone you are looking at have accessories that will make it more effective at the job that you want it to do for you?
Controller type
Do you want a dedicated controller? Or are you happy with an app-based interface? Controllers have the benefit of having a much larger range and, in my opinion, it is a far nicer flying experience when you have joysticks that you can play with!
Check your country's legal requirements
Lastly, you should check to see if your country actually allows you to fly drones or if you need to get a licence or special bits of paperwork to take your drone to the best spots in your town and city.
Drone flying restriction in USA
Drone flying restriction in Canada
Drone flying restriction in Australia
Drone flying restriction in UK