Foldable drones are a common form factor in the drone world. That is because they are easy to travel with, offer an easy way to take your drone anywhere, and a foldable drone can satisfy most budgets and use cases. You can purchase a decent foldable drone for as little as $300, and there is everything up to a professional level camera folding drone.
The best foldable drones include the DJI Mavic mini 2, the DJI Mavic series drones, Parrot Anafi, Autel Evo series drones and the Ruko F11 and Uran Hub if your budget is limited.
A foldable drone is where the arms fold into the drone body to make it a much more compact form for storage and transport. The success of different foldable drones has encouraged every manufacturer to develop foldable arms drones to capture a segment of the market that requires portability but strong features from their drone.
Some drones have arms that pull directly out from the body, whilst others flip out in a circular motion. This combination places propellers on the upside and underside of the drone for easy transport.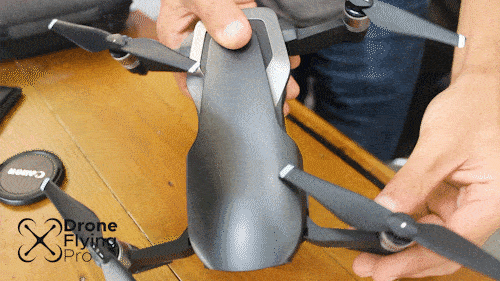 Here we will look at all of the best foldable drones on the market at the moment and the notable features of each.
How much does a foldable drone cost?
A foldable drone can cost anywhere from $100 up to many thousands of dollars. Good commercial-grade drones are typically between $499 – 3000.
Let's have a look at some more drones in the table below!
Table of drones
Here is a quick look at some of the features of the best foldable drones.
Drone
Notable features
Price
DJI Mini 2
Folded: 138×81×58 mm (L×W×H)
Unfolded: 159×203×56 mm (L×W×H)
Under 249 g
31 minute maximum flight time  
$449
$599 (Fly more combo)
Click here to see options
DJI Mavic 2S
Folded: 180×97×77 mm (length×width×height)
Unfolded: 183×253×77 mm (length×width×height)
1 inch CM OS sensor
four direction obstacle sensing
$999
$1299 (Fly more combo)
$1749 (Fly more combo and smart controller)
Click here to see more options
DJI Mavic 3
Folded (without propellers) 221×96.3×90.3 mm
(Length×Width×Height)
Unfolded (without propellers) 347.5×283×107.7 mm (Length×Width×Height)
46 minutes of flight time
omnidirectional collision avoidance
Two cameras
$2199
$4999 (premium combo)
$2999 (fly more combo)
Click here to see more options
EVO lite+
Folded: 210×123×95mm
Unfolded: 427×384×95mm
4K HDR video
dynamic, active track
ultra-wide-angle obstacle avoidance
$1449 $1749 (orange colour bundle) $1749 (grey colour bundle)
Click here to see more options
Evo Nano
Folded: 142×94×55mm
Unfolded: 260×325×55mm
Plus and regular series
Great HDR mode
omnidirectional obstacle avoidance.
$1069 (orange colour premium bundle)
$1049 (white premium bundle)
Click here to see more options
Evo 2
397 mm wheelbase
Flagship drone
6K and 8K video resolution
360-degree obstacle avoidance
$ 2759 (pro bundle)
Click here for more options
Parrot Anafi
folded: 244x67x65mm
unfolded: 175x240x65mm
Ultra wide-angle lens
2.8 times digital zoom
4K videos
25 minutes flight time
320 g
$449 (base model)
$449.99 (extended model)
$1100 (first-person view drone) $2499.99 (Anafi thermal)
$1199.99 (Anafi work)
Click here to see more options
Ruko F11 Pro
6.9×4.1×3.15 IN (Folded)
17.71×15.94×3.15 IN (Unfolded)
4K camera
live video feed for 3 km
follow me mode
portable carry case
Best budget foldable drone
$459.99
Click to see more details
UranHub Drone
Expand Size: 12.9×12.9×2.2 In
Folding Size: 6.9×5.5×2.2 In
5G real-time transmission
2K ultra high definition camera
gesture control
intelligent flight modes
$149.99
Click to see more details
MATRICE 300 RTK
Unfolded, propellers excluded, 810×670×430 mm (L×W×H)
Folded, propellers included, 430×420×430 mm (L×W×H)
Enterprise drone
Multiple confidrations
Massive flight time
$ price upon request
Here's a size comparison of all of the drones when folded up: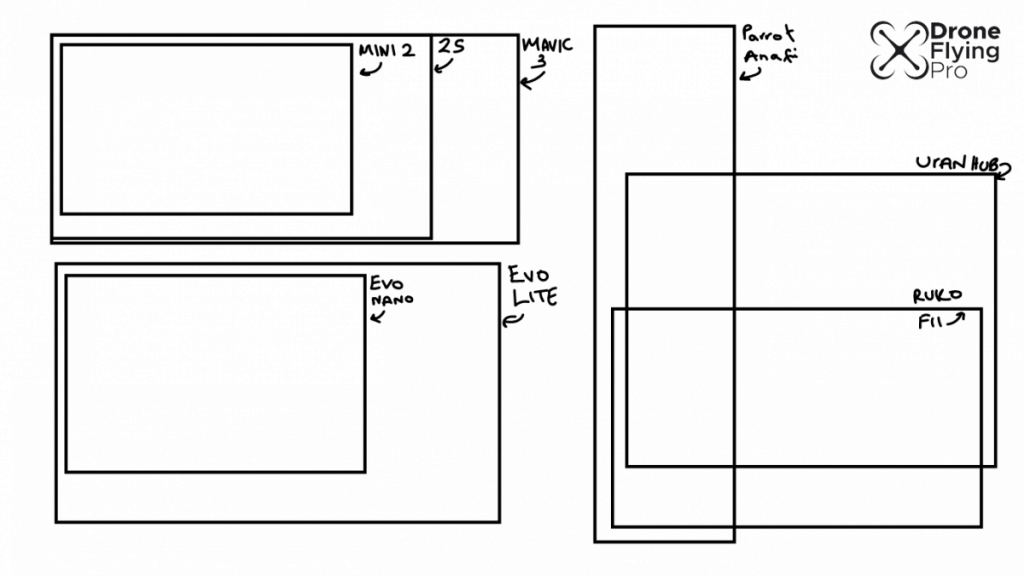 Best foldable drones
There are many different foldable drones in a range of price points. My rundown of the best foldable drones, from beginners to advanced and inexpensive to enterprise-level, starts here.
Mavic Mini 2 – best beginner folding drone
The DJI Mavic mini 2 is a fantastic drone with a range of incredible features.
The DJI mini 2 weighs less than 249 g which means that it is perfect for travelling with, and it means that you can get around some of the red tape required in some countries. Drones under 250 g can be flown without a license in some places.
Even though the DJI mini 2 is incredibly small, it comes jampacked with a range of advanced flight features and software. It has intelligent flight features, including a smart return to home, automatic takeoff, precise hovering, and the favourite flight modes that people have come to love about DJI drones.
The features include:
249 g drone
31 minutes maximum flight time
10 km video transmission range
ultra-clear 4K video
a wide range of intelligent modes and quick shots
Mavic 2S
If you are looking for a serious drone that sits somewhere between hobby and professional level, this drone is perfect for you.
The camera is perfect with a 1-inch sensor to allow you to capture stunning photos and videos. It has been designed to be the ultimate drone for creators on the move, and DJI has delivered once again. It is compact and weighs less than 600 g.
The camera is capable of 5.4K at 30 frames per second and 4K at 60 frames per second – perfect for those cinema graphic slow-motion shots of sweeping landscapes.
Its features include:
1-inch sensor
12 km high definition transmission
Four direction obstacle sensing
5 point 4K video
Master shots – automated shots
hyper lapse footage – very trendy
If you are serious about photography and want to ensure your drone can capture the best footage possible, this is the drone for you. It can shoot a raw format that is perfect for when you want to manipulate the images later.
Mavic 3 – best folding drone for serious photographers
The DJI Mavic 3 is an exceptional drone that takes the best of the Mavic series and combines it with an incredible camera.
The drone has two cameras. The first is a 4/3 CMOS Hasselblad camera, and the other is a zoom camera. The zoom camera has 28x hybrid zoom (that means optical and digital zoom).
The drone comes with omnidirectional obstacle sensing, which means that a collision-free flight is almost guaranteed every time you take off with this drone.
Advanced return to home means that it will return to home and determine the optical route back to its home point even if there are obstacles in the way.
The features of this drone include:
46 minutes of flight time
15 km video transmission range
extreme precision positioning technology
4/3 CMOS Camera
5.1 K Pro Res
Two cameras
Evo lite+
The Evo series drones are a real competitor to the DJI series.
The Evo lite is equipped with a 1 inch CM OS image sensor and several intelligent moonlight algorithms, which means that you can capture awesome footage in the darkest of environments. It can record up to 6K at 30 frames per second.
You can track fast-moving subjects with precise autofocus that locks in within milliseconds. It has automatic flight modes such as rocket, fades away, and orbit for capturing awesome footage simply.
The drone also has ultra-wide-angle obstacle avoidance, so you can be assured your drone will stay as safe as possible while you are flying.
The drone gives you up to 40 minutes of flight.
The EVO lite+ is a very capable drone, and you can see that even in low light situations, it can capture high definition and high dynamic range images and video.
Evo Nano
Continuing their success with other drones, Autel has created the Nano series, the ultralight companion for a photography enthusiast.
This drone comes in a nano+ and regular nano version
The nano + has a very serious 0.8 inch CMOS sensor capable of 50-megapixel photos. The nano has ½ inch CMOS sensor with a 48-megapixel camera. Both versions of this drone have a three-axis gimbal for ultra-smooth photos and videos.
It has a 28 minute flight time.
With all of the same features as the Evo Lite, this is a drone that will enable you to travel easily whilst also capturing some incredible footage.
Evo 2
The EVO 2 is the flagship drone of Autel. Once you understand how powerful this drone is, you'll be trying to stretch your budget to try to afford one.
This drone series has pioneered distinct payloads for professional photographers and offers exceptional image quality.
They have drones with flying lengths of up to 40 minutes and video quality of up to 8K.
The Evo 2 Pro (click here for more information and a bundle bargain!) sports a stunning 6K video resolution and a Sony generation CMOS sensor that allows exceptional low-light shooting. Ideal for taking stunning shots during the golden and blue hours.
This drone also boasts a 360° obstacle avoidance system, which keeps your drone safe while allowing it to track targets dynamically through a complicated 3D environment.
It can recognise up to 64 items and model the location and speed of subjects, allowing it to precisely forecast their trajectory and track them through complex surroundings.
Parrot Anafi
If you do not want to play about in the DJI ecosystem, the parrot Anafi is a fantastic foldable drone. Also, they have a thermal option for inspectors to check roofs and other infrastructure –you can see if your solar panels are heating up or if the house is holding heat, or there are improvements you can make so the home becomes more eco-friendly.
This drone is extremely small and portable, weighing only 320 grammes. The Anafi takes only a few seconds to set up, and the camera is stabilised on five axes, ensuring that the optical sensor always captures the best image possible.
There's a three-fold zoom, so you can zoom in on the roof without getting too close to any potentially dangerous antenna or chimneys.
The camera boasts an incredible 180-degree tilt, allowing you to gaze completely above and below the drone. This makes it ideal for inspecting roof overhangs, something that other drones in this article cannot do.
It has 25 minutes of battery life and a range of assisted flight modes which enable even the newest of drone pilots to fly with confidence.
Ruko F11 – best cheap folding drone
The Ruko F11 drone is a 4K camera drone with many features.
It has a 3 km HD video transmission and a 4K camera with a stabilised gimbal.
It has up to 28 minute flight time and a level VII wind resistance. Even for a relatively low price, you can get advanced features such as auto return home, GPS follow me, point of interest, waypoint flight, and much more.
A fantastic drone that provides many of the features that much more expensive drones have at a fraction of the price.
UranHub Drone – best budget folding drone
The Uran Drone is another fantastic option if your budget is limited.
It is equipped with a 2K high definition camera and a 5G transmission to see the live stream. It has a GPS function which means that you can have auto-landing and other intelligent flight modes such as follow me, point of interest, and waypoints.
MATRICE 300 RTK – best professional folding drone
The Matrice 3000 is an incredible drone that creates a new standard for the commercial drone industry.
It has a flight time of up to 55 minutes and a 15 km maximum transmission range.
A maximum operating temperature of -20°C up to 50°C and a six directional sensing and positioning capability. It has got superior performance and wind resistance of up to 15 m/s.
This professional drone is perfect for firefighting, search and rescue, law enforcement, powerline inspections, oil and gas, and other surveying jobs.
This drone is for you if you are serious about droning. You need a professional drone capable of capturing incredible professional and Hollywood standard video in a relatively small feature form.
The benefits of foldable drones
Foldable drones have many benefits, from the very small form factor to easy repair. Foldable drones come in various sizes and price points to suit every use case and budget.
There are some great benefits of foldable drones that we shall discuss in this section.
Small form factor
The biggest selling point of a foldable drone is its small form factor. The small form factor means that it is not a pain to carry your drone everywhere with you.
One of the reasons I purchased my first drone – the DJI Mavic Air – was because it was a full-featured drone condensed into a form factor that was small enough to take with me every day.
Having my drone in my bag, ready to pull out at a moment's notice, has allowed me to capture some amazing footage and photos. Without a small form factor, I would second-guess pulling out my drone, and it would stop me from utilising it as much as possible.
Great for travelling
The one reason I love foldable drones is that they are perfect for travelling.
Being able to fold up your drone and place it in your hand luggage or checked baggage means that you will always find a space for taking your drone on your next adventure.
Some drones that do not have foldable arms require their case, complicating the logistics of taking your drone on an aeroplane. I love placing my drone in my usual carry on luggage without taking up too much space.
There have been trips where I took my drone but didn't utilise it because of laws and regulations in the country I travelled to. Nonetheless, having the drone with me lets me capture aerial photos and footage I want, and the laws allow.
I always like having the opportunity and option to fly my drone should the
Can repair arms easier
Foldable drone arms are easier to fix than drones with integrated bodies and propellers.
If the arm is badly damaged, it is much easier to remove the drone arm completely and find a replacement part. Replacing a drone arm on a foldable drone is much easier than it seems.
You can get an idea of replacing the front arm of a DJI Mavic mini in the video below.
if you need to repair a foldable drone arm, you can use a variety of glues and epoxies. Check out my other article – click here – where I go through the five options for fixing a broken drone arm and what you can do about it.
Every price point represented
One of the great things about a foldable drone is that every price point is represented.
If you want a drone that costs less than $100, you can find a foldable arm drone to match your budget. However, your foldable drone's features and capabilities increase exponentially as you increase your budget.
From $100 up to many thousands, folding a drone's arms into its body allows for a much easier way to transport your drone to its new location.
The downsides of foldable drones
Even though foldable drones are a common form factor and there are many benefits to purchasing a foldable drone, some downsides need to be seriously considered if you are in the market for purchasing a foldable drone.
Wear and tear on moving parts
Any electronic gadget that has moving parts is subject to increased wear and tear on the joints of the movement.
Because drones must be very light to keep the battery capacity and flight time as high as possible, they are generally made from plastic.
Depending on the type of drone, the drone's body might be manufactured of high impact polystyrene (HIPS) or Acrylonitrile butadiene styrene (ABS).
Styrene, acrylonitrile, and polybutadiene are combined to make ABS. These can be combined in varied ratios to produce a unique physical attribute for each blend.
The inclusion of acrylonitrile strengthens ABS above pure polystyrene while also contributing to chemical resistance, fatigue resistance, hardness, and rigidity and offers some protection against the higher temperatures that drones can operate in.
The styrene improves the plastic's hardness, stiffness, and processing capabilities, adding a lustrous and impervious surface.
Even though these materials are incredibly wear-resistant and strong, regular use and rough handling whilst folding out the drone arms can create wear that can damage the integrity of the joint.
High leverage point
Drones must have arms that hold propellers far away from the drone body to fly safely. Foldable drones allow this very easily.
The propellers must be placed far enough away from the drone body to generate considerable lift without colliding with the drone's main body or interfering with neighbouring propeller aerodynamics.
Landing forces are passed into the drone body via the arm. The connection is placed to a great deal of stress, making it much more likely to experience significant damage.
Drone arms are most likely to break and can be the most difficult to repair if the damage is significant.
Foldable drone buyers guide
If you are in the market for buying a foldable drone, here are the things that you need to know about it before you launch into your purchase.
Check packed size
If you are looking for a foldable drone, you are likely putting a high priority on portability. You should double-check the folded and unfolded size so that you can be sure that it will fit in your luggage for your travels.
Weight
Weight is a big issue as a drone under 240 g allows you to skip out on some of the annoying red tape for your pilot's license. The weight also dictates the battery life and how easy it is to carry around in your daily life.
I have found that I prefer the lightest drone for a folded drone that makes it perfect for carrying around regularly.
Camera stabilisation
Camera stabilisation is very important, and not all drones have three-axis stabilisation.
Choose a camera drone that has got full 3D stabilisation of their drone because it will allow you to fly in stronger winds whilst capturing awesome footage.
If you want to know more about three-axis stabilisation on a drone, check out my article, where I've got diagrams and examples, so you know what the difference is.
Can propellers be kept on?
Not all drones allow you to keep the propellers on once you have collapsed the drone into its folded state.
I prefer to keep the propellers on at all times if the drone is protected in a hard case. It just makes life a little bit easier when you don't have to worry about putting on propellers.
You can get flying as quickly as possible.
Case supplied
Some drones come with cases, while others require purchasing another case.
My preference is to have a case provided by the original manufacturer as they are form-fitted for the folded form factor of the drone.
The first drone I got – DJI Mavic Air – had a semihard case that fitted the drone perfectly. It allowed me to quickly put the drone in and out of my bag without worrying about hurting or damaging the drone or the propellers.
I highly recommend purchasing a case for your foldable drone if you travel a lot. Even the smallest scratches can build up over time and cause structural integrity issues.
Who foldable drones are for
Foldable drones are perfect for travellers, photographers, or people with minimal storage. Let's have a look at these categories in more detail.
Travellers
If you are a traveller or plan to use your drone to capture your adventures, I highly recommend getting a foldable drone.
The smaller form factor will make it much easier to squeeze into your luggage and take on any adventure you have planned.
My drone packs down to a very small form factor, and it makes it perfect for throwing in my day bag while I am travelling.
The great thing about foldable drones is that there is no need to skimp on features that make drones fun to fly. The drones above enable you to utilise advanced software and automatic flying features such as follow me mode, boomerang, drone, and other fun shots.
The advanced software and automatic flight features mean that if you are a solo traveller, you can still capture some amazing footage with you as the subject. Foldable drones are perfect for solo travelling!
The Popular YouTube traveller, Itchy Boots, utilises foldable drones that she can easily carry on her motorcycle. Check out the shots she can capture whilst travelling in a very minimalist way with her foldable drone:
Photographers
Foldable drones are perfect for photographers because they can travel with lots of other camera gear without the drone becoming a pain.
Photographers often travel with many cameras, tripods, accessories, lenses, and much more. Adding a drone to a photographers gear could mean carrying so much more around. A foldable drone means that you can squeeze it into your gear bag should the shooting requirement require drone footage.
I have been able to squeeze all of my YouTube recording equipment, including a drone, into a single bag that travels with me no matter where in the world I may be.
A foldable drone is much easier to carry alongside your existing photography gear.
People with minimal storage
Arguably, the majority of a drones life is sitting on a shelf or in a drawer waiting for the next adventure.
If you have a small amount of storage in your apartment or house, buying a foldable drone will reduce the amount of space required to store your drone in between drone adventures.