The amount of money that you should spend on a drone depends on a huge variety of factors. Whenever I asked this question to other drone enthusiasts you in the typical answer is "how long is a piece of string?" But that isn't always the most useful answer. In this article, we are going to go over all of the important questions that you should ask yourself before buying a drone. We are also going to cover the sort of technology that you can expect to get in each of the four categories that I have identified: toy drones, intermediate, advanced, and expert level drones. After reading this article you should have a full understanding of what exactly each level of drone technology costs and what you can expect to get for that money. How much should I spend on a drone? Read on…
The amount of money that you should spend on a drone depends on the level of automation and technology that you require in your drone. For example, automatic flight functions such as auto height and levelling, return to home, and smart flight features will come at a premium price and start in drones from approximately $600. Hardware features such as sensing and a dedicated remote are in drones from approximately $1000. It is up to you to decide what the most important features for your drone adventures and how much you are willing to spend to get those features.
Now, let's take a look at the range of costs of drones and what the average cost is before we look at the features that you can get at certain price points.
The average cost of drones
Broadly drones can be split up into three categories of price points:
Toy drones – toy drones come with very little advanced software and are very simple, often plastic, drones. Toy drones have no auto stabilisation, auto hover, or any other advanced flying features. They often do not have a camera and are incapable of recording footage. This means you are getting a bare bones drone that is a perfect toy but little else. If you want a complete run down of the best drones for kids check out my other article – best drones for kids – click here.
Consumer-level – this is what most people think of when they are considering buying a drone. These drones are bigger, they have plenty of autonomous features and pack a load of advanced photography processes into a very mobile bit of electronic gadgetry. This is where most people buy their first drone and it is where I bought mine – the DJI Mavic air. In this section, we are seeing the biggest advances in technology accompanied with increasingly lower prices.
Professional drones – at this price point of drones you know what you're looking for and you should be an advanced drone pilot. This level of drone also comes with a hefty pricetag but has amazing quality and a feature set to match that hefty price. Drones in this section have a very specific function either they are professional photography drones or they are advanced special use drones such as agricultural drones.
The prices of drones at this price point are summarised in the table below:
Obviously, the table above is a massive oversimplification of the sorts of drones that are available and the spread and variety of technology that is currently on the market. However, it's important that tables like this exist as they give you an idea of the sorts of drones that are available at a variety of different price points.
What you choose to spend on a drone is completely up to you. You have to ask yourself what sort of technology and advanced options do you want in the drone and how much money are you willing to pay for it. One of the best ways to think about this is what problem am I trying to solve with the drone and how much return on my investment am I expecting to get. That return on your investment isn't just about monetary gain it can also be about health and well-being and enjoyment or learning.
Toy drones – less than $200
Toy drones are the sort of drones that you are happy to fly around occasionally and bump into things. At this level they remain very much a toy and not something that you can get any quality footage out of or any massive amount of flying time. However, that doesn't mean that these drones and quadcopter's are not useful and fun to fly around – far from it. These sorts of drones are perfect for children, students, and people who want to just fly around inside their house (such as students and young professionals who want to have some fun).
Spend this man of money on a drone if you do not want your drone for video or photography. This level of drone is perfect if you only want to dip your toes into drone ownership and flying. It will not break the bank and will give you the ability to see if you enjoy this new hobby and if you want to take your drone adventures further.
Even though a majority of blocks say that these sorts of drones are for people that have never flown before these drones can be very difficult to fly. This is because they lack any automatic hovering features and stability technology which make the next level of drone very nice to fly. Even the most advanced drone flyers cannot keep a toy drone from eventually bumping into something in the room.
Here are a few features that you can expect from this level of drone:
size – drones in this category are very small and this is because they are often the cheapest and are made to be flown indoors. Their size allows them to be flown in a normal sized house and when they are crashed into something they will cause no damage to the drone all the thing they bumped into.
Plastic – drones in this category often are made from plastic. That is because plastic can be made to be very light and is very durable when crashing and landing roughly.
Ease and safety of flying – toy drones have been made easy to fly they sometimes come with drone features like altitude hold but lack the advanced drone features like autonomous hovering and auto positioning. Some of the drones at this price point can be controlled via your hand but most come with a remote control or app used to control the drone.
Headless mode – headless mode means that the drone will move in the direction of the joysticks regardless of the direction it is pointing in. This is one of the hardest things to navigate when you are flying a drone because quadcopter is often look the same from any direction – which means you don't know which way is the front.
Camera – cameras in these toy drones are often between about 720p or 1080p. Although both of these resolutions are considered HD the quality of the footage will be variable because of the sensor and lens is used.
The best drones at this level are:
Ryze Tech Tello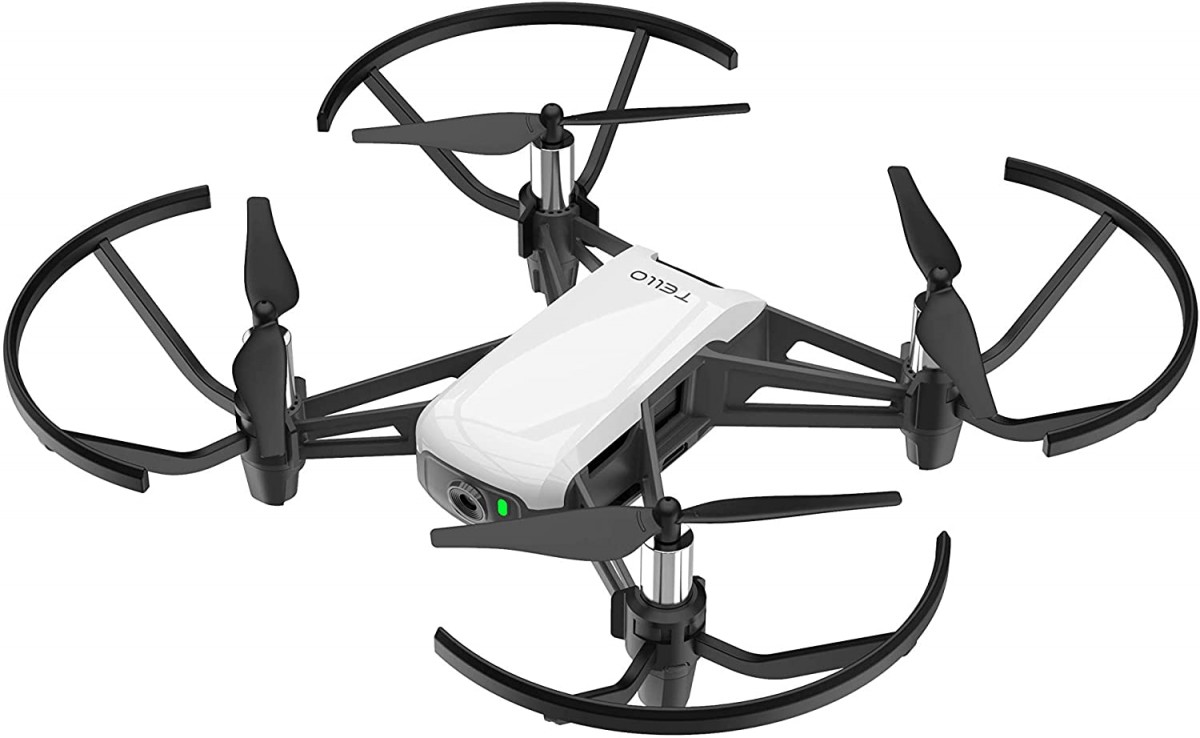 This drone may be small and lightweight but it has a tonne of features powerd by a very reputable drone manufacturer, DJI. DJI are the leaders when it comes to drones and they have perfected this entry level drone. It may be a little too advanced for the youngest in your family – but we'll talk about better drones for the youngest age group in a moment. For now, here are the features that this drone comes with:
Tello App – The Tello app makes it really easy to fly. It makes even the most complicated maneuvers just a simple touch of a button.
Lightweight – this very small drone fits in the palm for your hand and weighs only 80g.
You can perform stunts – start flying by tossing the drone up into the air with the Throw&go technology. You can also perform stunts and tricks (like flips) using the app
Safe to fly indoors – Thanks for rotor guards and it's vision positioning system the Tello drone is fun and safe to fly indoors
13 minute flight time – a huge flight time for a drone of this size powered by the best drone batteries on the market – DJI batteries!
Programmable – You can learn the basics of programming by using Scratch – an MIT developed coding system especially suited for students. Fly your own flight patterns
This thing is by far the best drone for kids!
Pros
+ Lightweight
+ Really inexpensive
+ super easy to fly
Cons
~ Needs another battery for continuous fun
Holy Stone HS170
This drone is the perfect toy for those looking to whizz around indoors for fun. It has a range of great advanced features such as headless mode, different speed settings and stunts programmed into it. It is easy to fly and stabilizes itself quickly.
Overall this is a great little drone for the price!
Here's the full feature list:
Headless security system enables players of any level to fly the drone easily
2. 4GHz technology adopted for anti-interference
More stable and flexible with 6-axis gyro stabilization system
Good PERFORMANCE of wind-resistant control range: About 30-50 meters
Flight time: about 6-8 minutes Charging time: about 45-60 minutes (under currents input 0. 5A-1a)
Pros
+ Tiny and portable
+ 3D looping stunts
+ 3 speed options
Cons
~ No Camera
~ Controller takes a little while to learn
Consumer level – $500 +
intermediate level drones are what a lot of people think of when they are thinking about buying a drone. This includes drones from the popular drone manufacturer – DJI – and includes anything from their range from the Mavic mini all the way up into the DJI Mavic pro 2.
Choose this level of drone if you want a drone that is a little bit more capable in terms of camera and flight. Arguably, drones at this level are the easiest to fly and have such an array of advanced flying features that they are a pleasure to take out every time. You need to be careful that you don't overspend at this price point by choosing a drone that has what you need and not a drone that is marketed to you as being the best.
These drones have a range of capabilities but all of them include advanced flight features, advanced photography features, and enhanced hardware such as sensors and GPS location. This category of drone covers a large range of sizes and features but they generally have the following sorts of marketable capabilities:
flight time – as batteries get more and more advanced the lithium polymer composite is light weight and energy dense enough that you can fly for about 30 minutes with drones in this category.
Camera – cameras in this category are all capable of HD and 4K imagery. They will have autofocus and auto exposure and will have a range of different sensors that you can choose from. For example the DJI Mavic mini comes with a 12 megapixel camera at a price point of US$590 the DJI Mavic air 2 comes with a 20 megapixel camera and the capability of doing cinema level 4K footage. It's important that you choose a camera that is suited to what you want it to achieve.
Size – drones at this price point are starting to get a little bit heavier. That is because they have a plastic and metal body and are carrying a lot more hardware for a better flying experience. A lot of these drones pack down with foldable arms and are about 240 g up to 1340 g. Most of the drones are made for ease of carrying since the manufacturers know that people will be using them during travelling, hiking and other adventures which require that the drones fit nicely into a backpack.
Advanced flying features – drones in this level are the main drone which is purchased by consumers and so the manufacturers have made it as easy as possible to get flying your drone within minutes of opening the box. This includes return to home, advanced photography shots such as dronie and asteroid shots and even active obstacle avoidance which will automatically manoeuvre the drone around any obstacle that is in its way.
You should buy in this level of drone if you require your drone to have a great camera and you are looking for something that is more than a toy. To choose a drone in this section you must carefully consider what you want from the drone and which drone has the capability that you needed to have.
Choosing the right drone for you will require you to write down three reasons why you want a drone and what effect it will have on the problem you're trying to solve. For example, you may want to improve your offering to clients and bring in more money for your business or you may just want to fly around and take some hobby photos and videos of your city and town. Whatever it is you have to make sure that you are spending an amount of money that doesn't make you feel like you are being ripped off.
Some great examples of drones in this category include:
DJI Mavic 2 Pro
This drone is the perfect camera and addition to your kit. If you are thinking about buying a drone camera and want lost and lots of room to expand your creative freedom – this really should be the drone you buy! The drone takes amazing pictures straght out of the box and you'll learn how to use each one of the advanced camera options as you get more and more comforatable flying and operating the drone.
This thing is by far the best drone for photography!
Pros
+ 31-min Max. Flight Time
+ Hasselblad Camera
+ 10 km 1080p
Video Transmission
Cons
~ Users report a flight time of 21 minutes
~ Larger than other drones in the range so not as portable
DJI Mavic Air 2
I love my Mavic Air and was happy when DJI desided to upgrade the drone. It seems like they have done it in all of the right ways!. The Mavic Air 2 takes power and portability to the next level, offering advanced features in a compact package. It has a range of intelligent shooting functions and excellent image quality put aerial masterpieces within reach.
The camera includes:
1/2-inch CMOS sensor: it has smooth 4K/60fps video. The D-Cinelike flat color profile retains more information for post-processing. The HEVC (H.265) video codec records more image information, uses less storage, and preserves the dynamic range and detail of your footage, ensuring next-level content.
8K Hyperlapse: this will allow you to simply warp time and space for especially stunning footage.
this is an inexpensive and ultra portable drone that I think you'd be silly not to consider if you want to be a little more budget consious.
Weight – 570 g
Dimensions

Folded: 180×97×74 mm (Length×Width×Height)
Unfolded: 183×253×77 mm (Length×Width×Height)

34 minutes max flight time
Max wind-speed resistance – 8.5-10.5 m/s
8 GB internal storage
Max speed – 19 m/s
This is a great little drone and it will satisfy most hobby photographers easily!
Up Your Game: The Mavic Air 2 camera drone takes power and portability to the next level. It combines a powerful camera with intelligent shooting modes for stunning results.
Next-Level Content: Capture impressive 48MP photos with a 1/2-inch CMOS sensor while the 3-axis gimbal provides 4K/60fps video.
Improved Flight: An impressive flight time of up to 34 minutes allows you to pull off epic, fast-paced shots.
Intelligent Tracking: Mavic Air 2 features intuitive shooting functions that make aerial photography easier than ever.
Video capture resolution: 4K HD
Pros
+ Very portable
+ Cheaper option than Pro
+ Great intelligent flight modes
Professional level drones – $5000 +
People that are buying professional level drones know exactly what they're looking for and they are buying a drone for a very specific purpose.
You should consider buying a drone in this price point if you are serious about solving a business problem or want an advanced specific use drone that you cannot find in a consumer model. This is not for people who are new to drones and quite often drones in this category will require a pilots license and advanced training.
This is a very expensive drone level and it is for serious professionals who are looking for a drone to solve a problem. These generally fall into two categories:
professional camera drones – professional camera drones are used in the filming of movies and high-definition surveying. These drones have a much longer flight time, up to 35 minutes, which will vary with the payload and flying conditions.
Specific use drones – for example agricultural drones are becoming used more and more for things like 3D map and soil analysis, crop spraying and planting trees and plants. Other types of specific use drones can be for carrying things, fishing, and a range of other industrial activities like delivering packages. We were promised that drones would be delivering our packages in the near future that is not yet to be realised by the large distributors.
Racing drones – racing drones are custom-made and built quadcopters that are able to fly at extremely high speeds and been back analog imagery in real-time. Combined with goggles these drones give the pilot the experience of flying through the air.
Conclusion
I hope that that article was more useful to you than "how long is a piece of string?". Ultimately how much you spend on a drone is up to you and your budget. One thing I would say is that if you only want to fly a drone for fun look at the sub US$200 mark so that you can get used to drones and have a look to see if it is a hobby that you want to continue. If you want to explore videography and photography then you should start looking at the Mavic mini which goes for about US$400. The DJI Mavic series also has a fantastic collection of features and I'm sure that you will be able to find a drone that is within your budget as well as having the feature set that you want. If you want to find out more about buying a second hand drone, to keep the price down, check out my other article – a complete guide to buying a second hand drone – click here.
If you want much more detail about buying a drone check out my other article – the ultimate drone buying guide. The only guide you will ever need! – Click here.
Good luck with your drone buying decision and I hope that it results in a drone that you love to fly… Because that is what it is all about!