There are a large number of reasons of why you want to reset a drone. A factory reset solves a load of problems such as intermittent power problems, gimbal calibration issues, as well as other calibration issues. Typically, a hard reset returns your drone to the factory default settings which can act as a great base to return to. Sometimes, the factory reset of a drone does not solve all of the problems and you may have to also reset the controller or the smart battery which have their own internal processing systems. Here is how to reset a drone.
Resetting a drone involves connecting your drone to a computer via a USB cable or inserting a microSD card to capture data upon reset. DJI requires that you download the DJI Assistant program which allows you to do a hard factory reset. Other manufacturers use hardware buttons two reset a drone.
Understanding how to reset your drone will allow you to troubleshoot a range of issues before having to contact support. DJI manufactured drones are able to be reset using software which you download from the download centre on their website. You need to make sure that you select the DJI assistant which matches the make of your drone. Parrot, another popular drone manufacturer requires that you use a microSD card before doing a factory reset.
Let's take a look at each of these manufacturers and the steps that are involved for resetting each of their drones.
How to reset a drone – DJI Factory Reset
Resetting a DJI drone back to its factory default settings is relatively simple if you have access to a computer, your DJI drone, and the DJI Assistant 2 software.
Before you get started here are the things that you need to make sure you have readily available. Luckily, all of these are quite common.
Things you need
Before resetting your DJI drone whether or not it is a Mavic, a Phantom, or another series you need the following items.
A computer with internet access – you need to have access to a computer or a laptop which has Internet access and free USB ports which enable you to connect directly to your drone.
Drone and USB cables to connect to computer – you should have available your drone which has a fully charged battery connected and the appropriate USB cables to connect your drone directly to your computer. A lot of drones have either USB C or a microUSB connector. Ensure that the cables are either the original ones that came with the drone or are good quality cables from a reputable manufacturer.
DJI Assistant 2 software – DJI has a download centre where you can download a range of DJI apps and software products. You will need to make sure that you download the correct DJI assistant 2 software for your model of drone. The DJI assistant 2 has been discontinued as of 2019 and you must select the appropriate DJI assistant 2 for you. Make sure to download the most up to date version of the software. This includes:
Depending on your connection speed the program can take up to 5 minutes to download despite being a relatively small file of 220 MB.
After you have collected all of the important things, above here are the steps that you need to follow too hard reset your DJI drone.
The steps you need to follow:
Turn on your drone
Turn on your DJI drone using the battery hardware button or button directly on the drone itself. The exact method for turning on your drone will vary depending on the type of drone that you have. For example, on the DJI Mavic hair it is the button on the smart battery which I have to press quickly followed by a long press to turn on.
Plug your drone into your computer via USB
Open up the flap which covers the USB connections. The connection will most likely be a USB C connection or a micro USB connector. Plug the appropriate connector into your drone and then connect the USB port to your computer using the other end of the cable.
Open the DJI Assistant program
In the above step I told you to download the DJI assistant 2 program. After the program has downloaded (which is about 220 MB of data) simply open up the software while your drone is connected to the laptop or computer that the assistant program is running on.
If you have issues and you cannot connect your drone using the DJI assistant 2 software you should download the discontinued DJI assistant 2 – I had this issue with my DJI Mavic air.
Select your drone
Once the drone has been recognised by the software you will be able to select your drone from the options that the software gives you.
Under the firmware option
Once you have selected your drone, in my case the DJI Mavic air, you will be able to see a list of options on the left-hand side of the software. This includes firmware update, log export, calibration, simulator.
You need to select the firmware option to access the appropriate features for resetting your drone.
Select "RESET FACTORY DEFALTS"
The software actually defaults to the firmware option but if you do not see remember to click the firmware option in the left-hand panel. Then, you should be able to see a blue button which says reset factory defaults.
Click CONFIRM
Click confirm. After you click confirm a progress bar will show you when it is all over. Simply disconnect your drone and go through all of the setup procedures that you are familiar with from your initial purchasing of the drone.
Then, you are ready to get flying again with your factory reset drone.
DJI have made the factory reset for their drones very easy as long as you have access to the Internet and a computer to connect your drone to.
For other manufacturers, like parrot, the hard reset is much easier and doesn't require a computer.
Resetting a parrot drone – Hard reset
If you own a parrot Anafi drone which includes the extended, work, thermal, and FPV drone you can simply hard reset your drone by following the Anafi troubleshooting guide which is a PDF available by clicking the link.
Here is a quick rundown on the things that you need to hard reset your parrot Anafi drone.
The things you need
ANAFI, ANAFI Extended, ANAFI Work, ANAFI Thermal, ANAFI FPV drone
First of all, you need full access to your drone and its power, and microSD slots. You do not need any particular USB cable or software because all of the resetting is done with the drone alone.
MicroSD card
you need a microSD card which is inserted into the drone in the microSD card slot. This is used to export a .TXT document at the root folder of the card. Once a certain file is written to that card you know that the hard reset procedure is complete.
A computer and MicroSD card adaptor
In order to see the .TXT document which is exported upon successful hard resetting of the parrot Anafi drone you will need a computer and either a microSD card slot in the computer or laptop or an adapter so that you can read the contents on the microSD card.
Once you have all of these things this is the process to reset your parrot drone.
The steps to reset a Parrot drone
Check a compatible microSD card is inserted into ANAFI
Power ANAFI on (short press on the battery's power button).
Wait for the gimbal to calibrate (or for the gimbal calibration to fail).
Press and hold the battery's power button: after 8 seconds the battery's LED light up in red, one after the other.
When the 4 LED are red, release the battery's power button: ANAFI powers off briefly then reboots.
Check the contents of ANAFI's microSD card: the hard reset procedure has generated a .TXT document named "wifi_security_key" at the root of the microSD card. This document confirms the hard reset procedure is complete and successful.
This hard resetting is perfect for conductivity issues such as black screen, white noise, or Thermo camera activation failure as well as a lagging or frozen stream. Rebooting all of the systems will also fix any gimbal calibration issues and fix any strange behaviour that the battery is showing such as flashing lights already LEDs.
Sometimes, with drones with a smart battery you need to do a smart battery reset. Here is what you need to do for a DJI battery as well as an Anafi smart battery.
DJI smart battery reset
Unfortunately, there is no known way for a consumer to reset a DJI smart battery. There are a number of ways to check your DJI smart battery health and you can find out about all of the ways in my full article – how do I check my DJI battery health – click here to be taken to article.
The best way to check your DJI battery health is to head over to the DJI GO4 app which allows you to check the battery status and condition. The DJI app is an incredible resource for a range of things and while you are flying you can see the discharge rate of the battery in real time. I would also keep an eye on how to much flight time you have and if you notice a significant difference or decline you may have an unhealthy drone battery.
On some drone batteries you have the ability to get an indication of the health status of the drone battery without having to go into the app. In the manual you can see that the battery life section refers to how many times the battery can be discharged and recharged before it must be replaced. After you push the battery button for five seconds the battery level indicators would light up and/or blink for two seconds in a number of patterns as shown below in the image.
Here is how you reset an Anafi smart battery.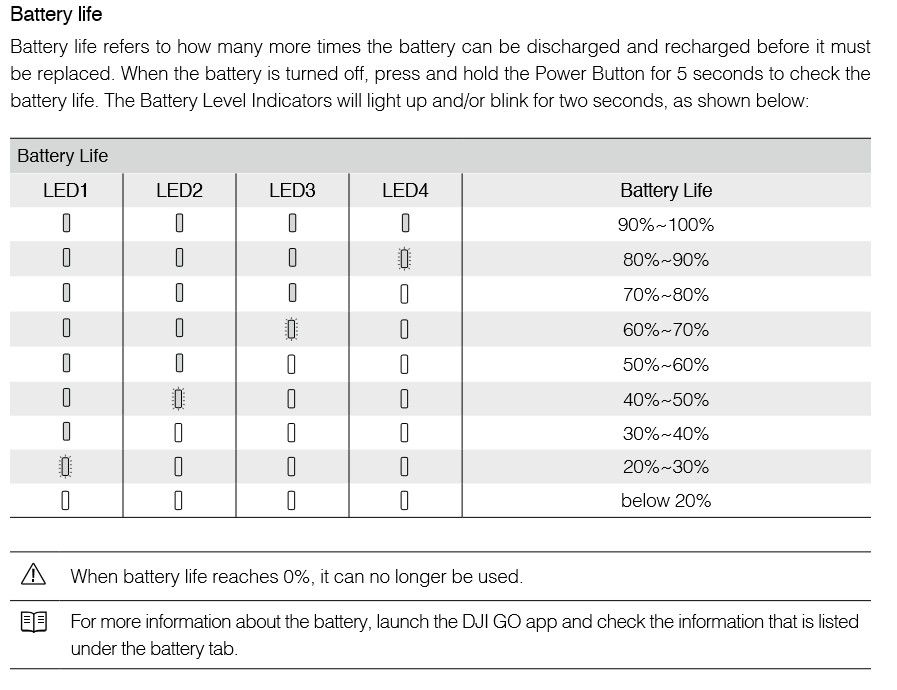 Anafi Smart Battery Reset
Hard resetting ANAFI's battery is useful to correct any battery issue. Parrot recommends a battery hard reset whenever the battery's behavior strays from its expected behavior.
Plug your smart battery to a power source.
Regardless of the battery's behavior, press and hold its power button for 15 seconds.
Release the power button: the battery's LED run successively in green and red, then flash alternatively in green.
The battery's hard reset is complete
How to reset a DJI drone controller
If the controller is continuing to beep the last action that you can take is to do a full reset of the controller. Before you take such a drastic action you should try your best to do all of the recalibration processes before a hard reset of the controller.
You can perform a full reset of the remote controller by performing these tasks in this order:
turn on the controller whilst the aircraft is off
press the C1, C2 and shutter button on the controller and hold for two seconds or until it beeps (a single beep followed by three short beeps) then turn the controller off.
Turn on the aircraft and the controller and link the remote as you would have when you first purchased the drone.
You can then also manually relink the remote controller if you want to be sure that you are connecting to your drone in a stable and secure way.
Summary
In this article, we have gone over how to reset a DJI and parrot drone. If it is a battery issue we have also looked at how you can check the health of a DJI battery and also reset the parrot Anafi smart battery so that you can combat a range of issues including calibration, intermittent transmission, poor performance, and other annoying drone issues.
Like most things in the gadget world a lot of the problems can be solved by simply doing a hard factory reset of your drone.
If, after doing a hard reset of your drone you are still unable to solve the problem I recommend that you reach out to the manufacturers of the drone to see if you can resolve the issue with their support team. If you cannot they will generally replace the faulty component or offer to upgrade your drone or battery for free. In my experience, there has been lots of positive things to be said about the support teams at the large drone manufacturers.