In the early days of owning or buying a drone you could spend many hundreds of dollars and receive a relatively low-quality gadget. Luckily, these days we are spoilt for choice even at the lower price points. Sure, if you are deciding to buy a drone that is relatively inexpensive you will have two sacrifice some of the features that we know and love about more expensive drones. But, the good news is that there is a drone to suit every budget and you will have to compromise on less and less as new drone technologies become less expensive. In this article we are going to go over all of the best inexpensive drones as well as an inexpensive drone buying guide so you can be confident in your new purchase.
If you are purchasing an inexpensive drone you need to consider the cost of the drone versus the features and construction quality of that drone. Sometimes it is better to buy a drone that is a little bit more expensive but comes with a much better feature set and quality construction. However, if your budget is very low you must accept that the drone will be made from plastic and that it will not have the advanced flying features which are common in more expensive drones.
The things that make a drone pleasure to fly our software flight features such as auto stabilisation, auto hover, automated recording modes such as selfie and dronies. So sometimes spending a little bit more money to get these features means that you are going to fly your drone more often because it is more fun.
That said, there is no reason why you can't have fun with a less expensive drone – it just depends on what sort of line experience you want to have. For some people simply flying a cheap drone around the living room is enough of the drone experience whereas others want to capture amazing footage and that comes at a little bit of a higher price tag.
The good news is that getting good quality drone footage is becoming cheaper and cheaper and more accessible on a smaller budget. In the following article, I am going to share with you what I think the top inexpensive drones are and the important features you should consider before buying.
Drones to consider
Ryze Tello
Ryze Tech Tello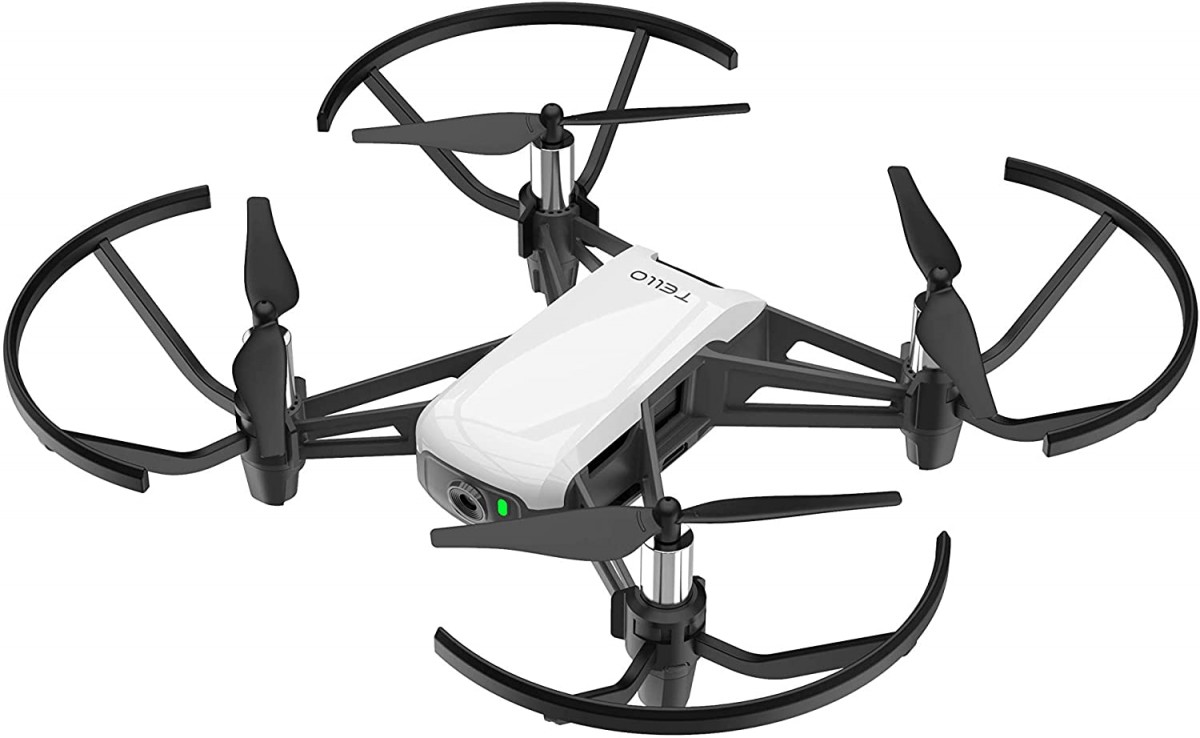 This drone may be small and lightweight but it has a tonne of features powerd by a very reputable drone manufacturer, DJI. DJI are the leaders when it comes to drones and they have perfected this entry level drone. It may be a little too advanced for the youngest in your family – but we'll talk about better drones for the youngest age group in a moment. For now, here are the features that this drone comes with:
Tello App – The Tello app makes it really easy to fly. It makes even the most complicated maneuvers just a simple touch of a button.
Lightweight – this very small drone fits in the palm for your hand and weighs only 80g.
You can perform stunts – start flying by tossing the drone up into the air with the Throw&go technology. You can also perform stunts and tricks (like flips) using the app
Safe to fly indoors – Thanks for rotor guards and it's vision positioning system the Tello drone is fun and safe to fly indoors
13 minute flight time – a huge flight time for a drone of this size powered by the best drone batteries on the market – DJI batteries!
Programmable – You can learn the basics of programming by using Scratch – an MIT developed coding system especially suited for students. Fly your own flight patterns
This thing is by far the best drone for kids!
Pros
+ Lightweight
+ Really inexpensive
+ super easy to fly
Cons
~ Needs another battery for continuous fun
DJI Mavic mini
DJI Mavic mini
The DJI Mavic mini is a super lightweight, portable drone that can be flown outside without registration in a load of different countries. It is incredibly compact and light which means that this drone can stay in the air for up to 30 minutes – which is longer than most drones which are much more expensive. Just because you are paying less it does not mean that you are skimping out on other really important drone features.
It can support 12-megapixel aerial photos and can shoot high definition (2.7 K) videos. In such a small device you even have a three-axis motorized gimbal so you can be assured of a steady and blur-free recording or photography session. It even comes with a remote controller so you can keep track of your drone and control it with ease. Having a controller cannot be understated it really improves the piloting experience.
Pros
+ 30 min Max. Flight Time
+ Under 250 g
+ Smart features of much more expensive drones
Cons
~ No 4K – understandable at this price point
~ Effected by strong winds
~ No avoidance sensors
Ruko U11 GPS Drone with Camera
Ruko U11 GPS Drone with Camera
【𝟗𝟎°𝐀𝐝𝐣𝐮𝐬𝐭𝐚𝐛𝐥𝐞 𝟒𝐊 𝐔𝐇𝐃 𝐂𝐚𝐦𝐞𝐫𝐚】A 90°adjustable high-performance camera which is ideal for Aerial shots. Takes excellent 4K Ultra HD pictures and helps you capture and memorize every precious moment.
【𝐄𝐱𝐭𝐞𝐧𝐝𝐞𝐝 𝐅𝐥𝐢𝐠𝐡𝐭 𝐓𝐢𝐦𝐞】One intelligent flight battery provides a maximum flight time of 20 minutes. But supplied with an extra battery, this drone will extend the flight time to 40 mins (2*20 mins), brings you double joy time!
【𝐌𝐨𝐫𝐞 𝐅𝐞𝐚𝐭𝐮𝐫𝐞𝐬 𝐁𝐫𝐢𝐧𝐠𝐬 𝐌𝐨𝐫𝐞 𝐅𝐮𝐧】Equipped with more functions like Follow function, Waypoint fly, Auto Return and Find The Lost Drone, it meets different needs and creates more flying fun. And you do not need to worry about losing the drone due to operating errors or strong winds interference during flight, Find the Lost Drone function helps you track the last position by APP and easily find the drone.
【𝐅𝐫𝐞𝐞 𝐂𝐡𝐨𝐢𝐜𝐞 𝐨𝐟 𝐈𝐧𝐝𝐨𝐨𝐫 𝐚𝐧𝐝 𝐎𝐮𝐭𝐝𝐨𝐨𝐫 𝐅𝐥𝐢𝐠𝐡𝐭 𝐌𝐨𝐝𝐞𝐬】It has dual positioning system-optical flow and GPS positioning system. These two positioning systems bring you a safer and freer flight. They also help the drone precisely lock the height and hover stably to achieve better performance photographs or videos. Please note that a strong GPS signal must be searched before flying when it flies outdoors.
【𝐄𝐚𝐬𝐲 𝐎𝐩𝐞𝐫𝐚𝐭𝐢𝐨𝐧】With one key auto-take off and one key auto-land button, this drone can be easily operated to start and stop. And combined with the considerate icons on the APP, this drone becomes more simple to access even for drone beginners.
Pros
+ Great for beginners
+ Comes with remote control
+ Smart features of much more expensive drones
Cons
~ Not very stable in winds
~ Lower battery life
~ No avoidance sensors
OOri
OOri – Best smart racing drone
The OOri drone is the worlds fist smart racing drone and it is an incredible racing drone that makes it fun for everyone to fly! The awesome design combined with a screen in the middle of the remote control will no doubt make this drone a hit! IT has been deemed the words fasted mini drone with speeds of up to 50 mph per hour and has won multiple CES drone awards.
Here are the features of Oori:
Ready to fly out of the box
Three flight modes. Making it perfect for beginners, intermediate and racers.
Top speed of 50 mph
Rapid battery changes
Assignable LED's
This drone is the perfect drone if you want something fun for racing around the house or through different obstacle courses.
Pros
+ Best smart racing drone
+ Screen in controller
+ Really sexy design
Cons
~ 5 minutes hovering time
Holy Stone HS270
Holy Stone HS270
This drone is from a sturdy manufacturer and offers a lot for a small price. It packs down into a fun small package which means you can take this drone almost anywhere with you. It has a few advanced features like return to home that can give you extra confidence to fly in windy conditions. Here are the best features of this drone:
2.7K Camera & 5GHz Image Transmission — HD camera catches incredible clarity in the photos (3840*2160); 5GHz transmission ensures beautiful scenes are sent back to the phone, frequent and clear; 90°adjustable angle enables broader views.
GPS Auto Return & Follow Me — Equipped with GPS positioning, the drone can automatically follow the pilots. When it is losing signal or power, or you press one key return, it will and fly back to the take-off point automatically.
Easy to Use Custom Flight — The drone can do auto-hovering. Design a flight path by tapping several points or make it fly in a circle with the camera always against the same point by setting a point on the App screen, which helps you dedicated yourself to more creative and amazing photography. It can fly to where you are unable to reach.
Bigger & Wind-resistant — Lasts 18 Mins. Both drone arms and propellers are foldable. Made of solid material There can always be surprises on the journey with HS270.
Unlock More Play Ways with Endless Fun — FPV transmission range up to 1300 Ft, control range up to 1968 Ft. The intelligent battery with LED lights displaying remaining power can work for 18 minutes.
This drone could be the perfect fist drone for you or someone in your family!
Pros
+ Solid construction
+ Advanced flying features
+ Stable in windy condition
Cons
~ Not a great camera
Secondhand drone
I think the best option for buying an inexpensive drone is to purchase a secondhand, lightly used drone that a previous owner has taken good care of. If you want a complete run down on how to buy a secondhand drone and all of the things you should look for check out my other article – click here. In that article I go through everything that even a beginner drone buyer needs to know and check to make sure that they are not buying an absolute lemon of a drone – I have even included a 52-part checklist that you can download and take with you, so you don't forget thing!
If you want a quick rundown of that article check out my YouTube video where I list the top 10 important aspects for purchasing a secondhand drone. The article goes into a lot more detail, but this will give you the most important things you need to know:
There are three stages to making sure that you don't buy a rubbish drone those are:
Before going to inspect – at this stage you may have seen a few drones that you like on online marketplaces such as Facebook marketplace, gumtree, Craigslist, or others. All you have at this point is the ability to look at drone images and photographs of the drone itself. Make sure that you have all of the photographs you need to make a decision about the quality of the drone and the condition it is in. Ask questions about time since purchase, flight times, and ask how the drone has been used.
On ground inspection – at this stage you may be selected one or two drones that you like the look of from the post and the photos. When you first get the drone into your hands you should check for battery cycles, battery condition, how easily the drone unfolds, any damage that wasn't evident from the photos, as well as any accessories such as the case and third party additions.
Test flight – you should always aim to test fly a drone and if you are not confident in doing so you should ask the current owner for a demonstration. During this you will be looking at how the drone holds its position, how stable it is during throttle (gaining altitude) and any warning notifications that pop up during the test flight. You should also take a moment to check the gimbal camera and the range of emotions it has. Check for smooth flights and camera motions.
Buying a secondhand drone is something that I believe will enable you to balance price and features. The only thing you need to do is up your risk tolerance so that you can feel comfortable purchasing a secondhand drone. My guide will give you everything you need to know to help you minimise the risk.
In the next section we are going go over all of the important components of purchasing a drone and how you can balance price and features that are important to you.
Inexpensive drone buying guide – the things to look for:
when you are considering buying an inexpensive drone there are a few things that you need to pay particular attention to. In this section we are going to go over the aspects of an inexpensive drone that you need to consider when you are purchasing a drone under a few hundred dollars. Ultimately, this is about balancing your budget with the best features currently available on the market at the time.
Like we discussed above, some of the best ways to balance price with features is to purchase a likely used secondhand drone as then you are getting all of the best high-tech automated flight features at a significantly lower price. You just need to know what you are looking for.
However, if you would like to purchase a brand-new drone (and I know a lot of new drone buyers do) you should consider all of the following things before committing to your purchase.
Price
Clearly, the price is a very important aspect of buying a drone. For a lot of people, it is a relatively expensive purchase for a gadget that has some risk associated with its use. It is an unfortunate fact that some people will crash the drone on the first outing which will cause a lot of pain and heartache – not to mention the waste of a lot of money.
If you want to find out more about drones that are under $500 check out my other article – best drones under $500 .
I think that if you want to buy a drone that has relatively good artificial intelligence and automated flight modes you should consider buying a drone that is about US$200-US$800. In this price range you will get access to some of the advanced flight features and it will just be a better flying experience for you.
If your drone is for a little person in your life then you don't need to spend as much money on the drone. There are plenty of drones that are perfect for children and in my other article – best drone for kids [guide and products] – click here – I give you a full run down on the best drones for kids that includes camera drones as well as drones suitable for very small children and can be controlled with simple hand movements.
Camera
The reason a lot of people buy a drone is because of the camera. In the mid-range drones the camera will be equivalent to the quality on a smart phone. But for most people that is more than good enough.
Camera there is a point at which the price is inhibitive for the addition of a camera. That is because to make the most of a camera you need to have a gimbal and also have the gimbal and the camera stabilised so that your photos and video does not end up super blurry all the time.
A camera on an inexpensive drone can be up to 12 megapixels and a video resolution of up to 4K at 30 frames per second. That is found on the DJI Mavic mini 2 (click here to discover the current price on Amazon) and is just an incredible deal for someone looking for an inexpensive way to get into drone videography and photography.
As camera technology becomes less expensive we will be seeing many more manufacturers incorporate 4K resolution into less expensive drones.
Top speed
The top speed of the drone isn't necessarily important unless you are racing the drone in a first person view race. However, the top speed tells you how stable the drone will be if you're flying outside.
As a rule of thumb you can fly your drone up to 2/3 of its maximum top speed. This gives the drone enough power to overcome crosswinds and remains stable when it is hovering.
If the drone that you want to purchase does not have a high top speed it means that it is probably best suited for indoor exploration and at a push you could use it in your garden. It probably isn't something I would feel comfortable sending out over water or in strong wins.
Brand
The brand of the drone is very important as it can give you confidence in spending a few hundred dollars of your hard-earned cash. If you want to find out more about the best drone brands in the world check out my other article – the 9 best drone brands in the world [with flagship drones] – Click here.
The best drone brands in the world include DJI, Parrot, Yuneec, Snaptain, Freefly, Holy Stone, Syma and Hubsan. Each of these drone companies have a unique selling point. It may be that they specialise in beginner drones or it may be that they are focusing on the upper end of the market and professional level camera drones. You have to select a company that best matches the use case for your drone.
The best drone brands in the world will also give you confidence that if anything should go wrong with your drone that there is a significant company behind the manufacture of it for replacement or repair. Some drone manufacturers also offer a significant warranty and you should check what those conditions are before purchasing your drone.
Construction material
As you choose a drone that is less and less expensive you are also sacrificing on construction material. At the lower end of the drone market there is a lot more plastic shells and plastic is also useful the construction of the main frame of the drone. This isn't necessarily a bad thing because plastic can be very sturdy but I like to buy a drone that has some reinforcement (metal parts) in the internal frame so that I know that it will withstand a small knock or bump during flight.
If you are only considering flying your drone inside your house you don't have to worry too much about the material as plastic will be more than enough to withstand some of the knocks and bumps. Plastic can also be a safe option if you are flying inside your house as it is less likely to cause damage to the furniture and other items inside a room.
Battery life
If you're looking for an inexpensive drone you can expect a battery life of between two minutes and 20 minutes. The higher end drones as of time of writing can have flight times of greater than 30 minutes. However, if you're looking for something that isn't the top of the range you have to do with a much smaller flight time.
That's not to say that 20 minutes is a bad upper limit. I find that during my 20 minutes flight with my DJI Mavic air I can quite easily do three or four different types of shots and take a load of photos with time to spare and return to my landing spot.
An extremely cheap drone will probably only have a battery life of about five minutes. This is enough to quickly fly around the living room and get the sense of what is like to fly drone but you cannot do anything productive other than race with a flight time that is so short.
Choose a battery life which matches the type of flying that you want to do. My recommendations are that if you are looking to do videography or photography that you don't choose a drone with anything less than 15 minutes of flight time in standard conditions (this is less than the hovering time quoted by manufacturers).
Replacement parts
The thing about drones is that they do quite often need replacement parts. The replacement parts typically include:
Batteries – after about 1000 hours of flight time batteries need to be replaced.
Propellers – propellers should be replaced every 300 hours of flight time or when they become damaged and chipped due to contact with things while flying.
Propeller guards – propeller guards can save your drone from serious incident if it falls from a particularly high height. I'd much rather that a propeller guard breaks rather than my drone and you can easily buy replacement propeller guards for many commercially available drones.
Before you buy a drone checked online for the availability and cost of the replacement parts that I have discussed above. You wouldn't want to purchase a drone and then later down the line discover that it is prohibitively expensive to replace any of the essential parts. Propellers are always quite inexpensive but batteries, especially smart batteries, can get very expensive especially when the drone is no longer manufactured by the original distributor.
Remote control
Your drone flies experience will be directly proportional to how easy your drone flying experience is. I have toyed about with flying my drone via the smart phone app but is not nearly as enjoyable as flying the drone with a dedicated remote control.
Having a dedicated remote control is something that levels up fun. A dedicated remote control will have joysticks which allow you to adjust the height, yaw pitch, and roll features like taking a photo, recording, moving the gimbal and other functions.
If you can my recommendation to you would to choose a drone which has a dedicated remote control so that you are able to enjoy your flight as much as possible.
Automated flight features
Having some automated flight features such as automatic hovering, altitude hold, headless mode, or smart capturing automation will mean that your drone is much more likely to be able to handle your inexperience as a drone pilot.
If you're looking for a relatively inexpensive drone you can still find good features in the DJI Mavic mini as well as the Ryze Tello. These drones have all of the advanced flying features that you come to expect from DJI at a very affordable price.
Some other manufacturers also include smart automated flight features but the quality of the software may vary.
Propeller guards
lastly, I would recommend that you get a drone that has propeller guards that fit well from the original manufacturer. If you are new to drone to Bella guards. You from coming into contact with things that could potentially damage your drone.
If you want to know more about drones with awesome propeller guards check out my other article – the best drone with propeller guards – click here.
In that article there are plenty of options of drones with propeller guards and pleat propeller cages if you want to protect your drone 100% in every direction. Most propeller guards only protect from bumping the side of the propeller whereas some other drones are able to be protected by being wrapped in cages.