Most modern drones, including those made by DJI, give you the option to download a mobile app that makes flying your drone easier. However, if you own a drone that uses the DJI Fly app and have an Android smartphone, you won't find a download link on the Google Play Store. Instead, you must download the application off the internet and install it on your phone manually. This has led many people to ask, "is the DJI Fly app safe?"
When downloaded from the official DJI Download Center, the DJI Fly app is completely safe. Avoid downloading it from any unofficial sources, as this may result in you accidentally downloading malware onto your smartphone.
Neither Google nor DJI have specified the precise reasons why DJI chose to remove their apps from Google Play store. The nearest we have to an official response from either side has come from the DJI Support Twitter account, and a reply posted to a service announcement on the DJI forum.
The standard response from the DJI Support Twitter account has been: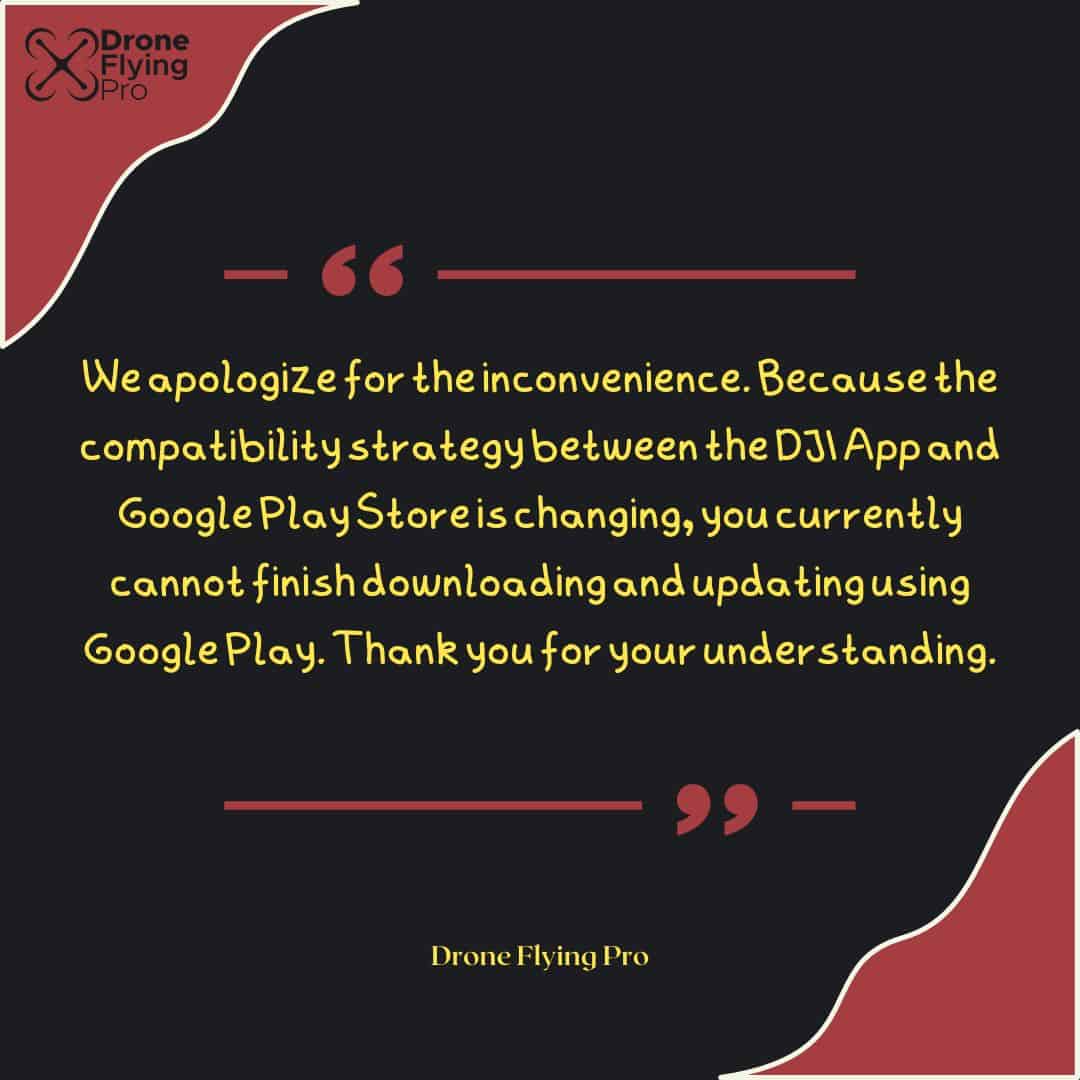 We apologize for the inconvenience. Because the compatibility strategy between the DJI App and Google Play Store is changing, you currently cannot finish downloading and updating using Google Play. Thank you for your understanding.
We do not know exactly what the compatibility strategy really means.
Below, we will discuss more information on downloading the DJI Fly app on your Android device. Keep reading to learn everything you need to know!
Is It Safe to Download the DJI Fly App?
Although DJI drones come with a dedicated controller, many people prefer to download a mobile app to fly their drones more easily. Many DJI drones use the DJI Fly app, including:
DJI FPV
DJI Mini 2
DJI Mini SE
DJI Mavic Mini
If you have an iPhone, you will have no problem finding the DJI Fly app on the Apple App Store and installing it on your device. However, things become a bit more complicated if you have an Android smartphone.
In 2021, the Google Play Store removed the DJI Fly app.
Currently, the only way to install the app onto your Android device is to download it directly off the internet, then "sideload" it onto your phone.
Not everyone is comfortable downloading applications from anywhere other than the Google Play Store. However, rest assured that downloading the application directly from the DJI website is completely safe. It's essential to remember that you should only download it from the official source to avoid accidentally installing malware on your smartphone.
The file you download from the DJI website will be in .apk format. It's relatively easy to set up on your device, and as long as you download it from the official source, there are no safety risks involved.
Privacy issues with the DJI Fly App
When you download the DJI fly app you are agreeing to the privacy agreement with DJI. Apps on our smart devices can collect a huge range of information and contact with DJI, downloading their products, and communicating with their team or website can result in a disclosure of information that DJI collects.
Information DJI Collects:
This is the sort of information that DJI may collect when you interact with them and the DJI flight app.
| Type | Comments |
| --- | --- |
| Account information | userid, email address, password |
| Contact information | some countries require provision of contact information when activating drones |
| Payment information | bank account, credit card details for payment |
| Photos and videos | DJ does not automatically collect your photo or video without your consent. When you choose to upload your photos or videos DJI may look at text content, EXIF data. |
| Communications | When you contact DJI they may collect information about your communication including contact information, topic, and contents |
| Location information | when you activate DJI hardware products you may provide them with geolocation information |
| Device -related information | model and serial number of the drone |
| Technical information | when visiting their website you may divide them with information about Rosa or device you are using IP address or device address, operating system, may also be disclosed. |
While not unusual for a company of its size, some people are concerned with the amount of data that DJI connects about its customers.
You can read more about DJI's privacy policy and what they actually do with the information at this link: privacy policy.
What Can I Use the DJI Fly App for?
The main reason people choose to download the DJI Fly app on any smartphone is to gain access to intuitive drone control features. Once installed, you can use DJI Fly to fly your drone, update the firmware, and calibrate your compass.
There are four main features of the DJI Fly app. These include:
Flight Status
Camera Settings
Editing Suite
SkyPixel
Overall, the DJI Fly app is designed to optimize your experience with your drone. All the controls are simple and intuitive, and you can use them to do almost anything with your DJI drone. Below, we will discuss the four main features in more detail and highlight what they allow you to do.
Flight Status
In addition to actually flying your drone, the DJI Fly app allows you to access a variety of features related to your drone's flight status. Within the Flight Status screen, you can see how strong of a signal your drone currently has, as well as how much battery power remains.
You can also use this menu to change flight modes and see the current altitude of your drone or its distance from your current location. All of these features allow you to fly your drone more safely and avoid problems in the air.
Camera Settings
Recording aerial footage is one of the most popular features of DJI drones. Within the Camera Settings menu of the DJI Fly app, you can easily change your camera's parameters, switch between different shooting modes, or adjust your angle to get the best shot possible at a moment's notice.
Editing Suite
The built-in Editing Suite is what really takes the DJI Fly app to the next level. You can easily edit all your recorded footage within the Editing Suite, then export the final product to share with friends or keep for personal use.
The Editing Suite features a range of music options and special effects to make your recordings pop, as well as a user-friendly timeline that lets you clip your footage precisely. You can even switch between portrait and landscape orientation to meet your professional or personal needs.
SkyPixel
SkyPixel is a social media platform for drone users, and access is integrated into the DJI Fly app. Users can share different aerial photos and videos and tag the location, allowing you to discover the best flight spots in your area or simply admire others' handiwork.
How to Download the DJI Fly App
iPhone users have the privilege of downloading the DJI Fly app directly from the Apple App Store. However, Android users are not as lucky. Since the Google Play Store removed the app from its collection, the only way to download it is to do so directly from the official DJI website.
Luckily, the app is completely safe to download from the official source, and installing it is easier than you may think. Just follow the steps below to do so:
Visit the DJI Download Center on your Android device and find the download page for "DJI Fly."
Press the "Download for Android" button, and give your browser permission to download the file if asked.
Once the download has finished, open the "Files" app on your smartphone.
Under "Downloads," locate the DJI Fly file. It will be in .apk format.
Click on the file to begin the download. You will be asked if you want to allow third-party installations. Click "Yes" or "Allow."
After completing all the steps above, the app will begin to download onto your device. Once it finishes installing, you can open the app and log in with your DJI account.
Note that you will not need to repeat this process every time an update becomes available. DJI Fly includes a self-updating feature, and whenever there's an available update, you will be asked if you want to download it in a pop-up window.
Wrapping up
Although you cannot download the DJI Fly app from the Google Play Store, it's completely safe to download the .apk file from the official DJI Download Center and install it on your Android device this way. Be sure to only download the official file from the official website to avoid safety or privacy concerns in the future.