When you are thinking about buying a drone, excitement can get in the way of making a really great decision. Before you launch into buying a drone, you should consider these very important points so that you don't end up wasting your money.
Here are all of the important questions that you need to ask yourself before you buy a drone. I've given some insight under each section as to what you need to think about for each point and I've included some examples too!
Before buying a drone. It is important to consider things such as flight features, the flight time, the controller, how easy is to purchase replacement items such as propellers and batteries, and any accessories that you need to buy to make sure the drone can do its job.
Taking the time to properly consider each aspect of a drone will mean that your drone purchase will align exactly with what you wanted to do and you will be very happy with the outcome.
Here are the top things that I think you should consider before buying a drone.
What flight and drone features are important? Drone buying guide
There are so many different types of drones with so many different types of features that it can be quite complicated to work out what drone works best for your specific use case.
The first thing you should do is work out what flight features are actually really important for the way you want to use your drone.
Here are a few options for the sorts of questions you should be considering before launching and buying a drone.
What flight features are important to you and match with what you want the drone to be able to do?
Do you want a great camera?
Do you need it to be small and portable?
Are you flying it outside?
Do you want a live video feed?
How many megapixels do you need the camera to record in?
What media format can your computer work with?
Do you want a controller?
Do you need smart navigation software?
Do you need automatic capture modes?
These questions will help you work out what drone features are most important to you. Take a moment to actually write down the top three things that you want your drone to do. For example, for me, I really wanted a drone I could use every day and that would easily fit in my backpack.
The next most important thing you should consider about your drone is how long you needed to stay in the air.
Flight time for different types of drones
Battery life is the thing that will allow you to stay in the air for longer. I've never found that I couldn't get what I wanted to be done with 20 minutes' worth of flight time.
The weight of the drone is one of the most important factors in determining the lifetime of a battery. Here are some of the best lifetimes of drones available on the market right now:
Each of the times above is what the manufacturer states but the flight time but will vary according to flying conditions. If you are having shorter flight times than you expect, Based on the manufacturer's recommendation, go and check out my other article – why does my drone battery die so fast? The flight time of a drone will depend on how much it is carrying, the sorts of operations that you are performing, and environmental conditions, such as wind and gusts. The flight time is heavily influenced by how aggressively you fly your drone. So, if you are an aggressive flyer, then you can expect your battery to drain faster and for you to have lower flight times.
Battery technology is continually improving. That means that over the coming years, you can expect flight times to get longer and longer. The more expensive the drone, the more likely it is to have a flight time of greater than 30 minutes. Toy drones, on the other hand, have a very small and cheap battery so you can only expect to get a few minutes of flight time out of them.
One of the most important reasons why people are buying a drone is for the camera. Now, let's look at the different types of cameras are available and what you should factor in when deciding to buy a drone with a camera.
Camera type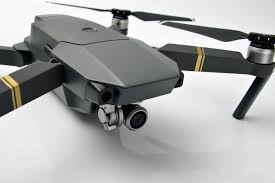 When you first look at the specifications of a drone with a camera, you will see the maximum resolution of that camera.
The maximum resolution of the camera will tell you how many pixels the camera is able to capture during video and photos.
This is the first indication of the sort of quality you can expect from a drone's camera. Anything above a toy drone will have the capability of high-definition video and photos. This is suitable for most users of a drone.
Whether you are posting to YouTube or online or on social media, high-definition footage is all you really need.
For the professionals amongst us, you will need a 4K definition.
Most of mid-range drones such as the Mavic series come with a fixed camera.
That means you are not able to change the camera. For most users, again, this isn't much of an issue because you can buy a drone-based on the quality of the camera you need.
The higher-end drones, however, have the ability to swap different camera types – but these can get quite expensive!
The camera will come with a lens, sensor, iso range, shutter speed and different photography modes. Each of these will be an important deciding factor on whether or not a drone is suitable for your requirements.
Lens
When we talk about the lens we must address all of these components:
Field of view: expressed in degrees and tells you how wide the drone is able to capture an image.
35 mm format equivalent: The term 35 mm equivalent focal length is a comparison of the field of view seen through a digital camera lens compared to the field of view produced by the older 35 mm film cameras.
Aperature: Also known as f-stops and controls how much light gets into the sensor and the depth of field.
Shooting range: will tell you how close and far away you are able to focus on an object (expressed in meters and to infinity)
Each different camera on a drone will have a different array of values for each of the above. Drones typically are not used for portrait or close-up shots so manufacturers make a lens that is suitable for long-range focusing with a wide field of view for those awesome landscape shots!
Sensor
The sensor is where light lands after it passes through the lens. This is part of the camera that turns the light into an electronic signal so that it can be processed and turned into a digital image. Here are the most important parts that you should pay close attention to:
Sensor type

CMOS – Complementary metal-oxide semiconductor. Includes solid-state circuitry at each and every photosite, and can manipulate the data for each pixel right in the sensor. The CMOS sensor can respond to lighting conditions in ways that a CCD can't.
CCD – Charged-coupled device. Captures photons (light particles) as electrical charges in each photosite (a light-sensitive area that represents a pixel). After exposure, the charges are moved off the chip to an amplifier located in one corner of the sensor.

Effective pixels – this tells you how many pixels can respond to the incoming light and correlates with the maximum resolution of the image.
Most new cameras have a CMOS type of sensor as they have better imaging processing capability. Even the Mavic Mini (DJI's entry-level drone) has this type of sensor.
The number of effective pixels and the quality capable of each camera is related to price. When you are buying a more expensive drone you will always get a better camera included. That is until you get to the professional-level drones that have interchangeable cameras and sensors.
Photography modes
One of the last important factors of drones for photography is the different photography modes that you can use.
This is starting to get very technical and for most people, this will not need to factor into their decision-making.
As an example of the different photography modes here is what the DJI Mavic 2 Pro offers:
Single shot: will take a single shot and it what most of us are used to with a camera.
Burst shooting: will take 3 – 5 quick-fire images so you can select the best one.
Auto Exposure Bracketing (AEB): The camera will choose one exposure (based upon what its metering thinks is correct) and then it will take one other shot on either side of this best guess (one overexposed and one underexposed).
Interval: Will take an image every so often as the settings dictate. Evert 2 – 60 seconds.
RAW: A RAW image offers very little processing from the image sensor. The camera saves the settings but does not process the image. There is much more freedom to edit the image but the file size can be 2 – 6 times larger than the processed version.
Automatic photography modes make it very easy for the absolute beginner to take the best drone photos. In the early stages of owning a drone.
They are a great way to learn about proper drone photography techniques. However, as you get more confident flying your drone and framing your shots you will end up relying on them less and less.
Here are some examples of drones and the sorts of camera specifications that they come with:
Drone
Camera Specifications
Mavic Air 2
Sensor: 1/2″ CMOS Effective Pixels, 12 MP and 48 MP
Max Photo Resolution: 48 MP 8000×6000 pixel
Video Resolution and Frame Rates
4K Ultra HD: 3840×2160 24/25/30/48/50/60 fps
2.7K: 2688×1512 24/25/30/48/50/60 fps
FHD: 1920×1080 24/25/30/48/50/60/120/240 fps
4K Ultra HD HDR: 3840×2160 24/25/30 fps
2.7K HDR: 2688×1512 24/25/30 fps
FHD HDR: 1920×1080 24/25/30 fps
Phantom 4
Sensor: 1-inch CMOS, Effective pixels: 20M
Image Size:
3:2 Aspect Ratio: 5472×3648
4:3 Aspect Ratio: 4864×3648
16:9 Aspect Ratio: 5472×3078
Video Resolution and Frame Rates
C4K: 4096×2160 24/25/30p @100Mbps
4K: 3840×2160 24/25/30p @100Mbps
2.7K:2720×1530 24/25/30p @65Mbps
2.7K: 2720×1530 48/50/60p @80Mbps
FHD: 1920×1080 24/25/30p @50Mbps
FHD: 1920×1080 48/50/60p @65Mbps
FHD: 1920×1080 120p @100Mbps
HD:1280×720 24/25/30p @25Mbps
HD: 1280×720 48/50/60p @35Mbps
HD: 1280×720 120p @60Mbps
Mavic Mini 3
Sensor: 1/1.3-inch CMOS
Effective Pixels: 48 MP
Lens
FOV: 82.1°
Format Equivalent: 24 mm
Aperture: f/1.7
Focus Range: 1 m to ∞
ISO Range
Video: 100-6400 (Auto), 100-6400 (Manual)
Photo: 100-6400 (Auto), 100-6400 (Manual)
Shutter Speed Electronic Shutter: 2-1/8000 s
Max Image Size 8064 × 6048
Still Photography Modes
Single Shot
Interval:
JPEG: 2/3/5/7/10/15/20/30/60 s
JPEG + RAW: 2/3/5/7/10/15/20/30/60 s
Auto Exposure Bracketing (AEB): 3/5 bracketed frames at 2/3 EV Bias
Panorama: Sphere, 180°, Wide-angle, and Vertical
When you first by drying the different camera options can be pretty confusing. However, with a little bit of practice and patience, you will be able to understand everything in the spec sheet for each drone.
Don't be fooled into buying the best drone on the market just because it's the most expensive.
Choose a camera that matches where you want the footage to and up and not just the drone with the best, most expensive camera.
Now, let's take a look at the different options for replacing different aspects of the drone.
Replacement options – drone safety and accessories
The more you fly your drone, the more likely you will need to end up replacing certain parts. For example, propellers and batteries are the most important part of your drone and the parts that will need replacing the most.
You will need to make sure that these are readily available in the country in which you live. Otherwise, every time you need to replace a part it could be and up being a very expensive exercise.
Here are the replacement options for the important parts of the drone and the most important things that you should consider for each.
Propellers
Propellers are to drones what tires are to cars. Without them, the drone would not be able to move, fly, stay in the air and do all of the things that we love about drones.
Propellers generate left, allowing the drones to gain altitude and hover in place.
For something so simple and inexpensive it is amazing that they are the most crucial part of the drone and need to be changed regularly.
Most of the stock propellers of drones are made of plastic. That is because they are soft and flexible. They are also incredibly cheap and very easy to replace.
Even if you don't need new propellers right now, it is a very good idea to always have some on hand in case you have a little accident or they become chipped while landing. You can find some pretty expensive carbon fibre propellers but this doesn't necessarily mean they are the best.
You should replace your drone propellers every 200 flight hours whether or not they have been damaged. I always keep some in my bag ready in case I need to swap them quickly. That way it doesn't destroy a full day's worth of flying and planning!
Batteries
Batteries are one of the most expensive components of owning and buying a drone. Drone batteries are made of lithium and a conductive polymer. Lithium polymer batteries are one of the best innovations for keeping drones in the air for as long as possible.
They store a lot of power and are incredibly light.
Every LiPo battery is made up of individual cells – between one and eight of them. Each of these cells is always rated at 3.7V and is fully charged at 4.2 V. If you let the battery drop below 3.7 V you will permanently harm the battery – so that is why you need to take special care of them!
The special technology that is required for drone batteries means that they are very expensive. It is common for drone owners to have up to 4 batteries so that they can extend their flight time and don't have to worry so much about charging up batteries in between flights.
Before buying a drone, just make sure that you can get good quality, original and authentic batteries directly from the manufacturer.
Steer clear of secondhand and third-party batteries if you can, because they can damage the drone.
The propellers and batteries are the most important things you should consider replacing when you own a drone
. So before you buy a drone make sure that you can buy them at a relatively good price and that they are available in your country. No lights. Take a look at one of the most important things to consider before buying a drone – the cost.
Cost – what you need to know before buying
You can pick up drones now for as little as US$50.
Drone technology has become so inexpensive that it's available to almost anyone. However, you can spend up to US$2,000 on a drone with advanced technology cameras or specific functions.
The most important thing about buying a drone is that you don't put yourself under financial stress for the sake of having a new gadget.
There are plenty of other options for buying high quality and higher and drones for a lower price – if you want to know more about buying a second-hand drone. 
Check out my other article – click here. The article has a 50 part checklist to make sure you don't waste your money buying a lemon!
If your budget is under $500. Check out my other article which goes in-depth and talks about the best drones under US$500 – click here to access article.
There is no day in my mind that you will be able to find a drone that matches your budget with the functions that you need it to have. You may have to buy a secondhand or you may have to buy a drone from a manufacturer that is not as well-known as DJI.
Now, let's take a look at another really important part of buying a drone which is any accessories you may need to buy to make it do the thing you want it to do.
Drone Accessories
Drones can come with a load of really awesome accessories which make flying much more of a pleasure. Accessories can be from the original manufacturer or a third party. Some drone accessories are specific to the drone model that you are buying. So before you buy a drone, you should consider what accessories you need to purchase to make sure that it does the things you wanted to do. Examples of the sorts of accessories that are common for drone pilots to use are:
Landing pads
Sun shields
Range extenders
Lanyards
Drone fishing bait release
Polarized sunglasses
neutral density filters
etc
Each of these accessories as a small extra cost to the overall cost of purchasing a drone. Even though they may seem insignificant, if you buy a load of accessories, it can soon add up to a lot of money.
Controller type
One of the last most important aspects of things to consider before buying a drone is the controller that you get with the drone. The controller is literally the only thing that stands between you and a drone in the distance, so you need it to be reliable and easy to operate.
There are a range of different types of controllers, some as simple as a smartphone app.
The controller type will completely dictate how enjoyable your flying experience is. Having a controller also allows you to fly further, and have shortcut buttons to important features during your flight.
The DJI controllers are some of the best that the drone world has to offer right now. They interface with a smart device such as a phone and a tablet and provide a first person view of what the drone is seeing in real time.
So, before launching in and buying a drone. You should not only look at the drone itself but also the controller and controller options that come with the drone.
This will make sure that your flying experience is as enjoyable as possible and you have full control over your drone as you are piloting from the ground.
Finally, you should pay particular attention to the rules, laws and regulations that exist in the country you intend on flying your drone.
Check your country's legal requirements – should you register your drone?
The country in which you intend to fly your drone dictates essentially how much fun you can have after buying a drone. Some laws and countries have drone regulations that make it incredibly hard to fly your drone freely. Before buying a drone. You should check that you don't have to get advanced training, expensive licenses, or register your drone.
Here are links to a few different countries' regulations in terms of drones and where you can and cannot fly.
Drone flying restriction in USA
Drone flying restriction in Canada
Drone flying restriction in Australia
Drone flying restriction in UK
If you're not sure about the rules and regulations in your country of origin, then get in contact with the organisation that controls the airspace. They will be able to guide you in the best things to do and consider for buying a drone.
It would be a tragedy if you bought a drone and then find out you couldn't fly it in your country, or in the most beautiful parts of your town or city.
Conclusion – what you need to know before buying a drone
So there we have it. Those are all of the really important things that I think you should consider before buying a drone. Taking your time and planning what you want a drone to do and the features you need to have is one of the most important things to do before buying a drone.
I can guarantee you that if you spend time addressing each of the topics above the drone you buy will be perfectly suited to what you wanted to do and it will be at a price you want it to be.
Happy flying my drone flying friends!