There are many reasons why you may want a waterproof drone. A waterproof drone allows you to take a drone where you are normally very scared to. This includes over the surf, landing on water, on the beach for fishing trips, and much more. Having a waterproof drone gives you extra peace of mind when taking your new expensive gadget on trips and adventures.
The best waterproof drones on the market are Splash drone 3+, Gannet pro, and Swellpro Spry +. These drones allow you to drop bait for drone fishing, capture or some footage close to the water, and allow you to take a drone places that you be scared to take a normal drone.
In this article, we are going to go over all of the best waterproof drones currently on the market that allow you to film in exotic locations, fish off the beach and catch huge game fish, take your drone on a boat without fear, and also allow you to use your drone as a rescue tool.
Because of the varied range of activities people want to do with a waterproof drone a number of factors come into play such as battery life, portability, and waterproof rating. Clearly, for people who want to take their drone fishing it needs to be portable so they are able to take their drone with all of their fishing gear with ease.
In a hurry? Here's the best waterproof drone:
Swell Pro SplashDrone 3+
This drone is the most reliable and versatile waterproof drone created by this company. It has a range of modular waterproof accessories that you can quickly change to suit your needs. You can choose accessories such as cameras, release mechanisms for fishing as well as waterproof cameras and search and rescue equipment.
How much does a waterproof drone cost?
Top waterproof drones
Swell Pro SplashDrone 3+
This drone is the most reliable and versatile waterproof drone created by this company. It has a range of modular waterproof accessories that you can quickly change to suit your needs. You can choose accessories such as cameras, release mechanisms for fishing as well as waterproof cameras and search and rescue equipment.
The thing that allows this drone to work so well is the exclusive ventilation technology which has a pressure equalisation system that allows the altimeter to be as accurate as possible without permitting water entry.
Whether you want to fly this drone in water, rain, and snow the drone can handle it all.
It is able to fly into winds up to 18 mph (28 km/h) with gusts up to 31 mph (49 km/h)
The controller is an all in one controller which has buttons and toggles which allow you to control the drone whilst also controlling payload release as well as the camera settings and direction. The remote control comes with its own 5 inch first person view screen which clearly displays the live video as you are flying a drone and also the flight data. I know that it's handy to have a remote control with all this in one as sometimes connecting your smart phone can be a barrier for getting in the air quickly.
extended flight time up to 23 minutes
full body IP67 waterproof body
GPS module and lost drone location beacon
up to 4K video and 16 MB photos (with additional camera purchase)
65 km/h top speed
floating design
all in one remote controller
flexible at control
follow me mode, circle flying, tap to fly, returns home.
Gannet pro
The gannet drone has been designed as a lightweight but powerful delivery drone. It was designed to carry lifevests for search and rescue operations and was expanded to include other items – such as fishing equipment.
The Gannet drone is designed to fly forward better than any other direction – cutting through the wind and getting your bait out faster! When hovering in place, the elongated body is slanting backwards this so that when the body is horizontal the drone is already travelling forward at speed. This results in the smallest possible frontal area cutting through the air conserving battery power as much as possible making these some of the most power-efficient drones on the market.
The black and white are also designed so that it stands out against the blue of the sky – making it easy to spot from shore. Here are some of it's features:
Fully waterproof
Up to 2.5 kg payload
Water and Sandproof so you can land on the beach with confidence
LCD display for drone telemetry, battery, and GPS status, use with or without a smartphone (camera is extra)
Fully sealed electronics, preventing corrosion of electronics, despite needing uninhibited barometric pressure sensing
Failsafe electro-mechanical payload release that can be mechanically or electrically activated
Expandable with the option to add external long-endurance batteries and custom payload bays
Bright onboard lights for easy night navigation
This drone has it all for your next fishing adventure!
Spry+
This drone is a portable and compact all in one waterproof drone. The aircraft and the remote controller of this drone are completely waterproof and corrosion resistance. This means that if you are interested in capturing footage very close to the water for example when surfing it will be safe. It is even able to land and take off from the water.
4K 30 frames per second video shooting and 12 megapixel photos
64 GB SD card storage
six normal flight modes – GPS mode, circle mode, ATTI mode, follow me mode, or to return, circle and follow mode.
65 km/h top speed
intuitive app control
It does have a out on feature for you to take while fishing but ultimately this is the perfect drone for the photographer who wants a waterproof drone to take to surfing and other water sports and wet adventures where you'd be scared to take a DJI drone.
PowerVision PowerEgg X
This drone is only waterproof if you install the waterproof accessories. That means it can fly in the rain and take off and land on water. It has been designed to perform well in aerial photography of watersports and also can be used to fly in the rain with the same accessories.
You need to buy the wizard pack with this drone so that it includes a waterproof case for the camera as well as legs which allow it to land on water.
4K at 60 frames per second
Voice sync to capture the audio from your mobile while flying.
30 minutes flight
3.7 miles image transmission
AI camera mode
drone mode three axis gimbal
waterproof with wizard package
20 knot or 10 m/s wind resistance
if you're looking for a camera solution which can automatically stabilise and follow people as well as becoming handheld camera and a drone look no further than this awesome bit of technology. If you are not using it as a drone it has a maximum battery life of 3 ½ hours which means that you can take it on some pretty serious recording missions.
Braha Aqua Drone
This drone is the most inexpensive drone on the list. At only US$40 in price it is a waterproof drone not break the bank. Even though it is cheap it's built in six axis gyroscope gives you precise hovering and allows for easy control. You can fly this drone in rain or shine as it is waterproof.
However, I do not think that this is the sort drone you would want to take out for serious surfing trips or for drone fishing.
The features include:
Indoor/Outdoor Flight Capability and Waterproof
6 Axis Gyro Stabilization System
Built-in rechargeable battery- charges with USB cable included. Charges in 45-60 minutes
Flight Time: 10 Minutes
If you are looking for a toy drone which is waterproof look no further than this drone. However, if you want something more serious you have to spend much more money to get a drone which can handle fishing and landing on the water.
If you look at other blogs and articles about waterproof drone is your know is that a ton of the drones are no longer in production. In this list we have covered the drones which have reputable manufacturers as well as forward thinking teams which I'm confident will be around for a long time and will deliver excellent products at a reasonable price.
Even though fishing is an obvious overlap with waterproof drones there are many more things you can do with it and we are going to have a look at some of the uses for a waterproof drone, below.
Uses for a waterproof drone
There are many uses for a waterproof drone that go beyond fishing.
Fishing
To the diehard angler, having a drone way just seem like a silly gadget! On the contrary, a drone opens up a whole new way to fish from the shore or from a boat and here are the reasons that drones will open up your fishing world!
Scout new angling spots
Taking a drone with a camera on the front isn't just for dropping the bait. You may want to take the drone out before you have even settled on a fishing location to scan the beach or coastline for the best fishing locations given the conditions on the day.
You may even find a hidden spot in a familiar fishing location that you hadn't seen before. Using the drone as a simple scouting device may be the only reason you need to take it out on your next fishing trip. However, the benefits do not stop there!
Find the schools of fish
Having a drone fitted with a camera gives you a bird's eye view of the world. And just like a bird, you will be able to spot the schools of bait fish or other fish as you fly above the water. It is much easier to see into the water from directly above ti so you'll be able to spot the bait fish with no issue or glare from the ocean.
Using the camera mounted on the drone you'll quickly be able to identify the perfect spot for dropping the bait. In this YouTube video these fishermen are able to find a ball of bait fish that tuna are attacking and drop their hook right into the mix – it's a pretty incredible sight to watch:
Surfing
Waterproof drones can also be used when you go surfing. For example you can use your waterproof drone to:
Check surf conditions – by using a waterproof drone you can fly confidently over the waves and fly nice and high so that you can pick the best sets of waves coming into the beach. You may be able to spy and opportunity that no one else can see because they do not have the aerial advantage that you have.
Record your surf -some of the drones on this list have automatic follow me mode and will track a item in the water, that includes you as a surfer. That means that you are able to get footage of your surf so that you can review your performance as well as capture those moments where you are completely in the zone.
If you are regularly surfing in amazing locations you can use your waterproof drone to capture some amazing footage that also use it as a rescue tool if any of your fellow surfers get into trouble.
Rescue
You can also purchase various add-ons for the drones in the list for rescue purposes.
There are many different types of ways that you can use a rescue drone. You can fly quickly over disaster zones which help rescuers assess the situation and plan their rescue mission. You can also search for missing or injured people in a disaster area, storm, flood and ocean area. Finally, you can also deliver life-saving equipment to victims whilst remaining at a safe distance.
Depending on the sort of drone that you have you can carry up to 10 kg of rescue equipment to drop on the person in distress.
The benefits include the fact that waterproof drones are able to access hard to reach areas and, importantly, they are able to execute missions in all weather conditions. This dramatically reduces the cost and risk of missions, typically you have had to have manned aircraft to do a similar job.
Flying regularly over water/rain
If you are a type of drone photographer who flies regularly over water you have an increased risk of serious accidents that involve your drone ending up in water.
If you are flying regularly over water all year in a country where it rains often during your photo shoot you may want to consider buying a waterproof drone. In recent years the waterproof drone technology has collided with the high definition camera technology which means that the camera is also completely waterproof. This means you are able to capture smooth video whilst flying as well as underwater when the drone is floating on top of the waves.
Special coatings help keep the lens clear and dry soon as your drone returns to the air and when it is flying in the rain. This means you can be confident that you are capturing the best footage possible no matter what the conditions.
Frequently asked questions
Here are some of the most frequently asked questions about drones and water. Whether or not your drone is waterproof there are some things to consider if using your drone near water.
What happens if my drone gets wet?
If your drone lands in water the first thing you should do is act faster disconnect all of the power. If you've landed in saltwater you should flush the drone distilled water and use silica beads (not rice) to dry out the drone for at least five days. After this, you can turn the drone back on and cross your fingers for a full recovery.
If you want to find out more about how to fix a drone filling water check out my other article – how to fix a drone fell in water? The six important steps you need to follow – click here to be taken to article.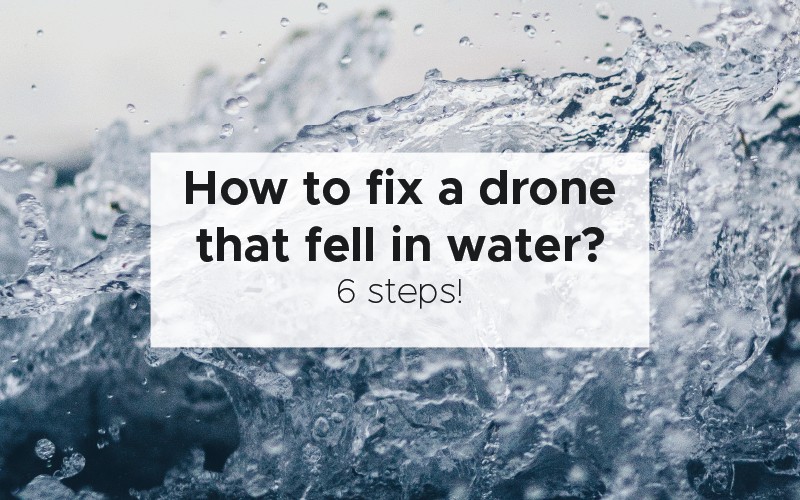 Do drones sink?
If you have purchased a waterproof drone it is likely that your drone will not sink if it lands on the water. However, if you have a regular drone it is likely that once it has been flooded with water in the body and frame – it will sink.
This is because for something to sink it needs to weigh less than the water it displaces. If it does not displace much water it will sink and because a drone is not designed to be waterproof it will not displace much water and rapidly become flooded on the inside.
How do you waterproof a drone?
Waterproofing your drone comes down to physically coating the electronics in a water repelling (hydrophobic) coating. There are a couple of options for coating your electronics so that you can protect your drone from things like humidity, snow, or electrical shorts from exposed solder joints.
Coat electronics in silicone or acrylic
there are two methods for waterproofing drone electronics. That is using silicone and acrylic coatings. In general silicone is a better choice as it can withstand higher temperatures but acrylic is easier to remove as you can use your soldering iron to remove the coating.
No matter what you are using to coat your electronics you have to ensure that there is a thin even coverage across the entire surface for it to be properly protected.
If you're building your own drone it is very easy to get access to all of the electronic components rose if you have a commercial drone you will have to do try to remove the outer covering without snapping any of the plastic tabs holding it in place.
The first step is to clean any circuit boards using an old toothbrush and isopropyl alcohol.
After the isopropyl alcohol has dried you should brush on the coating using the brush that comes supplied with the product. It should only take about an hour to dry but leave it for as long as possible to ensure that it is not wet at all before reassembling or turning on your drone.
Make sure that you don't put the coating on anything that needs an electronic connection such as USB inputs. If you accidentally cover an area that requires a metallic connection you can remove the coating with a small amount of isopropyl alcohol on a cotton bud.
Summary
In this article we have gone over all of the best waterproof drones that you need to know about. The past articles that exists currently online include drones neither are not available because the companies have gone out business or drones that are simply not suitable for landing on water.
There are a huge range of drones that are able to do a number of things which require a waterproof body. This includes fishing, search and rescue, landing on the water, boating, and much more. If you are in the market for a versatile drone and you are not too concerned about the budget you should consider purchasing the Splash drone 3+.