Have you noticed that the DJI go 4 app is no longer on the play store? You may be wondering if DJI has ceased supporting this app or if it is actually still safe to use.
The DJI GO4 app has been removed from the play store due to compatibility issues between DJI and Google. It has been removed from the play store but you can still download it directly from the DJI website.
It is still incredibly safe to use the app as long as you make sure that you are using the official download. It is still available on IOS on the Apple store.
Currently, the only way to install the app onto your Android device is to download it directly off the internet, and then "sideload" it onto your phone.
Not everyone is comfortable downloading applications from anywhere other than the Google Play Store.
The file you download from the DJI website will be in .apk format.
Simply click on the .apk file and follow the prompts to install the app onto your smartphone. Sometimes you have to accept a security warning and allow apps from third parties – as long as you have got your .apk file directly from the DJI website you'll have no problems whatsoever.
Why isn't the DJI app on the play store? What about the DJI Fly app?
Neither Google nor DJI have specified the precise reasons why DJI chose to remove their apps from Google Play store. We can only assume that it is due to a difference in opinion between Google and DJI developers.
The closest we have to an official response from either side has come from the DJI Support Twitter account, and a reply posted to a service announcement on the DJI forum.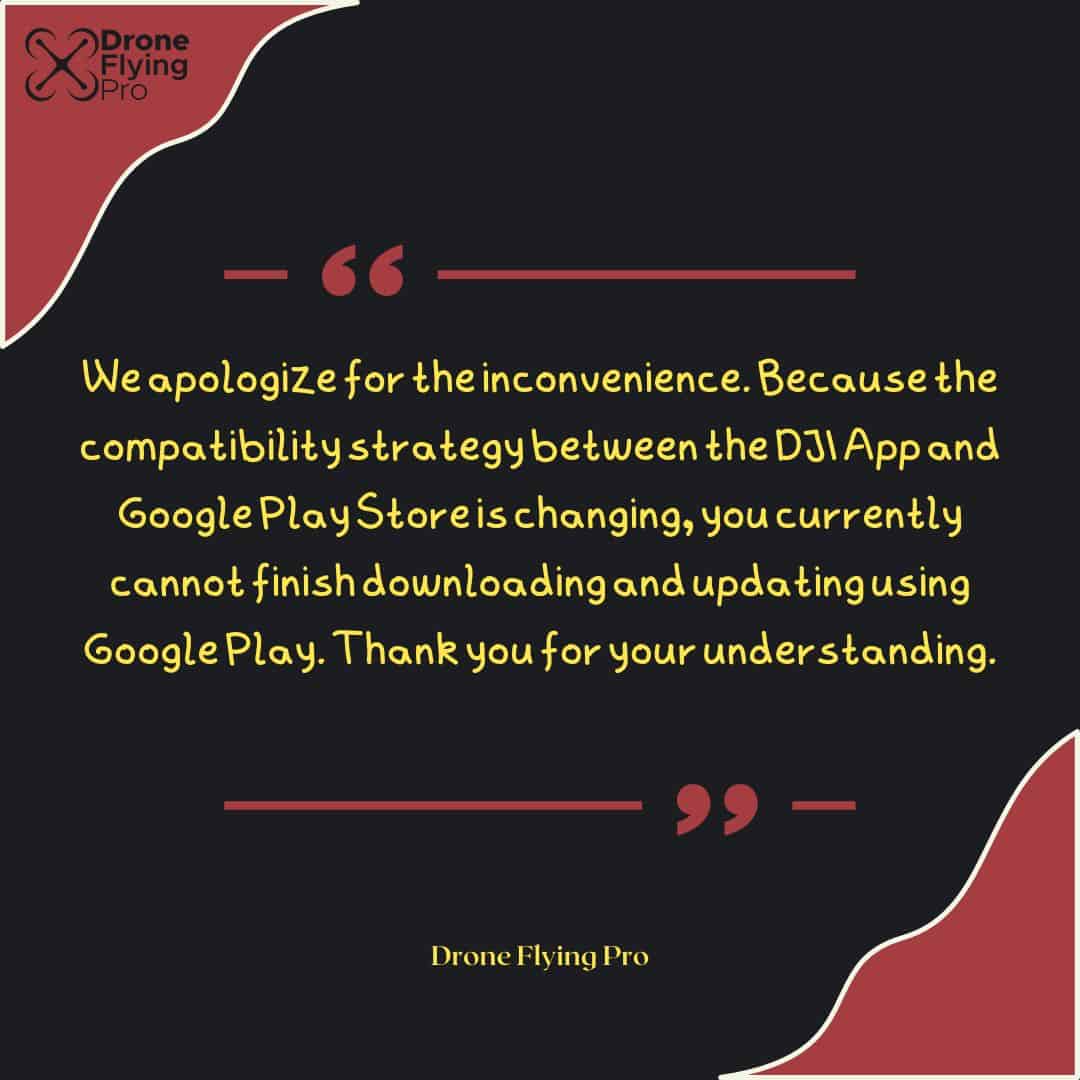 We apologize for the inconvenience. Because the compatibility strategy between the DJI App and Google Play Store is changing, you currently cannot finish downloading and updating using Google Play. Thank you for your understanding.
The upshot of this is that you will not be able to update your app automatically using the Google play interface, but you'll be able to reinstall the updated DJI GO4 app from the download centre if you are facing issues.
The DJI GO4 app is compatible with the Mavic series, Spark, Phantom 4, and older DJI drones. Do not worry if you have a newer drone you can use the DJI fly app.
DJI Go 4 App Is It Down? Why the app crashes.
It can be very frustrating when the app isn't working. The DJI app allows users to:
control their drone,
view live footage,
edit footage,
and more.
Unfortunately, there have been reports that the DJI Go 4 App has been down recently for some users.
It is possible that app crashes for a variety of reasons without warning. 
This can cause frustration and disruption when trying to use your drone. If you are experiencing any issues with the DJI Go 4 App, be sure to check online for any updates or fixes from DJI or other sources – such as the DJI forum.
If none of these helps you, you may want to try resetting your device or restarting your phone if you are still having difficulties with the app.
Restart your the app and phone
Follow this if you want to force the app to work again. It has worked for me in the past.
Uninstall the GO4 app
reinstall it from the DJI official site.
Then power off your phone (not restart)
then power back on.
If you have other concerns about your DJI GO 4 app not working, check out my other article where I go through everything you need to know about troubleshooting and getting it working again.
Alternatives to the DJI GO4 app – other options from google play.
Trying an alternative to the DJI GO4 app may be your only option if you are not happy sideloading a downloaded app onto your phone.
If you're looking for alternatives to the popular DJI GO4 app, there are a few options out there.
One is Skydio 2, which has been designed specifically for drone pilots and is compatible with most drones on the market.
Another option is Autopilot, which offers advanced flight modes and mapping tools that can help you plan and execute your missions more easily.
All of these apps can provide an alternative to DJI GO4 for those who are looking for more advanced features or simply want to try something different.
Wrapping up
This article has been through everything you need to know about why the DJI GO4 app is no longer on the google play store.
Worry not, it is still available as a direct download on the DJI forum. The latest version is still safe to use on your smartphone and can be reinstalled at any time.
Make sure you have the right version of the app for the model of drone you are flying.