There are plenty of awesome reasons to buy a drone. And in recent years there is no need to be an expert pilot to have fun flying a drone and capture awesome footage. With the inclusion of artificial intelligence technology in consumer-level drones it is easy to get flying within minutes of opening the box.
Many drones will auto hover, also stabilize, return to home, and even have active obstacle avoidance making many new drones perfect for beginners. For these advanced features, however, you will need to pay more money.
The easiest drone to fly will have a great combination of advanced flying features and sensors to keep the drone safe during flight. The drone should include auto hover and GPS stability as well as sensors which stop the drone if it gets too close to an obstruction.
The easiest drone to fly is the DJI Mavic air 2 but if your budget doesn't stretch to that the DJI Mavic mini is also an absolute pleasure to fly.
In this article, we will have a look at some of the easiest drones to fly that are currently available. And will have a look at the important features that you should look for when buying a drone that is easy to fly for beginners. If you want some more information about getting better at flying a drone you can check out my other article – here. And you can also find out more about if it is hard to fly a drone by clicking here.
Which drone is the easiest to fly for beginners? – The DJI Mavic air 2 or DJI air 2S
The DJI Mavic air 2 is one of the easiest drones to fly for a variety of reasons. One of the most important reasons this drone is easy to fly is the range of sensors and its vision system. For example it has this array of sensors and cameras:
forward sensors – the forward sensors have a precision measurement range of 0.35 to 22 m and a detection range of up to 44 m. It can detect movements and distances while it is travelling up to 12 m/s and has a wide field of view so you can be sure that it will capture everything in its path. It has a 71° horizontal and 56° vertical detection field of view.
Backward sensors – the backward sensors have a measurement range and detection range very similar to the forward facing system but the detection range is up to 47.2 m. It also boasts a pretty impressive field of view with 44° horizontal and 57° vertical field of view.
Downwards – the downward sensors allowed for a measurement range of 0.1 to 8 m and a hovering range of up to 30 m.
The array of sensors on the DJI Mavic air 2 is impressive. It also has an advanced pilot assistance system (APAS) which controls its active obstacle avoidance system.
DJI Mavic Air 2
I love my Mavic Air and was happy when DJI decided to upgrade the drone. It seems like they have done it in all of the right ways! The Mavic Air 2 takes power and portability to the next level, offering advanced features in a compact package. It has a range of intelligent shooting functions and excellent image quality putting aerial masterpieces within reach.
The camera includes:
1/2-inch CMOS sensor: it has smooth 4K/60fps video. The D-Cinelike flat color profile retains more information for post-processing. The HEVC (H.265) video codec records more image information, uses less storage, and preserves the dynamic range and detail of your footage, ensuring next-level content.
8K Hyperlapse: this will allow you to simply warp time and space for especially stunning footage.
this is an inexpensive and ultra-portable drone that I think you'd be silly not to consider if you want to be a little more budget conscious.
Weight – 570 g
Dimensions

Folded: 180×97×74 mm (Length×Width×Height)
Unfolded: 183×253×77 mm (Length×Width×Height)

34 minutes max flight time
Max wind-speed resistance – 8.5-10.5 m/s
8 GB internal storage
Max speed – 19 m/s
This is a great little drone and it will satisfy most hobby photographers easily!
Up Your Game: The Mavic Air 2 camera drone takes power and portability to the next level. It combines a powerful camera with intelligent shooting modes for stunning results.
Next-Level Content: Capture impressive 48MP photos with a 1/2-inch CMOS sensor while the 3-axis gimbal provides 4K/60fps video.
Improved Flight: An impressive flight time of up to 34 minutes allows you to pull off epic, fast-paced shots.
Intelligent Tracking: Mavic Air 2 features intuitive shooting functions that make aerial photography easier than ever.
Video capture resolution: 4K HD
Pros
+ Very portable
+ Cheaper option than Pro
+ Great intelligent flight modes
Cons
~ 4K 60FPS only available in manual modes
~ No side obstacle avoidance
The DJI Mavic air 2 also has an upgraded remote controller and an incredible forward-facing camera that you can get a first-person's view of the drone at all times.
It uses the Ocusync 2.0 system which is transmitted over 2.4 GHz or 5.8 GHz frequency range. This means you will always be able to choose a frequency that is not busy, and you will be able to always have maximum signal to control your drone.
One of my first drones was the DJI Mavic Air and this looks like a welcome upgrade to that drone. I absolutely love the DJI drones and would recommend them to anyone who wants an easy-to-use consumer grade drone that puts the pilot at the centre of their design decisions.
Let's take a look at some of the other drones that are super easy to fly and then we will also look at a buyers guide so you can be sure that you will be purchasing a drone that you will be able to easily fly.
Other awesome options for easy to fly drones for beginners
Here are some other options for easy to fly drones that will not break the bank. At this price point, you are not going to have a load of sensors or advanced artificial intelligence-driven flying systems. This does not mean that these drones aren't easy to fly it just means that you have to pay extra attention and fly cautiously in closed flight situations.
DJI Mavic mini series drones
The DJI Mavic mini does not have any forward or backwards facing sensors. It only has a downward facing sensor with an operating range of 0.5 to 10 m.
The sense of the use picks up nonreflective services best with lighting of greater than 15 lux. That is the brightness of a typical living room and if you're flying outside you don't need to worry about providing this sensor with lights there will be plenty.
DJI Mavic mini
The DJI Mavic mini is a super lightweight, portable drone that can be flown outside without registration in a load of different countries. It is incredibly compact and light which means that this drone can stay in the air for up to 30 minutes – which is longer than most drones which are much more expensive. Just because you are paying less it does not mean that you are skimping out on other really important drone features.
It can support 12-megapixel aerial photos and can shoot high definition (2.7 K) videos. In such a small device you even have a three-axis motorized gimbal so you can be assured of a steady and blur-free recording or photography session. It even comes with a remote controller so you can keep track of your drone and control it with ease. Having a controller cannot be understated it really improves the piloting experience.
Pros
+ 30 min Max. Flight Time
+ Under 250 g
+ Smart features of much more expensive drones
Cons
~ No 4K – understandable at this price point
~ Effected by strong winds
~ No avoidance sensors
The reason the DJI Mavic mini is easy to fly is that is incredibly light and small and it comes with a dedicated remote controller. Having a dedicated remote controller is so very important to make the drone easy to fly. It can also be controlled by the DJI app but having a remote controller just makes things so much more easy and simple to fly.
Parrot Anafi FPV
The parrot Anafi is a really awesome beginner drone. The reason it is so great is that it has advanced visual tracking powered by artificial intelligence and a dedicated remote controller that is really easy to use. This is the only drone on the list that does not have any sensors for flying but it does include all of the satellite positioning systems such as GPS and app features such as follow mode which make this really easy to fly and get awesome photos and video – if that's your thing. On the Anafi website it shows that you are able to take off in as little as 28 seconds with a battery life of 26 minutes flying time. It is also resistant to winds of up to 50 km an hour which makes it perfect for beginners as it gives you the confidence to take the drone out in relatively high winds.
Parrot Anafi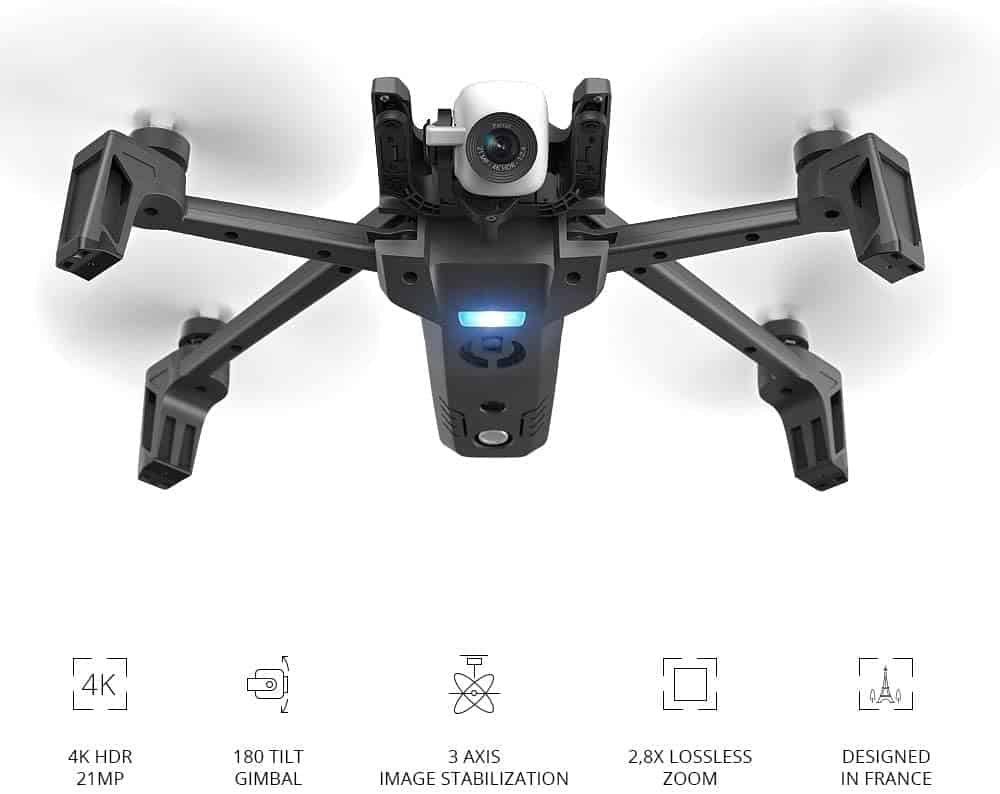 This drone comes with a 2.8x zoom – more than the DGI. Which means that you can capture images from even further away. Capturing wildlife drone footage without hassling them has never been easier!
If you are on a tight budget you'd be silly to not look at this drone seriously!
This drone with a camera equipped with f/2.4 wide angle ASPH lens, HDR, and up to 2.8 times digital zoom captures spectacular 4K videos, Full HD or 2.7K videos (2704×1520), and 21 MP photos without loss of quality. Additionally, you have a timer, a Burst mode that captures 10 photos per second, and wizards to take over professional settings
The ANAFI Parrot Drone can have up to 25 minutes of filmed flight time thanks to an intelligent Li-Po battery that optimizes its life and charges 60% faster using the Power Delivery USB Type C charger; Operating Temperature range: -10°C to 40°C
With its ultra-compact and lightweight carbon frame (320 g), this quadcopter drone unfolds in less than 3 seconds, reaches a speed of 55 km/h in sport mode and withstands bullets up to 50 km/h
Equipped with a Parrot Skycontroller 3 folding remote control, the ANAFI Parrot Drone can be located at any time thanks to the activation of your smartphone's vibrator when attention or immediate action is needed, as well as the Geofence, SmartRth, and Find My Drone functions
Software updates can make changes to existing features, further enhance ANAFI's reliability and performance, or offer new experiences. It is therefore important to have an updated FreeFlight 6 application and to accept the proposed software updates. Max charging power 24W
This drone is a fantastic alternative to the DJI ecosystem but it is not any less powerful. This is perfect for anyone who wants to explore as it has got a 2.8 times Zoom which is something that you need to spend a lot of money on to get in other drones. The low noise design means that you can explore above wildlife and people (if your jurisdiction allows) without causing distress or annoyance. If you're looking for one of the best drones for exploring – this could be it.
Pros
+ 2.8x Zoom
+ Inexpensive
+ Low noise design
Cons
~ Shorter battery life than the DJI drones
~ Shorter range than DJI
Unlike the DJI drones the parrot Anafi is compatible with a range of other software such as Pix4Dcapture and Pix4Dmapper so that you can collect flight data and plan flights.
This makes the drone easily extendable into a surveying and map collection drone for professional and business purposes.
So this is a beginner drone that you can extend the functionality as you need to. That sounds great to me!
DJI Mini 3 Pro
The DJI Mini 3 Pro is a fantastic drone that packs a wide variety of features into a very small form factor. Not only does it have an excellent camera, but it also has all of the automatic flight modes that DJI users have come to love and expect.
Return to home is one of these important flight functions that will keep your drone safe and allow you to fly confidently.
Next, let's take a look at what makes a drone easy to fly so that you can buy a drone that can be launched within minutes of opening the box. The good news is that most of the modern day drones come with these features.
Buyers guide for a drone that is easy to fly
If you are looking for a drone it is easy to fly I think these are the things that should be on the top of your priority list. Each new drone release comes with more technology and pilot orientated advancements. The first thing I look at when I am considering a new drone is the remote controller that the drone comes with.
4K camera
You don't always have to do purchase a drone with an awesome camera. However, getting a drone with high-definition first-person video will make it very fun to fly and the video footage will help you navigate your surroundings.
The good news is that there are more and more options for cheap beginner drones that have high-definition live video streams to keep you safe.
Remote control
The remote control is the pilots only connection to the drone while it is in the air. That's why you need to consider how easy the drone remote control it is to use as well as its placement of buttons pads and triggers.
The first thing I try to get a gauge of is how comfortable the remote control is in my hand. The DJI Mavic series drones come with a very portable and easy to use controller. There are a multitude of buttons and wheels as well as to programmable function buttons that I have set as "centre camera" and "camera options" as these are the things that I want to have access to easily during my flight. The joysticks for the right and left thumb are in a good position and I can comfortably reach all of the top buttons to be operated by my index fingers.
The joysticks are by far the most used aspect of a drone remote control and therefore they need to have a strong positive feedback mechanism so that your drone controlling feels comfortable and safe. You want the joysticks to not have too much resistance but have solid construction.
In summary, considering that this will be the main point of contact with the drone during your flight make sure that it is as comfortable for you as possible. Nothing can ruin a flying experience or make a drone hard to fly quicker than a bad or non-existent remote control.
You may want to consider a drone that is controlled by an app. Proceed with caution. This is because the drone will be controlled via the Wi-Fi or Bluetooth connection to your phone.
That means the flying experience will be dictated by the quality of your phone and have easily it can run relatively advanced software. If you have a top of the range phone this shouldn't be too much of an issue for you. However, if you have a phone that is not the newest model it may present you with significant piloting issues.
Sensors
The second most important thing to consider when buying a drone that is easy to fly are the sensors that come embedded in the drone. These sensors are typically found in three locations:
forward facing sensors – the forward facing sensors will detect anything that comes close to the front of the drone. In many drones with the sensors the drone will automatically stop about 3 m away from the obstruction and refuse to move.
Backward facing sensors – the backward facing sensors arguably more important than the forward facing sensors because while you are flying you do not know what is behind you. This is because the camera on a drone always faces forward. I can't tell you how many times my backward sensors have stopped me from coming into contact with tree branches and trunks because I simply did not see them.
Downwards facing sensors – downward facing sensors are used to check safety during takeoff and landing. Also when you are flying around and you don't have line of sight they can also make sure that there is nothing below you if you want to descend in altitude.
Each of these sensors could be as simple as a distance measuring radar or it could be a secondary low resolution camera.
The secondary low resolution camera is typically important in downwards facing sensors as it can help bring the drone into land during auto return to home.
The DJI drones have a precision takeoff and landing setting where the drone will take photos of the takeoff spot from a height of 5 m which allows the drone to securely and safely return to the exact spot that it took off from. A really easy way to take off and land I'm sure you will agree.
Auto hover
Auto hover relies on the drone being able to detect its GPS location as well as its altitude.
After detection, the drone will use the appropriate hardware and software to keep itself at that location and height.
This is very important for beginner drone flyers and people who want drones that are easy to fly as when you take your hands off the controller the drone will stop in its current location and do nothing else.
This is incredibly important as there are a number of things that a drone pilot has to think about it once.
Sometimes it can become a little bit overwhelming and therefore we need to have a failsafe so the pilot can move their attention to another aspect of the flight. Whether that be taking a photo or video or simply attending to something on the ground. This means that you can do so safely and is super easy.
As a beginner drone pilot that once a drone that is easy to fly this feature is your ultimate failsafe. If in doubt you just leave the controls alone and the drone will look after itself. The next important part is auto takeoff and landing.
Auto land and take off
Any drone pilot will tell you that the most dangerous aspect of any flight mission is the takeoff and landing. This is where the drone has to get away from the ground quickly otherwise it can be caught up in its own downdraught. Look for a drone that has a one button automatic takeoff.
For example in the DJI GO4 app, all you have to do is swipe right on the auto takeoff and the drone will take off and hover at a flight of 3 m.
You can enable precision takeoff where the drone will automatically take off and take photographs of the landing area so that when it comes into land it will have the best chances to land in the exact takeoff spot – improving safety and fly ability.
Auto landing is something that is a fantastic failsafe if you just need to bring the drone home safely. I've never have to use auto landing for a reason other than wanting to try it out. But every time the drone has returned it has returned safely and without any issues. That means that if I want to bring the drone home in an emergency situation I trust that it will do so under its own steam.
Another thing that you should consider for your drone that is easy to fly is beginner mode.
Beginner mode
Some drones come with beginner mode. Many people find it very comforting to start the droning beginner mode as it is much easier to fly the drone because it limits its top speed.
The beginner mode settings will allow you to reduce the speed of the drone while flying and also make the joystick responses much smoother.
On the other end of the spectrum is sport or advance mode where the drone will use maximum acceleration and stopping throttle during its flights. Even though this is really fun it can be very intimidating if you are new to flying and not sure how the drone will respond to the movement of the joysticks.
Auto imaging and photography modes
Many new drones come with automatic shot capturing methods.
For some reason with our drones and the software, we steer clear of the automatic shot features that the manufacturers have worked hard to embed in the drone.
Different flying modes like cinema graphic mode, tripod mode, and quick shots allow you to capture professional level drone footage without having to think too much about the piloting aspect. Quick shots that are included in the DJI series includes:
Rocket – your aircraft will hover at a low wide angle viewpoint and then suddenly shoot upwards like a rocket lifting off into space while maintaining a downward is facing camera.
Helix – helix creates a circle around the subject keeping the subject in the frame of view. As the drone circles it also flies outwards and upwards in a spiral like motion.
Dronie – the camera fixes on a subject and then flies backwards and upwards whilst keeping the subject in frame. This makes this one perfect for revealing breathtaking locations and landscapes and is one you have almost certainly seen in drone footage.
Circle – the drone keeps the camera focused on a subject and circles it slowly keeping a constant distance.
Point of interest – the camera will fix on a selected point in the image and as you move the drone the camera will keep the point of interest in the centre of the frame. This means you can focus on flying rather than controlling and operating the camera and gimbal.
Some of these drone shots can seem and feel a little bit cheesy but they do make flying and capturing footage at the same time simply awesome, easy and fun.
What is the best drone to start with?
The best drone to start with will depend on what you wanted to actually do. You should check out my complete drone buying guide if you are unsure of how to buy and purchase a drone. If you stick with the above features that I think are super important for making a drone easy to fly you can't really go to wrong.
The best drone to start with is one that you can afford and that has the features that you want to practice. There is no reason why you cannot start with a secondhand drone and for all of the tips for buying a secondhand drone check out my other article – how to buy a secondhand drone – 50 part checklist [free checklist downloads] – click here.
Conclusion
So there we have it, there are all of the things I think you should consider when buying a drone that you want to be easy to fly.
As long as it has advanced features such as auto takeoff and landing, auto hovering, automatic capturing options and an array of sensors to keep your drone safe it will be guaranteed to make your flight an enjoyable and easy one.
Good luck buying your next drone and I hope that it is as easy as possible for you to fly!